Santa Maria da Feira is 34 km away from Porto and despite its Medieval look, it is still one of the most visited towns nowadays. Find out how to get there, everything about the best season to visit and the best restaurants to dine in. Of course, we wouldn't forget about the iconic Medieval Festival so you don't miss out this year.
Where is Santa Maria da Feira
Distance from Porto
Santa Maria da Feira still belongs to Porto's Metropolitan Area, more precisely it belongs to the Aveiro district. It is just 34 km away from Porto, which will only take about 30 minutes to get there by car. It can take longer by public transport, but not that much.
Distance from Lisbon
With Santa Maria da Feira situated in the North, and Lisbon being in the South, you would have probably guessed that it takes longer to get from one city to the other. These cities are almost 300 km away from each other and a trip by car can last for almost 3 hours.
How to get there from Porto
By train
Porto has an extense area in terms of public transport, so you shouldn't have a problem getting to Santa Maria da Feira with the right tips. Here are the following:
Catch a train from Campanhã station (the one that goes to Aveiro, on the yellow line);
Get off at Espinho station so you can change to a local train;
You need to exit Espinho's main station and enter on Espinho-Vouga station, 6 minutes away on foot (going South on Avenue 8);
Catch the train 5208 that goes to Oliveira de Azemeis;
get off at Sanfins, in Santa Maria da Feira. This last journey should take about 30 minutes.
The whole journey can last more than an hour (about 1h13) since you are traveling for more than 30 km.
You can always prepare your journey on the CP Comboios website, this company is responsible for Portugal's trains. There is also an app that you can download to your smartphone if you wish to have the information you need available at all times.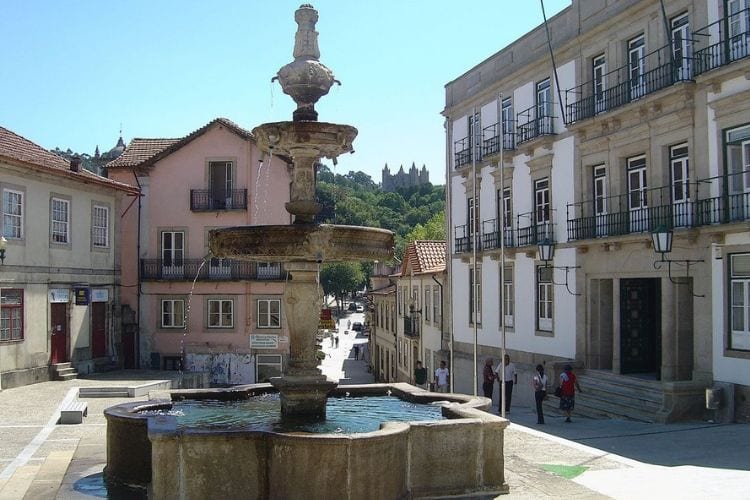 By bus
Prepare yourself for a long journey here. Traveling through long-distance cities in Portugal takes a bit longer when you chose to go by bus. Only local buses connect these types of cities, so it takes much longer to get to your destination. But do not worry, because we have prepared this trip for you. Even though there are a lot of buses to choose from, we will let you know the fastest ways to get to Santa Maria da Feira from Porto:
Go to Campo 24 de Agosto, close to Porto's downtown, and catch the Transdev bus that goes to Santa Maria da Feira or;
Catch a UTC bus in Batalha or Ponte do Infante and hop on the one that travels on the red line. Get off at Santa Maria da Feira.
Either way, the trip can last between 45 minutes and 1 hour, depending on the bus you catch and what time. You can always go to CheckMyBus if you need extra help.
By car
The distance between Porto and Santa Maria da Feira is about 34 km. Portugal has great highways which you can travel on, so you should not have difficulty in getting to the country's most Medieval town. By car, you can take one of the following highways:
Despite the highway you choose, the time spent on the journey is more or less the same: between 28 and 38 minutes. If you don't have a car, don't worry because you can always rent one. There are several companies in Porto that provide these services and here are the best ones:
Need more tips? We have prepared an expert's guide on renting a car in Portugal to help you with your travels.
What's the best way?
If you can, the best and fastest way to get from Porto to Santa Maria da Feira is by car. The journey is direct, you don't have to change vehicles nor stations and you can then move around the city with more flexibility.
Living in Santa Maria da Feira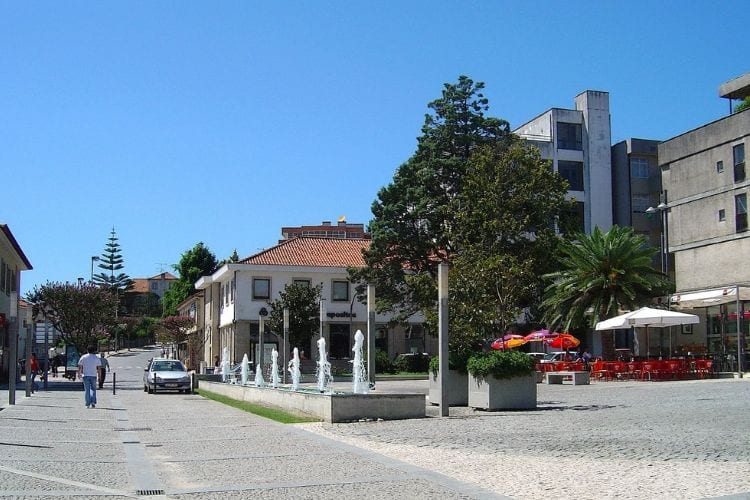 Is it a good place to live?
It is. We are speaking of a quiet town that has less population than cities like Porto or Lisbon. The city has increasingly grown in the latest years and nowadays it has everything you need in a short distance. Back in the days, people needed to go to Porto to deal with important matters, such as the ones related to taxes for example.
Nowadays, you don't have that problem anymore. Santa Maria da Feira has a bunch of supermarkets, pharmacies, a hospital, local stores, restaurants, nightlife and even a shopping center nearby. It really is a great place to visit and live in, combining modern areas with historic ones.
Is it safe?
Santa Maria da Feira is a very safe place to live in, just like its country. Being a small area with fewer people also has its benefits. One of those surely is safety, so don't stress about moving into a new city.
Cost of living
If you are coming from another country in Europe, or even from another continent, you will find the cost of living here is much cheaper. Buying everyday essentials is not expensive. The same thing with taxes, which is lower than the rest of Europe.
In terms of renting an apartment, you can spend between 350€ and 500€ for a 3 room apartment. When compared with Porto, the cost is much lower as you cannot find places like these at such a price. Living in Porto can be very expensive, so Santa Maria da Feira is a great option regarding the cost of living.
Best neighborhoods
The city center is the best neighborhood to live in.
Why?
Don't forget that this town has a Medieval aura and is located in the center, so you will have the best experience. Santa Maria da Feira even has a huge castle, which will make you feel like royalty! It can be a bit expensive, but if you wish, you can live in the neighborhoods nearby as the city is smaller than others and you can get to the center quite quickly. With that being said, some of the best neighborhoods are:
Feira;
Lameiras;
Seixo;
Moinhos;
Azenha;
Casal.
Pros and cons
If you treasure the quality of life, this is by far and advantage. A smaller, quiet city, that has everything you need close-by. From schools to pharmacies and restaurants… Santa Maria da Feira is a great city and, besides being so close to Porto, it is also near Aveiro. Think about going from one city to the other!
For younger couples, living in this town may not be ideal as most people prefer to stroll around the nightlife of Porto. Also, things like the most popular stores, bars, and restaurants are situated in Porto.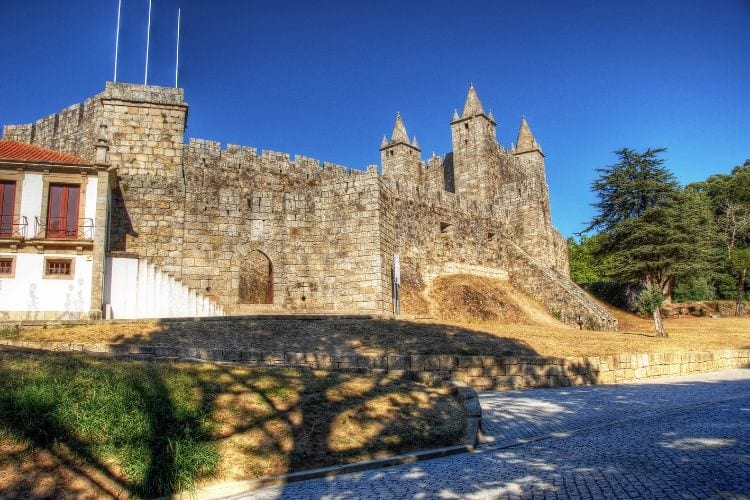 Visiting Santa Maria da Feira
Best season
The best season to visit the Medieval town is during Summer because of the Medieval Festival. It truly is a one of a kind experience you cannot miss. Read on further to find out why.
Best hotels
Nova Cruz Hotel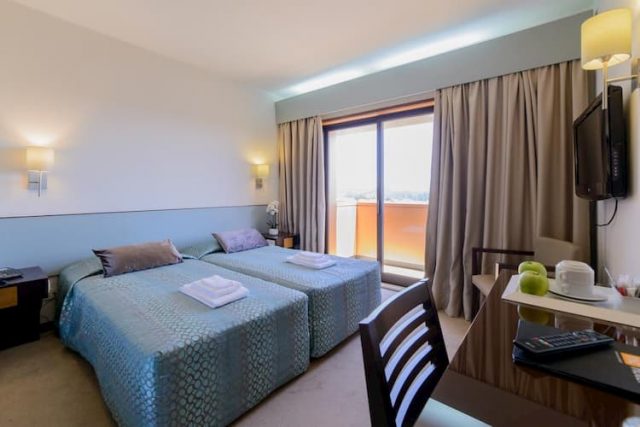 A 4-star hotel, very close to the city center. The cost per night in the Summer season begins at 70€ for 2 adults.
Book it here.
Hotel Feira Pedra Bela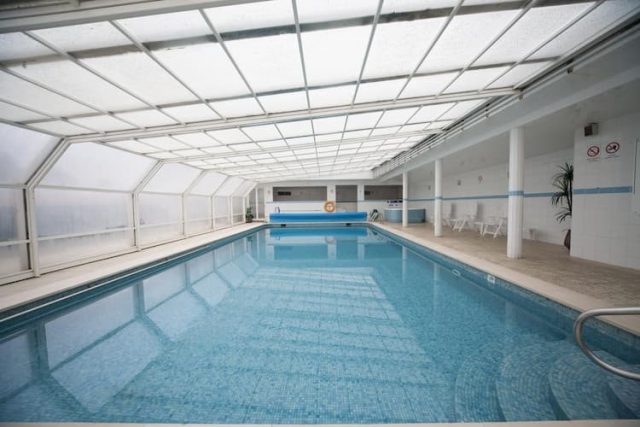 Another great 4-star hotel dedicated to sports, with a swimming pool, football and basketball field. The cost per night begins at 70€ for 2 adults.
Book it here.
Hotel Ibis Porto Sul Europarque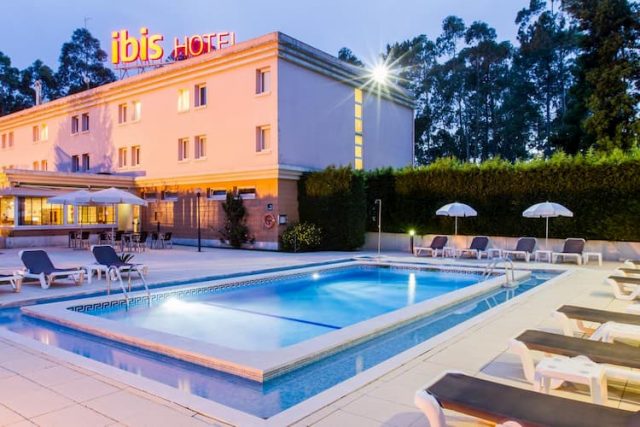 2-star hotel located at the biggest park in the city. A night stay can cost 55€ for 2 adults. Best quality-price deal.
Book it here.
Best restaurants
Santa Maria da Feira is a perfect town for trying the best Portuguese food that Portugal has to offer. From typical dishes to other gastronomies (such as Italian), you can find great restaurants around town. Check out the following:
Best things to do in Santa Maria da Feira
Medieval Festival of Santa Maria da Feira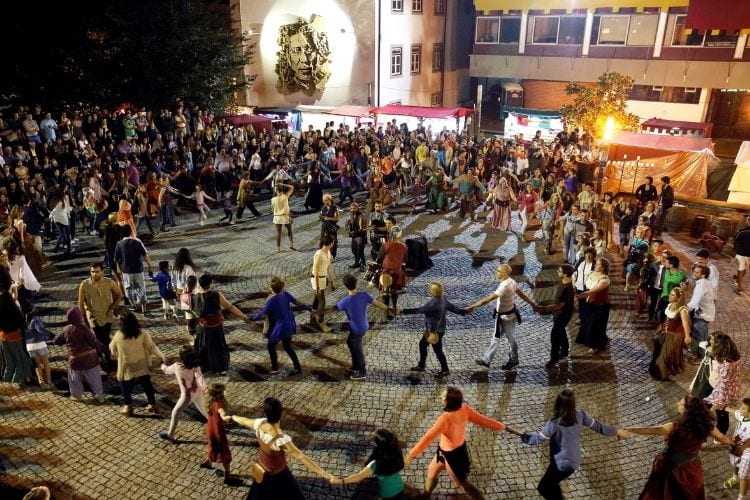 In Portuguese, it is called "Viagem Medieval". "Viagem" means "travel" and it literally means you can travel in time and return to Medieval times. The city transforms itself to something quite spectacular, welcoming locals, expats, and tourists with tents that sell traditional food, jewelry, and antique clothes. Come by and join the prehistoric times of Kings and Queens.
When does the festival happen?
Dates may vary, but the Medieval Festival usually begins at the end of July and closes at the end of the second week of August.
Why is the festival held in Santa Maria da Feira?
Other similar festivals are happening in Portugal, such as the one in Óbidos, but the Medieval Festival of Santa Maria da Feira is by far the most important one; along with the biggest event happening in the Iberian Peninsula which is one of the first in Europe.
The first edition happened in 1996 and still holds to this day. Being one of the fewer cities in Europe still maintaining a castle is one of the reasons why the Medieval Festival takes place in this city. Each year has a different theme that tells the most important parts of Portugal's history, and is certainly a great experience you can not miss!
Medieval Festival: the Journey of 2018
The festival began on July 31st and ended on August 12th. It was the 22nd edition of the festival, and the theme was the recreation of the reign of D. Pedro I, a Portuguese King. This edition was marked for being the most organized one, having more space and comfort for visitors.
With traditional food, live shows, musical performances and so on, the 2018's festival was another success; and the numbers don't lie with approximately 700,000 visitors who attended in the past year.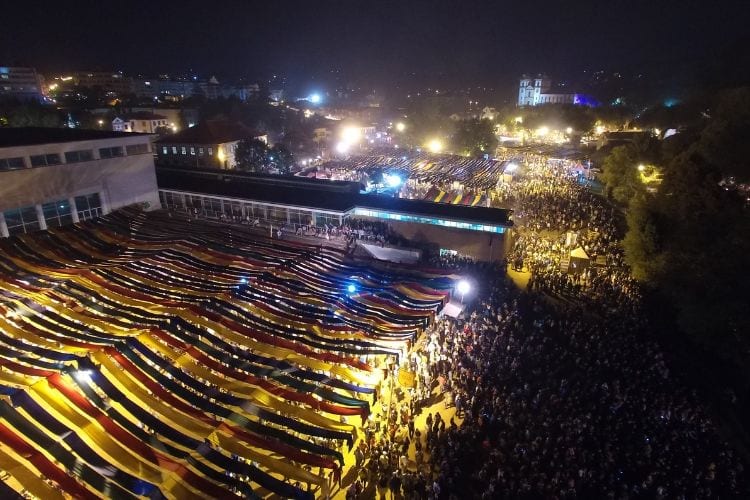 Medieval Festival: the Journey of 2019
This year, the Medieval Festival begins on the 31st of July and ends on the 11th of August. It will recreate the reign of D. Fernando I, known as the "Inconstant Handsome King". The official program has not been released yet, but you can have a look at the 2018 program for a better idea of the "whole picture".
To visit the festival, you can either pay for a single ticket or buy the bracelet that gives you entrance to 12 days of the greatest historical recreation in Europe. If you buy it until July 15th, the price is €6. The single ticket prices can vary accordingly to the day of the week you are visiting:
Monday to Thursday: €2.50;
Fridays and Sundays: €3.50;
Saturdays: €4.50.
You can buy the tickets or the bracelet from SMStore or TicketLine. You can also buy them on the day at the entrance of the festival.
Don't worry, you won't get lost. Yes, we are speaking of a festival with 33 hectares. Check out the map right here.
Traditional food
Food is one of the best things about being at the Medieval Festival. You can find typical dishes that people used to eat, such as the following:
Pork sandwiches;
Roasted chorizo;
Traditional soups;
Sweet and sour crepes;
Different types of bread;
and so much more…
Be prepared for a medieval experience as no cutlery is allowed!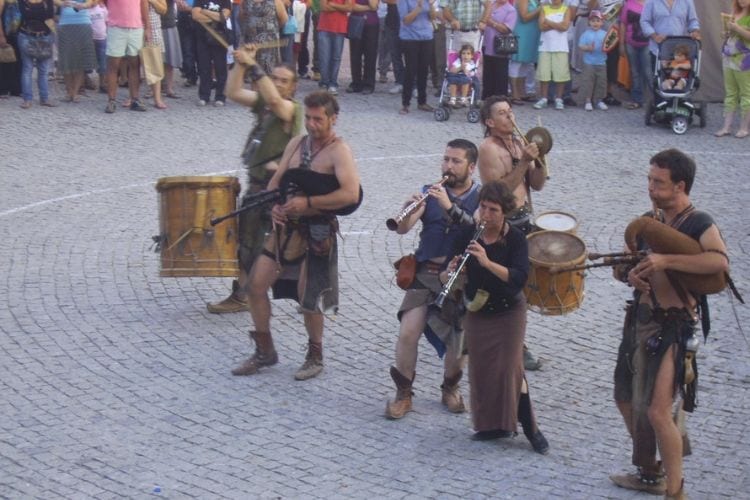 Cities to visit around Santa Maria da Feira
Santa Maria da Feira has the advantage of being close to a lot of known cities, such as Porto, Aveiro, Esmoriz, Espinho, Cortegaça and Torreira.
Please subscribe to our newsletter to get to know more about the cities around Santa Maria da Feira.