Comboios de Portugal, a state-owned train service company, has been taking care of all the railway journeys for over 160 years. It operates a 2,179 km rail network and transports over 126 million people per year.
In this article, we share with you all the information you might need if you want to use Comboios de Portugal. We'll tell you how to buy your tickets online, what routes you can take and what kind of discounts they have.
Are you ready to buy your one-way ticket to the details of Comboios de Portugal?
How to buy tickets online? 
The first thing you probably want to know is how to buy your tickets online. We prepared a step by step guide to answer this question.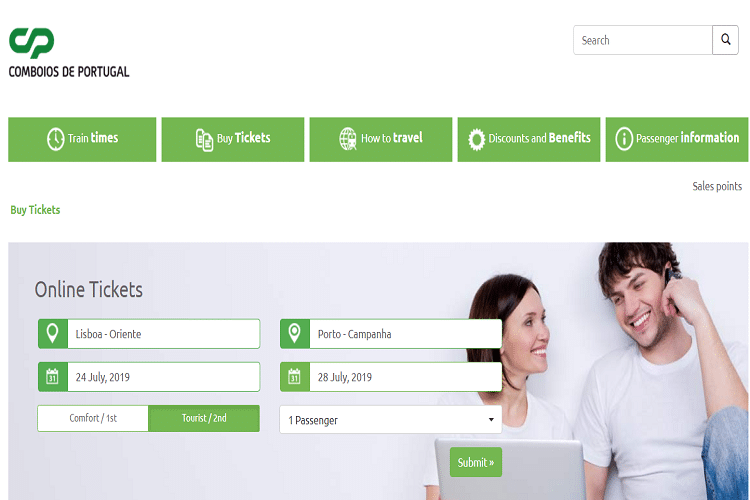 Let's see!
Step one is to open the website of Comboios de Portugal. By clicking here

 you will find yourself on the English website.

After that, you can click on the Buy tickets option and you arrive at the Search option. Here you can select your departure and arrival time and destination. Then click the Submit button.

Now at the Service Selection, you have a list of all the trains leaving on the desired day. The prices might vary regarding the time and you might also see a cheaper, promo ticket option. Below we will explain to you what that is and when can you choose that one. However, now you just choose your tickets, accept the terms and conditions and you are ready for the next step.

The next step is the Passenger Options. In case you use the Comboios de Portugal website for the first time, you have to make a quick registration to keep going. Otherwise, you just have to log in and you can continue to give the passengers' details. You can also choose between the discounts and select the promo ticket as well. Then you can see the amount that you will have to pay.

The next stage is selecting your seats. On the illustration, you can see which seats are free and which direction they face. This way you can avoid sitting backward in case you get train sick.

And finally, we arrive at the payment. After filling the required information you can purchase your tickets. Wasn't that hard, right?
Tickets discounts 
Okay, okay, but let's take a step back. How do you know which discounts you can choose when buying your tickets? Don't worry, we are here to explain!
Promo tickets
Comboios de Portugal has a special offer in case you purchase your tickets on time. That means that if you buy your Alfa Pendular or Intercidades tickets 5 to 8 days in advance, you can get up to 56% off. If you buy at least 8 days earlier than the departure, the discounts can be as big as 65%. 
Be prepared, the promotion is valid for a limited number of seats on each train and you can not buy the tickets earlier than 60 days before your journey. Also, you should know that you can not use the Promo ticket together with any other discounts.
Up to 25, -25%
In case you are less than 25 years old you can buy the youth ticket, which has a 25% discount. The discount is valid any day of the week and you only need an official document to prove your age to buy it.
Over 65, -50%
You meet with similar conditions when you are over 65. In case you have a valid document with you to confirm your age, you can buy your tickets for half price from the services of Comboios de Portugal.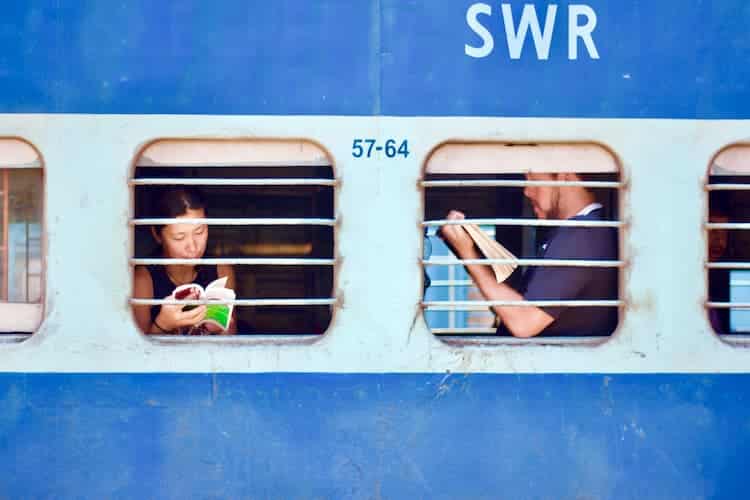 European Youth Card
Up to 30 years you can buy your tickets for 25% less in case you have a European Youth Card. You can use this discount on the Intercidades, Regional and InterRegional services every day of the week.
Children tickets
Comboios de Portugal offers free tickets for kids under 4, in case they travel with adults and do not occupy a seat. For kids between 4 and 12, they have the right for the half-priced tickets with their own seat.
Group tickets
Comboios de Portugal offers Family and Friends packages, with which you can buy your tickets for half price. You must be at least 3 people, not necessarily related. This promotion is only valid for a selected number of trains during the weekends from October to April.
For more information about all the discounts and benefits, visit the website of Comboios de Portugal! 
Passes
Are you staying for a longer period and going to use Comboios de Portugal frequently? Then it might make sense to invest in a monthly pass. The price of the passes varies regarding the zones you want to travel between and the discounts that you can apply for.
In Lisbon, there are 8 different zones and numerous different passes. Look at the picture and find which one you need! You can choose between the single and the 10 journey tickets as well as monthly passes and tourist travel cards. 

You can find the same information about Porto and Coimbra by clicking on the desired city.
How to get around the country by Comboios de Portugal?
Here is a map of Portugal with all the main lines operated by Comboios de Portugal. With the help of this map, you can easily plan your journey and learn how you can travel from A to B. However, we are still here to help and provide you further information about getting around the country by train.
From Lisbon
Lisbon is very well connected to the other parts of Portugal. As a central meeting point, the north, the south and even the middle part of the country is easily accessible from here by train. Let's see what else you should know when using Comboios de Portugal from Lisbon!
From Lisbon to Sintra
Sadly, you can not buy your tickets online to the urban trains, like the one which takes you to Sintra. However, you can purchase it at any station right before your journey. There are trains departing from Rossio, Oriente and -with a change to Alcântara-Terra- from Cais do Sodré as well. The one-way ticket costs €2.25 and you can charge it on your Viva Viagem card. Depending on your departure, the journey takes approximately 40 minutes to one hour.
Do you know more about the famous castles and gardens of Sintra? Read our article about it before visiting!
From Lisbon to Cascais
In case you want to buy your tickets to Cascais, the same rule applies here as to Sintra. You have to get them in Cais do Sodré, where the train departs. If you are traveling during the summer, make sure to be at the station on time! When the weather is good, a lot of people take the train to the nearby beaches and that can cause huge lines at the vending machines. The ticket will cost you €2.25 each way and the journey takes 40 minutes.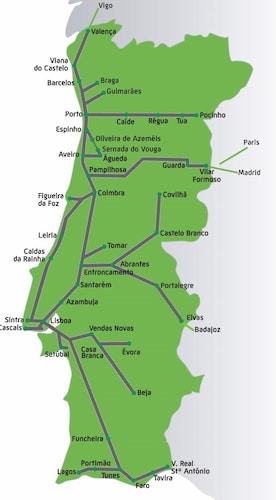 From Lisbon to Porto
The easiest way to find your ride from Lisbon to Porto is to use the website of Comboios de Portugal. On the main page, you can immediately choose the date and then your journey. The trains leave from Santa Apolónia and Oriente stations and arrive at São Bento or Campanhã. The trip takes around three hours, depending on which journey you choose. The prices also vary between around €15 and €40, regarding the date and the discounts. The tickets get more expensive with time, so don't hesitate and book them as soon as possible!
From Lisbon to Évora
Only four trains per day head to Évora from Lisbon Oriente station and it takes approximately one and a half hours to get there. Click here for the timetable! The prices are around €10, but might be as low as €7 if you buy the ticket in advance.  
And why is it worth it to visit Évora? We tell you everything about it in this article!
From Lisbon to Algarve
In three hours you are already in Faro from Lisbon. Do you want to go somewhere else? On the way, you can take off at Loulé or Albufeira. In case you are heading to Portimão or Lagos, you need to switch trains in Tunes. This way the journey lasts an hour longer.
From Porto to Algarve
Traveling from one end of the country to the other is a long, but quite exciting journey. And the good news is that there is even a direct train which can take you all the way down from Porto to Faro in less than six hours. Click here for the timetable and purchase your ticket now, to get it for as low as €40!
From Lagos to Tavira
The scenic town of Tavira is definitely worth a visit if we are already in Algarve! But we have to warn you, it is not an easy ride to get there from the western part. From Lagos there are no direct trains, you have to change in Faro to get to Tavira. The journey takes two and a half hours, costs €9.45, but gives you nice memories for a lifetime!
Still not convinced? Read our Tavira guide here!
The Douro Line 
One of the world's most beautiful train lines is located in the picturesque Douro Valley. The area is listed as a UNESCO World Heritage site, thanks to its scenic riverbanks and spectacular vineyards. Just imagine, sitting on the train and looking out of the window while passing by the breathtaking view. Actually, you don't have to imagine, you can go and see it in real life!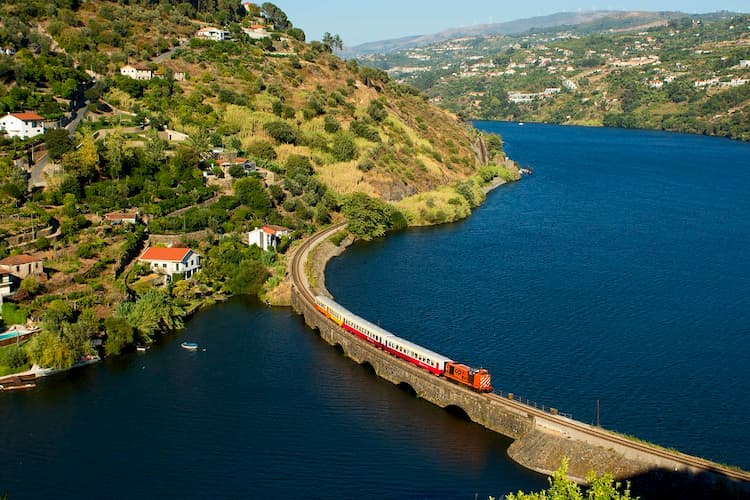 All you have to do is to take the train in Porto, São Bento station and buy your ticket to Pocinho. A return journey lasts for around three hours and it costs €27. Check out the timetable here and read more about the Douro Valley here!
The Douro Historical Train
Comboios de Portugal also offers an unforgettable journey with the Douro Historical Train. It operates an original steam locomotive, with five old carriages between Régua and Tua. During the journey, it's not only the landscape that entertains the passengers. You can also enjoy a glass of local Porto wine and listen to a singer's live performance. If you want to be part of this experience, purchase your tickets here. Hurry up, the train only operates on Saturdays between June and October!
The presidential 
In case you are a real train enthusiast and you want to make the best out of your Douro Valley experience, we recommend to book a trip on the Presidental.
The one-day excursion starts from the São Bento station in Porto and takes you on a journey through time. The Presidental was built in 1890 and it still has its original furnishing, just how it was in its golden age. The only thing that changed in the Presidental through the years is the kitchen. In the dining carriages, they serve the tastiest gourmet dishes with the matching wine selection from the area.
Book your trip with the Presidental now, to make sure that you have space on their limited journeys in the weekends of September and October! 
How to go by train to Spain? 
We might have only talked about train lines inside Portugal until now. But Comboios de Portugal doesn't stop at the borders! Let's see how you can make it to the only neighbor country, Spain!
From Lisbon to Madrid
In just one night you can arrive from Lisbon, Oriente station to Madrid on a direct train. There is also another option where you have to change at Coimbra, but then you have a direct trip to Madrid via Salamanca and Ávila. To buy your ticket, click here! 
From Porto to Madrid
Starting from Porto, you also can make it to the Spanish capital with Comboios de Portugal. But in this case there is no direct option, you have to change at Coimbra anyway. The prices may vary according to the time of the travel and the quality of the seats. You can also book a bed to sleep during the trip. Click here for more details!
How to go to France by train? 
Are you ready for a 15 hours journey from Coimbra to Hendaye? The international train takes you through Spain and crosses the border in France to arrive at Hendaye. From here you are free to choose another train to arrive at your French destination.
Do you want to try Interrail Portugal?
Interrail passes are very popular between backpackers and train enthusiasts. No wonder, since the pass offers a great opportunity to visit several countries around Europe for a pretty affordable price. 
It also has one country passes to travel inside big countries like Portugal. You can choose how many days you would use it within a month and in which class you would like to travel. The price of the pass depends on the chosen options and the age of the traveler. Give a look at the price and choose your Interrail Portugal ticket here! 
Types and Classes of trains in Comboios de Portugal
While booking your tickets you might have recognized the signs, such as IC or AP. But what do they mean? And why are they important? Furthermore, what about the classes? Now we answer all these questions carefully.
Classes of trains
Comboios de Portugal offers two options when you book your tickets, first and second class. The price difference is usually just around €5, even though there is no big difference between the service. In the AP trains, you might have a drink, headphones, and newspapers, but usually, it only means more comfortable seats and some extra leg space. It is definitely worth the €5 but don't expect huge luxury and service in the first class!
Types of trains
Urbano (U)
The urban trains of Comboios de Portugal are the most simple ones, usually operating inside the biggest cities and in their agglomeration. For example, the line between Lisbon and Cascais is an urban train.
Regional (R) and Interregional (IR) 
These are pretty simple trains, running between short and medium distances, just like the ones from Lagos to Faro.
Intercidades (IC)
Intercity trains are designed for longer distances, while also connecting nearby cities. They make fewer stops than the regional and interregional trains, which makes them faster.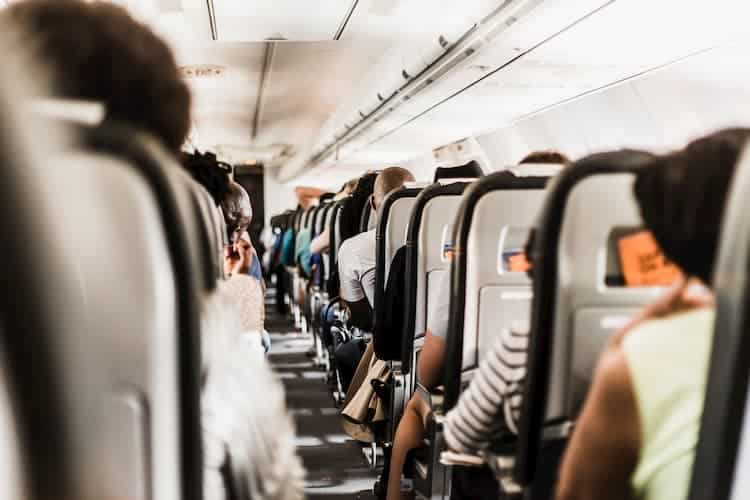 Alfa-Pendular (AP)
These are the kings of Comboios de Portugal. The ones signed with AP the newest and fastest trains with more comfortable seats than the others. The best part is that it's not even much more expensive than the IC. Usually, the price difference is only €1-2. They only stop at the major cities, so if you are looking to travel from Porto to Lisbon, this is the fastest option.
Customer support 
In case you still have any remaining questions about Comboios de Portugal, you can ask them directly on their website or by phone. 
CP – Comboios de Portugal
Calçada do Duque, n.º 20
1249-109 Lisboa
Portugal
Are you ready now to travel around with Comboios de Portugal? Pack your bag and visit this beautiful country with one of the most enjoyable ways of traveling, by train!
In case you want to learn more about traveling and living in Portugal, subscribe to our newsletter!