Vilamoura Marina sparkles as one of Portugal's most glamorous destinations with 5 Star luxury hotels, an international casino and the home of the largest marina in Portugal.
Above all, it's perfectly situated on one of the finest beaches of the Algarve. Its breathtaking location sets the scene for an ideal summer holiday with a touch of sophistication.
Ready to book your next luxurious holiday in Portugal? Read on to find out everything you need to know about the glorious Vilamoura Marina.
Where is Vilamoura Marina?
Located in the center region of the Algarve, Vilamoura Marina could easily be mistaken as the stunning backdrop of the latest Bond film. It's where million-dollar yachts are moored, the chic wine and dines and golfers fly in from around the world to play golf in the Algarve.
Vilamoura Marina forms part of the Algarve's Golden Triangle, an affluent region famous for its luxury resorts and Michelin Star restaurants. The eclectic, buzzing atmosphere attracts visitors young and old who adore the glorious beach setting and energy from the lively bars and beach clubs.
The easiest way to access the area is through Faro Airport, located 25km east of Vilamoura. It's conveniently just a 30-minute drive away and also accessible by bus which generally takes 1.5-2 hours.
What's the weather like?
Vilamoura is one of the most desirable spots for both locals and visitors during the summer. Mostly due to its warm weather and warm water temperature, everyone tries to visit Vilamoura. However, in other seasons, it's unlikely to find lots of tourists there.
The best restaurants to dine in Vilamoura Marina
Dining along the Algarve, you're really spoilt for choice when it comes to finding great food. From fresh seafood to Portuguese petiscos, here are the best restaurants to check out during your visit!
Social.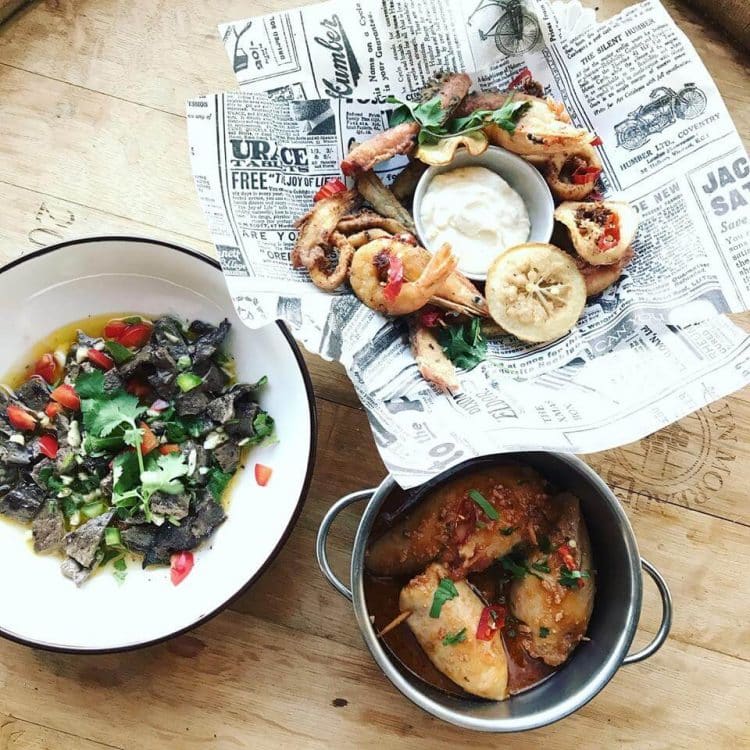 A welcome addition to the dining scene, Social. serves Petiscos and wine. Petiscos (think tapas) are typical and traditional dishes part of the Portuguese gastronomic culture. The excellent service staff helps to guide you through the menu and offer great suggestions for wines to match. A super cozy and relaxed environment, Social. provides a nice reprieve from the busy marina. Visitors love the concept and rave that each dish ordered is just as good as the last. You definitely won't be disappointed with the dishes here!
Prices: Dishes from €2.20 – Sharing Menu
Address: Quinta do Romão FM8 Loja D, 8125-301 Quarteira
Braganca mar
If you want a great family-run restaurant to escape from the tourist traps of the area, definitely visit Braganca Mar. This is a great traditional Portuguese restaurant serving excellent seafood dishes, grilled fish and even better desserts! Visitors especially love the friendly and charming nature of the service staff, excellent quality, and reasonably priced dishes. As far as restaurants go, this is a true gem of the area.
Prices: Mains from €8.00
Address: R. da Botelha 6, 8125-507 Quarteira
Salmora live kitchen and bar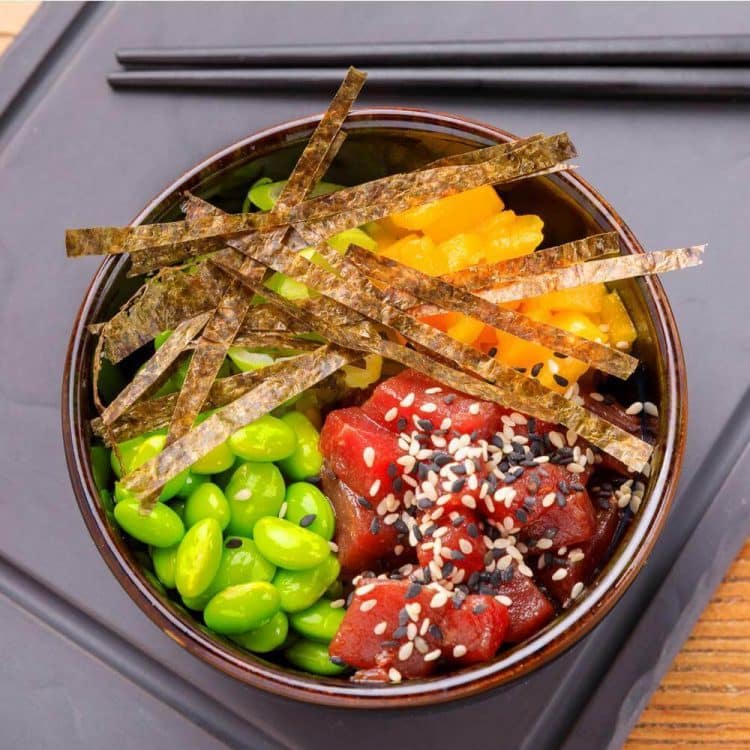 'Sharing' is an idea that can be found throughout Salmora Live Kitchen and Bar. From the restaurant space with its open kitchen right through to its sharing menu. Start your meal with one of their renowned cocktails and sit back and enjoy the tasteful modern decor of the restaurant. Visitors absolutely love the mushroom risotto and puntillitas (baby squid.) With an extensive tapas menu, make sure you also leave room for dessert too – their apple pie and chocolate mousse are absolute heaven.
Prices: Mains from €6.75 – Sharing menu advised
Address: Rua do Clube Náutico, Edíficio Vila Lusa, Bloco2-B, Loja 8, 8125-442 Vilamoura
Akvavit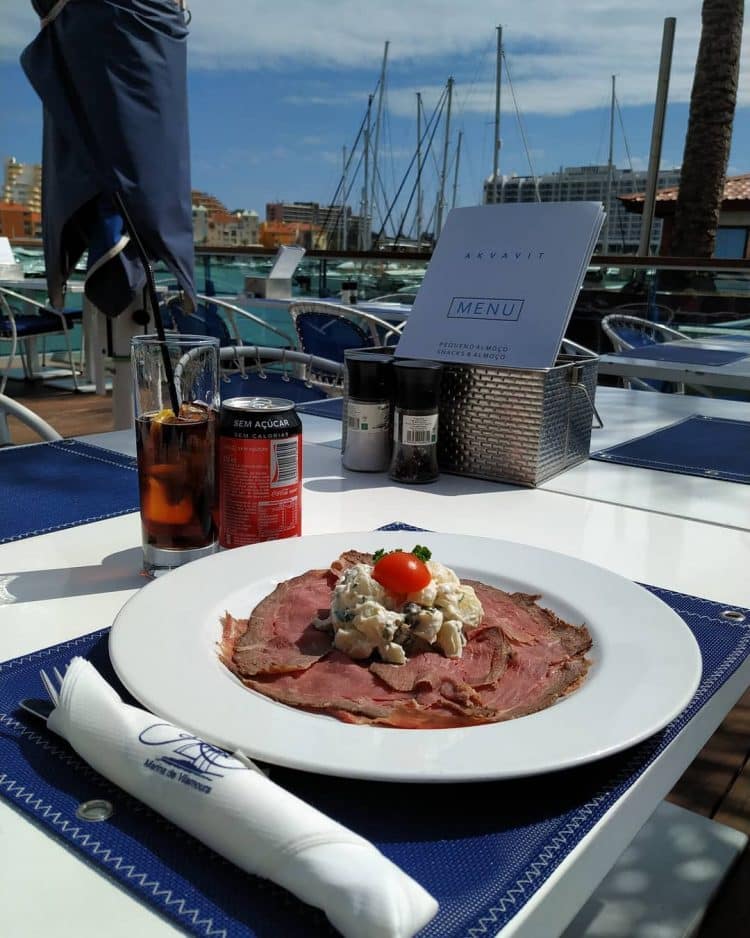 Fancy a meal sitting outside and right by the marina? Akvavit serves an enviably chic setting with an even more delicious menu to match. Visitors particularly love the Cataplana and giant tiger prawns, with a great selection of Portuguese wines also available to enjoy with your dishes. Definitely a favorite in the area but make sure you book ahead to avoid disappointment!
Prices: Mains from €13.00
Address: Edifício Vilamarina, Loja 4, 8125-403 Quarteira
Haven restaurant
With magnificent views overlooking the yachts of Vilamoura Marina, Haven Restaurant is a gastronomic experience with an unbeatable location. A modern restaurant, here you can enjoy a fusion of Portuguese and International flavors. Visitors love the fresh seafood and delicious local wines available as well as the reasonably priced dishes on offer!
Prices: Starters from €3.90. Mains from €13.90
Address: Marina de Vilamoura 2, 8125-022 Quarteira
Restaurante Rafael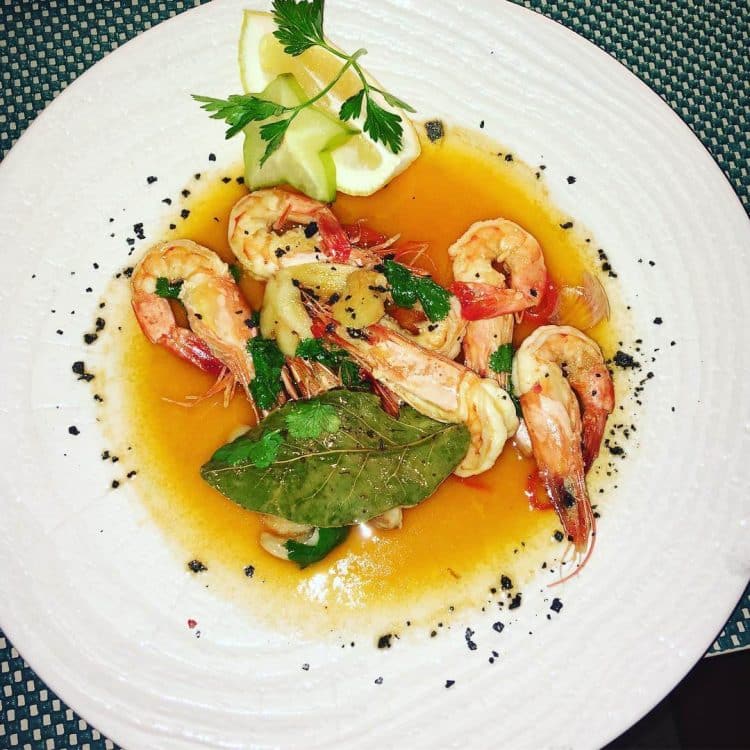 A local's favorite for the region, Restaurante Rafael is located just out of the main Marina and in the Dom Pedro Portobelo Hotel. Chef Luis Rafael has over 25 years of experience working in the Algarve and knows how to create magnificent dishes. Visitors particularly love the steaks and grilled fish and rave about the amazing service provided!
Prices: Mains from €10.90
Address: Avenide Tivoli, Lote H5, 8125-410 Vilamoura
Find out more about the best food in Portugal, subscribe to our newsletter.
The best hotels to stay in Vilamoura Marina
Choosing where to stay in Vilamoura Marina is like choosing from a delicious buffet because everything on offer is a good option! Here, we've listed our hot picks for where to stay on your visit.
The Lake Resort
Located just 300m from Falésia Beach, The Lake Resort offers a calm and relaxing oasis perfect for your getaway. The five-star resort boasts a natural sandy beach pool, spa and wellness center, spacious rooms and even a floating restaurant. Above all, visitors rave about the stunning gardens and the exceptionally high quality of service from the staff.
Price: From €265
Address: Praia da Falésia, Apartado 811, 8126-910 Vilamoura, Portugal
Crowne Plaza Vilamoura
Situated right in the center of town, Crowne Plaza Vilamoura is the perfect location to be amongst all the action. The hotel offers modern decor, with facilities such as pool and gym and direct access to Vilamoura Beach. The hotel is favored for its proximity to the best golf courses in the Algarve and its Kid's club for families traveling with children.
Price: From €216
Address: R. do Oceano Atlântico, 8124-478 Quarteira, Portugal
Anantara Vilamoura Algarve Resort
A stunning resort overlooking the golf fairways, Anantara Vilamoura Algarve Resort is a luxurious retreat for those ready for some celebrity treatment. The resort boasts a tranquil swimming pool lined with gorgeous palm trees. Guests particularly love the great in-house spa complete with yoga and tai chi sessions. The resort also boasts 6 seasonal restaurants to offer you a gastronomic experience you'll never forget!
Price: From €158
Address: Victoria Gardens, Av. dos Descobrimentos nº 0, 8125-309 Quarteira, Portugal
Tivoli Marina Vilamoura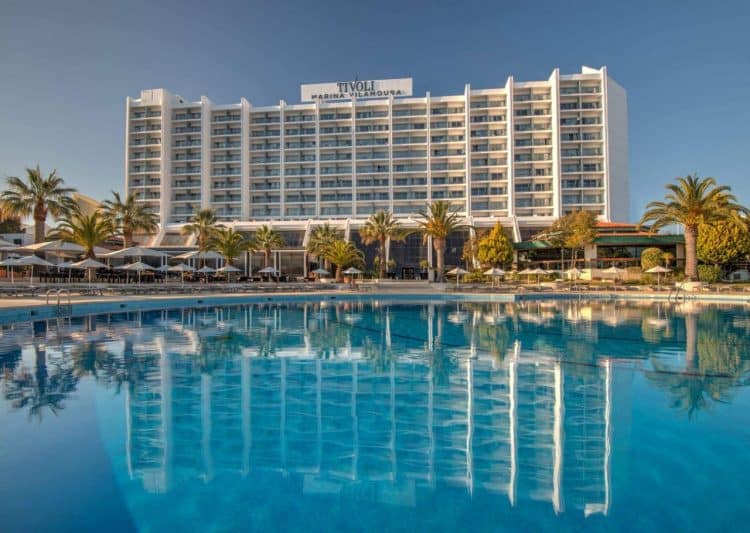 When it comes to hotels, Tivoli always gets it right and Tivoli Marina Vilamoura is no exception. Overlooking Vilamoura Marina on one side and the Atlantic Ocean on the other, this large resort offers simply breathtaking views. The resort offers spacious rooms with floor-to-ceiling windows, an in-house spa, restaurant and beach bar. Guests especially love the large outdoor pool and a prime location right on the Marina.
Price: From €260
Address: Marina de Vilamoura, 8125-901 Quarteira, Portugal
Dom Pedro Marina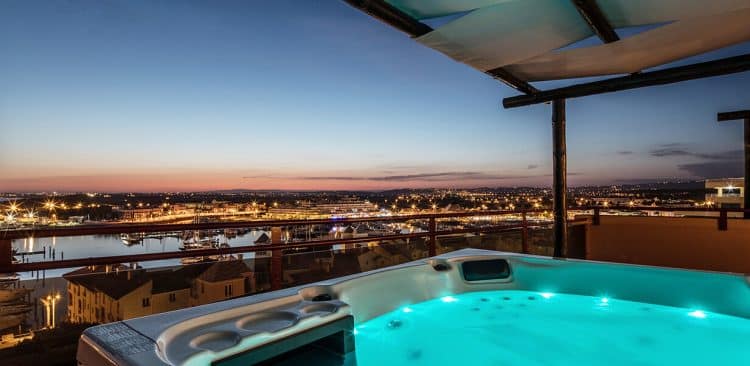 Recently renovated, the 4-star Dom Pedro Marina Hotel is most notorious for its distinct terracotta architecture. Due to its ideal location just a few meters away from the beach and marina, visitors have direct access to all the main sights. Guests love the bright, airy guest rooms, outdoor pool, and beautiful gardens. Most noteworthy, the hotel offers guests free transportation to the 5 nearby golf courses of the Dom Pedro Collection!
Price: From €144
Address: Avenida Tivoli Lote H4, 8125-410 Algarve, Portugal
The best villas to stay in Vilamoura Marina
Traveling with a group of friends and prefer a little more privacy? We've also found the best villas to make your stay a little more exclusive!
Villa do Laguna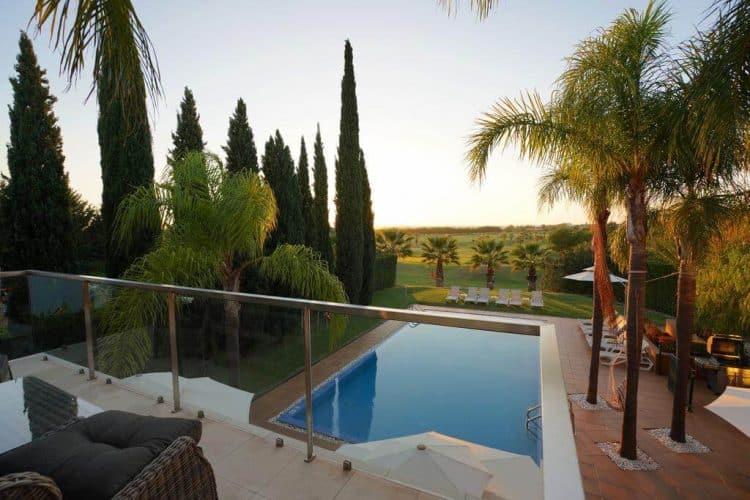 A stunning villa located 6km from Vilamoura Marina, Villa do Laguna houses a jaw-dropping outdoor swimming pool and garden oasis. The villa can sleep up to 12 adults. It also offers a barbecue and accessibility to activities such as hiking, cycling and table tennis. Guests not only rave about the picturesque property but also the fantastic hospitality from host Fernando.
Price: From €290 per night (minimum 3 nights)
Address: Rua Volta do Laguna, 26, 8125-406 Vilamoura, Portugal
P10 Aldeia do Golf Villa
Located in nearby Vilamoura, P10 Aldeia do Golf Villa offers an outdoor swimming pool and lovely garden area. With a capacity of up to 5 people, the villa has perfect amenities for entertaining with a barbecue, terrace and outdoor dining area. Guests especially love the great value of the villa.
Price: From €155 per night
Address: Rua de volta dos Limoeiros, 8125-406 Vilamoura, Portugal
Vila Luz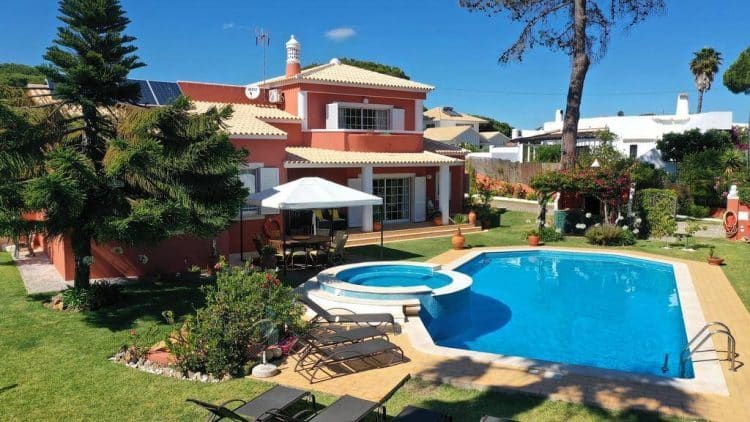 A spacious villa with everything you need, Vila Luz is perfect for groups or families – sleeping up to 14 people. It boasts a year-round outdoor pool, sun terrace and plenty of sunbeds. Guests particularly love its gorgeous gardens and outdoor dining area, which are perfect to host those holiday BBQs. There's also plenty of parking space on site which is one less hassle for guests with rental cars.
Price: From €360 per night (minimum 4 nights)
Address: Caminho dos Pinhais, nº 6, 8125-427 Vilamoura, Portugal
Villa Cavaco
Set in a typical Portuguese house, Vila Cavaco provides the most authentic Algarve stay. The Villa has a capacity for 8 people, with a large outdoor pool, TV, and fireplace all readily available. Guests can enjoy the spacious villa and 4 of the bedrooms come with an en suite too! Guests staying here particularly love being within proximity to all the main golf courses of the area.
Price: From €280 per night
Address: Rua do Brasil, Lote 36 2B/2, 8125-479 Vilamoura, Portugal
Villa Oliandra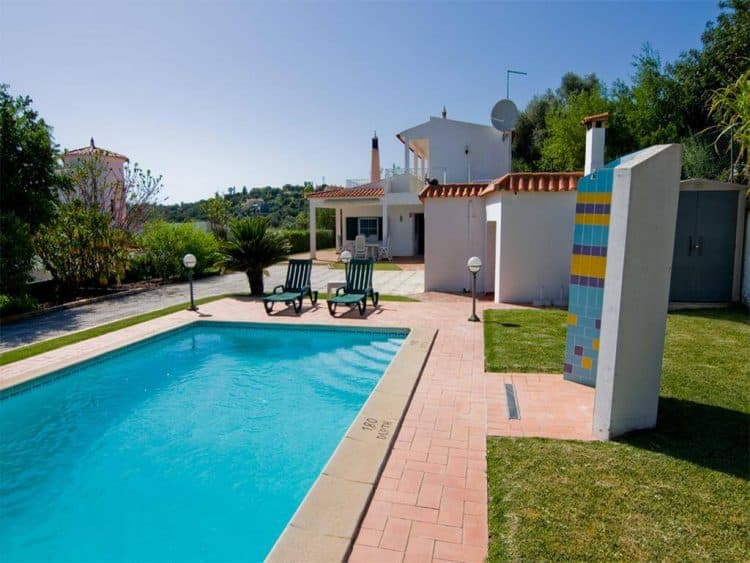 With a private pool, outdoor shower and sun terrace you might not even want to leave Villa Oliandra! This villa boasts sea views with a large, relaxing garden to soak up the Portuguese sun. The villa has 4 bedrooms and can sleep up to 8 people. There's also air-conditioning available to provide a cool oasis after a warm day. Guests especially love the peaceful surroundings of the villa and recommend going hiking or cycling around the area too.
Price: From €244 per night
Address: Villa Oliandra, Caminho Da Padaria, Vale Judeu, Vilamoura, Loule, 8100-310 Vilamoura, Portugal
Vilamoura Marina's vibrant nightlife
Vilamoura Marina is known as the beating heart of the Algarve. From chic bars to beach clubs and a leading International casino, you'll find something here for everyone.
Casino Vilamoura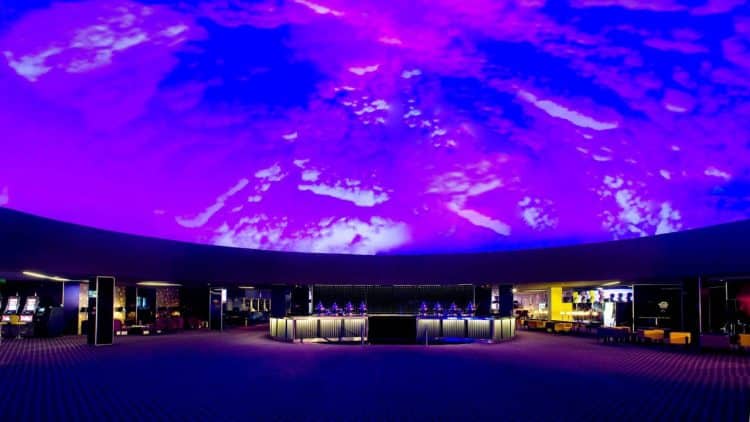 With its avant-garde décor, Casino Vilamoura is a one-stop destination for entertainment in the area. The casino offers a variety of shows – from dance musicals, theatre productions and comedy nights.
It's games rooms offers a wide variety of table games from American Roulette, Portuguese Dice Game, Black Jack and Poker Texas Hold'em. Also available are 520 slot machines if you want to try your luck in the casino.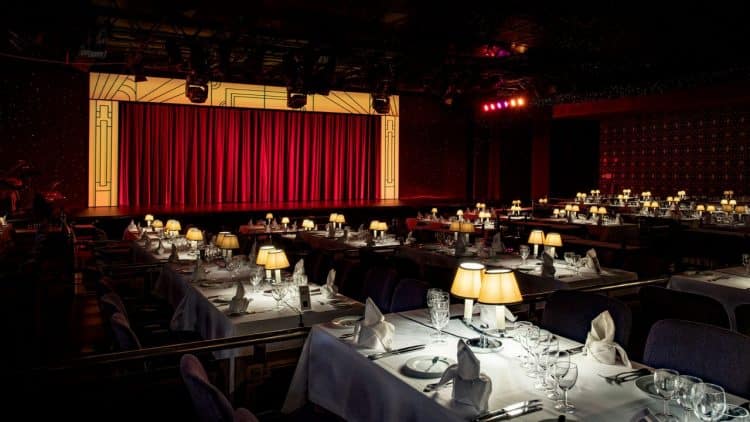 Casino Vilamoura is also home to several gastronomic proposals for the most demanding tastes. Salão Miralago has a magnificent view of the beach and sea while The Salão Royal caters a comfortable and elegant atmosphere for dinners and parties.
The Restaurante Baccarat, situated in the open space, also offers authentic cuisine specialties and The Big Bar is an audiovisual attraction, with giant projections displayed on the planetarium screen.
Best bars & pubs:
Vintage Gin and Cocktail Bar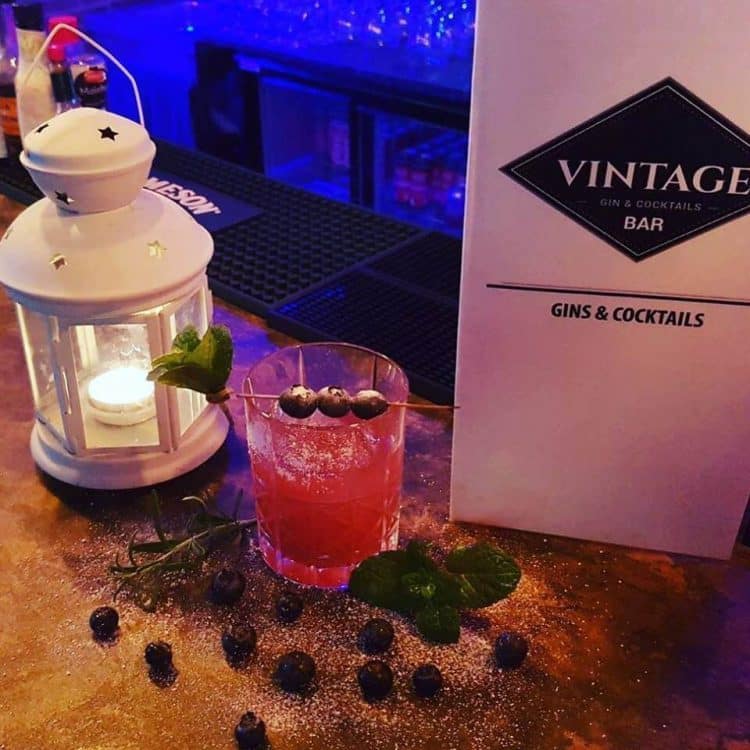 A cozy and modern bar, Vintage Gin and Cocktail Bar offers a great atmosphere to catch up with friends for drinks. The friendly bartenders specialize in gin, wine, and cocktails. Visitors here particularly love the fun and knowledgeable staff. Strike up a chat while you're here and they're more than happy to share their expertise on what to drink!
Address: Rua da Botelha | Edificio Delta Marina, Loja 11, Vilamoura, Quarteira 8125-428, Portugal
SideBar Vilamoura
With stunning views overlooking the Marina, Side Bar is a charismatic open-air venue located inside the Tivoli Resort. With welcoming sun umbrellas and comfortable lounge chairs, enjoy wonderful cocktails over a stunning sunset as you watch the Marina nightlife come alive.
Address: Marina de Vilamoura, 8125-901 Quarteira, Portugal
Happy Hangover
Providing something for sports fans on holiday, Happy Hangover has over 15 TVs to watch live sports while you crack open a cold beer after a day in the sun. Visitors love the cocktails and great staff here, with live music kicking off every night from 9 PM to also keep you entertained!
Address: R. do Clube Náutico, 8125-507 Quarteira, Portugal
Oporto Tavern Wines & Cocktail Bar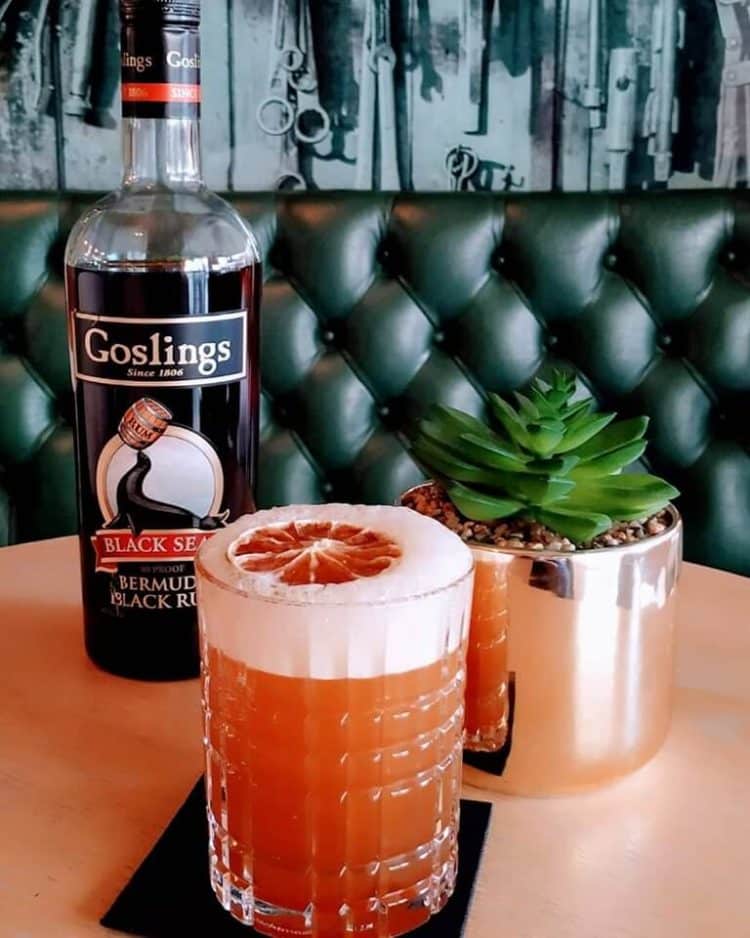 A recent addition the nightlife, Oporto Tavern Wines & Cocktail Bar is located just behind the main strip and provides a great spot for evening drinks. The bar has a fantastic drink selection and the staff are superb hosts. Above all, visitors love chatting with friendly bartenders. Drop-in here if you're looking for a nice, chilled atmosphere with great live music too.
Address: Rua da Botelha, Delta Marina Building, Store 6, Vilamoura, Quarteira 8125-300, Portugal
Figo's Bar
Football fans should pay a visit to Figo's Bar. A bar owned by the legendary Portuguese footballer Luís Figo. With a lovely view overlooking the marina, the bar also has live sports to watch during the night. Make sure you visit inside the bar where you'll find plenty of photos on the walls of the superstar himself!
Address: Rua Clube Náutico Loja 7-r/c Vilamoura, Quarteira, Faro, Portugal 8125-442
O'Neills Bar
Catering especially to the large influx of British & Irish tourists, O'Neills is a popular pub located by the Marina. A great atmosphere with live music on offer, O'Neills serves cocktails and beer (and of course Guinness!) with live sports also available to keep you entertained throughout the night.
Address: Marina de Vilamoura 1, Edificio Vilamarina, Vilamoura, Quarteira 8125-401, Portugal
Best Clubs & Beach Clubs:
Bliss Vilamoura
A super summer club open between July and August, Bliss Vilamoura is a located just a little away from the main Marina area. Above all, it's one of the trendiest clubs to party and the preferred club for the it-crowd to visit. Check out their great themed music nights – with everything from Baile Funk, 90s to Reggaeton.
Address: Estrada de Albufeira, Vilamoura Albufeira 8125
Thai Beach Club
Boasting an impressive multifunctional space, Thai Beach Club is the perfect location to enjoy great food and drinks from day to night. Spend the day relaxing by its lounge area and continue until sunset by sipping a cocktail by the beach. In the summer, party the night away in its Beach club where the music continues the great atmosphere well into the night.
Address: Avenida da Rocha Baixinha, Vilamoura, Quarteira 8125-409, Portugal
Dice Club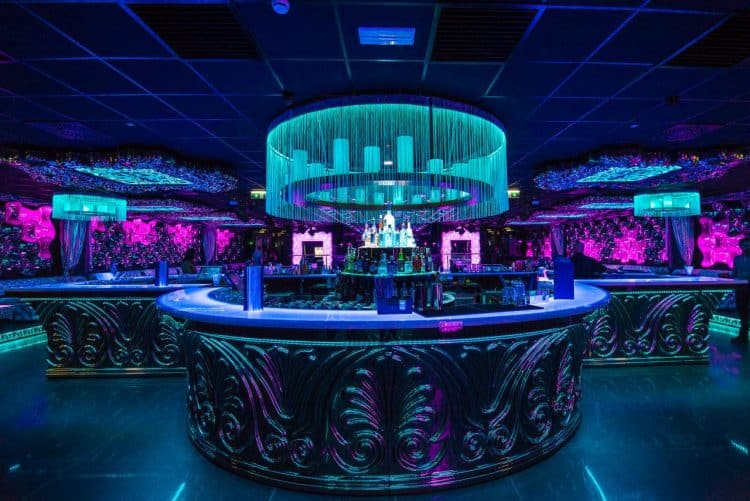 A sophisticated club, perfect to hang out after a day at the beach, Disco Club can be found in the Vilamoura Casino. The clubs host special guest DJs who regularly play sets there as well as theme nights throughout the year.  Must try the great signature cocktails available
Address: Avenida Tivoli Casino de Vilamoura Discoteca Dice Club, 8125-410 Vilamoura
Áqua Moments
Sunset parties are the major drawcard for Áqua Moments, a popular beach club located right on Praia da Falésia. After spending a day on the beach, continue the party with a great selection of cocktails and live music to keep the great vibes going. Join a super lively crowd who love the DJ sets while watching the gorgeous sunset over the beach.
Address: Praia Rocha Baixinha-Nascente, 8125 Vilamoura
Purobeach Vilamoura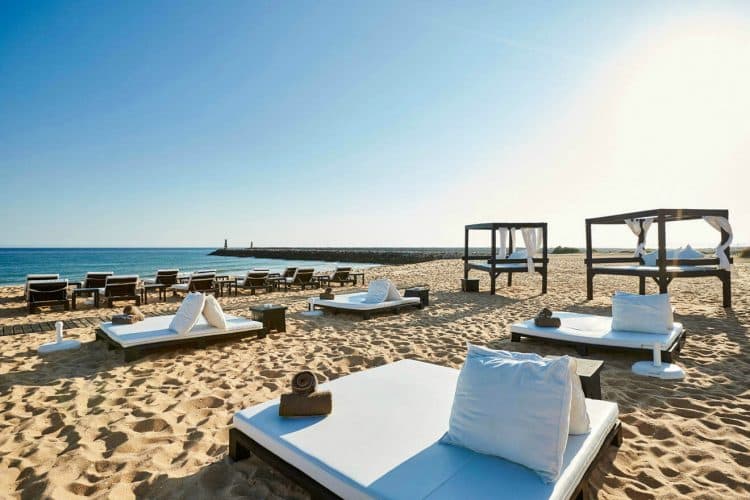 Find an oasis of peace at Purobeach Vilamoura where the pool and the beach join and meet at the same place. Located in the gardens of Tivoli Marina, there are two distinct zones to enjoy: the first is on the beach in front of the Atlantic. The second is in the gardens with a luscious pool and plenty of sunbeds. Each area is perfect to have a great cocktail and enjoy the best music from its resident DJs.
Address: Tivoli Marina Vilamoura, Section 65, Vilamoura, Quarteira 8125-901, Portugal
Vilamoura live cam
An especially handy tool to help travelers visiting Portugal are live cameras set up in each of the country's most popular beaches. You can access the Vilamoura Live Cam to check the beach conditions without leaving your room! Use the Live Cam to see the weather, check-in on the surf conditions or to simply see how busy it is throughout the day!