The north of Portugal has many hidden secrets including unknown deserted beaches and breathtaking landscapes. Espinho in Portugal is one of those places, a city very close to Porto yet many times overlooked by travelers.
In this article, we will discuss what you need to know to visit or live in Espinho.
So come along and lets start with the most important thing: how do you get to Espinho.
Where is Espinho in Portugal
Espinho is a city located in the north of Portugal, part of the Aveiro district.
This city is known for fishing and for the perfect beaches. Espinho is also one of the only two cities in the world (along with New York City) with numbered streets.
Map of Espinho
You're probably wondering by now: Ok, but where exactly is "Espinho" and how can I get there?
Below you can see a map of Espinho.
This city was drawn in a very peculiar way since it was built as a grid with all the blocks are very well organized.
Small tip, the houses with even numbers are usually parallel to the sea.
Discover the Portuguese map and start planning your next trip to Portugal.
Distance from Porto to Espinho
Espinho is very close to Porto, whether you go by public transport or by car.
If you take the highway: A29, Espinho is only 22.2 km distance, by car. It will take you between 25 to 30 minutes to reach either of these cities.
Cool tip: If you go by train you'll be able to see the sea during your journey.
Facing the rush hour going towards or coming back from Porto
Try to avoid the rush hour.
If you're in Espinho avoid taking the trip between 7.45am to 10.00am.
If instead your traveling from Porto to Espinho, avoid making the trip from 6.00pm to 7.30pm.
If you really must travel at any of these times, be advised that to cross the "arrábida bridge" (one of the six bridges that connect Porto to the South) and get to Espinho you might be stuck in traffic anywhere between 30 minutes to 1 hour.
From Lisbon to Espinho
The journey between Lisbon and Espinho can last 3 hours by car, train or bus. It depends on the time of the day and traffic and type of train/bus.
See here our advice on traveling from Lisbon to Porto (and vice-versa).
How to get to Espinho from Porto
Porto's public transport means are very complete in terms of the solutions it offers not only to tourists but also to the city's residents. That being said, you can guess that there is more than one way to get to Espinho from Porto since you can go by train, bus or car.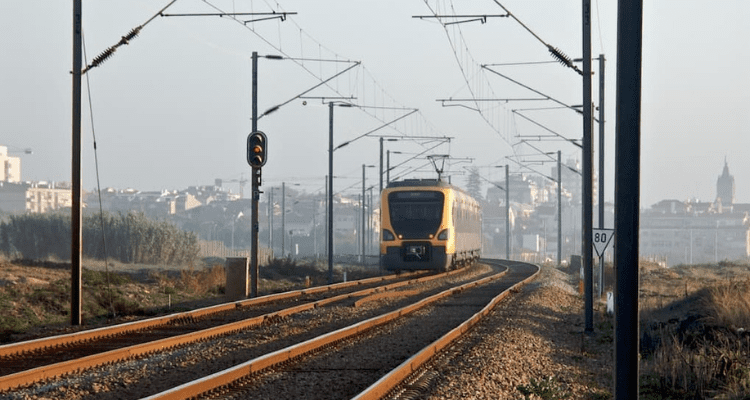 Getting to Espinho By train
Porto has a lot of stations from which you can depart to Espinho. The time between one city and the other may vary, depending on the train you catch. In Portugal, there are different lines and services and you can either hop on a train that stops at every station until it gets to Espinho or you can pick others that stop at fewer ones (and that is why they are a bit faster).
If you are in Porto's downtown, you should go to São Bento's railway station, the city's oldest and most beautiful one. You can check the schedule ahead of your trip, but know that there are a lot of trains travelling during the day.
Which train to catch?
Once you're there, catch the train that goes to Aveiro or Ovar – both belong to Aveiro's line, the yellow one.
Sometimes, you have to leave in Campanhã to catch another train that will end up stopping at Espinho, but other times the trip is direct, so make sure that you know well informed before leaving.
As I've mentioned above, the distance between Porto and Espinho is around 22km, which means that whether you depart from São Bento or Campanhã, the journey will last between 20 to 25 minutes.
Espinho: Price of Train Tickets
A simple train ticket from Porto São Bento to Espinho costs 1.7€ for a single journey. More about prices of tickets can be seen on the comboios de Portugal website.
Getting to Espinho by bus
To get to Espinho from Porto can be a bit tricky so, if you can, always opt to go by train. The thing is that the buses which connect both cities are not operated by "tourist-friendly" companies but local ones instead (that connect small cities and villages).
To do so, however, you need to hop on line 2000 of the UTC (União de Transportes dos Carvalhos) buses. You can catch them in Porto in 5 different places: Batalha, Ponte do Infante, Serra do Pilar, Jardim do Morro and General Torres.
Check the company's schedule before leaving so you can have a clear view of each stop. The journey normally lasts 45 minutes between Porto and Espinho.
Getting to Espinho by car
This can both be the fastest and slower way of getting from one city to another. Porto's traffic can drive you crazy and, if you travel during rush hours, it can easily take you up to 1 hour to get to Espinho. If you don't, you can arrive at the city in 25 minutes, more a less.
Nowadays, there is a lot of cars renting companies from which you can rent a car and decide the number of days you will need. Check some of the most popular ones below:
The price depends on the company you choose and also the number of days you will need the car rented, but this service's cost can begin at 100€ per day.
Want to know more about the best money-saving tips in car renting in Portugal? Then this expert advice is perfect for you!
Summing up – the best way to get to Espinho
To be honest with you, the best way to get to Espinho from Porto is by train. It is by far the quickest means of transport and also the cheapest one (a single trip costs 1,70€). There are a lot of stations you can depart from and only one line to choose, so you shouldn't have problems picking up the right train.
Even if you are not in Porto, but in Gaia, the amount of options is bigger than in the bus case. Also, if you go by train, you avoid rush hours and unnecessary travel time.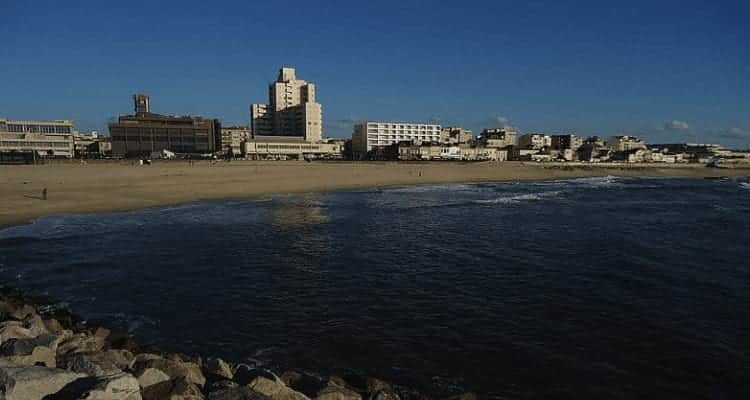 Visiting Espinho
Visiting Espinho be a wonderful experience. You can have a great lunch, try fresh fish, go for a swim, learn to surf, relax in the beach or just go for a walk.
There's plenty to do.
Best time to visit Espinho
The best time to visit Espinho is Summer, undoubtedly.
But remember: it can get a bit windy so make sure you come well prepared (with a wind protection if you want to get do some beach-time).
Don't expect the highest temperatures, as you would experience in the Algarve, for example. The temperatures are mild and perfect for a day at the beach.
Accommodation in Espinho
There are some great options to choose from and all of them can be found very near the beach, which is something people look for when they book a hotel for a Summer vacation. Get to know the best accommodation options in Espinho according to booking reviewers:
Best restaurants in Espinho
Check out the best places to eat in Espinho, from traditional food to amazing fish and seafood, Italian food, vegetarian options and even sushi!
Traditional food in Espinho
Fish and seafood are "the tradition" in Espinho. People often come to the city to try either the dishes, but you can also find other options. Typical Portuguese food is so varied that you can eat a bit of everything in Espinho. Some of the most popular dishes are Bacalhau com Natas, Arroz de Polvo, Cabrito Assado, Arroz de Marisco and so on.
But here's a "pro tip" just for you: Espinho has a small pastry that is to die for. Besides being open during typical work hours, it is also open at night (until 4 am!). So, if you come to Espinho, make sure you ask for a Bola de Berlim at Aipal (in street 19), one of the most precious secrets in the city!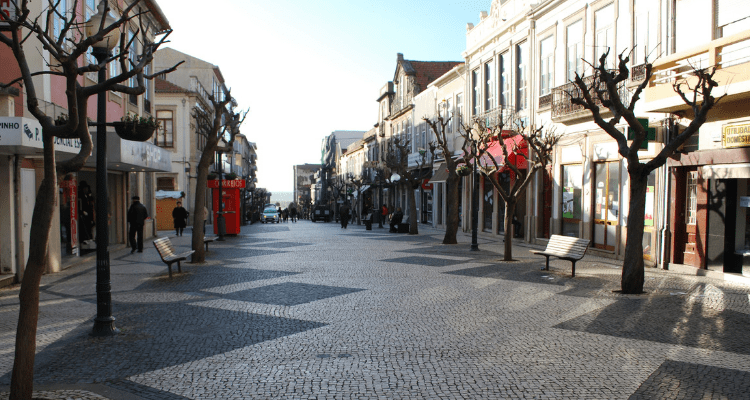 Espinho beaches
This northern city has amazing beaches. Note these down so you don't forget any:
Praia da Baía, where most kids and young people traditionally go to. The sea is much calmer here and friendly to anyone. When conditions are the best, this is one of the top beaches to surf;
Praia da Frente Azul, where there is more "space" to lay around;
Praia das Sereias, a bit rocky here (in the sea), but perfect for surf;
Praia de Paramos, very popular amongst the fishermen families;
Praia de Silvalde, next to the previous one;
Praia da Costa Verde, where.
Best things to do in Espinho
Like I mentioned before, there are many things to do in Espinho.
Such as:
Going to the beach;
Surfing
Explore Espinho Market
Going for Shopping
Have fun at the Casino de Espinho
Dive in a Salty Swimming Pool
Surf in Espinho
Even if you do not practice this sport, you can either consider yourself an enthusiastic or just someone very curious about it. Anyway, you must not miss the perfect endless waves in Espinho since they are very famous in the North of Portugal, and actually considered one of the bests – either if you are starting at surf or if you are an experienced surfer.
You can find at least 3 schools in case you want to try a lesson out (bodyboard and longboard included):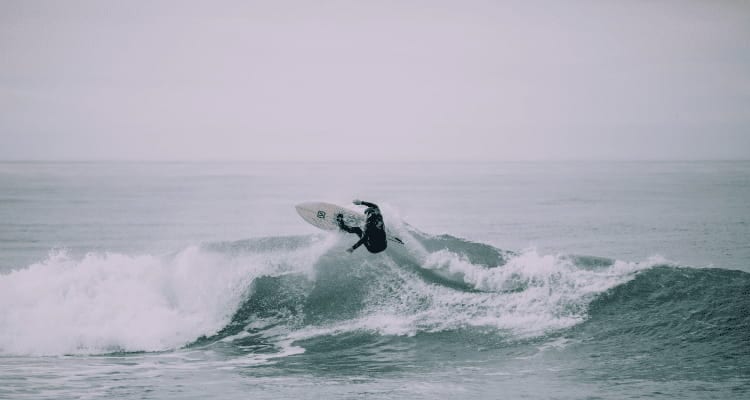 Espinho Market
With decades of existence, the Espinho Market is one of the most preserved traditions around. In Portugal, these types of markets are very popular but they have been disappearing as time passes. The one held in Espinho, which happens every Monday of the week, is one of the most antiques in Portugal and currently one of the few still happening in the country.
There, you can buy almost anything you can think of. From food to clothes, you can find any product at a much friendliest price since it is directly sold by the producers or the owners of the items. This market can be found right in the middle of the city.
Shopping
If you are a shopping fan, you've come to the right city. In Espinho, you can find a lot of local stores selling almost everything you need. From clothes to accessories and even sports gear. Local businesses are placed in the main street, street 19 (Portugal's 5th Ave.).
Bet at the Casino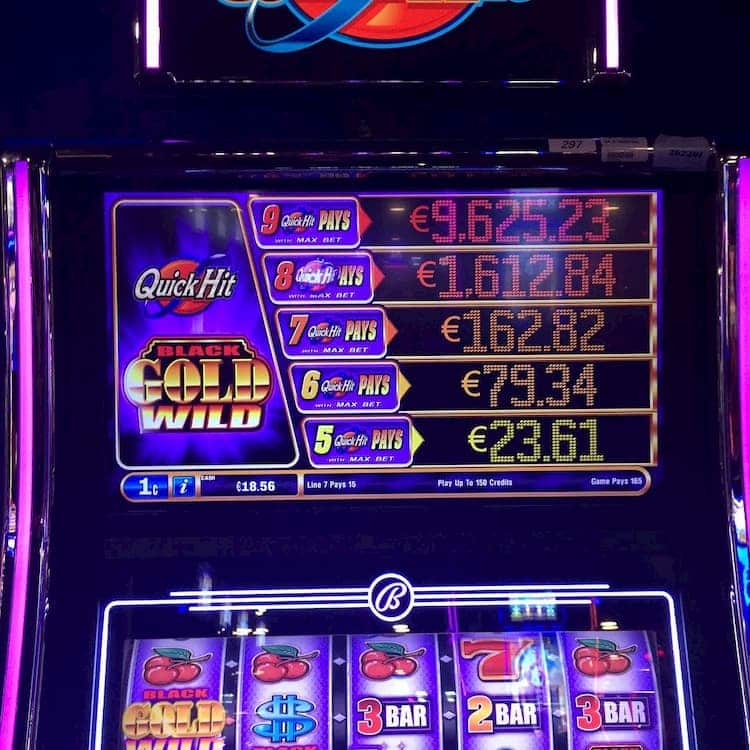 Are you a fan of the game? If you are, please feel welcomed at Espinho's Casino, one of the most famous in Portugal. Any machine you can think of, you most certainly will find at this casino.
Dive in a salty swimming pool
This pool is known in Espinho as Solário Atlântico, a public swimming pool (with salty water) located right in front of the beach. The entrance is paid (€5,4 for adults and €4,1 for children) and only opens in the Summer season, from 9 am to 7 pm.
Places to visit around Espinho
Make sure you go to Porto and Aveiro (you can visit both cities by train). You can also go to Esmoriz, which is 15 minutes away from Espinho and as a beautiful public park: Parque Ambiental do Buçaquinho.
Interested in knowing more about all the hidden cities in Portugal? Take 15 seconds of your time to subscribe to our newsletter!
Now that you know what's it like to visit Espinho, it's time to know what's it like living in Espinho.
I'll share some local tips.
Living in Espinho, a clever option?
I don't live in Espinho, but in a village extremely close to it, so I visit the city very regularly. This is indeed a great city to live in since you don't have to deal with high traffic rush hours and other "inconveniences" bigger cities can experience as time goes by.
Comparing to Big cities of Portugal
Have Porto or Lisbon as an example. Both cities are growing are a pace no one ever imagined, thanks to tourism. This means that, as soon as you put a foot on the street, you will need to be prepared to face a very large crowd, always running from one place to another.
You have all the necessary services
You don't experience that in cities such as Espinho, for example. Even though we are speaking of a smaller city, no needed service is missing. You still have pharmacies, supermarkets, stores, restaurants and pretty much everything you need to live well and safely.
Plus, the sea is right at the end of the street. Who doesn't love that?
What about safety. Is Espinho safe?
It is. Being a smaller city also has its benefits and you can still find a lot of people in the street, not only during the day but also at night. Generally speaking, Espinho is a very safe city, there is no history of robberies or other dangerous situations.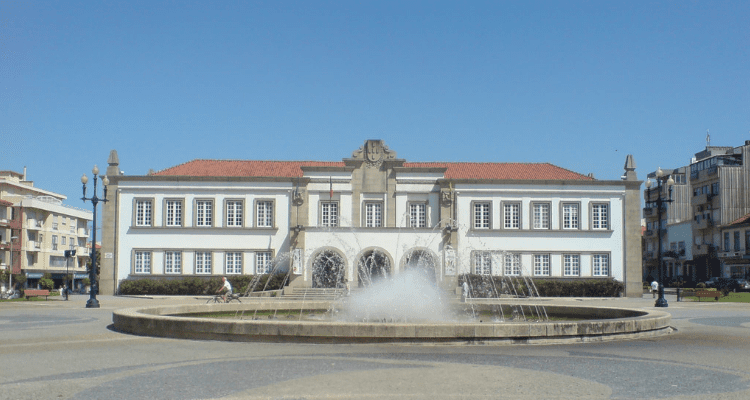 Cost of living in Espinho
It is cheaper to live in Espinho than in Porto, for example. Renting or buying an apartment/house is a bit less expensive than in bigger cities. For instance, you can find larger places here than smaller ones in Porto for the exact same price.
You also don't need to drive a car to go around the city, if you wish. You can easily go from point A to B on foot and save some gas money. Restaurants are a lot cheaper and still offer great food – something you already should know since Portuguese food is the best out there!
Best neighborhoods in Espinho
To be honest, since you can get from one place to another very quickly, it all depends on the necessities you have. If you have children, for example, maybe it is best to live near their school or if you have a fixed job, you should try to be close to that place.
Any neighborhood in Espinho is good to live in, but again, your budget also has a saying on this. As close as you get to the beach, the more you will have to pay to live there – in those cases, the price can go really high since you have a privileged view to the beach and the ocean.
The only neighborhood people tend to avoid is the fishing one. Traditionally speaking, that is the place where only the fishermen's families live in and that happens from one generation to another. Also, you don't find as many housing opportunities there as you do in other Espinho's neighborhoods.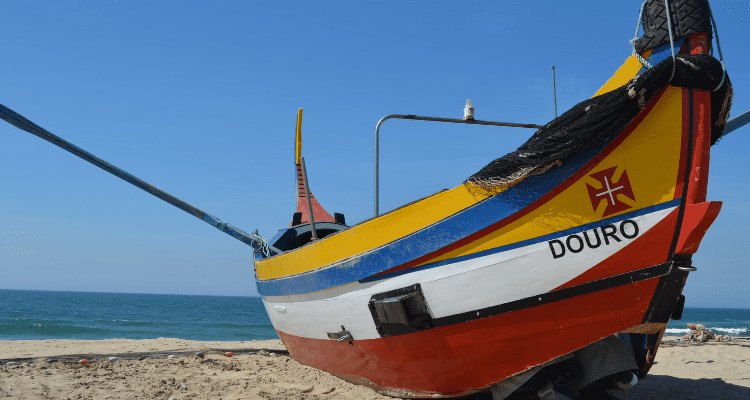 Pros and cons
Literally, everyone knows everyone! You may not like it, but Espinho's residents often know each other. This is a city where families have lived and remained over the years so it is normal for people to greet each other and speak for ages in the middle of the street.
Small cities, right?
That can either be a pro or a con since it all depends on your personality. Also, Espinho has great public schools that prepare young people well before they enter university. But if you're looking for a broader perspective on Portuguese public and private schools, make sure to check this guide.
In Espinho, you can find great restaurants and bars to go out at night. The beaches are amazing and the surf conditions are one of the bests in the country. You have the widest boardwalks to run or have a walk in the morning or afternoon.
It can, however, get a bit windy (I'm being friendly here… Espinho is very windy indeed!). Also, if you are looking for hospitals or emergency rooms, it is best that you go to Gaia or Porto since the options around are not very renowned.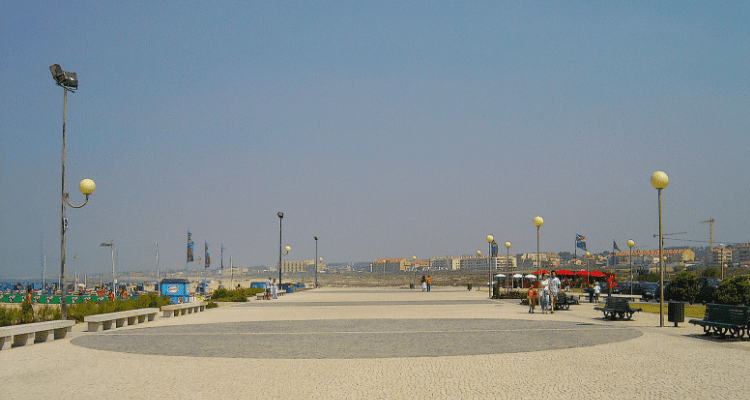 Is it worth living in Espinho, for expats?
Living in Espinho can be a good alternative for those looking to buy a property in Portugal or wish to retire in the so know silver coast of Portugal.
To receive more tips about visiting Portugal subscribe to this temporary list. We only send advice according to your preferences.