If you're looking ahead to planning a trip for the winter holidays, Portugal should be at the top of your list.
As a country with a typically mild climate even through the winter and centuries of holiday traditions to share, Portugal won't disappoint as the ideal destination to spend a few days or even a few weeks.
What is Portugal like in December?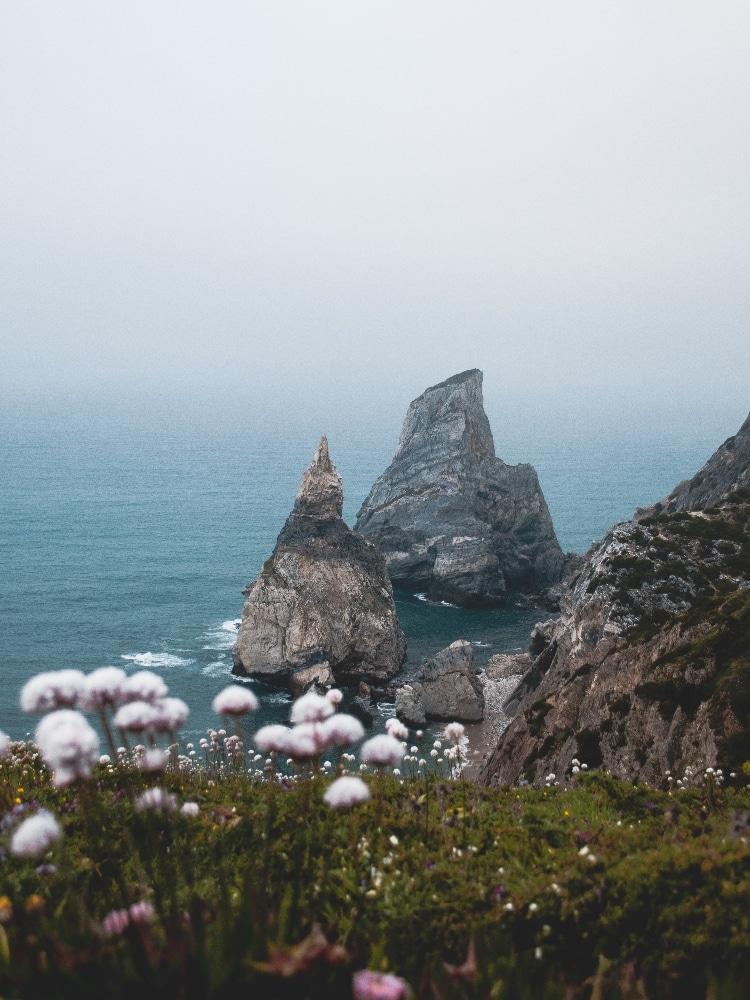 The climate in Portugal: Fall and Winter
The climate of Portugal is temperate, influenced by the currents of the Atlantic Ocean. While the Fall often sees warm, sunny days depending on the region of the country and the year, temperatures begin dropping in October.
Visitors to the country in these seasons should be prepared for rain and chillier nights, while needing a proper winter jacket if traveling during the winter.
If you're interested in visiting during the Fall, check out this article on visiting Portugal in September.
Portugal weather in December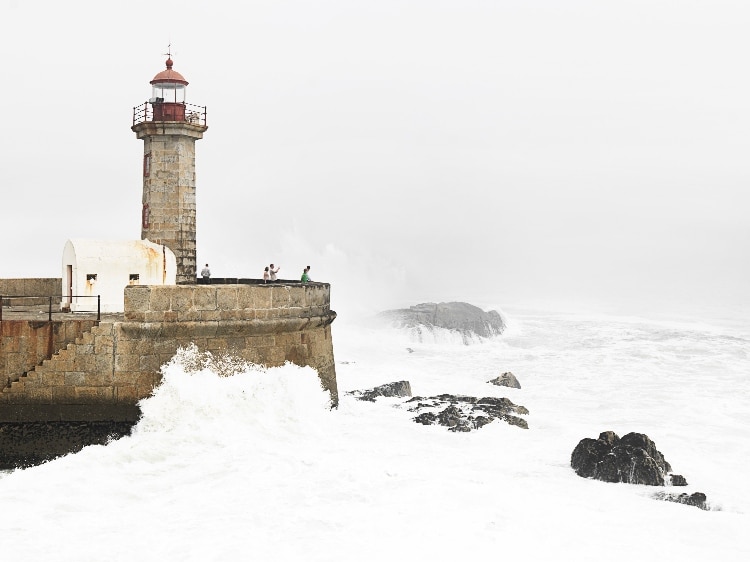 As a southern Mediterranean country, December days tend to be mild to warm while nights are typically chilly and damp along the coast and drier more inland.
Daytime temperatures average around 60°F (15°C) while nighttime temperatures fall to an average of 45°F (8°C). Portugal boasts an average of 300 days of sunshine per year, meaning that you're likely to see a clear, sunny sky during the day.
December weather can also bring some rain and snow, depending on where you are visiting. The northern regions of the country see more annual precipitation and colder temperatures while the southern Algarve region is the warmest and driest.
Portugal also has several small mountain peaks, including the most well-known Serra da Estrela, which can experience snowfall as early as December.
If you're interested in checking out some winter activities in Portugal, Serra da Estrela has its own small ski resort, called the Vodafone Ski Resort, which is open when there is enough snow cover on the mountain.
Time zone in Portugal
Portugal is located in the GMT time zone, which includes the Portuguese island of Madeira, off the western coast in the Atlantic Ocean.
The Azores islands are one hour behind the mainland and Madeira. Portugal also follows daylight savings time when clocks shift an hour backward in the Fall and move an hour forward in the Spring.
The hour typically changes sometime in late October in the Fall and late March in the Spring.
In comparison with other European cities, Portugal shares the same time zone as London while Madrid, Rome, Paris, and Berlin are all one hour ahead.
Are there any national holidays in Portugal in December?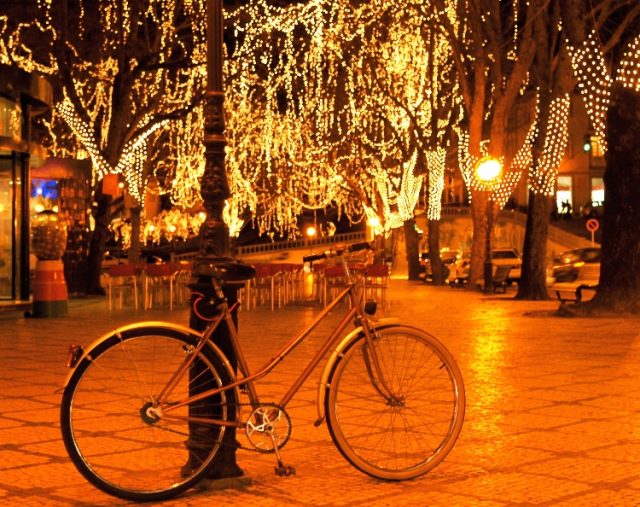 Portugal has three national holidays in December: December 1st is the Restoration of Independence Day, December 8th is the Day of the Immaculate Conception, and December 25th is Christmas.
Many shops and businesses also close early on December 24th for Christmas Eve and December 31th for New Year's Eve.
In Portugal, it is common to see most businesses close for the entire day when there is a holiday, so you should plan your day accordingly if your visit falls on a holiday.
What time is sunrise and sunset in December?
In December, the sun rises between around 7:40 and 8:00 am while setting between 5:05 and 5:15 pm depending on the day of the month.
The winter solstice in the Northern Hemisphere affects Portugal as well, with the shortest day falling between December 20th and 23th.
What to do in Portugal in December?
You will find that there are plenty of attractions and activities to see and do when you visit Portugal in December. From holiday markets and fairs to festive lights and decorations, the country is overflowing with holiday spirit and charm.
As a primarily Catholic country, Christmas is widely celebrated and includes many thematic attractions for visitors to enjoy.
If you visit over the Christmas holiday, you should note that most businesses and shops shut down on Christmas Eve and Christmas Day, as the Portuguese value spending this time with family and loved ones.
Most restaurants will also shut down on these days.
Find out how Christmas is celebrated: Christmas in Portugal, Where to Go and What to Do for the Festive Season.
Wonderland Lisboa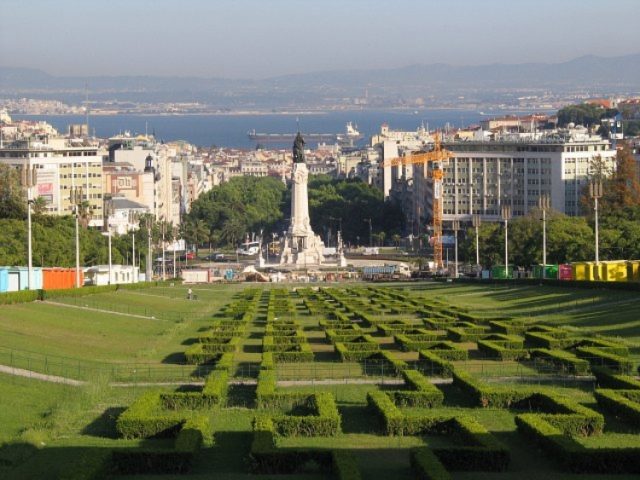 The largest Christmas event in Lisbon takes place every December, typically running through most of the month.
At the sprawling Parque Eduardo VII in Marquês de Pombal, those attending the attraction can find many Christmas-themed activities to partake in and delicious food to enjoy.
The event includes a Ferris wheel, ice skating rink (not made of real ice as it is too warm for the ice to stay frozen in Lisbon), fair rides, and visits with Santa Claus.
The event is open between 12:00 pm and 9:00 pm Monday through Thursday. On Fridays, it closes at 10:00 pm and on Saturdays and holidays, it is open between 10:00 am and 12:00 am.
On Sundays, it opens at 10:00 am and closes at 10:00 pm. While admission is free, you will have to pay for the various attractions.
Vila Natal de Óbidos
In the walled, medieval town of Óbidos just north of Lisbon, another Christmas market takes place from late November to early January.
During these weeks, the entire city becomes illuminated in festive lights, fills with color, and boasts all manner of Christmas-themed goodies and products. The event also features visits with Santa Claus, an ice skating rink, bounce houses, and concerts.
Cascais Christmas Village
In the small fishing town of Cascais, on the coast west of Lisbon, the magic of Christmas continues. Over the course of 27 days, visitors of all ages can enjoy the various attractions that the village provides.
In addition to housing an "enchanted forest" with real reindeer, the event also features Santa's house, an enormous Christmas tree, a Christmas train, and an ice skating rink.
Visitors can also experience a live retelling of the story of Christmas while browsing the market stalls stocked with Christmas-themed products and foods.
Vila Vita Christmas Market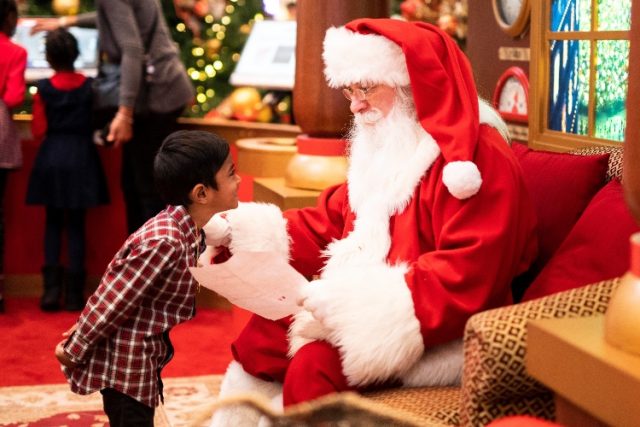 If you're spending the holiday down south, head to Porches, Algarve, for this not-to-miss Christmas market.
Expanding beyond Portuguese traditions and products, the market aims to bring Northern Europe to sunny, southern Portugal with tasty treats, wines, unique festive merchandise, and handcrafted gifts spread throughout several wooden stalls.
Children can enjoy face painting and a variety of fun games as well.
The market is open on the three weekends of December, on Saturdays and Sundays, from 1:00 pm to 8:00 pm. Admission is free for all.
What traditional foods are eaten in Portugal in December?
With the Christmas holiday around the corner, you can find many traditional meals and treats being sold in restaurants, supermarkets, and shops around the country.
The Christmas Eve dinner typically consists of the traditional codfish in many regions, while in others like the north of Portugal, the octopus is enjoyed as the main dish.
Codfish cakes and rissóis (small, savory fried turnovers) are enjoyed as appetizers while sides include cooked cabbage, boiled potatoes, hard-boiled eggs, and carrots. The main meal is also traditionally drizzled with Portuguese olive oil.
The star of the meal are the desserts, which often outnumber the elements of the main dish. There are two kinds of Christmas cakes: the King's Cake and the Queen's Cake.
Both are a type of Portuguese fruit cake consisting of a bread-like cake filled with dried fruits and nuts and topped with candied fruit and powdered sugar.
The Queen's Cake differs in that it is filled with a higher quantity of nuts and raisins and does not include candied fruits on top. Both cakes can be found in most supermarkets throughout the month.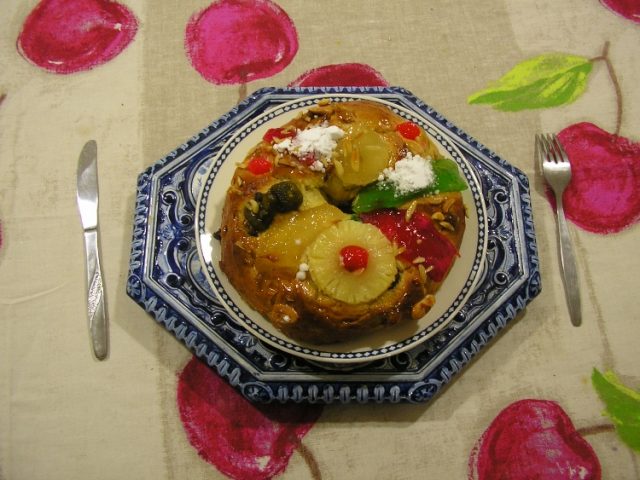 Other desserts enjoyed on Christmas Eve include filhoses – fried dough made into a thin, rectangular shape with flared edges and covered in cinnamon and sugar.
Fried chickpea or almond filled turnovers are an Alentejo favorite while sonhos – fried dough balls rolled in cinnamon and sugar – embody the sweetness of Christmas.
Arroz doce (sweet rice) and pudim (a Portuguese pudding similar to flan) are also enjoyed by those with a sweet tooth.
Are you a sweet tooth? Try the 20 Mouth-Watering Portuguese Desserts (Recipes Included).
Should you visit Portugal in December?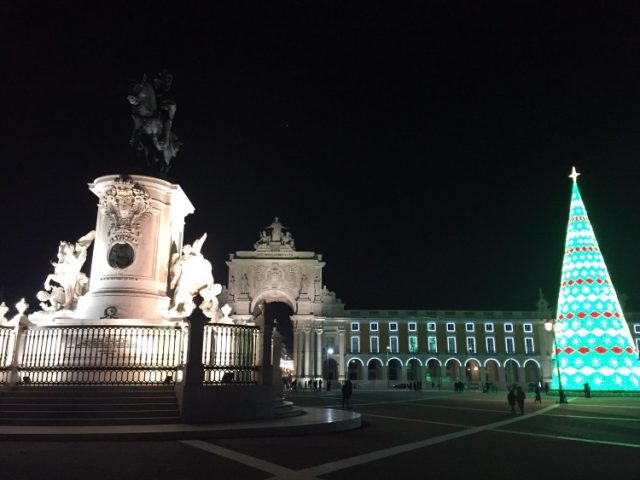 Absolutely, yes!
In addition to enjoying Portugal's beautiful and breathtaking destinations and centuries of captivating history and architecture, the month of December holds some other treats in store with its many holiday-themed attractions and gastronomy.
While a chillier, winter month, the weather still stays mild in general and you will most likely experience sunshine during your entire stay.
You also won't want to miss out on the Christmas markets and events, boasting fun for visitors of all ages.
Last but not least, Portugal in December is not as crowded and overtaken by tourists as in the popular Spring and Summer months, making it the ideal location to spend your winter holidays.
While in Portugal, don't forget to check out these fascinating cities:
Discover more about Portugal when you subscribe to our newsletter.