Tired of spending every weekend on the couch watching movies while other couples are on amazing holidays?
Looking to trade another boring weekend in your city with a well-deserved break full of sunshine, great food, and even better wine?
If this sounds like your version of heaven right now then we've got the perfect solution – plan your next Lisbon city break!
City break in Lisbon
From the best viewpoints for an unforgettable sunset to the best hotels to stay and pamper yourselves, we've got the complete local's guide to help inject some extra romance into your life and every reason why you should book your next romantic city break in Lisbon.
Imagine this: Your first step off the plane and you immediately find yourself blessed with blue skies and sunshine and one of the quickest and cheapest Uber rides to a downtown city in Europe.
Upon your arrival into Lisbon, you're instantly captivated by the city's beauty – from the stunning architecture along Avenida da Liberdade, the cute cobblestone streets of Bairro Alto and the magnificent river view looking over Praça do Comércio and the 25 de Abril bridge.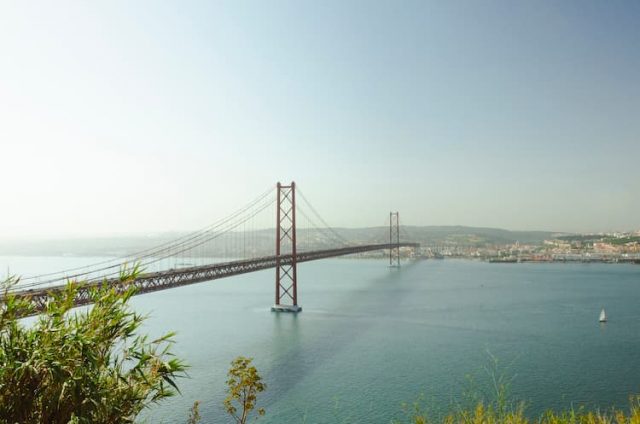 Feeling a bit hungry? Try some delicious bacalhau (Cod) or frango (chicken) at a homely Portuguese restaurant and wash it down with a glass (or two) of refreshing Vinho Verde or Sagres for beer lovers.
You spend the afternoon exploring the famous seven hills of Lisbon, choosing a breathtaking viewpoint to see the sunset followed by a nice romantic dinner – where you still both can't believe that's all you have to pay when the bill arrives.
As you sink into another evening drink at yet another panoramic view overlooking the city, live music plays around you and you laugh and dance the night away together.
This isn't another rom-com movie. This is your romantic city break in Lisbon and this was the best idea for both of you!
When's the best time to book a city break in Lisbon?
To be perfectly honest, any time of the year is a good time to book a Lisbon city break. With around 250 days of sunshine a year, you're almost always guaranteed great weather here!
Thinking about a break in Lisbon filled with days lounging by the beach and perfect romantic sunsets? Then you should plan between May and September for the best chance of clear skies and flawless weather.
If you are a more adventurous couple looking forward to spending your time walking around and hiking, then mid-season Spring or Autumn is a better time to plan your trip if you prefer milder temperatures.
If your ideal break involves nice dinners and an indulgent stay in a nice hotel, then you can really just plan to do this all year round!
Itinerary for a romantic city break in Lisbon
There are so many exciting things to do in Lisbon. Here's the best part – a weekend away is just the perfect amount of time too!
If you're too busy to research what to do when you get here then don't worry either because I have your weekend plan already outlined below.
Friday
Finish the work week right with a Friday flight into Lisbon. When you arrive at Lisbon Airport, find the best way to get to your accommodation. Then, you can drop your bags and head out for dinner at a restaurant around Bairro Alto. Go on a pub crawl in Bairro Alto for only €14 here!
We suggest going to O Faia where you can eat traditional Portuguese food and watch an amazing Fado Performance.
If you're visiting in the summer, you can go to Solar do Duque to enjoy your meal outdoors in a quiet alley with an amazing view of Castelo de São Jorge – the castle that overlooks Lisbon. If you want to skip the line, click here.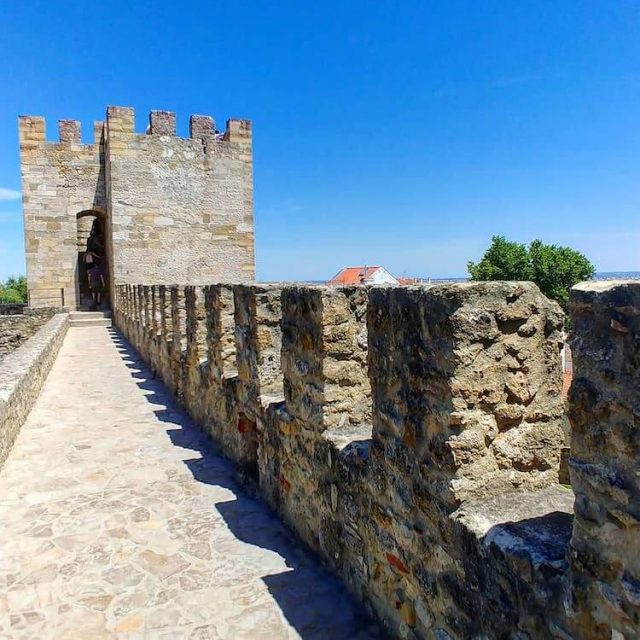 Following your delicious meal, there is no better way to immerse yourself into the Lisbon night than with a drink in Bairro Alto.
A good starting point for the first night of your  Lisbon city break is Park Bar which is located at the top floor of a car park (yes, it might not seem to be the most romantic place but trust me, you are in for one of many surprises in Lisbon!)
With an amazing view of the 25 de Abril bridge and the Christ the King statue on the other side of the river, it's absolutely perfect for a sunset or evening drink.
After Park Bar, head to the center of Bairro Alto where you can visit one of the many fado restaurants like A Parreirinha de Alfama – where food and Fado have been paired since 1950. You can also go to Páginas Tantas for a live jazz session.
Saturday
Lisbon wakes up a little bit later than other European cities so indulge with a little sleep in at your hotel before grabbing breakfast like a Lisbon local – an espresso coffee at your corner cafe (you shouldn't pay more than €1 for a coffee in Lisbon!) and a freshly baked Pastel de Nata at Manteigaria!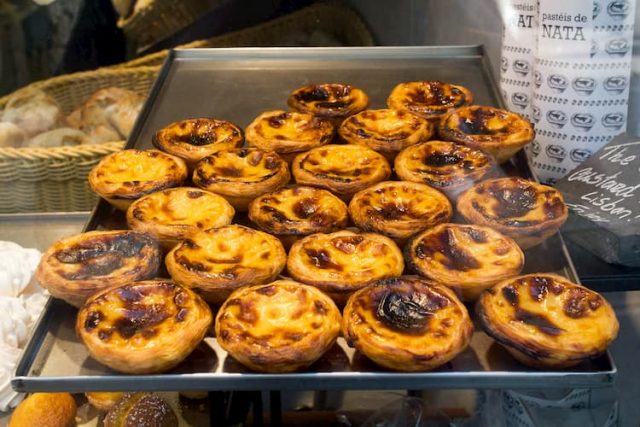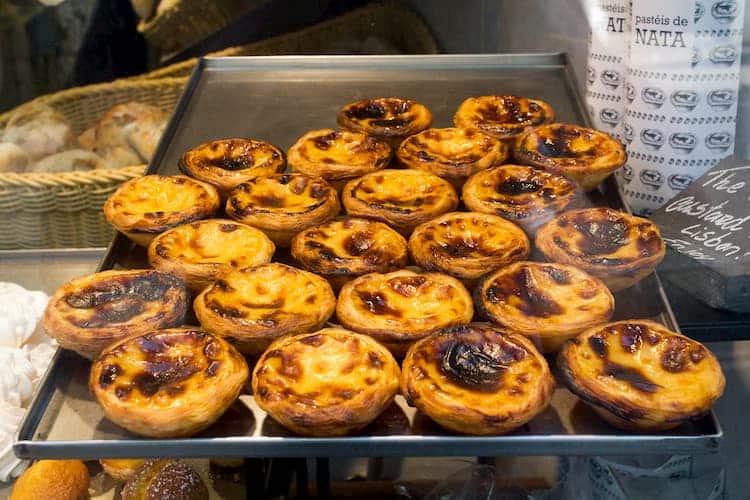 You can't have a city break in Lisbon without learning about the history of Portugal's capital. And there is a lot to be seen and admired.
Enjoy discovering the little pockets of the city by walking through its beautifully lined streets or if you feel like it, there's also plenty of private guided tours available here.
Head down to the Time Out Markets for lunch, a must-see for foodie lovers and where you can feast on incredible Portuguese cuisine from some of Lisbon's best restaurants – all under one roof too!
If you prefer to sample local produce, you can shop for fresh products at any grocery store in downtown Lisbon. There, you'll have everything you need to pack for a romantic picnic at Parque Eduardo VII or Jardim da Estrela – these stunning gardens will definitely put you in the good books of your other half!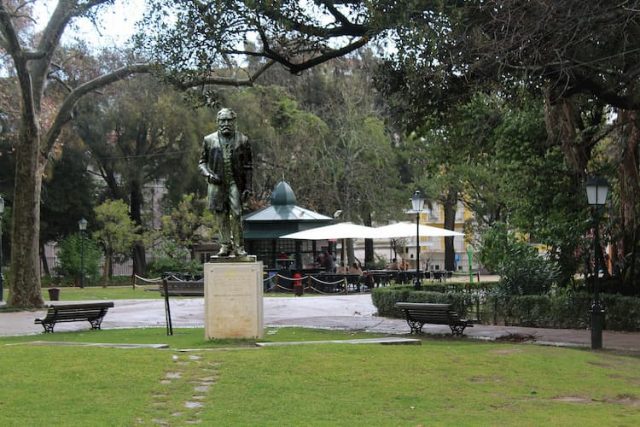 When the sun sets, head to Alfama for a unique and memorable dinner. There, you can enjoy a live cabaret dinner at Beco from renowned Portuguese Chef José Avillez – this is an incredible experience that pairs incredible food served in playful ways and a full night of live entertainment!
Sunday
On Sunday, board one of the infamous Lisbon trams out to Belém where you are allowed to treat yourself to another Pastel de Nata at Pasteis de Belém – which has been the house of the Pastel de Nata since 1837.
Enjoy your afternoon passing by sights like the magnificent Jerónimos Monastery, Torre de Belém and Padrão dos Descobrimentos, the Botanical Garden and Jardim de Belém. For art and design lovers, MAAT is an absolute must-visit too!
If you want to go on an electric scooter tour through Belém, click here.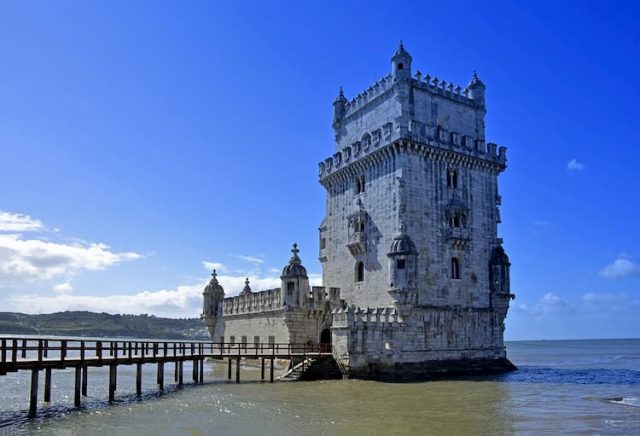 Before heading to the airport and finishing your trip, grab your final meal at Prova, which is considered by many a hidden gem and is one of the best-rated restaurants in the area.
Lisbon city break: what else can we see?
If you are still looking for inspiration for other activities to do, then Lisbon really has it all for you (you might even have to book another trip back!). Here is a list of some other activities we recommend in your Lisbon city break:
A romantic boat or ferry ride along the Tagus river – perfect for that sunset snap
A day trip to the beautiful UNESCO World Heritage-listed town of Sintra
A day visit to the seaside town of Cascais
A sunny day exploring the endless beaches along Costa da Caparica
Watch a live football match at the world-famous Benfica Stadium
See marine life and spend a day at Oceanário de Lisboa
Take a nice stroll around Jardim Zoologico de Lisboa and say hello to some friendly animals while you're there
Spend some time exploring the area around Centro Vasco da Gama – take a ride in the cable car for a great view of the river as well!
Find out more about tourism in Lisbon, subscribe to our newsletter.
Romantic hotels in Lisbon
Now that you have an entire weekend of activities already planned out for your Lisbon city break, finding a great hotel to retreat back to each night is just as important to top off a perfect holiday.
There are plenty of fantastic romantic hotels in Lisbon available to choose from but we have shortened the list by selecting the most enchanting hotels to better suit your ideal weekend break.
Lisboa Pessoa Hotel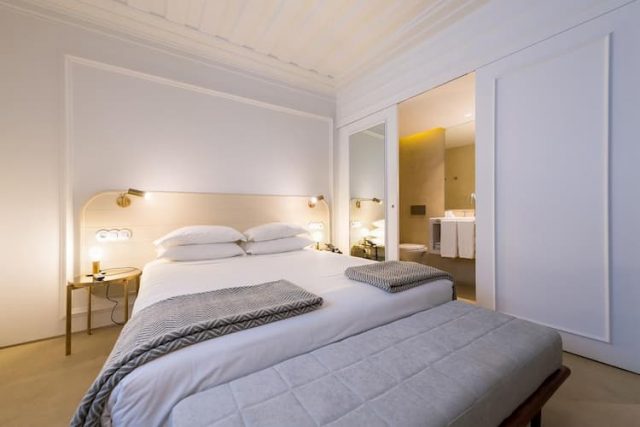 This is a 4-star hotel inspired by the Portuguese author Fernando Pessoa, who was one of the most important Portuguese authors of all time. It is located in Chiado in the very center of Lisbon.
Book a room here.
WC Beautique Hotel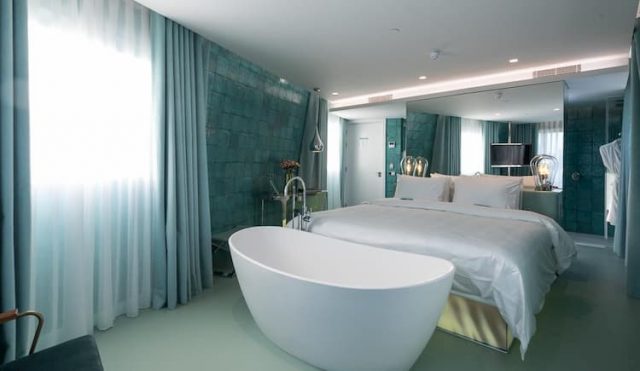 This is an incredibly fun WC themed 4-star hotel fitted out with great design taste and sophistication.
You can get a room here.
Altis Avenida Hotel
Here you can find everything you would want from a 5-star hotel. From the amazing rooms to the indoor pool, you will live your best lives.
Get a room here.
Corpo Santo Lisbon Historical Hotel
This hotel has a chunk of the historical 14th-century Muralha Fernandina (part of the original walls of Lisbon), along with views over 17th-century noble households. This 5-star hotel is a huge hit with visitors and has a great on-site restaurant as well.
Book your stay here.
EPIC SANA Lisboa Hotel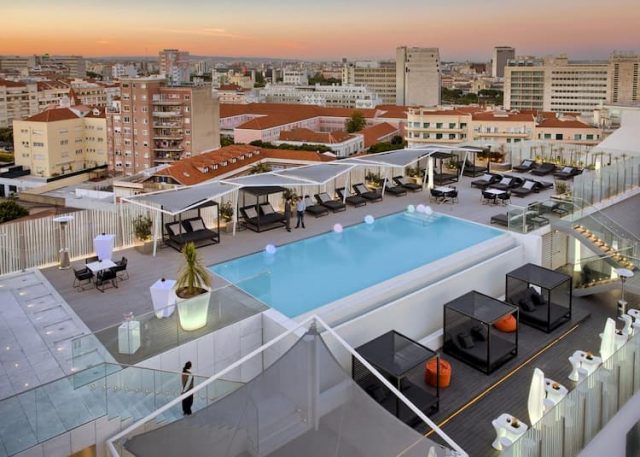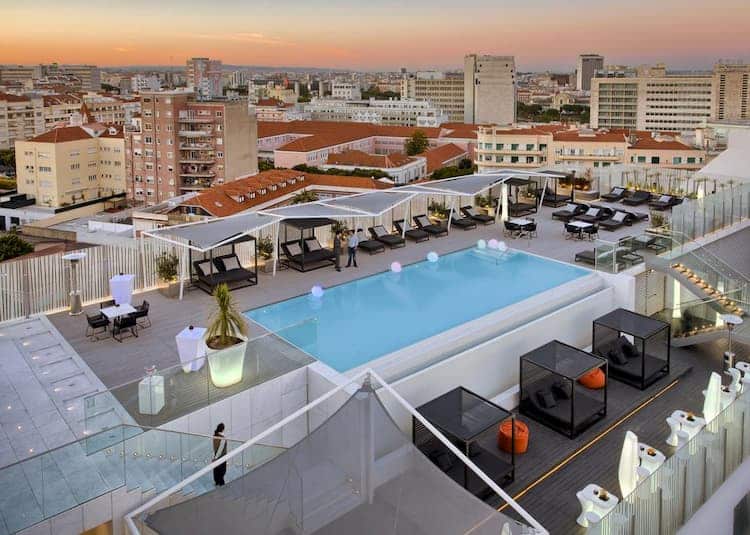 This is a new 5-star hotel featuring both a rooftop infinity pool and an indoor pool (because two is better than one, right?).
Get your room here.
Where exactly are these hotels?
Most romantic viewpoints in Lisbon?
Your Lisbon city break is not complete. You still need to see the beauty of the city at one of the many miradouros (viewpoints) around the city. Here's a list of some of the most romantic viewpoints to get that perfect shot together (and make your friends a little bit jealous!)
Miradouro Sophia de Mello Breyner Andresen
This popular viewpoint offers panoramic views of Lisbon rooftops, the Castelo de São Jorge, the Tejo River, and even the 25 de Abril Bridge. It's located in Calçada da Graça and has great views, day and night.
Miradouro da Senhora do Monte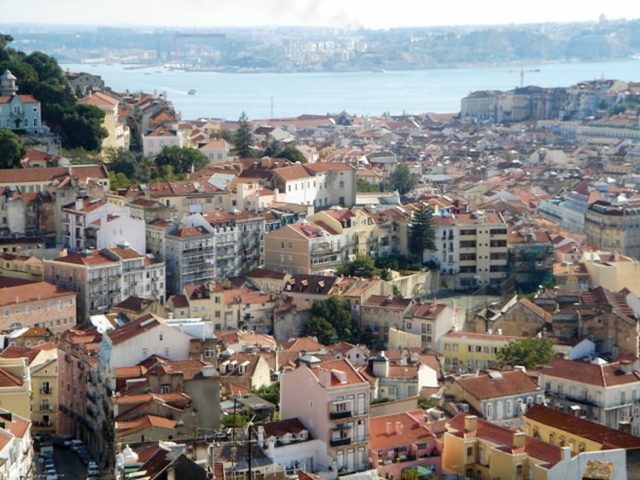 Located in a churchyard, this is quite a unique viewpoint. It is one of the few that isn't close to the river.
The panoramic views, however, are amazing with an array of red roofs and the Castelo de São Jorge and Tejo River in the distance.
It's located in Largo Monte and it is open 24h.
Miradouro de Santa Luzia
This viewpoint is absolutely amazing with the garden and the windows to the Tejo River.
It's also open 24h and perfectly located in Largo de Santa Luzia, close to the amazing Fado restaurants of Alfama.
Parque Eduardo VII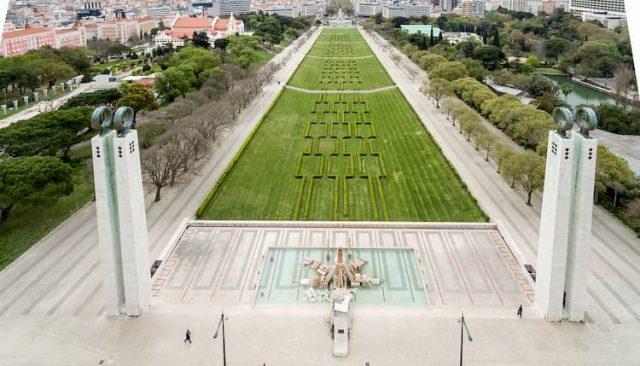 Eduardo VII Park is the biggest park in Central Lisbon. It has an area of 26 hectares and located north of the Avenida da Liberdade and the Marquês de Pombal roundabout, in the center of the city.
At the very top of the park, you have a viewpoint that is very quiet. It also has a view straight through the park, the avenue and all the way to the river. It is open 24h but as with any big park in any city, caution is advised if you are going later at night.
Miradouro das Portas do Sol
This viewpoint is just a stone's throw away from the Miradouro de Santa Luzia in Largo das Portas do Sol. It is definitely worth a visit. This miradouro is not famous for the faraway view but for its close up view of the Alfama neighborhood.
Also, if you pay attention you can hear the famous women of Alfama talking (or screaming) to each other from the windows of their apartments. It's a square so it's open 24h and pretty safe at all times.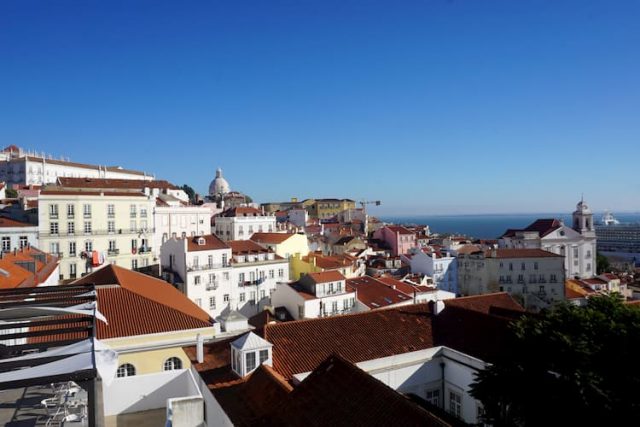 Ready for your Lisbon city break?
Hotels – check. Activities – check. Itinerary – check. Viewpoints to make your friends jealous – check. Now all that's left for you to do is go online and book your next well-deserved break in Lisbon.
Fall in love with the city together for a holiday you'll never forget!