The Tróia Peninsula, or the Peninsula de Tróia, is a gorgeous coastal gem with stunning beaches, crystal clear waters and pine-forested sand dunes.
With great opportunities for cycling, golfing, and water sports, there is plenty to keep you entertained between sunbathing sessions on the beach. Also, great restaurants abound and you might even get the chance to see some dolphins.
Sound like the vacation destination you've been searching for? Here is a guide to enjoying the best that this little slice of heaven has to offer.
Tróia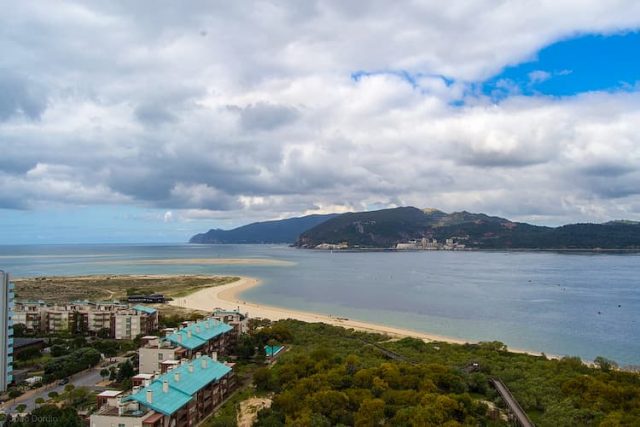 This posh area has been developed with class and privacy in mind, and it offers chic and secluded holidays for those looking to treat themselves.
The main tourist development of Tróia is to the northern tip of the sandy peninsula and it is here that you will find fine dining, fashionable bars and a grand casino complex.
This swanky repute of Tróia dates back to the 1980s when the gorgeous Tróia Golf Course was constructed, and this golf course is still considered as one of Portugal's finest.
Portugal has some of the best golf courses in the world, plan a golf holiday with this guide.
How to get to Tróia
Although there is a road approaching Tróia from the south, I would really recommend taking the lovely and refreshing ferry ride.
If coming from Lisbon, first take the hour trip to Setúbal, then you simply take the ferry across the river Sado to get to the resort of Tróia.
Although you can complete the journey back and forth in one day from Lisbon, the majority of day-trippers to Tróia come from Setúbal. This is the departure location for both ferries, including the passenger catamaran and the car ferry.
That being said, it is possible to have a day trip to Tróia, using public transport, from Sesimbra or even Lisbon.
If you are already in Setúbal, you shouldn't miss the opportunity to explore Tróia, as this is where you will definitely find the best local beaches accessible by public transport.
Weather in Tróia
Although summer is definitely the busiest time on this beautiful peninsula, Tróia makes a nice destination all year round.
You won't find scorching heat from November- March, but the mild temperatures of Tróia's microclimate allow you to spend a few days full of activities, whether it's summer or winter.
Keep in mind that during the summer Tróia is incredibly popular with day-trippers.
But if you're looking for a little peace and quiet, you can easily hire a bike or take a short hike in order to find yourself on a deserted beach or in a peaceful forest.
What to do in Tróia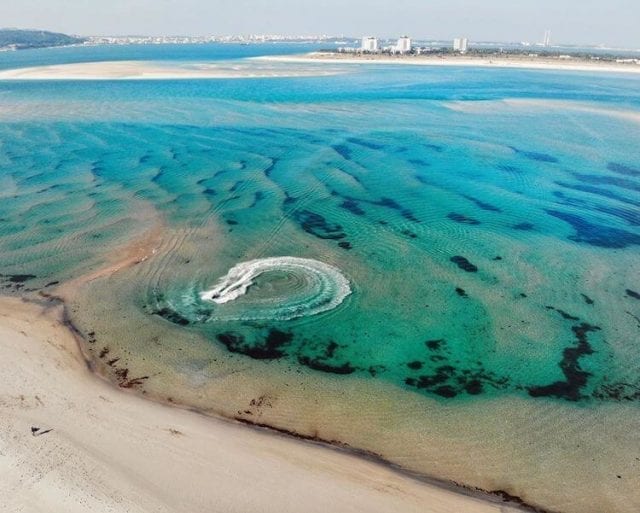 Beaches in Tróia
If you're looking for beaches that go on for days, Tróia will not disappoint. Along this sunny bank, you'll find one of the most extensive beaches in Portugal. In fact, 18 full kilometres to explore and enjoy at your leisure.
These idyllic beaches are blessed with soft golden sand onto which the cooling waters of the Atlantic Ocean roll, making for a pleasantly refreshing combination.
An added bonus of the beaches scattered along the Tróia Peninsula is that the seas tend to be much calmer than at other Portuguese westward-facing coastlines, such as the surfing hot spots of Costa da Caparica or Ericeira.
This welcome calmness is primarily thanks to sunken sandbars out to sea that give rise to the calm turquoise waters.
If you're planning to take the family with you, it's good to know that the beaches on the western side of Tróia are safe for children to swim in. The water even tends to be a bit warmer than neighbouring beaches and there is usually a lifeguard on duty.
Here are my favourite beaches in Tróia:
Praia de Tróia is the closest beach to the ferry terminal and main resort town and is therefore where you are most likely to find the highest concentration of visitors.
From the town centre, pleasant boardwalks are leading to quieter sections of this beach, including the southern side of the Praia do Bico das Lulas.
If you're really looking to get away from the crowds, your best bet is to head to the Praia de Tróia-Galé, behind the Tróia Golf course.
The Praia Atlântica is the main beach for Sol Tróia and is another magnificent beach, which is very similar to the northern tip.
The eastern side of the Península also boasts some truly gorgeous beaches, but keep in mind that due to the fact that these waters come from the Sado Estuary, they are not suitable for swimming.
Water sports
If you easily get bored laying stationary on the beach, Tróia still has plenty to offer! In addition to the pine forests ideal for cycling or walking, you can also enjoy a full range of water sports.
Weather permitting, you can even try some windsurfing or sailing. The Tróia Marina is always bustling and full of helpful staff who will be glad to guide you in the right direction for your next adventure.
Golf in Tróia
You can't talk about Tróia without highlighting one of its most famous attractions, the Troia Golf Course.
Designed by the famous American architect Bobby Jones, this beautiful course is easy to appreciate- even for those who aren't crazy about hitting the links.
Truly integrated into the landscape, it is aesthetically marvellous and also offers up a great option for those in search of a real golfing challenge.
Set amidst a beautiful backdrop, you'll have to navigate narrow greens and numerous bunkers on this tricky 18-hole course.
This course regularly makes the list of the best golf courses in Europe and is in the standard rotation of many international competitions.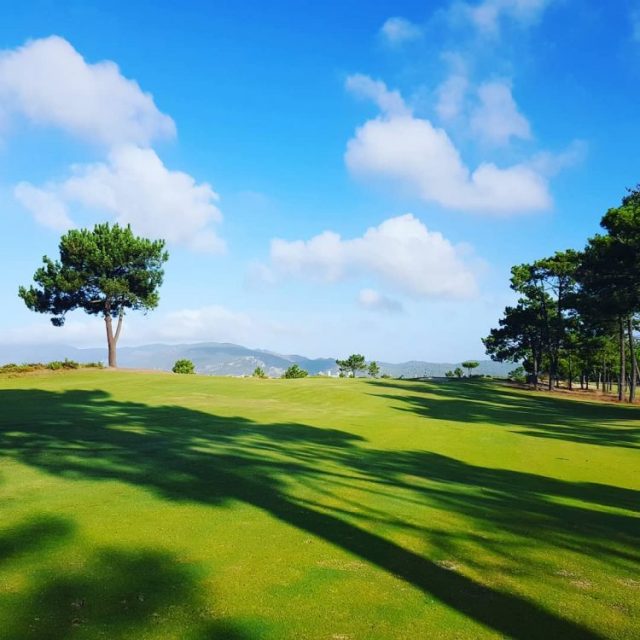 Dolphins
The chance to see these smart and friendly creatures is another fun experience that awaits you at the Tróia Peninsula. It is extremely common to spot dolphins at the point where the river Sado meets the sea.
You can also take a boat ride out to observe their playful behaviour and see them up close. Book your dolphin watching tour right now.
Restaurants in Tróia
The Tróia Peninsula has lots of great dining options. Whether you're looking for an elegant dining experience or to sample some local street food, you'll find plenty of options to suit your appetite.
Go on a food and wine tasting tour. Book it right now!
Gomes – Wine and Snack House
The best-known mini gourmet market in the area, the owners of Gomes have expanded their enterprise to include a lovely little restaurant, Gomes – Casa de Vinhos e Petiscos.
As the name implies, here you can try cheeses, sausages, preserves and hams to mince and good wines and cocktails to drink.
You'll also have the chance to snack on local delicacies like clams, and bean stew.
The indoor atmosphere is cosy, but I recommend grabbing a table outside on warmer nights to fully take in your surroundings.
It's a 20-minute drive from the Tróia bay, but it is definitely worth the time.
B&G Restaurant
This lovely place offers a magnificent view of the marina and is decorated with stylish contemporary designs. In terms of the menu, they are all about celebrating regional flavours and showing off the best that Portuguese cuisine has to offer.
This is a great place to come for fresh seafood prepared according to traditional recipes but with a modern twist.
Street Food at Tróia Resort
If burgers on bourgeois brioche bread, homemade croissants and waffles, and crepes topped with sugar and fresh lemon juice sound good to you, then you're in luck.
The centre of Tróia has a street food market all summer with these and other vans, as well as terrace tables for eating all day. Don't miss out on this opportunity to try snacks of all sorts while strolling around at your leisure.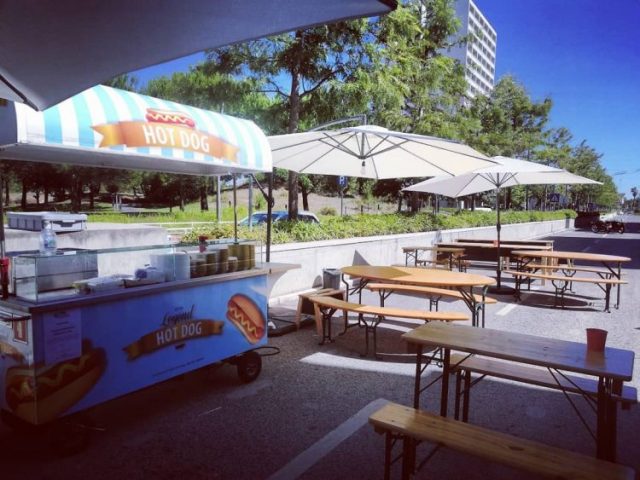 Hotels in Tróia
You have plenty of attractive options when it comes to finding the perfect accommodations in Tróia. Whether you're looking for full-on luxury or a budget option, here a few top picks.
Blue & Green Tróia Design Hotel
If you're looking to treat yourself to a stylish home away from home, this gorgeous 5-star hotel will not disappoint.
With 14 floors of residential suites and luxury rooms, this hotel includes a Spa with over 70 different treatments, a kid's club, 2 roof-top swimming pools, restaurants and a lounge bar that each reflect a unique approach to design.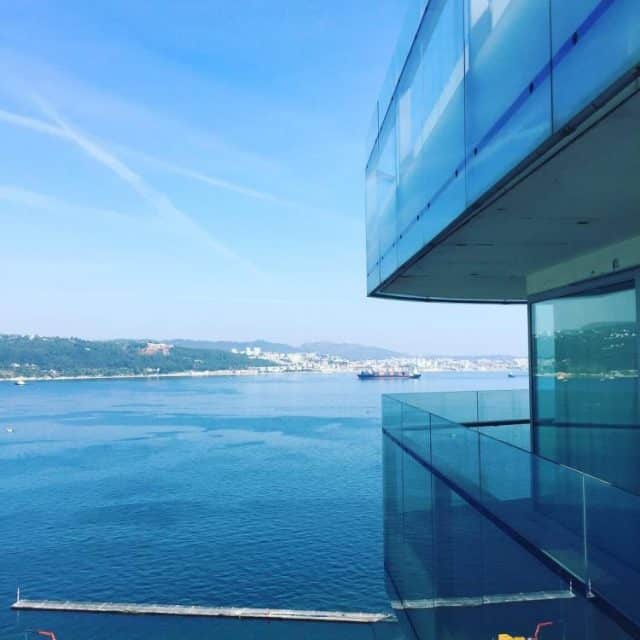 Aqualuz Suite Hotel Apartamentos
If you're travelling with the family and want all the amenities, in addition, comfortable rooms, this large hotel is a good option.
You can start each day with their generous breakfast offering while enjoying breathtaking views over the sea, the Arrabida Mountain and the Sado River.
Villa Kochab
A bit further down the peninsula, this charming guesthouse has everything you need for a relaxing beach getaway.
An intimate space of only 5 rooms, the area is surrounded by great beaches, restaurants and makes for a very chilled laid back escape.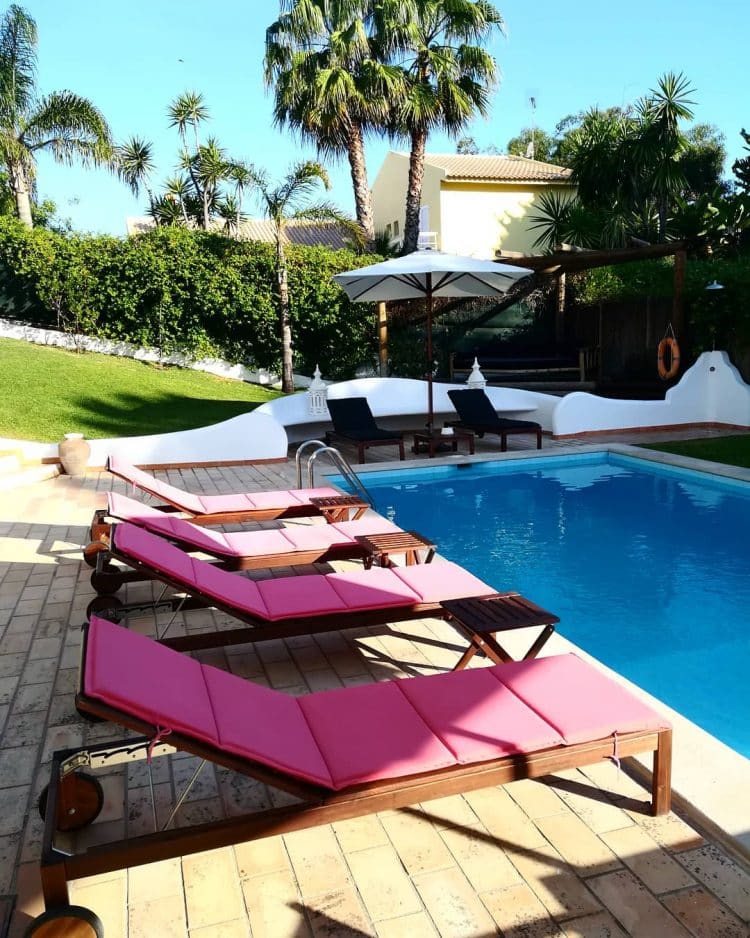 Should you visit Tróia
As you can see, so much awaits you at the Tróia Peninsula. From dolphins to golf, street food to luxury accommodations, there is so much to love about this unique destination less than an hour from the Portuguese capital.
Whether travelling with the family, as a couple or venturing out to make new friends, you can find everything you need for the perfect vacation in Tróia.