From water caves to a hill town of whitewashed houses that used to rise above a lagoon, Lagoa is a beautiful town surrounded by beautiful and isolated beaches.
Have I caught your attention?
Let's find out why Lagoa should be your next visit to Portugal!
Where is Lagoa?
Lagoa is a small city in the Algarve region and is situated in the district of Faro, Portugal. Furthermore, it is the southernmost region in Portugal and one of the agricultural centers of the western Algarve.
If you are worried about being too far away from the beaches, Lagoa is closely located to a few of the most favorite beaches of Portugal.
Those beaches include:
• Albandeira
• Benagil
• Carvoeiro
• Marinha
Brightly colored cliffs and crystal clear sea are what make these beaches famous. In-person, they almost seem unreal.
Lagoa is also 5 km away from the popular Slide and Splash Water Park which is every kid's ultimate holiday experience.
What to see and do in Lagoa?
When people think of Algarve, they think of summer vacation by the beach enjoying the sun. Well, this region is not all about sandy beaches with crystal clear water. Not everyone sees the very best that Algarve has to offer.
Let's discover the must-see sights of Lagoa.
Benagil Cave (Algar de Benagil)
The Benagil Cave is probably the most famous of all the sea caves of the Algarve. And yes, it is just as beautiful as it looks in the pictures.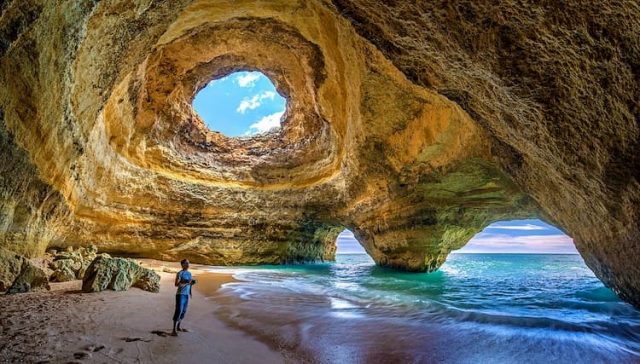 This cave is located just around the corner from Praia de Benagil (Benagil beach) which is between Portimão, Albufeira, and Lagoa, and can only be reached by sea.
Spend a perfect day in Portimão or visit Albufeira with the help of our guides.
How can you get to the Benagil Cave?
To get to the cave, you have to either swim, kayak or take a boat tour, there is no way to get into the cave itself on foot.
One of the coolest things about this cave is that you can actually walk up to the hole in the ceiling of the cave and see it from above.
Where to buy a journey to the Benagil Cave
If you are looking into boat tours, there are several companies in the Algarve providing this service, especially during the high season. Actually, almost every village nearby has a boat tour focused on the Benagil Cave.
An absolute bestseller and my favorite one is this one on Get Your Guide. It even includes a dolphin tour and it only costs €35.
You can check out the best Boat Tours and Water Sports in Lagoa here on Tripadvisor.
Important tip: If you decide to swim, beware of the tides as they often change and can be dangerous.
Praia da Marinha
There is so much more to see along the coast of Algarve than just the Benagil sea cave!
And that's one of the most iconic beaches near Lagoa, and in Portugal overall. Praia da Marinha is known as one of the most beautiful beaches of the world as seen in photos used as advertisements for Algarve.
But in real life, the beach is even more beautiful with its clear blue sea and amazing cliffside.
The beach is surrounded by steep cliffs, which brings a magical feeling, and from those cliffs, you will see a view that you will never forget.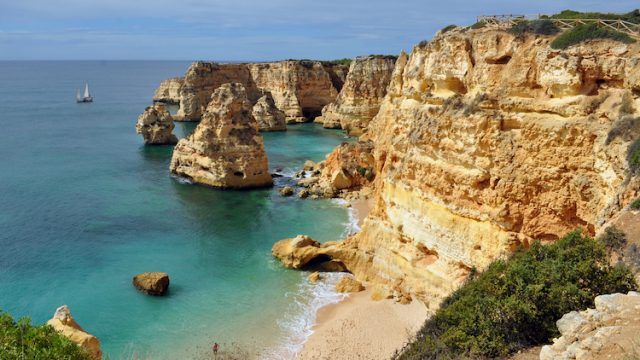 After taking in the breathtaking views, you can take the long stairs down to the beach. At the end of the stairs, there is a restaurant and a small part of Marinha Beach.
You can spend all day at the Marinha if you want to as the sand is quite soft and the beach is well-maintained.
The water is quite calm but on some days the sea can get rough. The best thing about it all is that, because of the surrounding cliffs, it doesn't get as windy as other beaches.
On the right side of the beach, you will find one of the most famous rock structure that looks like the letter M. This is called the M rock and is what makes Praia da Marinha so unique.
The view from high up on the cliffs is such a beautiful sight and is definitely the reason why you should stop by to visit.
Slide and Splash
Slide and Splash was been considered as one of the best and largest water parks in the country and Europe, with an area of 7 hectares.
The park is great for families and friends and offers aquatic entertainment for all ages, as well as sun loungers, animal shows, massage spa, shops, and several restaurants.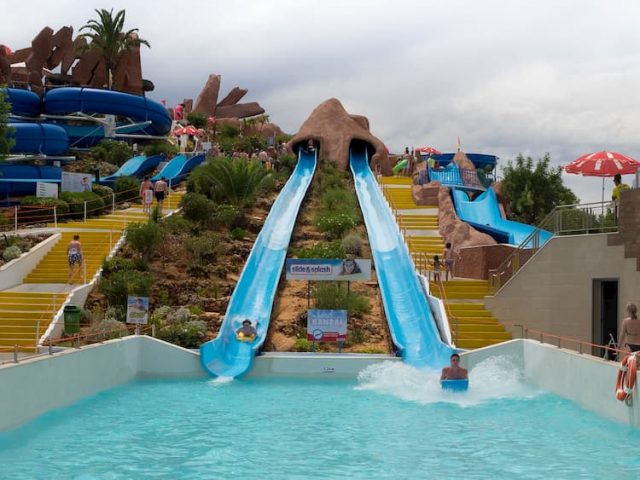 Even children under the age of five are well catered for with its mini slides, bridges, water cannons, and fountains.
Slide & Splash Water Park is perfect for a family vacation, including those who aren't able to swim yet. You can buy your ticket here.
Find out more about summer activities in Portugal, subscribe to our newsletter.
Other beaches near Lagoa
Yes, there are beautiful beaches nearby that may catch your attention.
Praia de Albandeira
Praia de Albandeira (Albandeira beach) is a beautiful secluded beach located near Lagoa and is famous for its stunning arch in the water.
In comparison to the nearby beaches of Marinha, Benagil, and Carvoeiro, Albandeira beach is relatively unknown.
However, this is one of the best-kept secrets that Algarve has to offer.
So what makes Albandeira beach so special?
It is a beautiful sandy beach, with fine and gold-colored sand. It is relatively small, roughly around 80 meters, however, its size does not compare to its rare beauty and has been ranked as the third best beach in Europe.
The beach is divided into several small areas. When you arrive, there is a rock section that divides the beach into two sections with the left side being larger than the other.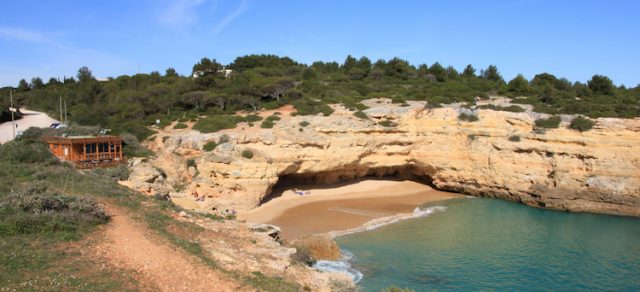 At the entrance of the beach, there are stairs that lead you to either side. In the middle of this rock, there is a small area with several natural pools.
Water fills the pools during the high tide which is great for the children to play in.
The beach is very good for swimming with the color of the water being so clear that it is almost transparent. This also makes the beach very popular for diving and snorkeling.
The sea is usually quite calm due to the protection of the cliffs on the side. However, during the winter season, the sea can be quite rough like other beaches.
Overall, it is definitely worth to stop by and have a picnic on the sand!
Benagil Beach
Praia de Benagil is a magnificent beach that is also located near Lagoa. You may have heard of this one as it is most famous for its sensational cave called Algar de Benagil, as I have mentioned earlier.
The cave has a natural skylight that frames the beautiful blue sky from inside. Without a doubt, this wonder of nature is one of the best things you must see in the Algarve.
But let's not change the topic and focus on this attractive beach!
Praia de Benagil is quite a small beach that sits between impressive gold-colored cliffs that protect the beach from strong winds. The sand is quite soft and feels great when walking on your bare feet.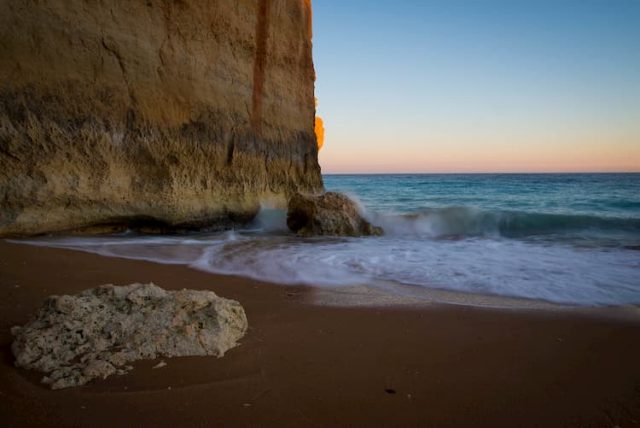 When you get into the water, the temperature can be a bit cold at first, but just like any water, but after a few minutes, you adapt to its temperature.
You will find that there are no stones in the sea compared to other beaches, and the seawater is of excellent quality.
In the summertime, the beach attracts a lot of visitors and because the beach itself is quite small, it does crowd quite quickly. But even then, there is always a spot for you to put your towel on.
If you're planning on visiting the Benagil Cave, take some time to enjoy the sun and a swim in Benagil's clear, blue ocean!
Carvoeiro Beach
Praia do Carvoeiro is inside the popular town of Carvoeiro. It is known for its extraordinary rock formations of Algar Seco and makes a great holiday destination in Algarve.
Like all beaches nearby, this is a small and beautiful beach that lies within a small bay. If you look at the background of the beach you will see the picturesque village of Carvoeiro.
The multi-colored buildings that surround the beach have a very lovely, traditional feel and make a beautiful postcard of the Algarve.
The ocean is quite nice and clean but can be a little unpredictable. The sea is very calm but sometimes you will find a few strong waves at times.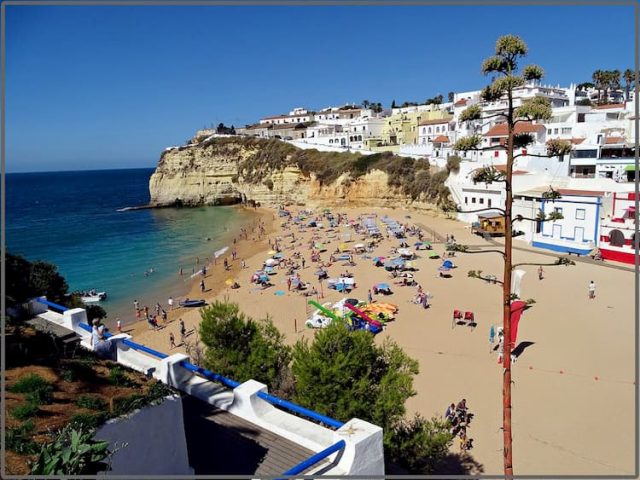 I would be very cautious especially with children in the water as the sea can get deep quite quickly.
The temperature of the water can be extremely cold, but during the summer you will find plenty of people in the water because after all, cold water can be very refreshing on a hot summer's day.
One of my least favorites is the sand on the beach. It is quite hard and coarse and can be hard on the feet. There are also many shells on the beach, so I would suggest bringing your flip flops as walking on the sand barefooted may be painful.
Curious about Carvoeiro? We've been there and here we're telling you all about it.
And What About The Wineries And Vineyards in Lagoa?
Yes, you read that correctly!
If you had not known by now, Algarve is traditionally an important wine-producing area, with Lagoa being a major part of it.
Lagoa lies on a small hill that rises from flatlands that allegedly once held the lagoon that gave the city its name. It is most famous for its winery, renowned for the great quality of wines, and is the most productive in Algarve.
If you love wine, Lagoa would be a great place to visit, and while you are there; why not sample and acquire its local produce.
There are lots of wine-tasting and guided tours around the vineyards that can be organized at the local co-operative winery.
One of the best is Quinta dos Vales, which is a wine estate and is much more than just a winery that produces award-winning wines.
The estate also caters to special events and offers daily activities for groups and families to enjoy. You can visit Quinta dos Vales Wine Estate for more information.
How to get to Lagoa from Lisbon?
There are two ways to get from Lisbon to Lagoa and that is either by bus or car.
But what about trains? Well, there are trains that go from Lisbon to Algarve. However, the station at Lagoa is several kilometers away from the town center, so going by bus or car is recommended.
Traveling by Bus
Traveling by bus is the best way to go, you can catch a bus from Oriente Station in Lisbon to Lagoa. The Oriente bus station is only a few minutes away from Lisbon Airport by metro or taxi.
You can purchase tickets for your trip from the website of Rede Expressos up to 30 days in advance.
Overall, the bus trip takes approximately 3 hours and 20 minutes and comes every 4 hours from Oriente station; and the ticket costs around €18- €22.
Traveling by Car
Driving would be the most flexible option to explore Lagoa and all of the Algarve, as you can make stops along the way. Lagoa is approximately 271.4 km away from Lisbon via car.
The trip takes approximately 2 hours and 37 minutes and may cost around €30 to €50 on fuel.
From Lisbon, drive south on the Ponte 25 de Abril bridge. The Vasco de Gama Bridge is also another option to drive south from Lisbon if there is traffic on the Ponte 25 de Abril bridge, however, it is slightly a longer route.
Either way, the journey from Lisbon to Lagoa takes about two hours and 40 minutes on the A2 motorway, connecting to the A22 which crosses Algarve.
Keep in mind that when driving, it can be very expensive due to toll fares. You will expect to pay around €20-€25 just on toll fares on the A2 from Lisbon to Algarve.
Once you arrive there, the A22 is also a toll road that can bring your travel costs up.
Traveling by Plane to the Algarve
If you want to spend more but arrive at your destination a whole lot quicker, you can fly from Lisbon to Faro with return fares more or less around €100. This will cost you five times more than the bus.
TAP Portugal operates flights between Lisbon and Faro and it takes approximately 45 minutes to get there.
You can visit the Tap Portugal website for more information and flight schedules.
How to get to Lagoa from Faro airport?
There are a few ways to get from Faro Airport to Lagoa which is by bus and car, including taxi and uber. The cheapest option to go by bus which costs €6 to €8 and takes approximately 1 hour and 10 minutes.
The Faro Airport to Lagoa bus services is operated by EVA Transportes, which departs from Faro Airport station. Check out Check My Bus for inexpensive bus options.
However, if you want to go for the quickest option from Faro Airport to Lagoa, going by car will take you there in less than an hour.
The driving distance between both locations is 60 km which takes roughly around 40 minutes to get to your destination. You can catch a taxi which will cost around €55-75 on top of your travel expenses.
Expensive? I know!
But it is the quickest way to get to your destination.
When to go to Lagoa Portugal?
Summer is short, warm, humid and dry in Lagoa, unlike most of Portugal, with winters that are long, cold and extremely windy.
To distinguish how pleasant the weather is throughout the year, I have two different travel scores that are based on the reasons for visiting Lagoa.
If you are visiting for general outdoor tourist activities, then the best time of the year would be from late June to early September, with a peak score in the last week of July.
However, the best time to visit Lagoa (and the rest of Portugal) for warm-weather activities is from mid-July to early September. The peak score happens in the first week of August.
Hotels in Lagoa Portugal
From breathtaking beach views to excellent services, the luxury hotels in Lagoa are more than just a place to rest your head.
There are 180 accommodations to choose from, with modern interiors teamed with comfortable rooms.
If you want to be close to sights like the Marinha beach and the Slide and Splash Water Park, you can find yourself a hotel room that is located close to these sights.
But even if you are searching for something in the center or something a bit further out, there is a wide selection of luxury getaway options that will not disappoint you.
You can visit Booking to find what you're looking for and book your vacation.
What is the average pricing for luxury hotels in and around Lagoa Portugal?
Well, it depends!
If you are looking for hotel rooms with decadent interiors, you have come to the right place.
Now, this is not 100% accurate as it is just an estimate of how much your stay would cost but for a 5-star hotel. The prices may start from €60 per night, whereas 4-star hotels can start from €35 per night; which also entirely depends on the season.
Best Hotels In Lagoa Portugal
After a day exploring the beautiful town of Lagoa, one of the most beautiful in Portugal, treat yourself to a night out! Enjoy the clean, white towels and sink into the soft pillow of a splendid bed in your luxury hotel.
It can be quite tempting to sit back in your luxurious hotel with its superb amenities. I've gathered my top 3 choices of luxury hotels in Lagoa. Check these hotels out!
Suites Alba Resort and Spa
This hotel offers access to Albandeira Beach, a piercing blue pool and a restaurant of excellence. It is mostly recommended for couples. It also offers free parking, free wi-fi, a spa center, and a great bar, where you can get a really good cocktail.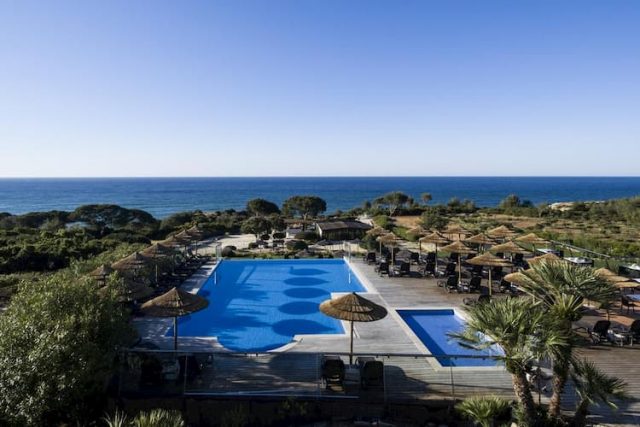 Prices for two adults are around €160 a night. Book it here.
Vila Vita Parc Resort and Spa in Armação de Pêra
This hotel is perfect for a relaxing getaway. It includes a spa and wellness center, a gym, and a superb breakfast. It is also known for the sympathy and availability of the staff. It can be quite pricey, especially during the high season, but it is definitely worth every cent.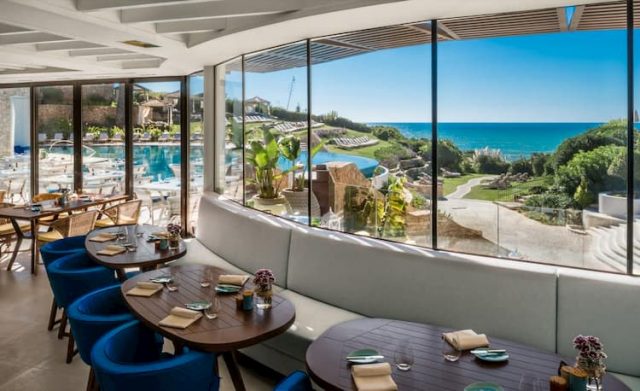 Prices go from €570 a night. You can book it here.
Vilalara Thalassa Resort in Armação de Pêra
Famous for being a top tier destination for solo travelers, this resort will not disappoint you. It has tennis and padel courts, thalassotherapy treatments, a sauna, turkey baths, among other privileges. It is rated the best value in the area of Armação de Pêra!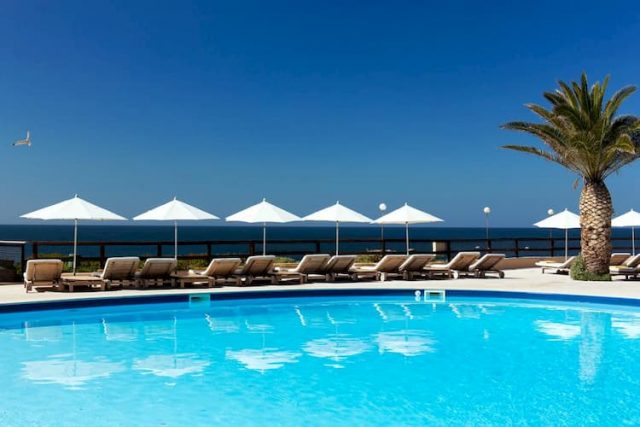 Prices go from €370 a night. Book your room here.
Where To Shop in Lagoa Portugal?
There is a great range of stores in and around Lagoa, from global brands to supermarkets.
One of the best supermarkets in all of Algarve is the Apolónia Supermercado.
Apolónia Supermercado
This supermarket has been around for over 15 years. However, it has grown in size over the years.
Even though it has expanded over the years, it has always offered a superb range of products with affordable prices, combined with its excellent services; and has been stocking products that are not available elsewhere in Algarve for a long period of time.
I would highly recommend Apolónia for grocery shopping, as it provides everything you could possibly want for cooking and eating.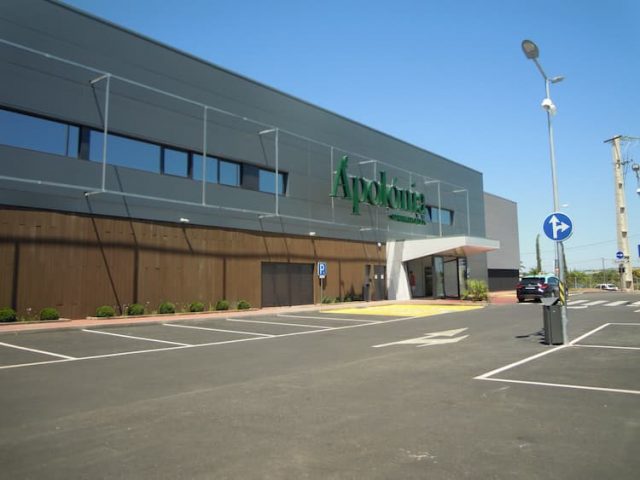 When entering Apolónia Supermercado, you will be impressed by a huge, long aisle of healthy foods and fresh fruits and vegetables.
There is also a large selection of gluten-free products as well as lactose-free, dairy-free, sugar-free, low salt products, low-fat products and even a healthy section in the freezer.
This is good for grocery shopping. However, you can also fancy yourself to relax somewhere after you have done your shopping.
Whether you are starting your day in style with breakfast or brunch before your weekly shop, or meeting up with a friend for a quick coffee; the Apolónia Cafe is the perfect place to grab a light lunch or indulge in a delicious cake or pastry.
Best Restaurants In Lagoa Portugal
You can find some of the best foods of Portugal in Lagoa, thanks to the Michelin guide selection of restaurants. If you come to Lagoa on a budget, there are a variety of small restaurants in and around the city for you to try.
Here are our choices:
Restaurant Sul Mar
Sul Mar is a 4.5-star rated restaurant that serves up seafood cuisine, as well as European, Mediterranean and Portuguese inspired dishes.
According to TripAdvisor, Restaurante Sul Mar is of great value and service. The meals are supplied with fresh products and excellent quality of fish and meat. Surely one that is highly recommendable!
Address: Estrada de Benagil, Lagoa 8400-427, Portugal
Phone: +351 964 458 647
Restaurante Hexagone
The 4.5-star rated Restaurante Hexagone is a bright, open and spacious that serves up excellent dishes inspired by local cuisine, Mediterranean, European and Portuguese.
If you're vegetarian or vegan, do not worry. You will find great dishes that will suit your taste, such as mushroom risotto and curry vegetable risotto. Very tasty indeed!
Address: Urbanizacao Presa de Moura, Sesmarias, Carvoeiro 8400-008, Portugal
Phone: +351 282 342 485
A Paleta
According to TripAdvisor, A Paleta is a 4-star rated restaurant that also serves up seafood, Mediterranean, European and Portuguese cuisine.
Whether you are in for a romantic dinner, or just a casual lunch, you will enjoy the atmosphere at A Paleta due to its friendly service, great presentation and excellent quality of food. 
Address: Lagoa to Carvoeiro Road, Lagoa, Portugal
Phone: +351 282 353 770
Chrissy's 
Another 4.5-star rated restaurant that serves up not only local, European, Mediterranean and Portuguese food but also International cuisine. This is an outstanding restaurant in Lagoa, with incredible flavors you probably wouldn't have tasted before.
Chrissy's is considered to be one of the best restaurants in this part of the Algarve, and always provides excellent and friendly service as well as a wide range of food. Want to try something new with great value for money? Chrissy's is the place to go!
Address: Praca da Republica 17, Lagoa 8400-305, Portugal
Phone: +351 282 341 062
O Algar
As you drive down to the little fishing village of Praia de Benagil, you will find O Algar on the side of a hill on your left. O Algar is a family-run restaurant that provides a friendly atmosphere and service.
It is a great place near the beach with an amazing sea view and sunset view; providing one of the very best seafood that will make you come back.
The seafood selection is fresh and grilled to perfection. Prices are very affordable and the water views add a nice touch to your evening meal. You can find more information and reviews for O Algar here on TripAdvisor, as the restaurant doesn't have its own website.
Address: Estr. de Benagil, 8400-401 Lagoa, Portugal
Phone: +351 282 358 951
Should you visit Lagoa?
The Algarve is a magically beautiful place with a mix of sun, beach, and breathtaking views!
You cannot go to Algarve and not explore Lagoa. This little city offers some of the most beautiful photo spots in the Algarve region and it is totally Instagram-worthy.
So book your trip, pack your bags and get ready to explore the magnificent wonders of Lagoa.