Need to buy souvenirs in Lisbon? We know how hard choosing a unique gift to take back home to friends and family can be!
The classic fridge magnet, postcards, and coffee mugs are all options at many of the tourist stores in Lisbon.
However, there are a variety of original gifts in Lisbon that we promise will have a more personal touch and remind you of your experience in Lisbon.
Souvenirs in Lisbon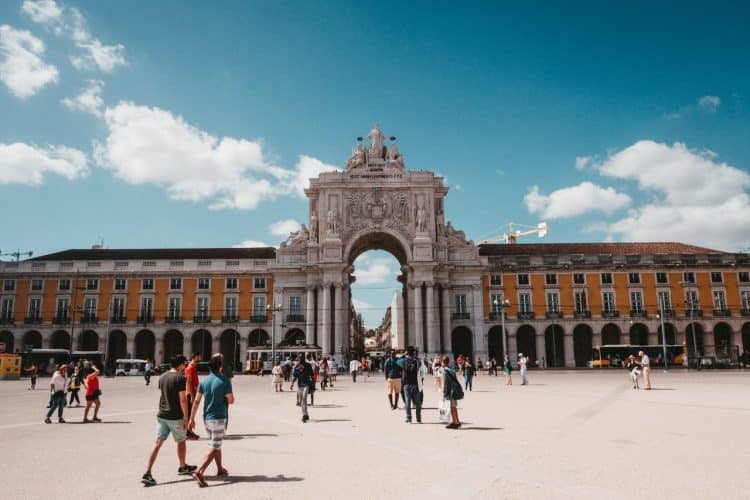 Portugal's capital city Lisbon is quickly becoming recognised as one of Europe's best and most frequented destinations.
The city is known for its historical neighbourhoods such as the Alfama district, the famous Pastéis de Belém, cherry liquor in chocolate cups, sardines, and much, much more!
So when choosing a souvenir in Lisbon to take home we highly recommend looking for something more authentic than a fridge magnet!
Discover more about Portugal's capital city with this ultimate guide!
10 souvenirs to buy in Lisbon
1. Olive oil
While Portugal is not one of the world's biggest producers of olive oil, it sure does rank among the best. Over the last 10 years or so, Portugal has increased its production of olive oil by four times as much and tripled its number of exports.
There are six olive growing regions and seven famous varieties in Portugal which result in rich and diverse olive oil flavours.
Olive oil from Portugal even received 20 awards at The 2016 New York International Olive Oil Competition.
Buy a bottle as a souvenir for a friend who loves cooking or one for your own kitchen! They can be purchased in many specialty stores and supermarkets downtown.
2. Sardines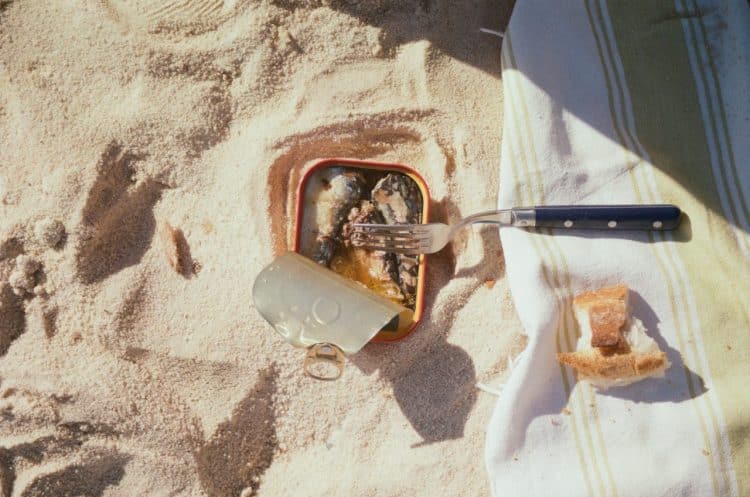 In honor of the city's patron saint, you can find canned sardines all over Lisbon! From the colorful vintage packs at Conserveira de Lisboa to the ordinary cans at the local supermarkets, there is something for all tastes and budgets.
There is even a restaurant in Cáis do Sodré, Sol e Pesca, whose menu specializes in canned fish products!
And if you aren't a sardine fan, there's also mackerel, octopus and even the famous codfish all available in cans!
These souvenirs in Lisbon are certainly a unique gift to surprise your loved ones with.
Want to know more about sardines and the famous Sardine Festival in Lisbon? Read all about it here!
3. Setúbal moscatel
Portuguese moscatel is a dessert wine that comes from the region of Setúbal, just south of Lisbon.
The wine grapes come from the hills in Arrábida and undergo a fermentation process, which gives it a unique flavor specific only to this region.
The flavourful wine is a fantastic souvenir for any wine lover. You can find decent bottles of José Maria da Fonseca for as little as €12 or more expensive varieties, which can cost around €50 Euros.
Most wine stores stock plenty of premium vintages and cheaper varieties so you will have plenty of choices.
Discover more about Portuguese wine, with this wine lovers guide here!
4. Ceramics and pottery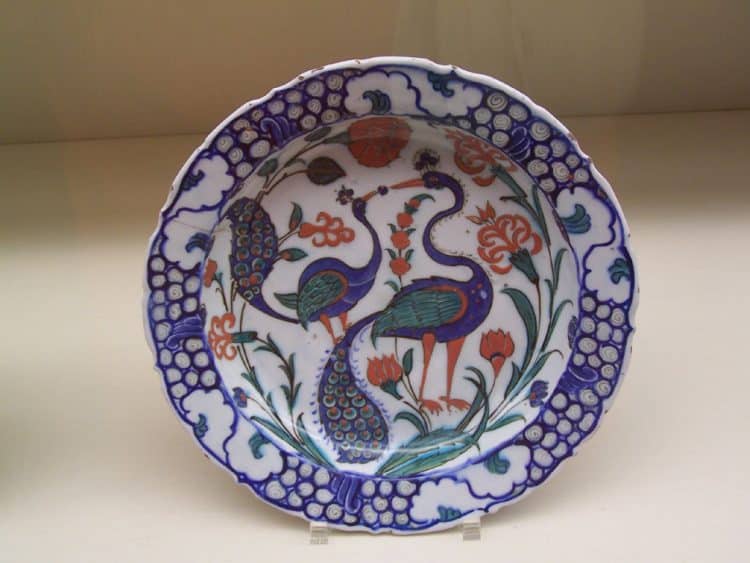 In Lisbon, you can discover very unique and beautiful types of ceramics and pottery.
While they can be a heavy souvenir to take home, it can be worth it for decorating the home.
You can find many ceramic plates with an image of Lisbon or other scenes or objects. They come in all shapes and sizes made for tableware or smaller, more practical olive dishes.
Buy these souvenirs in Lisbon for friends or family.
5. Cork accessories
Portugal is one of the largest producers of cork in the world. Not just used for sealing wine bottles local artisans have used the resource to make interesting wearable products.
You can find cork handbags, shoulder bags, wallets, hats, and shoes all over Lisbon. Because they are made out of cork, they are also waterproof!
There are plenty of stores in downtown Baixa to browse cork accessories. Pelcor Lisboa is one such store that specializes in all things cork.
Prices for wallets usually start around €20 Euros, while larger bags may cost around €80. If you're looking for a unique fashion accessory, these souvenirs in Lisbon are definitely for you.
6. Ginjinha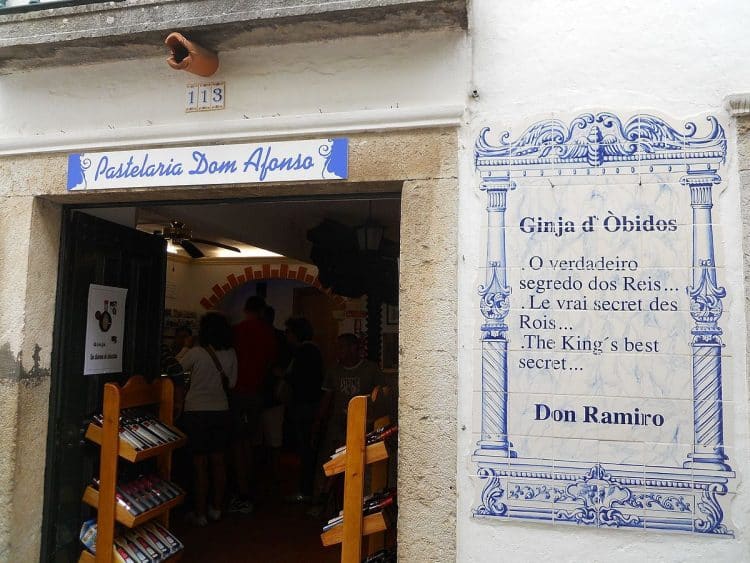 Walking around Alfama you will soon notice the smell of cherry and perhaps see some tourists accepting shots from old ladies through their windows.
This is the famous Ginjinha, a cherry liquor sold all over Lisbon. Liked by people young and old, it is a drink had at home, on the streets, in a bar or a restaurant.
You can find the ginjinha almost anywhere in Lisbon. My favorite place is situated at Largo de São Domingos 8, where you can buy a shot for €1 or take home a bottle for around €10.
7. Traditional jams
Another souvenir in Lisbon for the kitchen, many of the stores that sell ginjinha and other typical Portuguese items, also sell traditional portuguese jams and honey.
They come in artfully decorated packaging and a large variety of flavours. You can purchase the traditional berry jams as well as some other very interesting flavours that include almond, fig, muscatel, pumpkin, Port wine, and even African chocolate!
The best stores to buy jams are A Vida Portuguesa and Amatudo, which usually have a nice range of flavour inside. One jar will cost around 3-€6 and uses all natural ingredients with great quality and taste.
Discover more typical Portuguese foods, with our guide to the local cuisine here!
8. Bertrand books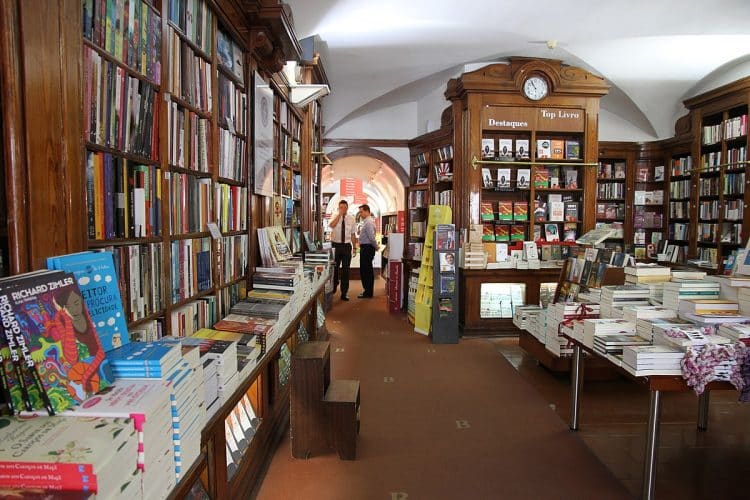 Livraria Bertrand is the world's oldest bookstore, which officially opened in Lisbon in 1732, meaning it has been around for almost 300 years!
The store's original location was destroyed in the historic earthquake of 1755, but the owners relocated to its current home in Chiado, a popular shopping area.
Even though it is very popular with tourists, the bookstore does keep things distinctly Portuguese. Over 90% of the books inside are in the Portuguese language, with everything from cooking, science, photography, fiction, literature, poetry, children's books and more inside.
There is a small section with English books that primarily features classic works and a few contemporary bestsellers.
Consider this the perfect chance to take home a book all in Portuguese, and learn a little more about the language and culture.
9. Leather shoes, gloves and belts
The Portuguese are very crafty with the art of leatherwork. There is a lot of handmade quality merchandise on offer if you'd like to buy a pair of well-built shoes, sleek leather belt, or elegant pair of gloves.
Leather is a more costly purchase, with these products costing closer to 40-150 Euros, but the chances of seeing another person with the same pair are almost zero. And of course, the quality is higher and longer-lasting.
Some of the best known Portuguese brands for shoes are Armando Silva (men's) and Sofia Cota (women's), which can be found in downtown Lisbon. For everything else leather, the retailer Sapataria e Chapelaria Lord has a variety of bags, hats, and gloves to choose from.
10. Portuguese desserts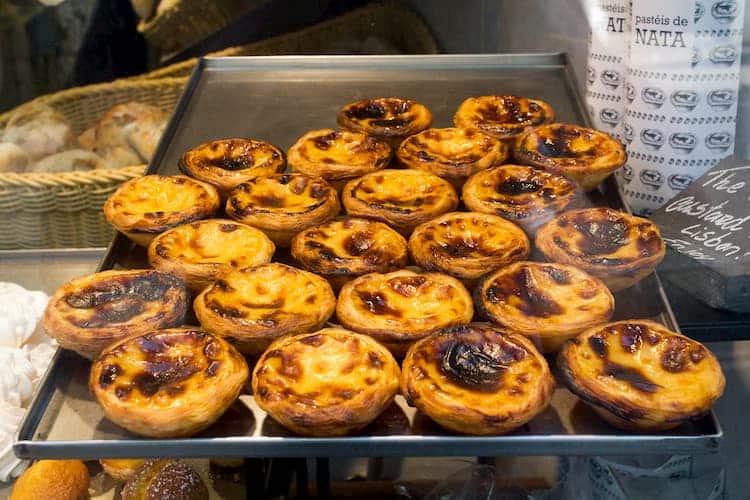 And last but not least, you cannot leave Lisbon without taking home one of our favourite desserts! The most famous Portuguese dessert is the pasteis de nata, an egg custard tart served fresh from the oven, and sprinkled with cinnamon and powdered sugar.
Myy favourite places to buy these desserts are Manteigaria, Fabrica de Nata, and for the original version Pasteis de Belem.
While they are best eaten warm and fresh, many people freeze them and take them home (if not going too far). Otherwise, you could easily bring home some desserts with a longer shelf life.
Love desserts? Discover the 20 best desserts you should try in Portugal here!
What about buying souvenirs in Lisbon at the airports?
If you forget to purchase souvenirs in Lisbon city centre, you can definitely buy some last-minute gifts at the airport.
However, you will find that the cost of convenience is slightly higher than if you were to purchase beforehand.