Want to cycle around Portugal? Need some advice to know where to go?
Looking for bike rentals?
We have done the hard work for you. Keep reading to discover all about cycling in Portugal.
Cycling in Portugal is a great way to see the country all year-round but is especially rewarding during the cooler months.
As the winter settles in, you might find yourself staring at dreary skies and wet roads, wishing for better cycling weather. Portugal to the rescue!
Cycling in Portugal tips and advice
Travelling by bicycle means having the freedom to explore the land of sun and wine at your own pace, while taking in all the beautiful scenery this country has to offer. There are rentals and tours available for all styles and budgets.
Here is a breakdown of some of the basics to get you started cycling in Portugal.
City exploration and bike rentals
Lisbon
Lisbon's public bicycle sharing system is a fun and easy way to travel around and explore the city. Whether you're planning to use it to get to local attractions or to ride along the riverfront, you can take advantage of 60 kilometres of cycle routes and shared paths throughout the city.
Electric E-bikes are now also available to help make those hills a little more bearable.
Bikes are available throughout the city including Baixa and the riverfront. Gira bikes (site in Portuguese only) are available to hire at docking station terminals using the Gira app. There are conventional bikes as well as e-bikes and to get started, you just download the app and follow the instructions.
Once you're set up, you can grab a bike, ride it wherever you want, and then return it to any docking station around the city. At only €2 for a daily pass, cycling in Lisbon couldn't be more accessible.
Porto
Cycling is also a fantastic way to see the sights of Porto. Whether you're after a relaxing tour around Porto city or looking to challenge yourself in Porto's hilly suburbs with the reward of a stunning view at the top of Serra do Pilar, bikes are a great way to maximise your time.
Like Lisbon, Porto has its fair share of hills, but with more e-bikes for hire, you don't have to push your physical limits to try cycling in Portugal.
There are lots of bike rental places throughout the city, with reasonable prices and a good selection. Beclas and Triclas are great because they have a large selection of e-bikes and offer all sorts of tours. They have a half-day Porto bike tour, a gastronomic tour and even a Surf 'n' Food tour, which is sure to leave you feeling satisfied about your decision to try cycling in Portugal.
The Algarve
Bike shops abound in the Algarve. There are all types of different tours available and depending on where you're staying, you're probably within walking distance of several places that can help get you started with your cycling adventures.
If you're in Lagos, Coast Supply Co. is a great choice. They offer quality European-made bikes to suit all riding styles and terrain. You'll pay one up-front price with no hidden costs and they'll provide you with maps, locks and anything else you need to enjoy your time cycling in the Algarve.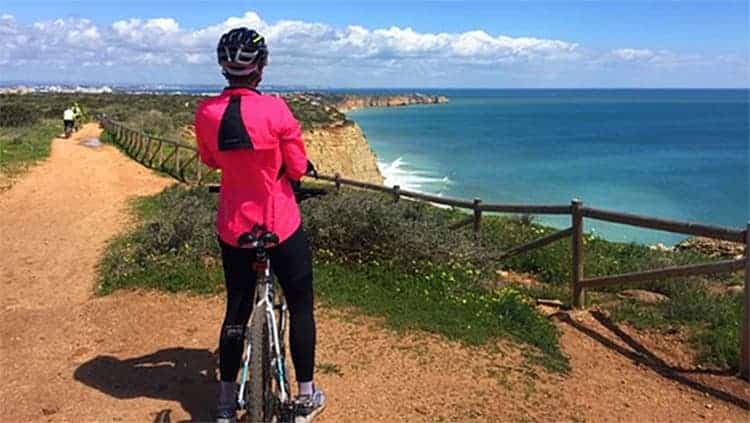 Free bikes
There are also free bikes available along the Cascais coast and in Aveiro. Called Bicas and Buga respectively, these services are specially designed for tourists. This is a great way to get in a bit of cycling in Portugal, but keep in mind that these bikes are not intended for long-term use or challenging rides. They are single-speed cruisers and have been maintained to varying degrees. They are very popular in the peak seasons so you'll have to get there early to grab a free bike for the day.
Longer tours
If you're looking to spend more time on a bike exploring the countryside outside of the main cities, you also have a bunch of great tours to choose from when cycling in Portugal. There are many companies that can truly customise a cycling experience for any appetite.
Here are a few options that give you the full cycling holiday experience.
Explore castles while pedalling and sipping wine
Biketours offer a romantic and relaxed tour that is ideal for cyclists of any level. You'll spend most nights sleeping in a castle or an old convent which have been transformed into charming hotels. Over the course of the tour, you'll see the ancient city of Évora, and small fortified hamlets that hold stories of wars with the Moors and Spain.
If you're up for a swim, you'll also pass the biggest artificial lake in Europe and have ample opportunities to learn for yourself why Portuguese wine is famous around the world. Offering an easy to moderate pace of riding, prices start at €931 per person for seven nights.
Get to know the authentic Algarve
Macs Adventure offers an eight-day moderate cycling tour in the Algarve. They will take you all the way from the Spanish border in the east, to Sagres at the south-western tip of Portugal. Away from the touristy hotspots, you will get a truly authentic Algarve experience while exploring hidden inland villages, the Natural Park and lagoon of the Ria Formosa and taking in fantastic views from the top of cliffs.
One for nature lovers, this tour is all about soaking in the beauty away from the crowds and then getting to relax in gorgeous hotels at the end of a solid day's riding. Offering a laid back moderate pace, prices start at €995 per person for seven nights.
Push your limited while exploring beautiful Madeira
If you're looking for more of a challenge while cycling in Portugal, you can get your legs burning while exploring the sub-tropical island of Madeira. Winding around most of the coast from Canico town to the capital, Funchal, Freedom Treks' self-guided tour allows you to enjoy Madeira's mild climate, while passing through coastal villages, ancient grottos and traditional thatched houses.
This tour involves a few long ascents, including a stunning cycle to Europe's highest cape. Be assured that despite some hard riding, you'll also have plenty of time to unwind and enjoy Madeira's famous wine. Covering close to 200 km (124 miles) over six days, prices range from £706 to £1124 per person for seven nights.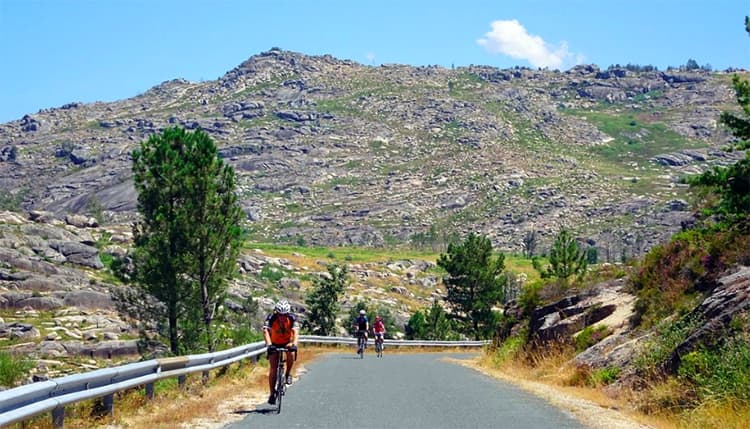 Ride by the rules
Of course, to really get the most out of cycling in Portugal, you have to know the rules of the road. The rules are similar to other European countries, but keep these points in mind when riding with traffic:
According to the Portuguese Highway Code, bicycles, like other vehicles, have the right to travel on streets;
Ride on the right-hand side of the road;
Bicycles have the right of way when coming from the right and when travelling inside roundabouts;
Cycling on sidewalks is not allowed except for children under 10 years of age.
As when cycling anywhere else, be alert and be courteous and you're sure to have a great time cycling in Portugal. Ride safe and enjoy!
Did you like any of these suggestions to cycle in Portugal? Do you have any suggestions or comments? Be sure to let us know below.
Don't miss any information from us. Sign up for our newsletter to keep up to date with all the latest about Portugal.