You've probably heard of the famous Brazilian Carnival, celebrated in Rio, which is the most famous festival in South America, and maybe even the world.
But did you know that Carnival was actually brought to Brazil by the Portuguese?
Stick around, I'm about to tell you how you can also join one of the most anticipated, crazy and fun parties you'll ever have the chance to go to in Portugal.
How is Carnival Celebrated in Portugal?
You might be surprised to learn that while it is best known in Brazil, Carnival was brought to Brazil from Portugal hundreds of years ago.
The Portuguese Carnival is an annual event full of fun, music, dance, costumes, beer, and traditional Portuguese food.
The event begins in February and is basically another reason for the Portuguese to go out.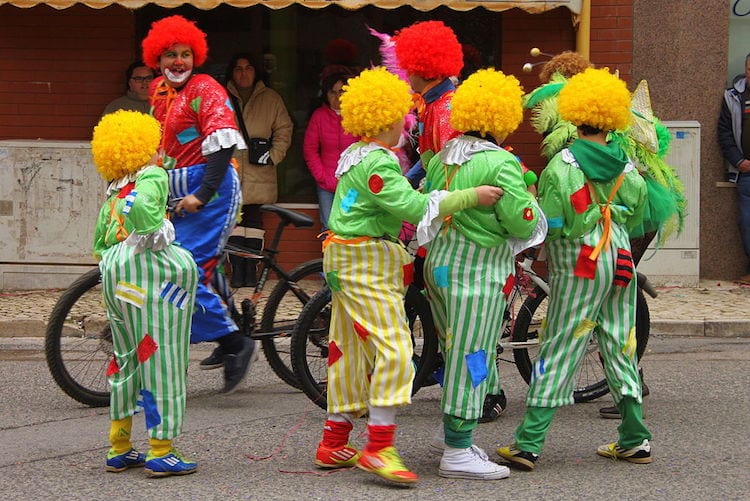 The streets become alive with an abundance of parades, floats, and street parties while festival-goers bring in energy full of high spirits.
It is a vibrant and exciting display of colours, with many people dressing up in costumes.
Street vendors accommodate hungry festival-goers, awards are given out for best-dressed, crowns are given to the kings and queens of the different parades, people hit the bars and streets for five days (or more!) of live music and dancing.
Why is Carnival celebrated in Portugal?
The history of Carnival in Portugal goes way back hundreds of years to its Catholic roots. The tradition originally began in Italy, where people dressed in outrageous costumes on the day before Lent began.
During Lent, Catholics abstain from meat, so the festival was named "Carnevale", which literally translates to "put away the meat".
The festival since spread to Spain, France, the States, and most other countries in Europe. This tradition was obviously well received in Portugal; I doubt the Portuguese would ever say no to a party.
And since then, the Portuguese Carnival, also known as Entrudo, has remained a popular celebration to this day.
When is Carnival in Portugal in 2019?
The Portuguese Carnival will be held this year from March 1st – 5th, with the main celebrations taking place on Shrove Tuesday (March 5th).
And while it may be Winter still, the sun is already shining in Portugal, meaning spring is just around the corner. So, there's no excuse not to celebrate and join the party.
Carnival celebrations in Portugal
Carnival is celebrated all over the country, with each location offering a unique taste of the exciting event.
The biggest celebrations are held in the capital city and on the gorgeous island of Madeira, while the more traditional celebrations are held in cities like Torres Vedras or towns like Podence or Lazarim.
Here's my list of some of the most famous Portuguese Carnival celebrations:
Carnival in Lisbon
Carnival in Lisbon is usually celebrated with elaborate parties and parades. There are free events across the city, but the highlight is, of course, the Carnival Parade on Shrove Tuesday (March 5th).
The parade features dazzling costumes, live music bands and floats and it usually takes over Avenida da Liberdade, right in the city centre.
If you thought Bairro Alto was alive on a Friday night, wait until you see Lisbon during Carnival.
If you're planning to go to Lisbon take a look at our guide to Lisbon.
Where to stay in Lisbon during Carnival
I recommend you stay at the Holiday Inn Express Lisboa – Avenida da Liberdade, two minutes away from all the action. This way you can stumble home from the celebrations at any time, day or night!
If you're in Portugal around this time, make sure you take some time to check out all of the fantastic museums around Lisbon.
Carnaval in Madeira
Funchal in Madeira receives thousands of visitors every year for the Portugal Carnival.
The picturesque island hosts Carnival each year, where people come to eat grilled swordfish, drink the island's distinct Madeira wine, alongside five consecutive days of singing and dancing.
The scenery here is beautiful and paired with the festival, the atmosphere in Funchal is unbeatable.
Every year, thousands of travellers travel to the capital of Madeira to join the locals and take part in the celebrations.
Discover the pearl of the Atlantic with our guide to Madeira.
Where to stay in Madeira on Carnival
The Suite Hotel Eden Mar is in a prime location for the parade in downtown Funchal.
Carnival in Torres Vedras
Torres Vedras is probably the most typical region to celebrate Carnival, with strong traditional components involved.
You might expect to see allegorical floats, masked revellers, and traditional drums and bagpipes.
Where to stay in Torres Vedras during Carnival
Stay Hotel in Torres Vedras is located in the heart of this city, right where all the Carnival action is.
Carnival everywhere else in Portugal
The Algarve region can also be a magical place to celebrate the festival by the ocean. Locals even decorate traditional Portuguese boats and sail them along the shoreline. Carnival celebrations are also popular in Ovar, Alcobaça, Sesimbra, Loulé, Nazaré and Sines.
Is it worth visiting Portugal in Carnival?
Absolutely yes! When there is a reason to party in Portugal, you do it (just like the locals would)!
Carnival is a fun event for the Portuguese as well as tourists, in any region of the country. It's a fun excuse for friends, families, and even solo travellers to dress up, drink, eat, and dance for five days long.
If you ever been to a Portuguese Carnival? If you'd like to know about this and other Portuguese events, sign up to our newsletter.