You probably have heard about the Algarve, its beaches, golf courses and the ecstatic nightlife in Albufeira. Unlike the most popular touristic towns in the Algarve, Loulé offers a different tourism experience.
It is an ancient town that dates as far as the Palaeolithic period. It was also once occupied by the Romans as well as the moors.
These days, Loulé is one of the most important economic hubs in the Algarve as it is home to one of the largest malls in the Algarve (Mar Shopping).
So, generally what you should expect to see in Loulé are more of historical monuments, street markets and if you visit at the right time, you can join in the carnival celebrations.
In this article, we will provide information about Loulé on topics like what to do, how to get there as well as nearby towns you can visit.
Where is Loulé in Portugal?
Loulé is a quaint town in the Algarve with a population of about 70, 000 inhabitants. It's located about 15 kilometres north of Faro, the capital city of the Algarve.
How to get to Loulé from Lisbon?
From Lisbon, you can either go by train or bus to Loulé. However, in my opinion, the more suitable option is the train as it takes lesser time and costs almost the same as going by bus.
You can catch the train going to Loulé at either Entrecampos or Oriente train station. You can see the timetable and prices here.
To go by bus, you can check Rede Expressos.
If you want to know about the Algarve, read Where to Spend Your Algarve Holidays: The Best Cities and Why.
How to get to Loulé from Faro?
The best way to get to Loulé from Faro is by bus. You can get the bus from the Faro bus Terminal which is about 7km from the Faro airport.
A bus ticket from Faro to Loulé costs €3.40/€6.80 (single/return). The journey takes about 40 minutes. You can see the timetable here.
Also, form the bus station you can easily walk to the main street, the town centre and the market.
If you do not want to use public transportation, you can also use Uber as it is available in the Algarve or regular taxi or book transfers. Using Uber or regular taxis would cost you between €18 to €25. The drive is usually about 15 to 20 minutes from the Faro airport.
Alternatively, you can go by train. However, the downside with this option is that the train station is a bit far from the town.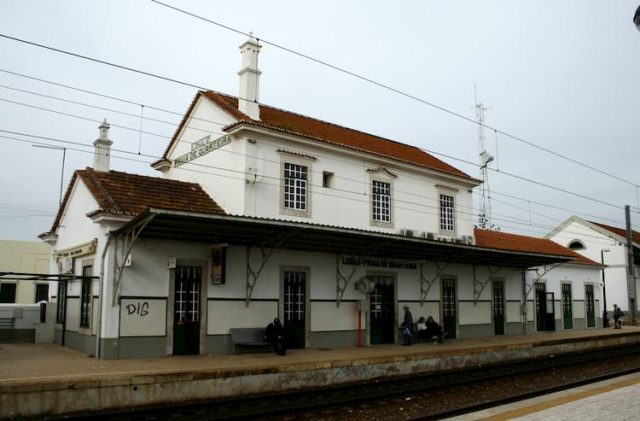 When is the best time to visit Loulé?
The best to visit Loulé if you are interested in the gipsy and farmers market is on Saturday mornings,
However, if you want to avoid the crowd and see other landmarks you should visit between Tuesday and Friday.
Don't forget to subscribe to our newsletter to find out all there is to know about Portugal.
Weather in Loulé
In general, the weather in Loulé is somewhat mild all year round. However, the summers are short and warm while the winters are long, cold and windy. On the average yearly, the temperature is usually between from (6°C) 43°F to (29°C) 85°F and rarely below (2°C)36°F.
The months of May, June and October are usually the months with the best weather conditions with an average temperature of 20°C (68°F) to 25°C (77°F).
Generally, the warmest months are July and August while the coolest month is January.
If you do not like rain at all, you should avoid visiting in December at it is usually the wettest month.
So, I would say the best time to visit would be between May to September as these months overall have pleasant weather and are good for outdoor tourism activities.
Best Beaches near Loulé
In and around Loulé you can find some pretty beaches to go relax, sunbathe and engage in some water sports. Some of which include the following;
Praia do Almargem
This is a long stretch beach with golden sand, toilet facilities and plenty of free parking. There is also a beach bar (BJ's Beach Bar) that plays live music in the evening in case you want to grab a drink and listen to cool music.
Forte Novo Beach
Located at the far eastern end of Quarteira, this is also a very big beach with beautiful sand, ample parking and restaurants.
Praia de Quarteira
Situated not too far from the city centre in Quarteira, you will find the Quarteira beach which is backed by Quarteira's long broad promenade lined with palm trees, cafes and bars.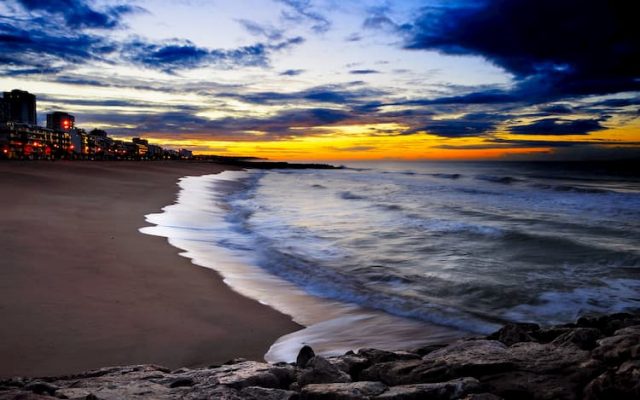 Praia de Vale do Lobo
Located next to one of the most famous Algarve golf courses, Praia de Vale do Lobo is an extensive sandy beach suitable for long walks and a range of water sports. You should also know that the beach bars here are a little pricey.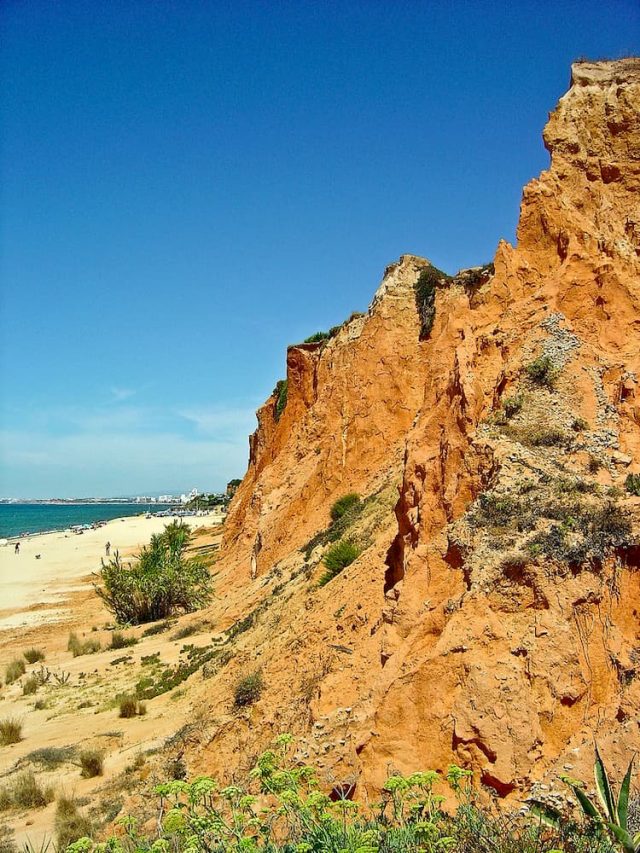 Praia do Ancão
Ancão Beach forms part of the Ria Formosa Natural Park with a vast dune area. At Ancão Beach, you can engage in water sports, sunbathe as well as catch a lovely sunset.
You might also be interested in Golf in the Algarve, Portugal's Finest Greens
Things to do in Loulé
There are lots of things you can do in Loulé. Check our favourite activities there.
If you are planning on visiting Loulé for half a day with a tour guide, check out this offer.
Find great bargains in Loulé market
The Loulé market popularly known as the gipsy market is the place to buy almost anything. However, it is open only on Saturdays from 7 am to 3 pm.
Here you will find stalls selling regional handicrafts, local produce, handbags, clothes, shoes, jewellery and freshly caught fish. Make sure you negotiate the prices to get great deals.
If need some inspiration on souvenirs to take from Portugal to your friends, go here for some inspiration. 
Mar Shopping Loulé
This is the biggest shopping centre in the Algarve and a great place to shop for all kinds of things from household items to clothing.
If you would also like to watch a movie there is a cinema in there too. You can find IKEA, H&M, FNAC, Primark and Zara stores in the mall too.
Are you thinking of having a vacation in lovely resorts? See this The Best Algarve Resorts for Your Stress-free Holidays
Noite Branca (White Night Event)
This is a festival held every year in Loulé to celebrate the end of summer. It usually happens on the last Saturday of August and people in the town come together with everyone wearing white clothing.
There are lots of performances, live music and people generally merrymaking in the streets. In case your visit coincides with the white night party, join in the celebrations with the locals.
Aquashow Water Park
Aquashow is an aquatic park with dozens of different attractions for all ages. From Water Coaster to Free Fall to Wild Snake and many more you can do it all here. The park also has animal shows like macaws, raptors and reptiles.
You will also have the opportunity of walking on one of Europe's largest water-coaster and sliding on Europe's largest water slide. The price is a bit expensive but it's worth it.
Walk on the walls of the Castle of Loulé
Built-in the 13th century, the castle formed part of the northwest corner of the medieval city walls of the town. Here you can also visit the municipal archaeological museum which is within the castle's courtyard.
You can also walk on the castle walls to get great views of the city. To explore the castle, you only need to pay an entrance fee of less than €2.
See nature at Fonte da Benémola and Rocha da Pena
For nature lovers, this is a must-see. It is protected natural conservation with numerous plant life, rare and diverse species of animals. It is the perfect place for nature walks in the Algarve. Highly recommended.
See also Top 7 Holiday Villages in the Algarve.
Hotels in Loulé
Loulé Jardim Hotel
Situated in the old town of Loulé, this offers easy access to the heart of the town as well as several cafes and restaurants in the surrounding area. The average price per night is €125. Check their availability here.
Allons-y Guesthouse
This is a centrally located guest house with a lovely terrace that gives delightful views of the town. It is surrounded by several restaurants and bars. It's also close to the municipal market. The average price per night is €135. Book here.
Casa Mocho Branco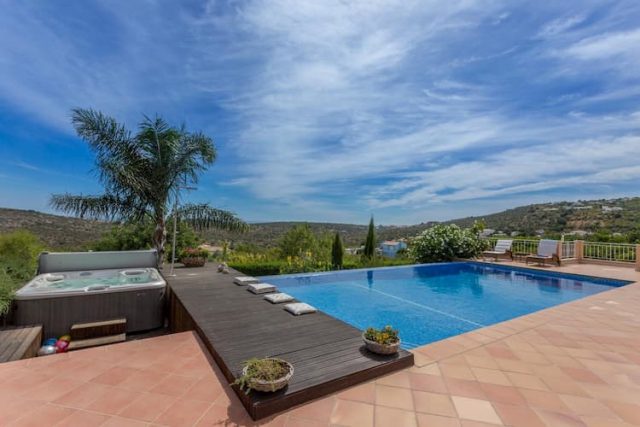 Situated away from the centre, this B&B offers tranquillity as well as quick access to the beach. It features a large swimming pool, a lovely terrace and a beautiful garden. The average price per night is €160 Book here.
Best restaurants in Loulé
O Pescador
This is a nice restaurant with a wide variety of seafood selection located next to the Municipal Market in Loulé. The dishes here are also moderately priced.
O Grego
This is a Greek restaurant with great dishes and nice wine selection. Also, try to make reservations before going.
A Quinta
A Quinta also makes for an excellent dining option. The menu is also very varied, you can enjoy different types of Mediterranean and European dishes as well as vegetarian-friendly meals.
Restaurante Churrasqueira Jolibela
Situated close to the castle, it is a nice place to have meat and chicken meals as well as some traditional Portuguese dishes.
Restaurante Afonso III
Located near Loule Jardim Hotel, this restaurant offers authentic Portuguese hospitality as well as nice Algarvian meals.
Is Loulé a good place to visit?
Loulé is an ideal destination for a day trip from Faro, Albufeira, Vilamoura or Quarteira if you are looking to experience a genuine Portuguese atmosphere.
Also, I would say it is not necessarily a beach holiday destination, as the beaches are a bit far from the town.