Pink Street Lisbon, the one street in Lisbon that you can count on to have a crowd and plenty of drinks once the sun goes down.
Decades ago, it was Lisbon's "red light district", but now this has transformed into one of the coolest spots near the river.
So why is Lisbon's Pink Street so popular? Let's find out why.
Pink Street Lisbon
The story behind the picturesque street.
Sometimes, it is easier to convert neighborhoods with the most colorful histories into spectacular, trendy hangouts. This was certainly the case with Lisbon's Pink Street, originally known as Rua Nova do Carvalho.
Rua Nova do Carvalho had some very shady beginnings. It is a pedestrian street once known as a meeting point for sailors, local criminals and prostitutes.
Sailors and criminals would come by for a good time to enjoy the company of women at the gambling dens, brothels and seedy bars. The street at the time, developed a bad reputation until it had a complete makeover.
From Red Light District To Quirky Pink Light District
The makeover of Pink Street began in 2011, when the city made the effort to turn the neighborhood's atmosphere and reputation around.
They closed the doors of brothels and dodgy run-down bars to open cozy cafes and a new kind of nightlife. This has attracted locals and tourists all over the world.
Like many neglected spots around Lisbon, Rua Nova do Carvalho used its history as a stepping stone to develop something better with new bars and venues that kept memories from the past. Some bars still have fishing nets and bright colors as a way of remembering the seedy beginnings.
After the transformation which was complete in 2013, Lisbon's "red light district" is long gone and the street is left brighter than ever.
The pavement between the terraces, bars and clubs is painted pink, the scandalous buildings have turned into works of art, and the street has become one of Lisbon's most popular destinations.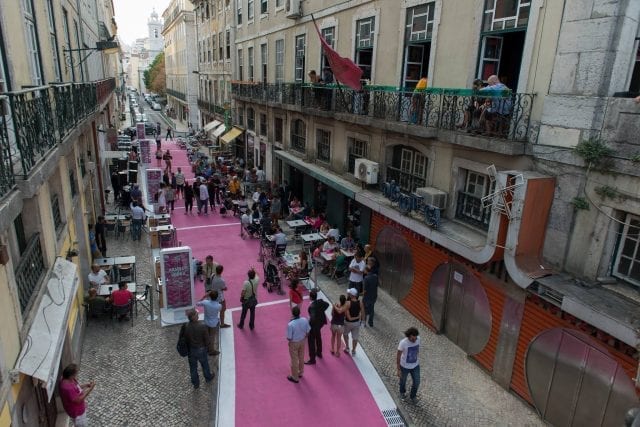 Where Is Pink Street?
Pink Street is located in Cais do Sodré, just around the corner from the historic Mercado da Ribeira. Cais do Sodré is one of Lisbon's most popular neighbourhoods and is home to some of the most standout hot spots such as the Time Out Market.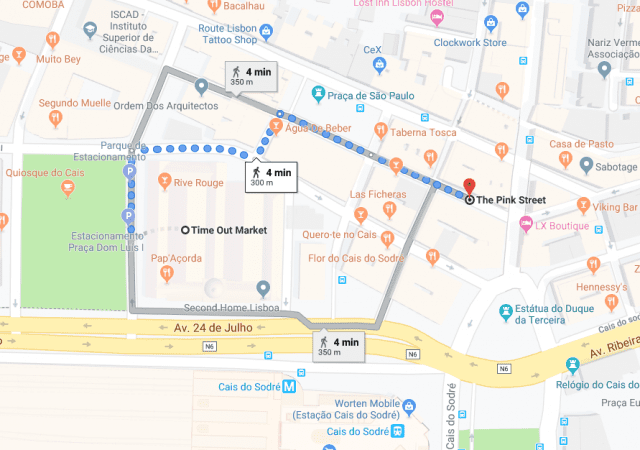 It is also located on the river and is centralised with the train station, metro and bus stations that connect downtown Lisbon to other parts of the city and nearby districts. Most tourists find this listed on their itineraries. However, the nightlife continues to be one of the major reasons why people search for Cais do Sodré.
What To Do In Pink Street
The party in Lisbon may start in Bairro Alto, but many times it ends up around Pink Street. Why is that?
Well, it is part of Lisbon's hottest nightlife. The clubs and bars get rowdy in the evenings and it is one of the most happening places in Lisbon. It goes from a quiet pink street in the day, to a place where all the cool people gather at night. It is also listed as one of the top 12 favourite streets in Europe, according to New York Times.
Pink Street is the coolest bar-hopping spots near the river, with the most popular bars like Pensão Amor and Sol e Pesca. Even a few old bars have stuck around but with positive new energy. Music Box, for example, is one of the city's hottest dance clubs and is situated right under the bridge.
Check out the best bars and clubs on and near Pink Street.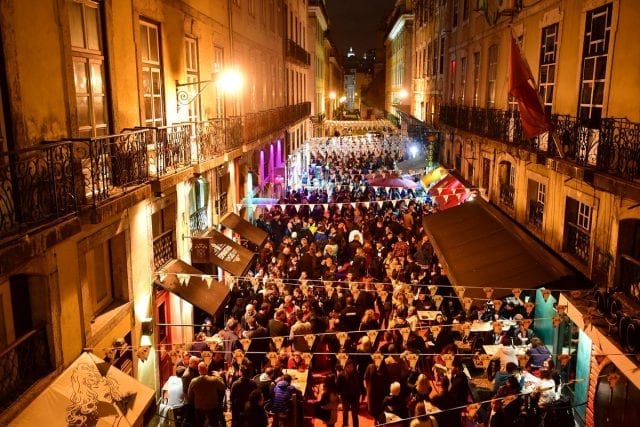 Best Bars Pink Street Lisbon
1. Pensão Amor
Every bar-hopper in Lisbon has visited Pensão Amor in Pink Street, at least to see the bold decor, if not, for the drinks and socializing. This bar essentially turned Cais do Sodré into one of Lisbon's nightlife hot spots.
Once a brothel, the bar maintains its intimate and seductive atmosphere, comprising different rooms filled with bright decor and cushy seats, unique but shocking art, and a dancer's pole.
You can enter the bar through the back entrance on Pink Street, however, Pensão Amor is much more impressive if you enter through the front entrance at Rua do Alecrim.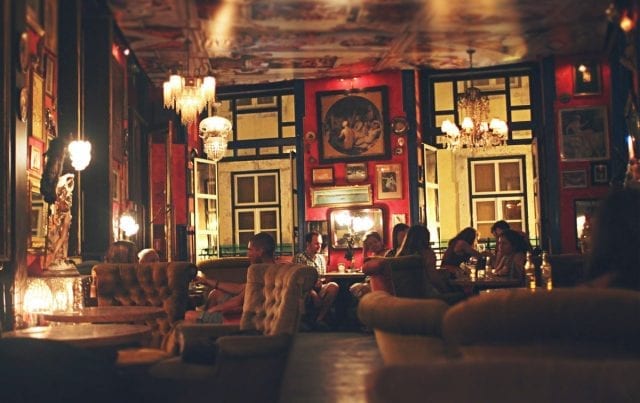 Opening Hours: Sunday to Saturday (2pm – 4am)
Address: Rua Alecrim 19, Lisboa, 1200-292, Portugal
Phone: +351 213 143 399
2. Espumantaria do Cais
Espumantaria do Cais is a wine and cocktail bar in Pink Street that has a variety of drinks, but mostly clear sparkling wine, and a full menu of petiscos (Portuguese appetizers) so you can snack while you drink.
In its former garage, the trendy restaurant and bar are quite welcoming with a few tables outside, so you can catch the nightlife action of Pink Street, smoke, and enjoy the night air. Among their list of beverages, I would recommend trying their champagne. It is my favourite!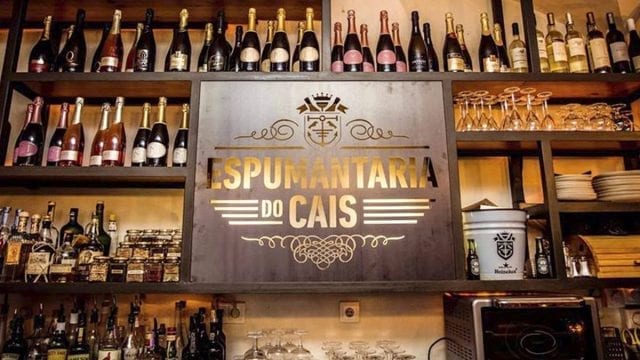 Opening Hours: Sunday to Saturday (7pm – 4am)
Address: Rua Nova do Carvalho 39, Lisboa, Portugal
Phone: +351 213 470 466
3. Europa
Europa is one of the most popular nightclubs in Pink Street and is also one of the older clubs in the city. Some nights can be themed and the venue rotates musical genres, so don't be surprised if you visit on a 70's night.
Overall, for a casual night of dancing, Europa can be quite laid-back or busy and is also one of the clubs in the area that stays open until the sun rises.
Opening Hours: Wednesday to Sunday (11pm – 5am)
Address: Rua Nova do Carvalho 18, Lisboa, Portugal
4. Music Box
Music Box is renowned by music lovers and is Lisbon's hottest concert venue and nightclub for over a decade. It has both a stage for live bands and a dance floor, with great sound and vibes that invites national and international artists. Check out their website for more information.
What's also great about Music Box is that from 11 pm, the music only stops at 6 am the next morning. You can find the entrance to the venue underneath the colorful bridge that separates both sides of Pink Street, across from Pink Wine Point.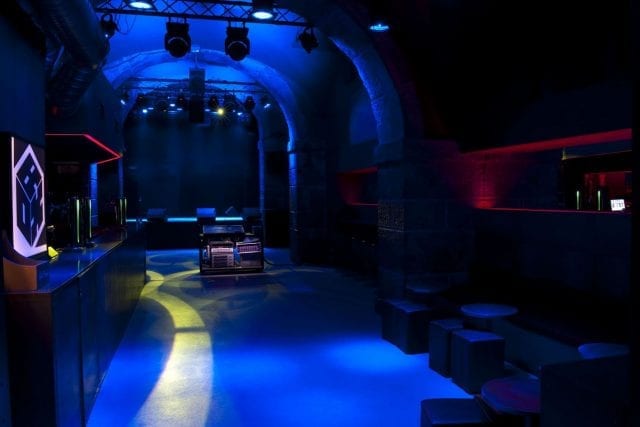 Opening Hours: Monday to Saturday (11 pm – 6 am)
Address: Rua Nova do Carvalho 24, Lisboa, Portugal
Phone: +351 213 473 118
5. Pink Wine Point
Just across from the famous Music Box, is another entrance leading into the stylish Pink Wine Point. Pink Wine Point is a cavern-like bar with a cozy setting.
Drop by with your friends for some drinks and live music on the weekends. Unlike Music Box, this is the perfect place to go to Pink Street if you are in for something fun but much more relaxing.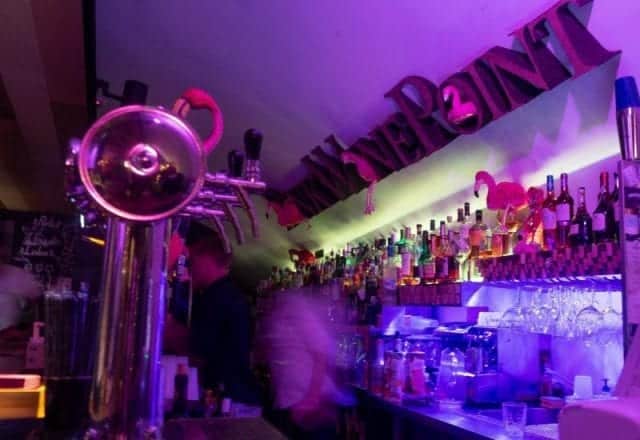 Opening Hours: Sunday to Saturday (6 pm – 3 am)
Address: Rua Nova do Carvalho 29, Lisboa, Portugal
Phone: +351 933 350 117
6. Tokyo Lisboa
Tokyo Bar has existed since the 1960s and has become one of the most vibrant spaces within the alternative scene and indie rock music.
There are live band performances several nights of the week, performing originals and covers of classics, and also DJ sets of rock music. Great place for beers and live music with your friends.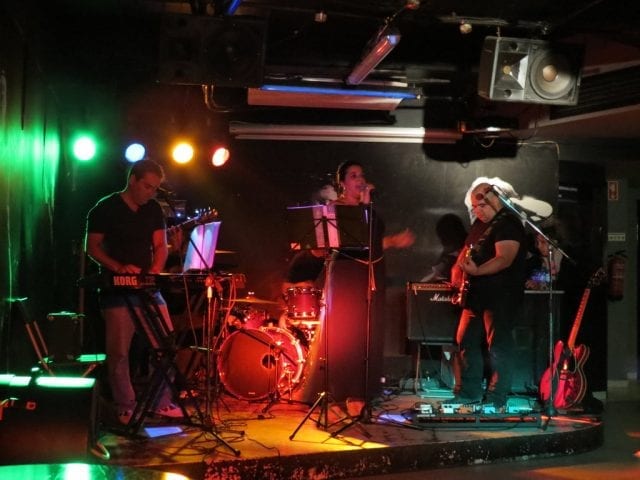 Opening Hours: Tuesday to Saturday (11 pm – 4 am)
Address: Rua Nova do Carvalho 12, Lisboa, Portugal
7. 4 Caravelas Cocktail Bar
Another popular spot in Lisbon's trendy Pink Street is the casual and inviting, 4 Caravelas Cocktail Bar.
The cocktail mixtures are the bartender's specialty and despite its location, the bar feels more like an intimate neighborhood bar. Try one of their daily specials for €5. You will not regret!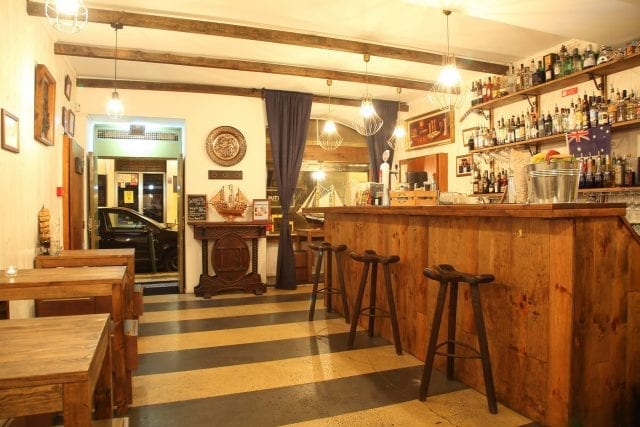 Opening Hours: Friday to Saturday (8 pm – 3 am) & Tuesday to Thursday (9 pm – 2 am)
Address: Rua Nova do Carvalho 75, Lisboa, Portugal
Phone: +351 913 786 836
8. Sol e Pesca
As you may have known, Portugal has a love affair with canned fish. Sol e Pesca is a local low-key restaurant where you will enjoy trying them out.
At night, why not swing by to sit on the terrace and sample a few delicious flavors along with some beers or wine. Sounds good? When you enter the restaurant, you will find it hard to believe that the place was once a fish tackle shop with walls that are still covered in fishing gear. Interesting, very interesting!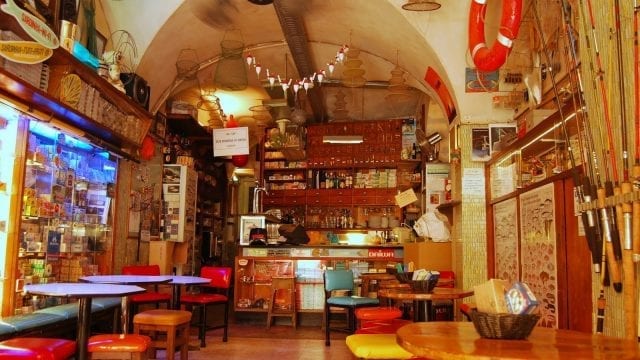 Opening Hours: Monday to Wednesday (12 pm – 2 am) & Thursday to Saturday (12 pm – 4 am)
Address: Rua Nova do Carvalho 44, Lisboa, Portugal
Phone: +351 213 467 203
9. Jamaica Bar
Jamaica Bar is in a perfect spot to welcome night owls after other bars have closed. This is the coolest Jamaican groove bar in Pink Street and Lisbon overall.
Heading over a little earlier in the night can help ensure that you have room and space to sway to the music.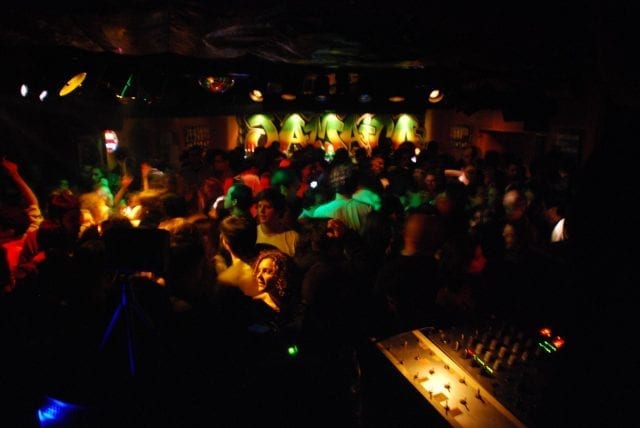 Opening Hours: Tuesday to Saturday (12 am – 6 am)
Address: Rua Nova do Carvalho 6, Lisboa, Portugal
Phone: +351 213 421 859
10.Viking Bar
Viking Bar is a club that has preserved its services until today. This club is quite popular for bachelors to throw parties with a dancer performing on a little stage. It is also a dance club that is usually packed with lots of people.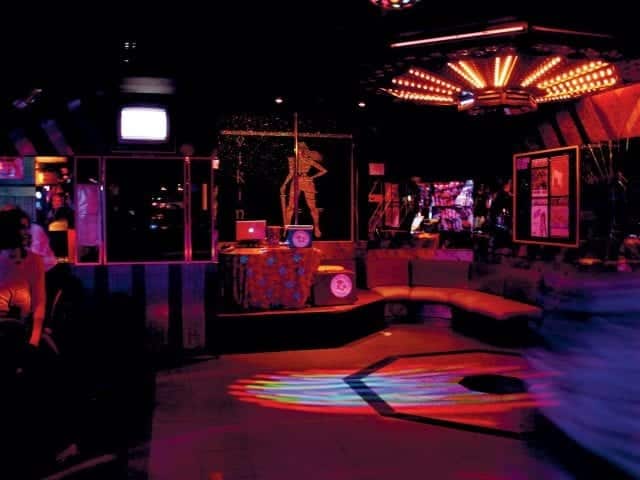 Opening Hours: Monday to Saturday (11 pm – 4 am)
Address: Rua Nova do Carvalho 1 a 7, 1200 Lisboa, Portugal
Phone: +351 213 426 468
11. Roterdão Club
One of the mythical bars in Pink Street with several decades is the Roterdão Club (Rotterdam). The club was reopened in September 2015 with a new look that is completely refurbished and new management but still maintains the same musical line.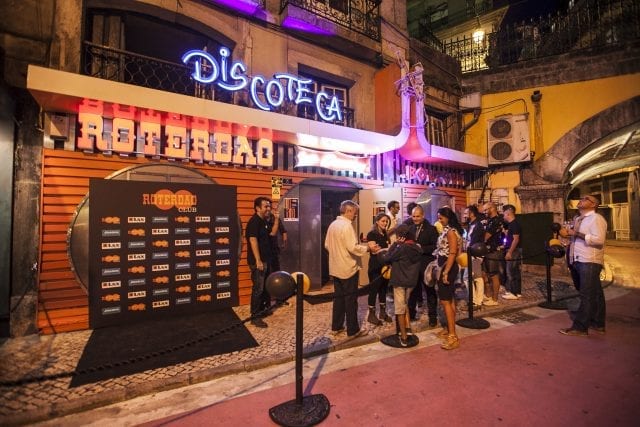 Opening Hours: Saturday to Wednesday (11 pm – 4 am) & Thursday to Friday (11 pm – 5 am)
Address: Rua Nova do Carvalho 28, 1200-292, Lisboa
Phone: +351 211 373 514
12. Bar do Cáis
The ambiance of Bar do Cais is made by its wall graffiti and the colors of the lights. With musical styles that go from rock, to funk, reggae and jazz, this bar is a great place to end up the night, after coming down from Bairro Alto.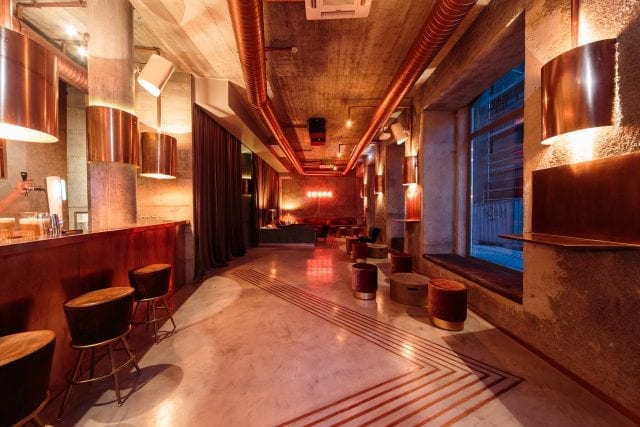 Opening Hours: Tuesday to Saturday (10 pm – 4 am)
Address: Rua Nova do Carvalho 47, 1200-291 Lisboa
Phone: +351 914 997 073
13. Sabotage
Sabotage, a rock club situated towards the end of Pink Street, is the best choice for those who prefer live rock music. It was created as an alternative meeting point and has proven to be rebellious as its name suggests.
If you are a fan of classic rock music and want to discover some hidden talents of the alternative Lisbon scene, this venue will be the highlight of your stay.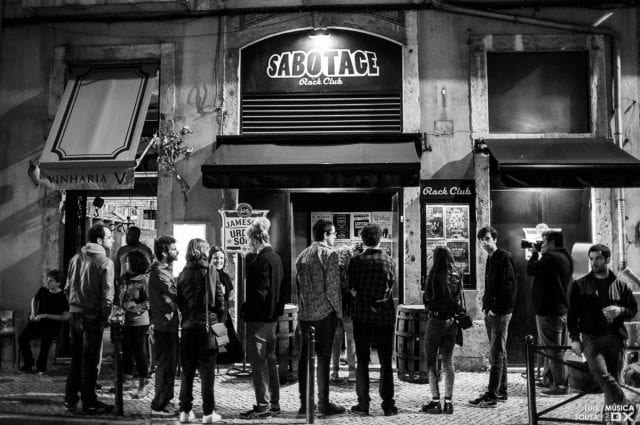 Opening Hours: Wednesday to Saturday (11pm – 4am)
Address: Rua de São Paulo, 14 & 16, Lisboa, Portugal
Phone: +351 213 470 235
14. Copenhagen Bar
Copenhagen Bar is a 40-year-old classic, situated right next to Sabotage next to Pink Street. Great bar, great ambiance for live music and dance music. The crowd is always lively, friendly, and eager to be on the dance floor.
Unfortunately, Copenhagen is only open for a few hours so if you want to check it out, I would suggest going there first before entering other bars and clubs in Pink Street.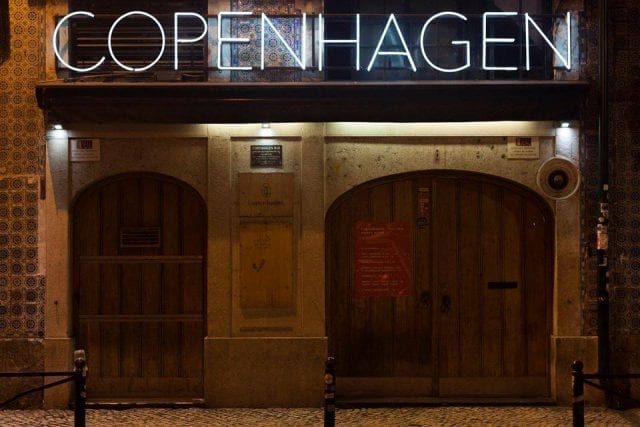 Opening Hours: Monday to Sunday (10 pm – 12 am)
Address: Rua de São Paulo, 8-10, Lisboa, Portugal
Phone: +351 919 430 011
Things To Do Around Pink Street
There is a lot to do in the area that doesn't involve nightclubs. During the day, once you take your photos be sure to explore what's in the area. Here are some of the must-see attractions that are located within walking distance from Pink Street.
1. Eat Out At The Time Out Market
Just a 3-minute walk from Pink Street is the Time Out Market which is a wonderland for food lovers. The building opened up in 2014 with the aim of bringing together some of the city's top chefs and making their food much more accessible to the public.
You will find almost every kind of cuisine here, from sushi to noodles, vegetarian to traditional Portuguese food. The choice is yours, and the atmosphere is incredible, just like the food.
For more information, check out Time Out Market: Eat like a local at the best food market in Lisbon.
2. Elevador da Bica
Just a 5 minute walk away from Pink Street, you will find the prettiest funicular railway you'll ever see in Lisbon, which is called the Elevador da Bica.
You can either hop on and take a ride up that steep hill that overlooks the Tagus River, or walk up that steeply inclined hill and take some amazing pictures of the view.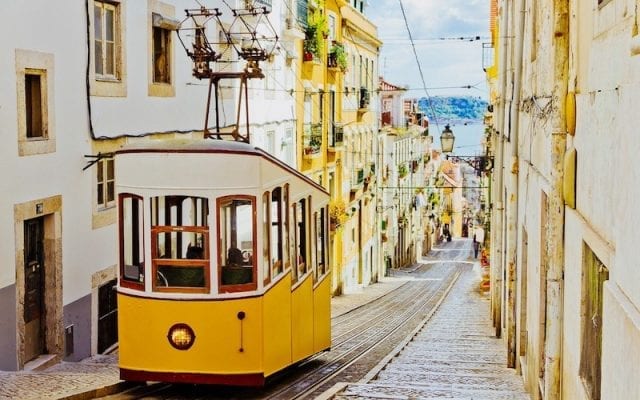 3. Go Shopping In Baixa Chiado
From the Elevador da Bica, you can find one of the main shopping and banking districts with streets that are named accordingly to the shopkeepers and craftsmen who traded in the area.
There are several brands, restaurants and cafes to choose from. And not only that, it leads you to Armazéns do Chiado, which is not that big of a shopping center, but also has numerous stores and a food hall. Perfect for a lovely day out with the family or friends!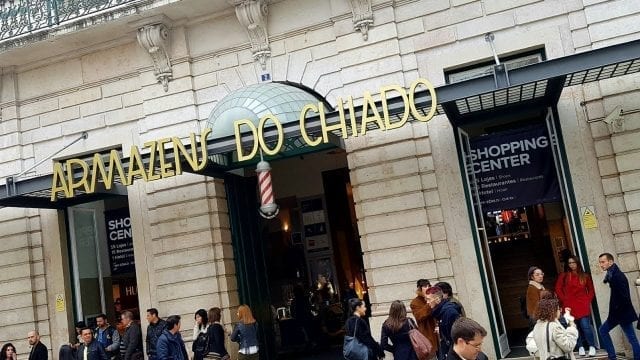 How to get to Pink Street Lisbon
If you type in google "how to get to Pink Street" nothing much comes up, even if you are using Google Maps. Instead, you will need to search for Rua Nova do Carvalho, which is the street's actual name.
If you are going there by metro or train, you will need to get off at Cais do Sodré and take a short walk away from the port towards Rua Nova do Carvalho. Here is a map that shows how to get to Pink Street from Cais do Sodré.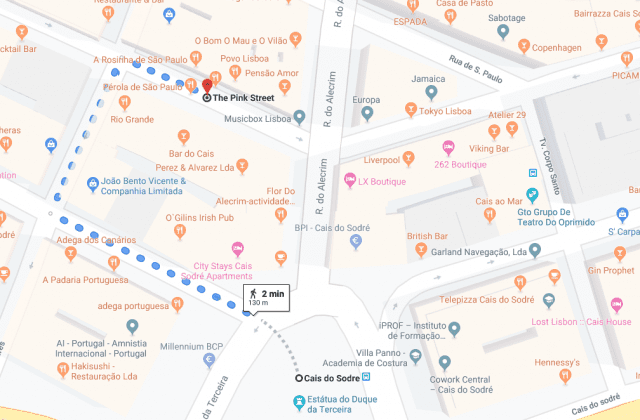 Best time to visit the Pink Street
Deciding when to visit Pink Street depends on the reason you want to stop by. If you want to take some beautiful pictures to brighten up your Instagram feed, then go in the morning when there are no people around. The bars are closed and the street is pretty much deserted which is a perfect time to take some really cool pictures.
If you are looking to explore the nightlife, Pink Street is open till late with food and bars that are open well into the next morning. It is after midnight when the party really starts so keep that in mind if you are looking for a crazy night out.
Why visiting Pink Street is a must
There is no doubt that Pink Street is a beautifully picturesque street with its cozy venues and restaurants. It is a history blend with modernity and a story to tell. Each bar and venue reveals a different secret, making Pink Street the coolest neighborhood to visit during your time in Lisbon.
Whether you are after some peculiar Instagram photos, or you are looking for a fun night out, Pink Street is such a quirky place to go and will always be one of the major tourist attractions.