Let's go to Silves in the Algarve – an adorable, medieval town set amongst the citrus groves and vineyards that was once the capital of the Algarve in Moorish times.
Where is Silves, Portugal?
Silves is located in the Algarve region of southern Portugal about  254 km (158 miles) from Lisbon and 62 km (39 miles) west of Faro Airport (also known as the Algarve Airport).
How to get to Silves
You have a few options to get to Silves Algarve from the bigger cities in the Algarve like Albufeira and Portimão. You can go by bus, train or car rental. I suppose a car rental will be the most comfortable for you, especially if you have a family and luggage.
You don't have to worry about driving in the Algarve as it's very easy, with little traffic and good roads.
I just don't recommend that you drive in the centre of Silves as the roads are a maze of narrow streets. You can leave a car in a large car park to the south west of the town and walk to the historic centre, it's close.
If you'll decide to rent a car, you can check take a look at our tips and advice here: Car Rentals in Portugal.
Getting to Silves by bus
The other option I mentioned is to take a bus, especially if you're based in Portimão, Praia da Rocha, Lagos or Albufeira. I would recommend Eva bus service as they run regular services throughout the Algarve.
Here are some examples of routes you can take by bus.
A direct bus from Albufeira to Silves takes 45 minutes and costs €4.50.
Getting to Silves by train
If you're based in Lagos or Faro, you'll have to use the train. Unfortunately, the train station in Silves is located 2 km (just over 1 mile) out of town and the walk to the historic centre is tiring as you have to step hills, but as a traveller, you like adventures, right? To check the train timetable please check the CP (Comboios de Portugal).
When you sign up for our newsletter, you will receive all the best tips and advice for visiting Portugal.
When is the best time to visit Silves?
If you're thinking of visiting Silves, it depends what weather you like the best. The hottest months are July and August with an average temperature of 25°C (77°F) and the coldest month is January at 12°C (54°F).

Weather in Silves over the next 24 hours
Things to do in Silves
As I mentioned above, Silves, Portugal is a medieval town where great works of Moorish architecture are being unearthed all the time. Remnants of this past can be seen while exploring Silves, from the huge red brick castle, the impregnable town walls, through to the gothic cathedral, which was built on the site of a grand mosque.
Most visitors to Silves Algarve are a day trippers. It's popular amongst visitors who are touring around southern Portugal and wish to be based in a traditional and historic town for a short period of time. Holidays in Silves can be attractive if you're looking for a calm and characterful town.
So, let's explore the best things to do in Silves and surrounding countryside.
Silves Castle
Considered the best attraction to visit in Silves is Silves Castle (website is in Portuguese) which is one of the best surviving castles in the Algarve lasting over 1,000 years.
It's located high on the hill of Castelo do Silves street and is open every day except Christmas and New Year's Eve.  A ticket for an adult is only €2.80 so it's definitely a must-see. And the views are amazing from up there.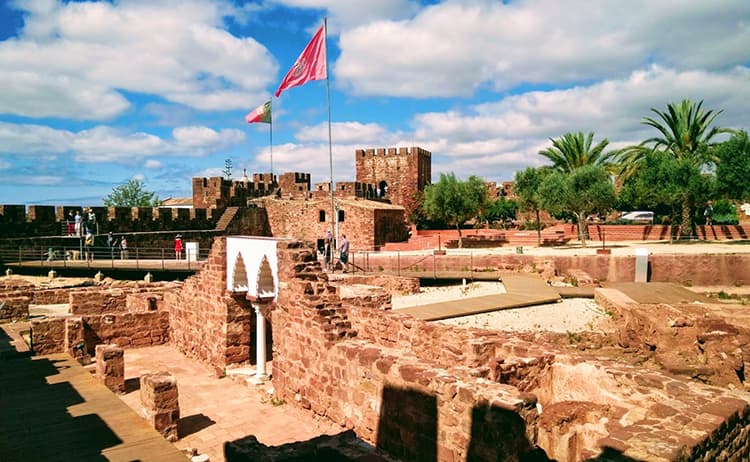 Silves Cathedral
Just down the hill from the castle, you will find Silves Cathedral which was constructed in the 13th century over a mosque. The architecture is mainly Gotic and the Cathedral is seen as the finest religious monument from this era in the south of Portugal.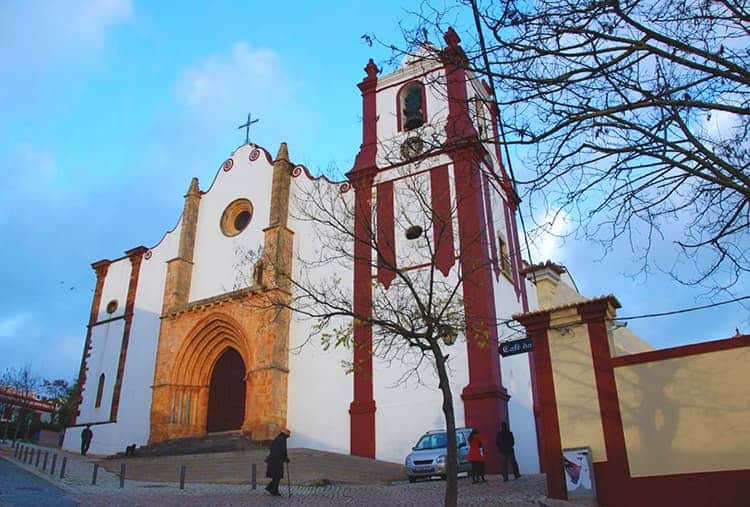 Silves Municipal Archeology Museum
The Silves Municipal Archeology Museum ("Museu Municipal de Arqueolgia de Silves") houses archaeological finds from four periods of history:
The pre-history period;
The Roman period;
The Moorish period; and
The Portuguese period;
The Portuguese period is considered to be from the Moorish period until the 17th century).
The museum is open daily from 10 am until 6 pm and is located at Rua da Porta de Loulé 14.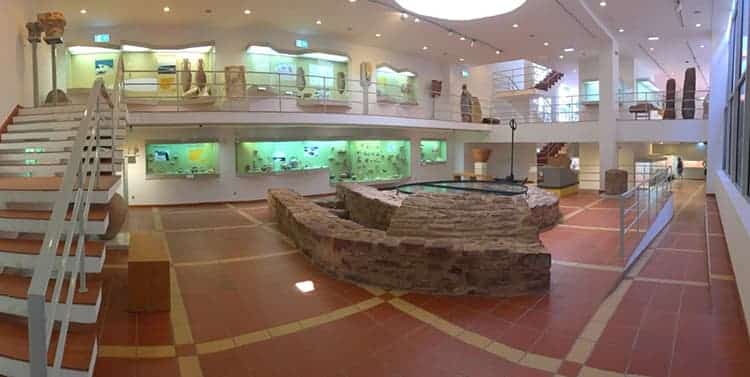 Old Roman Bridge (Ponte Velha)
The Old Roman Bridge is located at the Arade River, yet another remnant of Silves' varied historical past. Dated from the mid-15th century there is some debate whether is was a remnant from Roman times. Either way, it's a beautiful bridge and the area is a nice place to relax.
Cruz de Portugal
The least-documented attraction of Silves. Its origin is a question, but it's believed to be from the 15th century and might have been a gift from Dom Manuel I (King of Portugal and the Algarve). The cross is situated on the outskirts of the town, but you can walk there from the centre or drive.
Silves Town Centre
As I already mentioned above, the centre of Silves contains several narrow streets. You can find many restaurants and cafés, as well as, local specialist shops. Time moves slower here so you can spend your time pottering around and enjoying a strong espresso at a pavement café.
Silves market
Nowhere you'll see a glimpse of everyday life in a Portuguese town like a market. Silves hosts its own market six days a week. The most important is one is on Saturday morning, where traders from around the region come to the town. Here you'll find an excellent selection of fruits and vegetables, meat, seafood, bread and local delicacies.
Slide & Splash waterpark
If you have children or teenagers you must visit one of the largest attractions in Portugal. Slide & Splash waterpark, which is located around 10 km (6 miles) from Silves by car (15 minutes). Entrance for adults costs €27.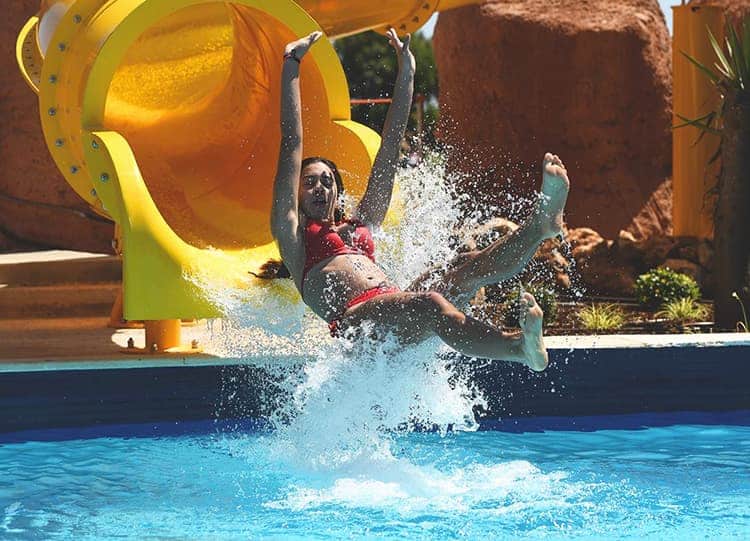 Country riding centre
Another attraction for you or the kids is horseback riding. Near Silves at the Rua de Pinheiro E Garrado is the Country Riding Centre. They'll take your experience into account and arrange a short run through the countryside, or something longer for the more adventurous.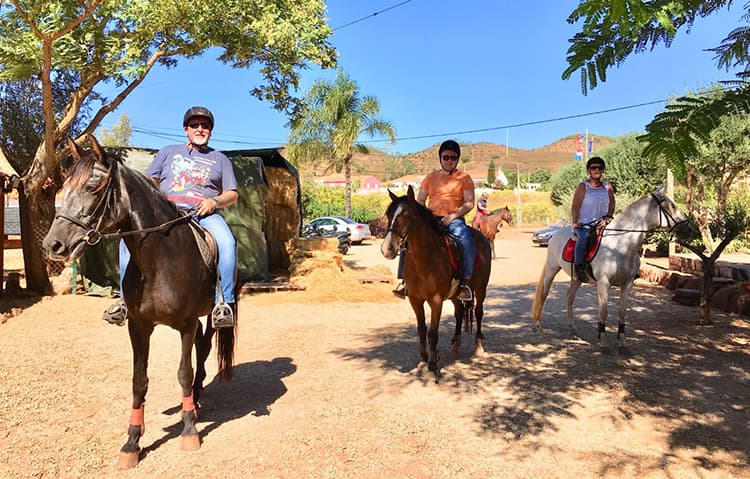 Silves golf course
Besides sightseeing, you can also play a round of golf.
The nearest one is located 10 kilometres (6 miles) from Silves town centre – Silves Golf Course. It's not as well-known as other golf courses in the Algarve, but it's ideal if you're looking for a quieter place to play a round. If you're a crazy golfer, you should visit golf courses like Amendoeira Golf Resort and Pestana Golf Course, which are less than 20 minutes drive away.
You might also like: Golf Courses in Portugal to see where else you can play.
Silves medieval fair
From 9 to 18 August, you can join a fair called, in Portuguese, "Silves Feira Medieval" (website is in Portuguese). It's a fun affair that has markets, jousting, music, dancing and historical re-enactments. It's one of the biggest and the best summer festivals in the Algarve.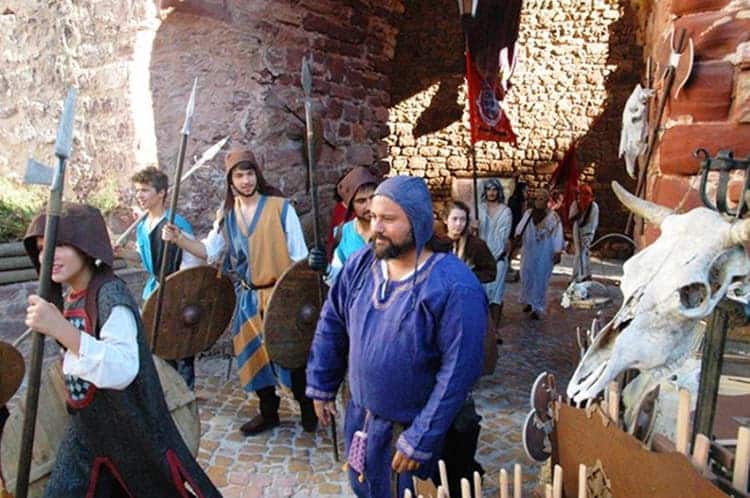 Silves Tourist Office
If you have more questions when you are there, Silves has a Tourist Information Office at the Rua 25 de Abril.
3 Best beaches near Silves, the Algarve
There are plenty of beaches near Silves, and three of the best ones are:
1. Praia da Marinha
Definitely on first place is he most romantic and secluded beach in the Algarve. You can get to Praia da Marinha by car in 20 minutes, by bus or taxi.
2. Praia de Armação de Pêra
The second place goes to Armação de Pêra beach. A wonderful long sandy beach with sheltered waters which is ideal for families with small children. The resort has plenty of shops, cafés, restaurants and bars. You can also get there by car in 20 minutes or by bus.
3. Praia do Carvalho
Considered as the third best beach near Silves, the Algarve, is Carvalho beach. Is a small beach, surrounded by steep cliffs. It's the best place for cliff jumping and also for snorkeling. It also takes around 20-25 minutes to get there by car.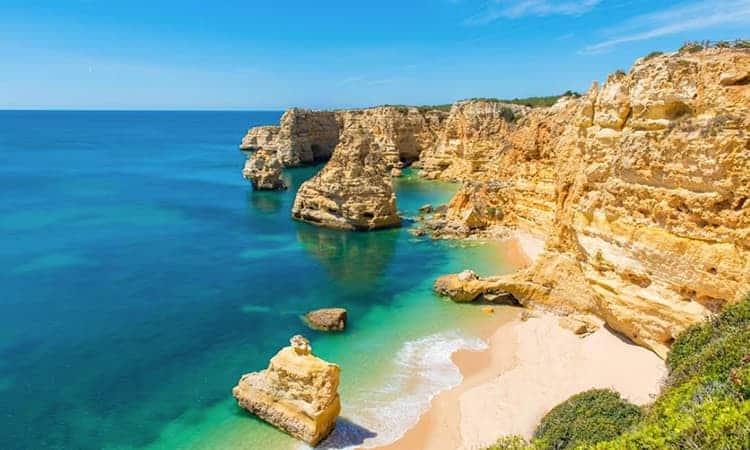 Where to eat and drink in Silves, Portugal
While you're in Silves, you must visit some of the local restaurants.
Recanto dos Mouros
Recanto dos Mouros is one of the best traditional Portuguese restaurants in Silves. The menu consists of traditional Portuguese dishes such as Javali à Casa (wild boar – an Algarve specialty), Ensopado de Borrego (lamb stew with bread), and Arroz de Tamboril (monkfish rice). For dessert, there's a counter of traditional Portuguese desserts to choose from like Flan and Delícia Algarvia.
Address: Estrada do Monte Branco
Open for lunch and dinner, every day except Wednesday.
Churrasqueira Valdemar
Churrasqueira Valdemar is a  well-known restaurant from its Piri-Piri chicken. Check their excellent reviews on TripAdvisor.
Address: N124, Mercado Municipal de Silves shop 21 and 22
Open for lunch and then again for dinner except Sundays when they are only open for lunch.
Rui Marisqueira
Rui Marisqueira is famous for shellfish, particularly crab and lobster, but it also offers great grilled fish dishes and cataplanas as well. It's definitely the best seafood and shellfish restaurant in Silves and one of the best in the Algarve region.
Open every day except Tuesday.
Something to drink?
Silves vineyard tours
Everyone knows that Portugal is famous for its vineyards. There are two, which are near Silves
Quinta do Frances and Quinta dos Vales.
Both offer vineyard tours and wine tasting. It'd be a shame if you leave Portugal without tasting some of the regional wine.
If you would like to find out more about wine tours in Portugal, check out my other article: Wine Tours in Portugal.
Nightlife and parties in Silves
If you're looking for a wild, party destination, then Silves isn't a suitable place for you.
Of course, you can have a nice night out and drink a beer or a glass of wine, but forget about crazy parties (for that you should visit the Albufeira strip).
To have a nice drink you can check out Segredo dos Mouros (Moorish Secret) located on Travessa do Cató 13, known from good wines and delicious tapas.
Hotels in Silves
Silves is a small town, so there is only one hotel, Hotel Colina dos Mouros at around €70 per night.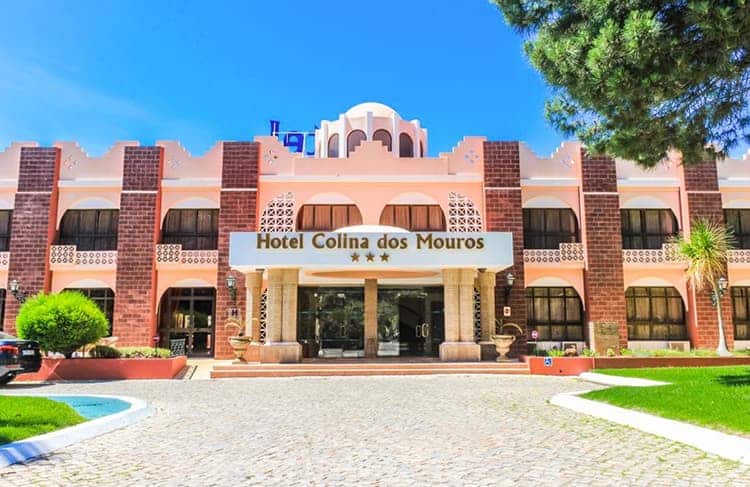 But don't worry as there are numerous Bed & Breakfasts, apartments, villas and Airbnb's located in the town centre and just outside of it.
Other accommodation options
Duas Quintas
One lovely bed and breakfast is Duas Quintas, a family-run bed & breakfast with a swimming pool. Prices start at €80 per night.
Horta Grande
Horta Grande is a hostel situated on the banks of the river Arade in Silves town centre. The price is around €20 per night.
Villa Quina
Villa Quina is a splendid rural villa that you can rent for your holiday located about 10 km (6 miles) outside of Silves (15 minutes by car).
How to find package deals to Silves?
Want to book a holiday in Silves but you don't have the time to plan something? Don't worry!
There are plenty of packages that can make planning your trip simple and affordable!
The only thing that you have to do is to choose the best offer.
You can check the packages offered by:
Now just start counting the days until your vacation!
Day tours to Silves
I can highly recommend a day trip like this full day tour with Get Your Guide exploring Silves, Caldas and Monchique and the highest mountain in Portugal. If you are staying in Lagos, Portimão or Lagoa, they will pick you up from your hotel and bring you back again at the end of an exciting day.
They will even take you to a thermal spa nearby. You'll see the attractions in Silves we mentioned before like the Silves Castle, the Cathedral and the Museum and will offer you a free wine tasting. It's a great deal for only €59 per person.
To book this tour, click here.
How much does it cost to go on vacation in Silves, Portugal?
Everything depends on your expectations if you want to have exclusive holidays or find the cheapest option, but the average family (two adults and two children) holidays for 10 days costs around €2,900 including flights, accommodation and pleasure costs (day trips, souvenirs, ice-creams, etc.).
Is it worth it to visit Silves?
If you would like to experience an authentic side of Portugal and immerse yourself in the compelling history of the region, then Silves is one of the best locations in the Algarve to visit. The town has a unique atmosphere, different from more touristy resorts, and reflects the Algarve prior to the modern boom of tourism.
Do you have any questions about Silves in the Algarve, Portugal? Let me know in the comments below.