Whether you are on a hunt for a big city hotel in the heart of Portugal's capital city, or you are searching for a quiet, converted convent in the Alentejo region, you should definitely try to treat yourself to a luxury experience.
Take a look at some of the finest hotels in the country and enjoy most breathtaking views from north to south, including islands.
Luxury Hotels in Portugal
More and more luxury hotels have been opening in Portugal lately. The demand has gone through the roof thanks to all of the travellers seeking Portugal for a glamorous holiday in the sun.
To help you with your preparations for your trip to this magnificent country, I have decided to write an article about my top choices.
If you want to learn about the best hotels in Lisbon, check out our article.
1. LX Boutique Hotel, Lisboa
Luxury hotel in Lisboa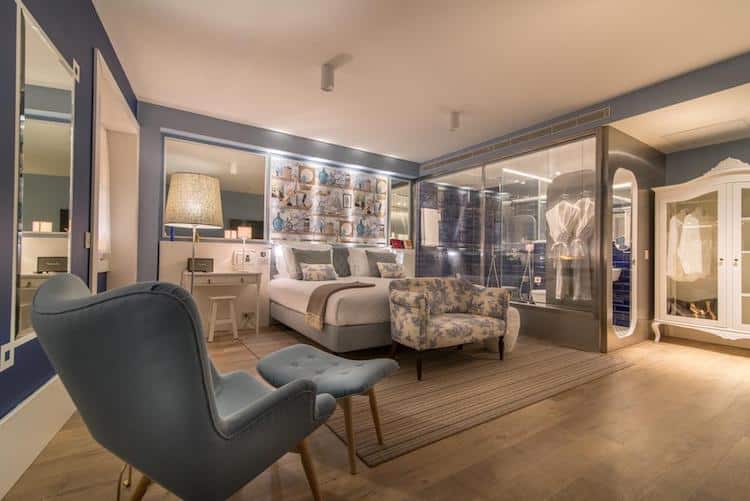 The LX Boutique Hotel is one of the first of its kind to open in Lisbon and is set in quite a hip location.
In one of the city's coolest drinking and dining neighbourhoods, is this bright blue hotel that wins travellers over with a hard-to-beat Cais Do Sodré location and the gobsmacking views across the River Tejo and the Cristo Rei statue.
Not only that, you can enjoy the small perks such as free afternoon port wine and pastéis de nata (custard tarts).
LX stands for 'Lisbon Xperience', providing a highly original take on the city.
The decor on each floor reflects its name. All of the rooms have a vintage vibe to them with retro fixtures and fittings in pale blues, whites and creams.
Larger suites have dressing areas and lounges. All rooms provide iPod docks, white shutters and heavenly soft pillows.
And don't forget the hotel restaurant that specialises in sushi and is always humming. When you taste the sushi you will understand why.
Room To Book: 505 for its light-filled, sloping roof, cosy feel and huge balcony.
Price: Doubles from €99 per night
Address: Rua do Alecrim 12, Lisbon
Phone: +351 213474394
Website: www.lxboutiquehotel.com
Discover Lisbon's best restaurants with our article Lisbon Restaurants: From Traditional Food to Fine Dining.
2. Hotel Quinta da Marinha Resort
Luxury hotel in Cascais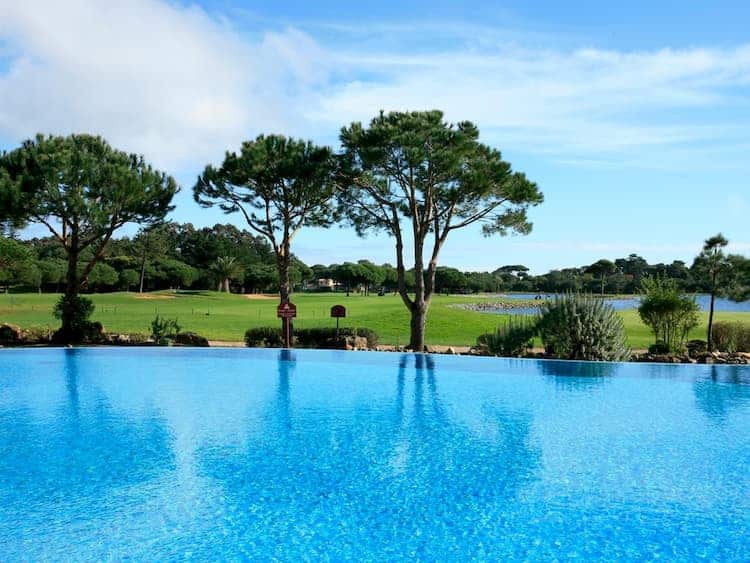 Cascais is a laid-back town that is just a 20-minute drive from its big-city neighbour, Lisbon. If you're going to kick back in Cascais, Hotel Quinta da Marinha is one of the finest venues you will find. The stylish modern hotel, all glass and light and space, is made for gazing out at the calming coastal scenery.
Surrounded by pine trees, sand dunes and the property's own Robert Trent Jones-designed golf course, the hotel is an essay in elegance, with celestial white interiors, reflected in cloud-shaped ceiling lighting, and staff badges that proclaim personal dreams: the bellboy 'wants to get married'; the receptionist 'longs to go on a road trip'.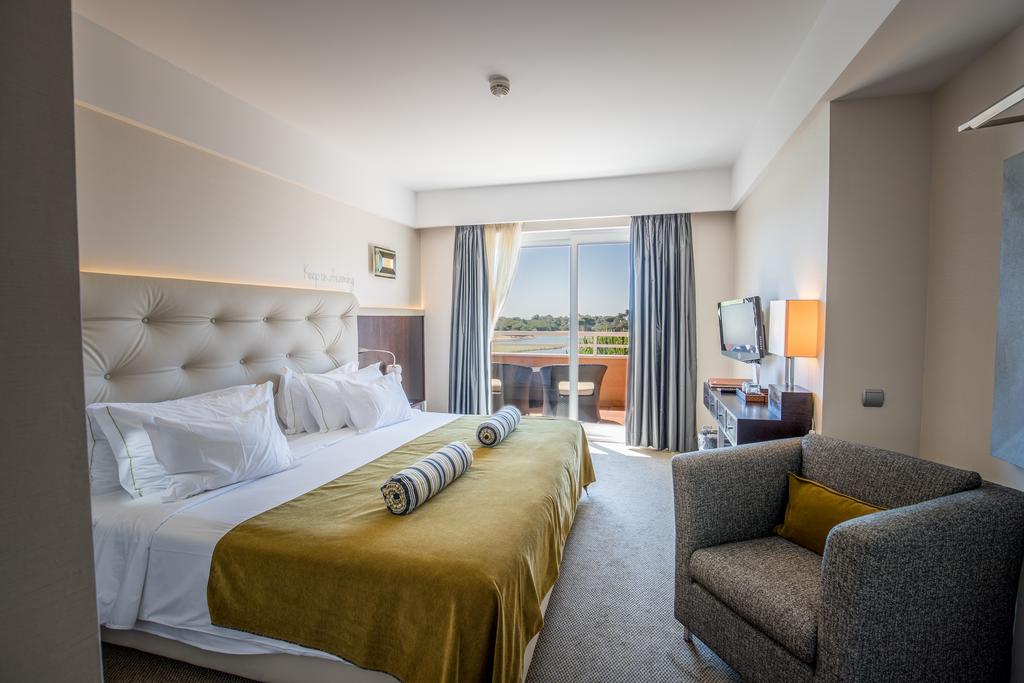 The 72 bedrooms are indulgent and peaceful, bathrooms have blue and orange lights throwing a calming hue over the marble surfaces.
Story Restaurant dishes up delicious Italian food (the prawn risotto is sensational) and Monte Mar on the beach serves fresh lobster, sea bass and hake, drizzled with olive oil and grilled the Portuguese way.
There is also a gym, an excellent spa and indoor pool, and three outdoor pools.
Room To Book: 239 for its corner view over the golf course.
Price: Doubles from €150.
Address: Quinta da Marinha, Cascais
Phone: +351 214860150
Website: www.quintadamarinha.com
We've spent a day in Cascais, find out what to do and where to eat when you're there with Visit Cascais: How to Spend a Perfect Day by the Sea.
3. Tivoli Palácio de Seteais
Luxury hotel in Sintra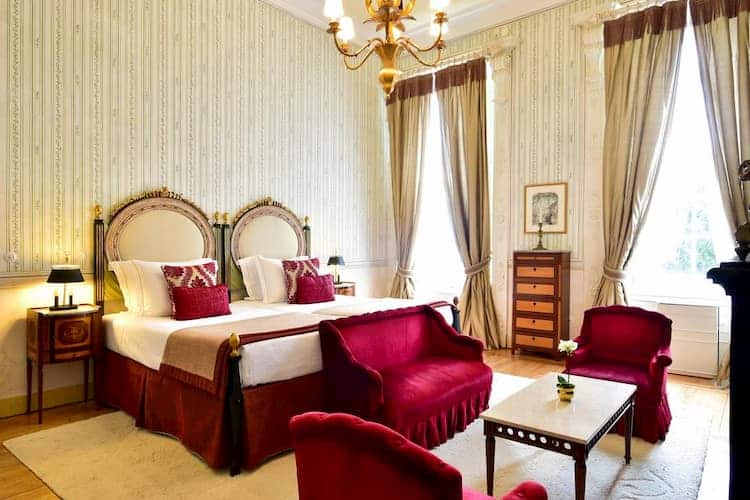 Set in the mountainside of Sintra with privileged views of the Moorish Castle and Pena Palace is the Tivoli Palácio de Seteais which is much more than a luxury hotel in Sintra.
This gem of period architecture with romance and refinement of the Age of Enlightenment will take you back to the elegance and atmosphere of the XVIII century.
Each room features its own distinctive design that combines comfort with authenticity; decorated with ornate furnishings.
Enjoy a private dining experience in the palace ballroom, featuring stunning tapestries of rare beauty. For couples, you can have the experience of a special dinner for two at the Seteais restaurant made by the palace's masterchef.
Or sit by the pool with a glass of wine or two and drink up the enchanted views of the misty Sintra mountains.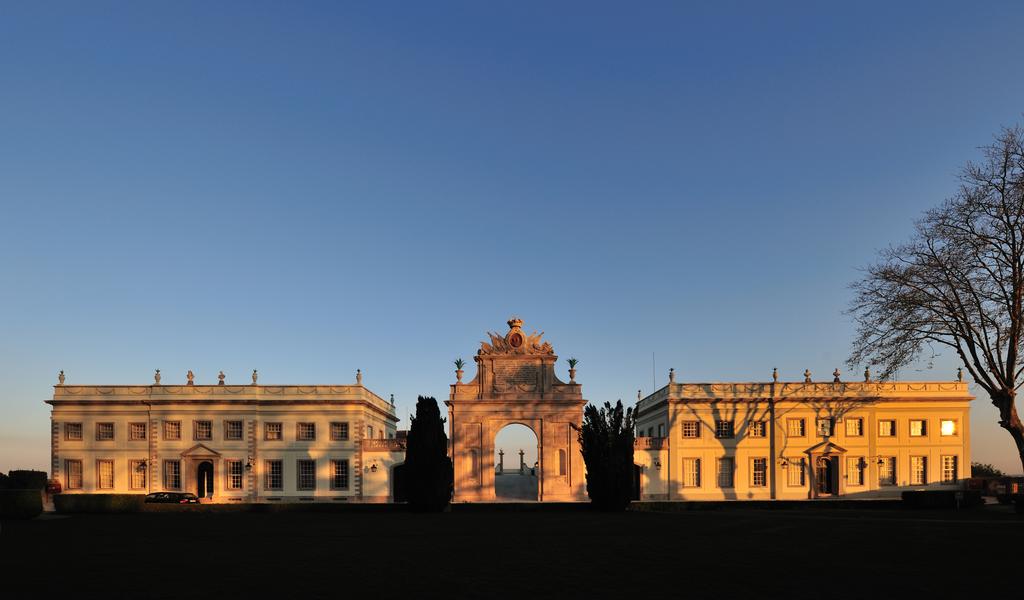 No matter what the occasion is, the charming Tivoli Palácio de Seteais has a unique setting that will turn any event or stay into an unforgettable experience that will make you feel splendidly royal through its unique setting that will turn any event or stay into an unforgettable experience.
Room To Book: One of the Superior Double Rooms with Garden View
Price: Doubles from €240
Address: R. Barbosa du Bocage 8, 2710-517, Sintra
Phone:  +351 219233200
Website: www.tivolihotels.com
If you're looking for one of the most romantic places on earth you should read Visit Sintra in Portugal, a Place of History, Royalty and Magic.
4. The InterContinental Porto Palácio das Cardosas
Luxury hotel in Porto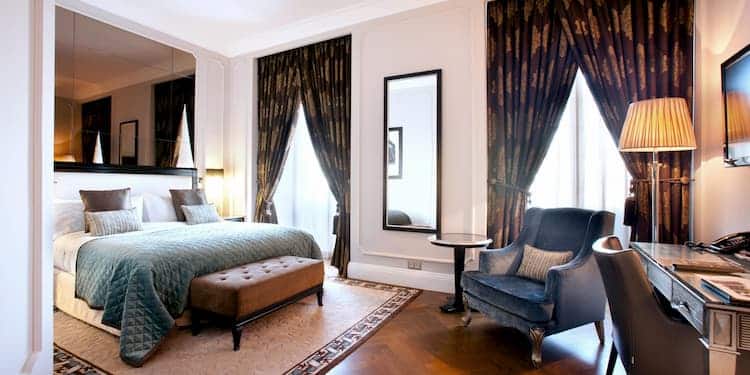 Although some properties have grown over time by leaning heavily towards the Old World charm, the InterContinental Porto Palácio das Cardosas, for example, is an 18th Century palace that features marbled and crystalised chandeliers.
This luxury hotel offers a sense of heritage and authenticity in the heart of the city. It is located in a newly renovated 18th Century palace that overlooks the imposing Avenida dos Aliados.
Some rooms are quite modern and contemporary but readers still rave about this royal, majestic design and its local attractions.
Nearby you will also find major cultural highlights such as the Bolhão Market, Ribeira District and the Clérigos Church and Clérigos Tower. The Palácio das Cardosas is the ideal place for those who are looking to experience the city's true essence.
Room To Book: One of the Executive King Rooms with Square View
Price: Doubles from €192
Address: Praça da Liberdade 25, 4000-322, Porto
Phone: +351 220035600
Website: www.ihg.com
If you haven't been to Porto, it's time you book your next trip, you're going to love it.
5. Bela Vista Hotel & Spa
Luxury hotel in Portimão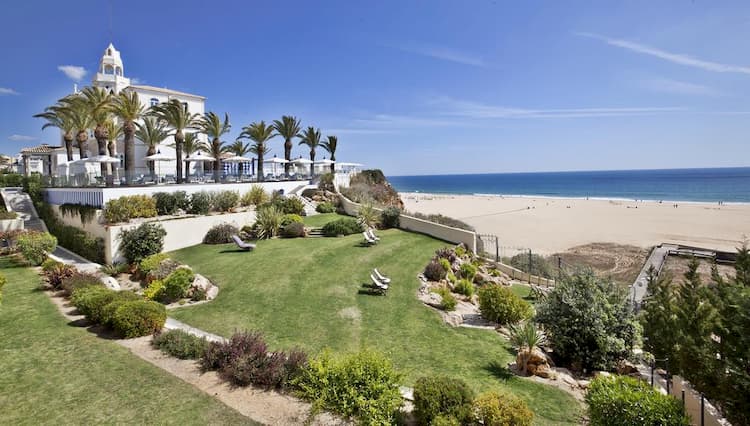 A unique hotel in Algarve, situated on the beach of Praia da Rocha in the sunny region is this 19th-century family house that was converted into the first hotel to open in Algarve way back in 1934.
The now refurbished Bela Vista Hotel & Spa has retained its prime beachfront position, where you can find relaxation and privacy surrounded by vibrant colours. It is impossible not to get swept up by its century-old charms.
The bar and seating areas in the main building, which also has 11 bedrooms, feel delightfully like a jewel-box, encrusted with old-fashioned artefacts. The original decor includes painted, wooden ceilings and wonderful wall tiles.
The use of bold colours and striking materials create a Miami-meets-the-Mediterranean (via the Atlantic) feel. In the grounds is a six-bedroom villa, Casa Azul, and a new, two-storey extension with a further 20 bedrooms overlooking a swimming pool framed by stately palms.
There is a gorgeous L'Occitane spa which is another impressive design.
You can also enjoy a meal at the alfresco dining, serving traditional Portuguese food that is complemented by a varied wine list.
So, whether you are sipping a cocktail at the bar at sundown or enjoying a romantic dinner on the huge terrace overlooking the beach; this is the perfect place to relax and while the time away.
Room To Book: 104 for its Jacuzzi with a view of the sea.
Price: Doubles from €138.
Address: Praia da Rocha, Portimão, Algarve
Phone:  +351 282460280
Website: www.hotelbelavistaalgarve.com
Discover Portimão with bePortugal.
6. L'and Vineyards Resort
Luxury hotel in Montemor-o-Novo, Alentejo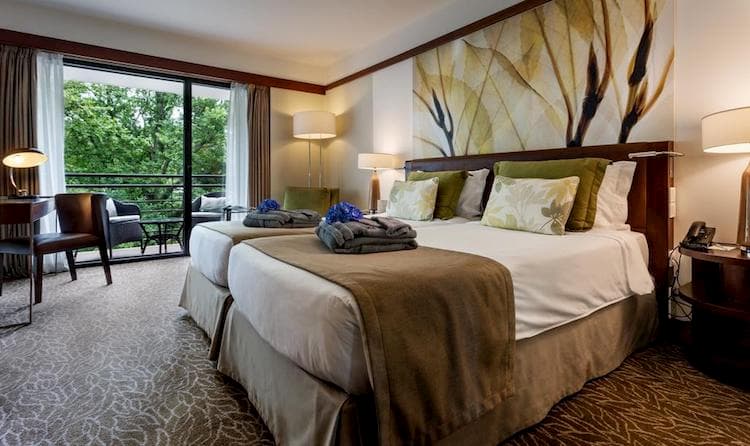 Set in the heart of Alentejo is a unique landscape with warm, earth-toned interiors by Brazilian architect Marcio Kogan and Michael Biberstein.
This striking L'and Vineyards Resort has opened in a series of low-slung, white, modernist buildings set among vineyards which are dominated by wood and slate, with bespoke pieces such as a distinctive bench by George Nakashima.
The 22 wonderfully spacious L'AND View and Sky View rooms emphasise the natural, with wooden-slatted walls, raw textiles and huge baths crafted in slate.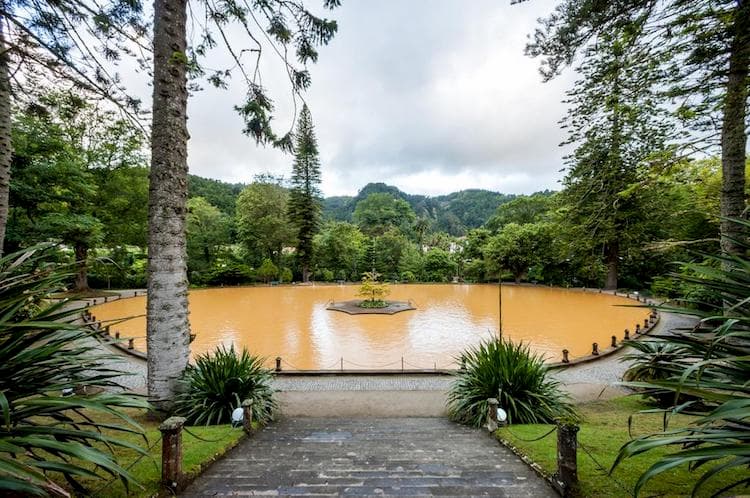 The technology is up-to-date, with iPads and iPod docks; in the Sky View Suites, ceilings roll back electronically to reveal the starry night sky.
In the restaurant, chef Miguel Laffan uses great local ingredients – sheep's cheese, black Iberian pork, horse mackerel – to produce sophisticated knockouts, such as shrimps encrusted with threads of batter.
The sommelier hosts tastings of the vineyards' own, very drinkable red Reserva and there is a restful L'and Spa Vinothérapie by Caudalíe.
Room To Book: Sky View Suite One for its views of the lake and the castle beyond
Price: Sky View Suites from €199, including a welcome drink, a massage and a L'AND wine-tasting
Address: Herdade das Valadas, Montemor-o-Novo, Évora, Alentejo, Portugal
Phone: +351 266242400
Email: www.l-andvineyards.com
7. Hotel Casa de São Lourenço, Manteigas
Luxury Hotel in The Natural Park of Serra da Estrela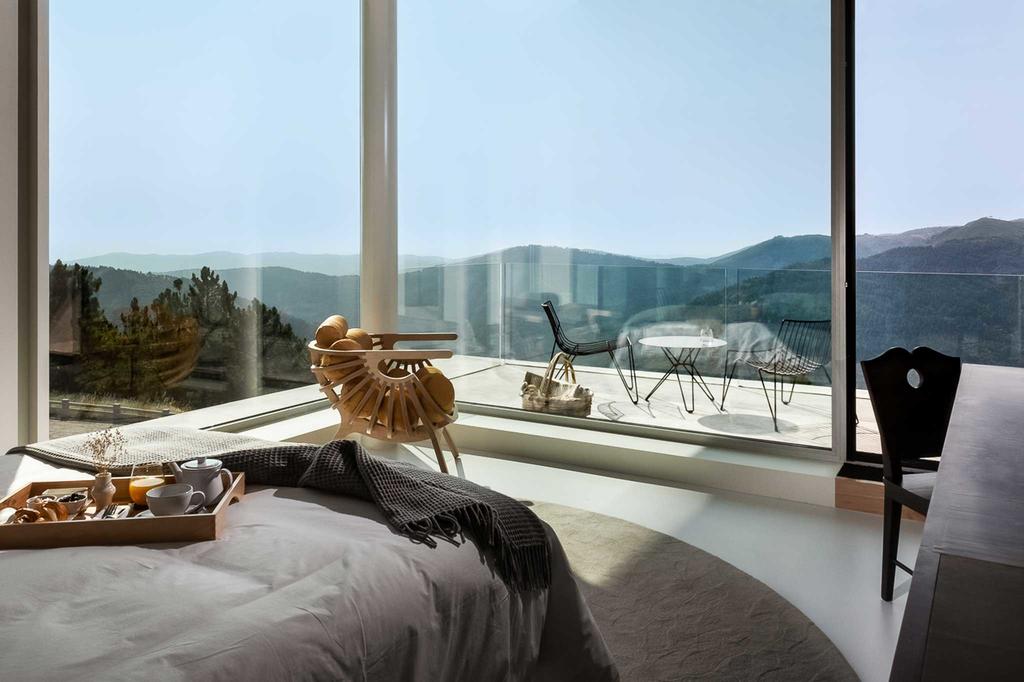 If you are heading towards the interior centre of Portugal, such as a short visit to the Natural Park of Serra da Estrela; then I would suggest staying at the luxurious Hotel Casa de São Lourenço which is located within 7 miles of Manteigas Spa and 12 miles of Ski Park Manteigas.
This is the only 5-star hotel in the Serra da Estrela region and the one with a panoramic view over the Glacier Valley.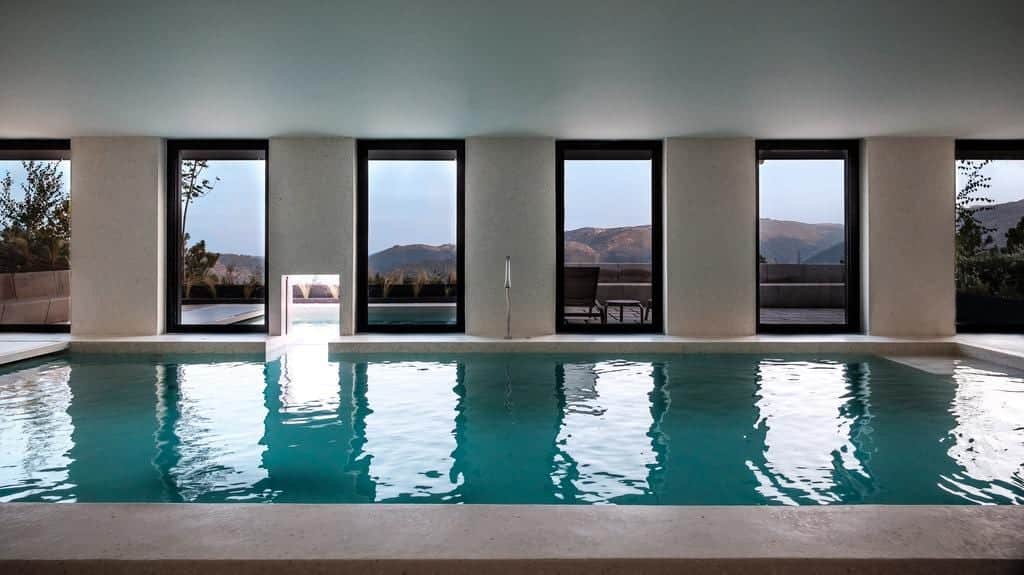 Hotel Casa de São Lourenço was one of the very first Portuguese Inns that was small and cosy where travellers were able to enjoy the beauty of the Portuguese landscape just outside their window.
However, after 70 years, it reborn as a 5-star hotel with more space, comfort and views for everyone to enjoy.
The hotel provides a world-class service with rooms that are equipped with air-conditioning, private bathrooms, free WIFI, flat-screen TV with cable channels and a work desk. It also has an outdoor swimming pool and a spa as well as a wellness centre, a sauna and a 24-hour front desk.
Room To Book: Suite with Mountain View
Price: Doubles from €160
Address: Estrada Nacional 232, Km 49, 3, 6260-200, Manteigas, Portugal
Phone: +351 275249730
Website: casadesaolourenco.pt
8. Sana Silver Coast Hotel
Luxury hotel in Caldas Da Rainha, Silver Coast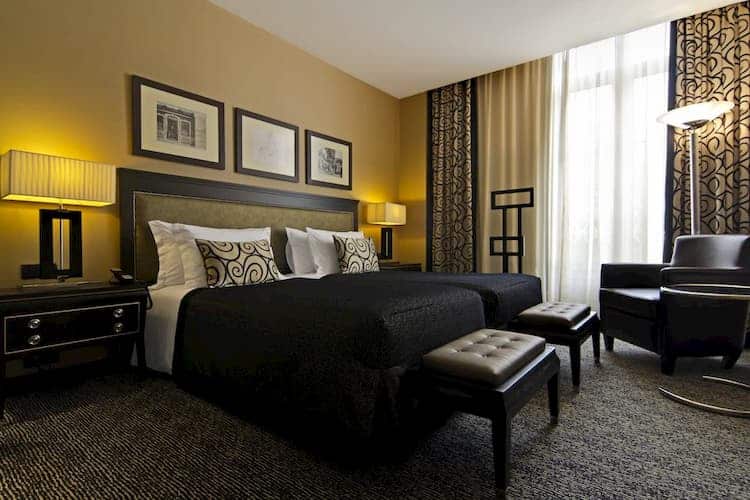 There are a few places on Earth that are quite beautiful such as the silver coast of Portugal. One of the main reasons why the silver coast is the ideal place to visit is due to the fact that it offers a suitable alternative to Algarve. It is also a great destination for surfers.
If you're planning on visiting the silver coast during the summer, why not book a room at the SANA Silver Coast Hotel, which is located in the centre of Caldas da Rainha.
The SANA Silver Coast Hotel is situated in a neoclassical building, offering spacious design rooms with dark wood furnishings, rich fabrics and an LCD TV.
The air-conditioned rooms at SANA are decorated with care in neutral tones and are soundproofed and comfortably equipped with a chic bathroom that includes a bathtub, shower and hairdryer.
There is a hotel terrace that offers a charming setting to soak up some sun or read a book.
You will also enjoy the hotel's restaurant which offers a delicious traditional Portuguese cuisine and a cafe and bar that serves regional delicacies and refreshing drinks. Guests can also enjoy meals in the privacy of their room.
The hotel services include room service, business centre, fitness/wellness centre, car parking; and a 24-hour reception that is always available to provide you with advice on nearby attractions.
SANA Silver Coast Hotel is a 15-minute drive from Óbidos and a 45-minute drive from Lisbon. So if you´re thinking about spending a few nights in the silver coast of Portugal, book a room at this splendid hotel and make your stay worthwhile.
Room To Book: Romantic Double Room with City View
Price: Doubles from €70
Address: Avenida Dom Manuel Figueira Freire da Câmara, 2500-184, Caldas da Rainha, Portugal
Phone: +351 262 000 600
Website: https://silvercoast.sanahotels.com/
9. The Cliff Bay
Luxury hotel in Madeira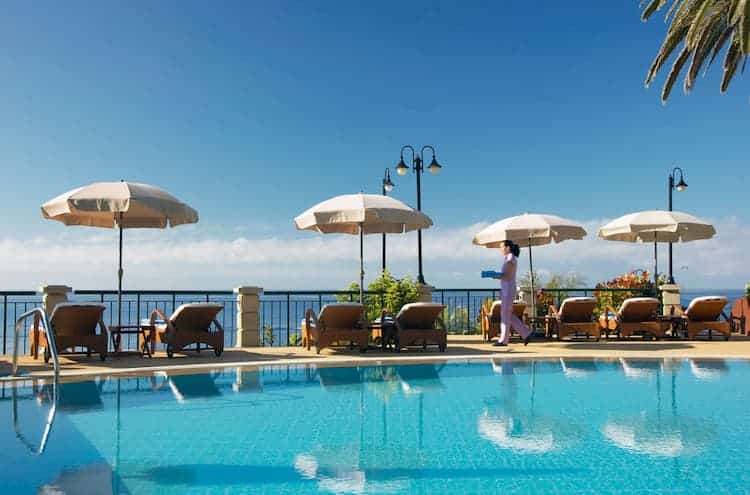 This ultra-luxurious, superior 5-star hotel is located in a prime position right next to the beautiful beach in charming Funchal and is easily within the reach of a number of fascinating attractions including:
Madeira Story Centre Museum;
Barreiros Stadium;
Madeira Casino;
Santa Clara Monastery;
the magnificent Funchal Marina.
The rooms at The Cliff Bay are stylishly modern, spacious, and well equipped with an array of features including free Wi-Fi Internet access, cable LCD TV, DVD player, direct-dial telephone, minibar, and coffee/tea maker. And don't forget the delightful balconies with striking garden and sea views.
You can surely have a good night sleep with rooms that are equipped with air conditioning, opening windows, and plush bedding as well as private bathrooms that come complete with complimentary toiletries, cosy bathrobes, shower/tub combination, bidet, bathroom phone, and hairdryer.
There are two outstanding venues, Il Gallo d'Oro and The Rose Garden, which both serve mouthwatering selections for breakfast and dinner. The Rose Garden that also provides an enticing lunch menu.
What's more is that guests can start the day off right each morning with a delicious complimentary breakfast buffet, and for those who wish to dine in the comfort and privacy of their guestrooms, there is a 24-hour room service that is available.
Room To Book: The superior on the top floor with Funchal Bay view
Price: Doubles from €174.
Address: Estrada Monumental 147, Funchal
Phone: +351 291707700
Website: www.portobay.com
10. Terra Nostra Garden Hotel
Luxury hotel in the Azores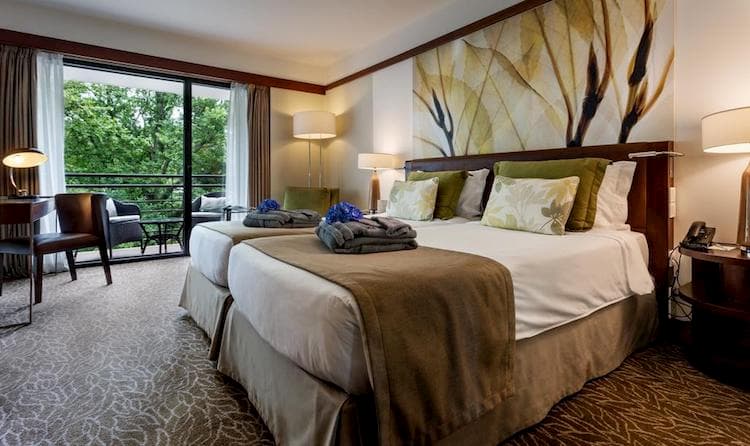 Terra Nostra Garden Hotel has positioned itself as one of the top hotels in Portugal, after extensive renovations that have reclassified this as a 4-star property. Located in Furnas Valley, on S. Miguel Island, this hotel displays a breathtaking atmosphere of exoticism and mysticism in perfect harmony with nature.
The hotel's interior design concept stems from the Art Deco style, and introduces contemporary elements and materials, creating comfort and exclusivity perfectly integrated with the lush Terra Nostra Garden.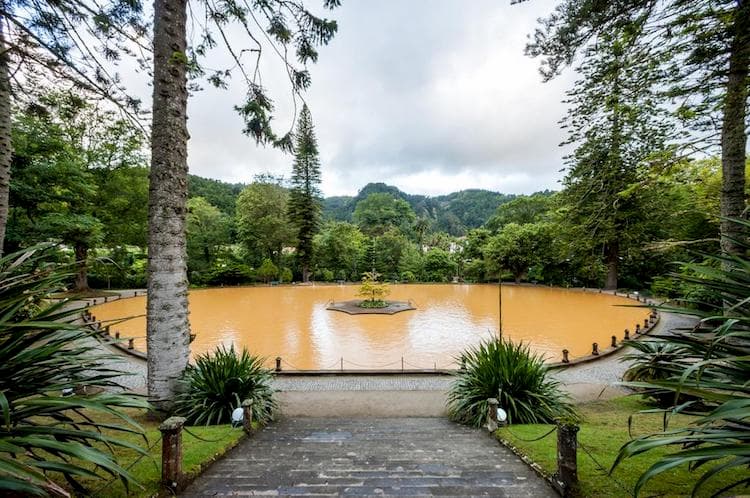 The new wellness areas are available and improved upon, making this hotel the perfect spot you're your special events, taking into consideration the tremendous potential of Furnas Valley with theme-oriented activities, as a retreat getaway and so much more.
In addition to the renovation, Terra Nostra Garden Hotel highlights Azorean products, focuses on the Furnas Cozido experience (a sustainable meal fully cooked underground with the heat of the volcanic hot springs) and the importance of protecting Furnas's unique environmental resources.
The new Terra Nostra Restaurant offers a vast array of wine choices and delectable menu, up to par with the expectations of any wine connoisseur or avid foodie, who will appreciate the impeccable service and ambience this restaurant has always had.
Room To Book: Classic Double Room with Balcony and Garden View
Price: Doubles from €75
Address: 5, Rua Padre José Jacinto Botelho, 9675-061 Furnas, Azores
Phone: +351 213474394
Website: www.terranostragardenhotel.com