Portuguese wines… that's the topic longer and deeper than the Douro River because Portugal has been producing and drinking wine for thousand of years.
Soooo, pack your bags and get your glass ready for the best wine tours in Portugal and its greatest wine regions.
The best wine tours in Portugal
The best way to take you on these tours is to split Portugal up into their most known wine regions.
The country is carved up into many different wine regions, but I would like to introduce you to four of the most popular, which are:
Vinho Verde;
Douro Valley;
Lisbon; and
Alentejo.
Vinho Verde region (Minho region)
The Vinho Verde region (or Minho region) is located in the far north of Portugal, to the west of the Douro region. This region is bordered by the Minho River and the Atlantic coast. Most of the Vinho Verde region is a tor near sea level and is the largest in land surface, approximately 34,000 hectares (84,015 acres).
What wines are best known in this region?
The Vinho Verde region has become renowned for producing top quality sparkling wines. The wines are released three to six months after harvest which makes them fresh, of vibrant quality and youthfully fruity. These are called green wines (hence the name "vinho verde" in Portuguese).
You should try the following varieties:
Branco Vinho Verde
Branco Vinho Verde (which actually means White Green Wine) is a light-bodied white wine which often has a slight spritz and fruity, lemonade-like flavours with notes of melon or gooseberry.
The most popular grape varieties are:
Arinto;
Azal;
Loureiro; and
Trajadura.
Rosado Vinho Verde
Rosado Vinho Verde (meaning Pink Green Wine) offers red berry flavours with a quenching acidity like lemonade. You can find them in the southern part of Minho.
The most common grapes are:
Amaral;
Borracal;
Espadeiro; and
Padeiro.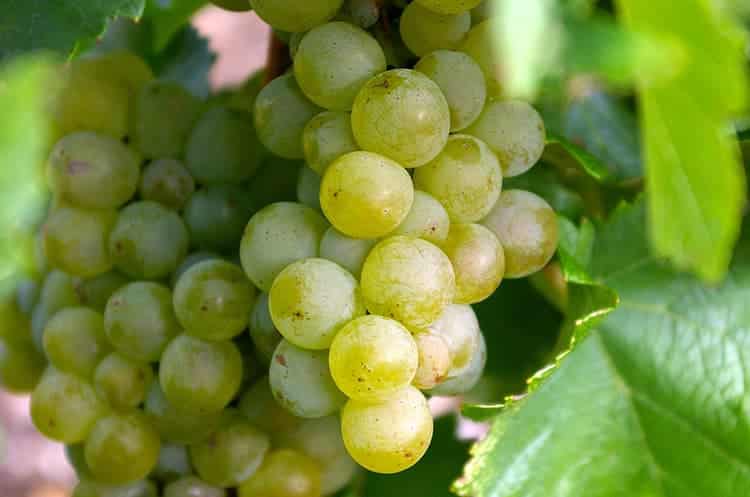 Must-visit wineries in the Vinho Verde region
To really enjoy the wine in this region, here are the top wine tours in Portugal's Vinho Verde region.
Quinta da Aveleda
Quinta da Aveleda is the largest Vinho Verde exporting company and is located at Penafiel, a brief trip from Porto. They will make your visit a uniques experience. Contact them to arrange a visit and have a look at the excellent reviews on TripAdvisor.
Quinta do Ameal
The wines produced at Quinta do Ameal are exclusively made from organic grapes that grow on the farm. They are exported to over 15 countries worldwide. Located at Refóios do Lima Ponte do Lima, you can contact them directly to arrange a tour or check out their availability to stay on TripAdvisor.
Quinta do Soalheiro
Quinta do Soalheiro has as a wine tasting room with optimal conditions for sampling of their white wine varieties. They are located in Melgaço, the most northern part of Portugal. Make a reservation on their site for an unforgettable experience.
Quinta de Santa Cristina
Quinta de Santa Cristina (website is in Portuguese but it has outstanding reviews on TripAdvisor) is a new winery which was built in 2014. They currently produce over 500,00 litres (132,00 gallons) of award-winning white, red, rosé and sparkling wines. Located in Portunhos, near Coimbra, this beautiful estate is perfect for groups, and other occasions like weddings in Portugal.
Contact them by phone or email to arrange your tour.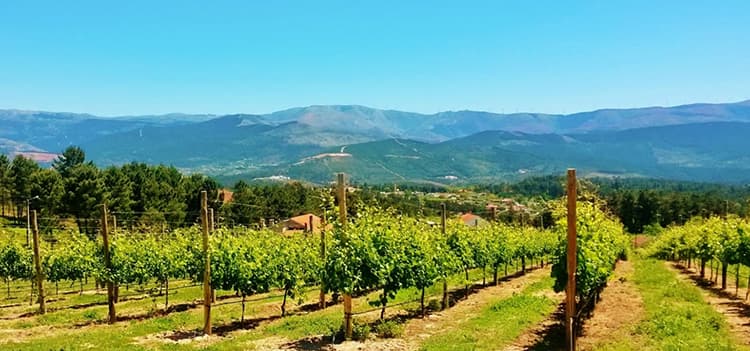 Staying in Porto? Here is a great deal to have a personalised full-day tour of the Minho "Green Wine" region with a pick up and drop off to your hotel in Porto.
The tour includes:
Traditional lunch;
Visits to two wineries and wine tastings;
Church of São Gonçalo visit;
Walk in Amarante;
To book, click on this link and save 20% for a limited time only.
Douro Valley region
The Douro Valley region is located in the north of Portugal and it extends from the city of Porto to the eastern border of Portugal. The Douro region is recognised by UNESCO as a World Heritage listed site. This is where the most famous Port wine was born.
What wines are the best known in the Douro Valley?
Port wine
Port wines are fortified sweet wines, specifically called: Late Bottled Vintage (LBV) Port, Tawny Port and Vintage Port wines which are the best and made by blending "port grapes".
The best Port wines are:
Touriga Nacional;
Touriga Franca;
Tinta Barrocca; and
Tinta Cao.
White Port and Pink Port
Both white and pink Port wines are great to drink in light-alcohol summer cocktails.
Tinto Douro
Tinto Douro are traditionally full-bodied red wines.
Douro Branco
Douro Branco is a light-bodied white wine with very slight fruity flavours.
Key white wine varieties include:
Rabigato;
Viosinho; and
Gouveio.
Must-visit wineries in the Douro Valley
There are many wineries in Douro Valley but I selected the best ones for you for the best wine tours in Portugal. Each of them is unique and provides a different experience.
Graham's Port
With the spectacular view of Porto's historic city centre and the two-tier Bridge (Ponte Dom Luis I) that connects Oporto and Gaia cities, Graham's Port cellar is a genuine experience for a wine tour in Portugal. Visiting the lodge is by reservation only and you can call or email them to make an appointment.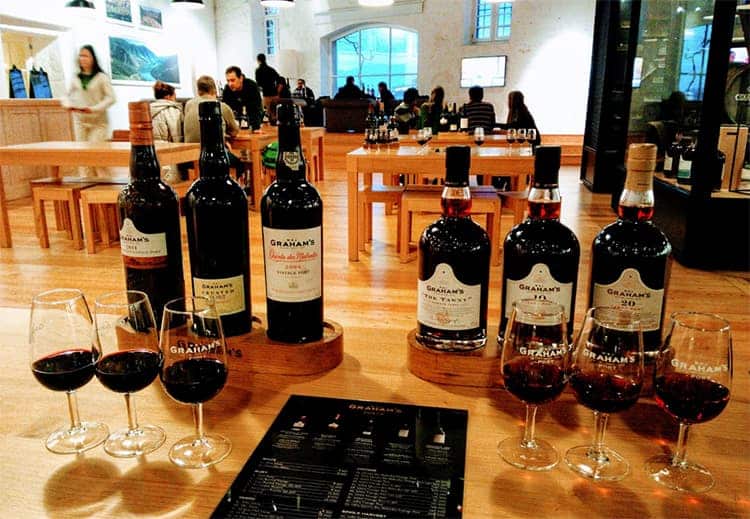 Real Companhia Velha
Also known as Royal Oporto Wine Company, Real Companhia Velha is the oldest Port wine producer in Portugal and probably offers the most original wine tasting tour in Portugal.
Go on a guided tour to the centennial cellar of Real Companhia Velha which begins with a video that shows you the process of making Port wine. The wine tour continues through the ageing warehouse to the Vintage Museum and ends with a tasting of Port wines.
The cellars are located at Rua Azevedo Magalhaes 314, Vila Nova de Gaia (just over the Douro river from Porto) and you can contact them by phone or email for visiting hours.
Croft Port
Croft Port cellars are located a few minutes away from Gaia. You can taste there the Croft Pink which is the world's first pink Port wine. But this cellar offers something more than only wine tasting. You can enjoy other experiences such blind tastings and chocolate pairings.
Mmmm delicious!
Located in Vila Nova de Gaia, you can call or email them for an appointment to experience this amazing wine tour in Portugal.
Cálem Cellars
At Gaia waterfront Cálem Cellars is one of the most famous and most visited cellars for wine tours in Portugal. In this tour you can enjoy two wonders of the Portuguese culture: wine and a Fado concert that guarantees a  very pleasant evening.
Quinta do Crasto
Quinta do Crasto is located on the banks of Douro River between Régua and Pinhão. It is a family owned estate with beautiful views and an impressive restaurant. Here, you can do a tour of the winery with a boat cruise on the Douro river. Simply send an email with your reservation enquiry and they will treat you very well.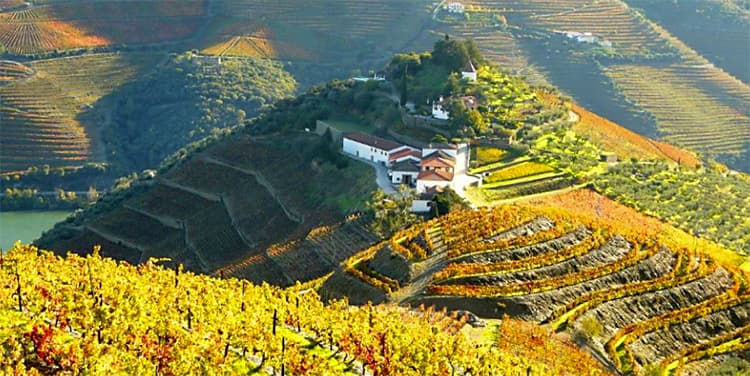 If you are staying in Porto, why not book a full-day guided tour through the Douro Valley with a traditional lunch in a vineyard, wine and Port wine tasting and a ride along the Douro River on a Rabelo boat? It's easy and convenient as they will pick you up from your hotel in Porto. To book, click here and save 20% for a limited time only.
Do you want to know more about Port wine before you go? Read our article: Port Wine, Your Travelling Guide to Portugal's Finest Wines
Lisbon region
Lisbon is the capital of Portugal, the largest city and definitely the most charming city in the world in my opinion. It's bordered by the Atlantic Ocean and it lies on the right-hand side of the River Tagus. The Lisbon wine region stretches mostly north of the city towards central Portugal.
What wines are the best known in the Lisbon region?
Alenquer: Concentrated red wines made with Castelao, Alfrocheiro and Touriga Nacional;
Bucelas: Light-bodied, citrus made with Arinto;
Arruda: Full-bodied red wines that usually includes international grape varieties like Syrah;
Colares: Full-bodied wines with golden colored made with Malvasia Fina (it's difficult to find);
Obidos and Lourinha: Light-bodied aromatic white wines; and
Torres vedras: low-alcohol refreshing white wines.
Must-visit wineries in the Lisbon region
There are so many but here I've selected four which I suspect you will enjoy.
AdegaMãe
The AdegaMãe winery was born of an old passion to wine. The stunning property has an area of approximately 40 hectares (98 acres) devoted to vines and production capacity of 1.2 million litres (317,006 gallons) per year. Located at Ventosa, Torres Vedras which is just under an hour's drive from Lisbon, you can schedule a tour of this winery by calling or emailing them directly.
Staying in Lisbon and want someone to take you on a tour to AdegaMãe's winery and cellar (with tastings and snacks, of course)? Click here for a great offer with a personal, friendly guide.
Quinta do Gradil
International award-winning wines are produced Quinta do Gradil which has a long, rich history and was once owned by the Marquis de Pombal of 1760. With a superb restaurant, you can enjoy spectacular wines on their relaxing wine tour in Portugal. Contact them directly by phone or email to arrange an appointment. They are located about an hour's drive north of Lisbon in Cadaval.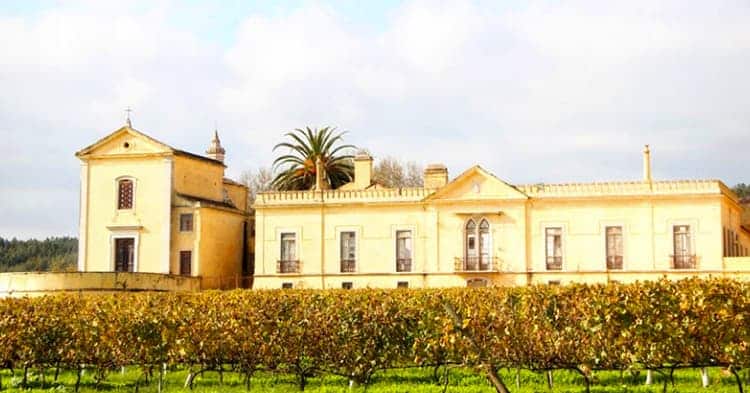 Quinta do Sanguinhal
Quinta do Sanguinhal was established by Abel Pareira da Fonesca in 1926 and they welcome thousands of visitors every year. This vineyard is a little further north in Bombarral (about an hour's drive from Lisbon). You will travel through 100 years of Portuguese wine making on this wine tour in Portugal. Email them directly to book your appointment.
Quinta dos Loridos
Quinta dos Loridos is situated in the heart of the Óbidos region located in Bombarral. This winery is also the stage for the largest oriental garden in Europe (Buddha Eden). They make superb wines and sparkling wines under the label called Bacalhôu. Wine tastings can be booked by making a reservation by email and are available from Monday to Friday.
Alentejo region
This region is always going to be close to my heart because I used to live there. The Alentejo region occupies more than one-third of Portugal's mainland area and is definitely one of the most picturesque regions in Portugal where the sunshine is present almost all of the time. It's located around 100 km (62 miles) from Lisbon airport.
What wines are best known in the Alentejo region?
Tinto Alentejo: Full-bodied red wines, for example: Trincadeira, Castelao, Alicante Bouschet;
Branco Alentejo: Light-bodied and full-bodied white wines (Arinto, Antao Vaz, Roupeiro); and
Alentejano (IGP/Vinho Regional): Full-bodied red and white wines from a larger encompassing region. May include non-indigenous grape varieties (Viognier and Syrah).
Must-visit wineries in the Alentejo region
Alentejo is the largest wine region of Portugal and it has many wonders to discover but here you can take a look at a few of the best wineries to visit.
Herdade dos Grous
Herdade dos Grous wine cellar features the latest technology in combination with the traditional ways of winemaking. You can explore the vineyards on foot or ride one of their horses, as well as visit wine cellar. You can also stay in one of their rooms or suites. There are many activities to experience at Herdade dos Grous. Contact them by email or phone to make a reservation.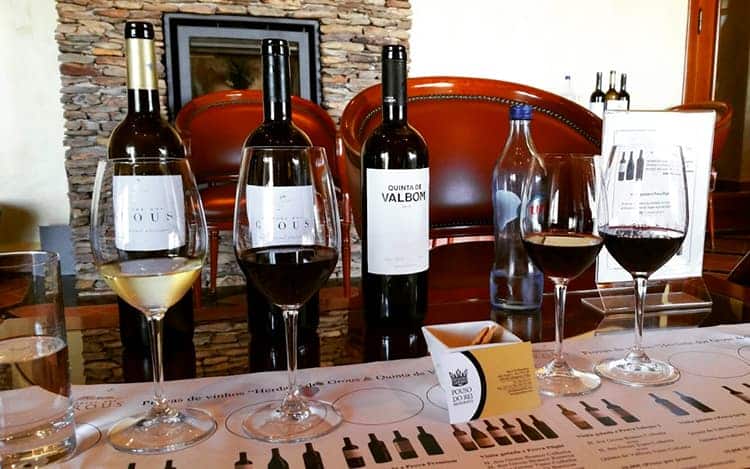 Herdade do Esporão
Herdade do Esporão is the place where history and wine come together at this iconic estate, where you can taste wines as well as visit the famed Esporão Tower and also the Perdigoes archaeological museum. To book a tour, contact them by phone or email.
Adega Mayor
Adega Mayor is set within a contemporary whitewashed building. There is a possibility to visit it for a weekend with accommodation, wine tasting and dégustation included. They have tours, tastings with tapas, workshops, picnics, weekend experiences and more on offer which you can choose on their wine tourism site.
L'AND Vineyards
L'AND Vineyards' store and vineyard stocks all manner of regional products. With resort accommodation and a variety of activities, a stay at L'AND will be something truly special. They even have a Michelin star restaurant to enjoy. You can visit the Wine Clube for a private tasting session or create a custom experience. Make a reservation by email or phone.
Monte da Ravasqueira
Monte da Ravasqueira: The cellar is inspired by California's Napa Valley and is run entirely using software developed in-house for rigorous control of the winemaking process. Besides wine tasting you can visit the estate's Carriage Driving Museum. Enjoy Alentejo's best local cuisine with spectacular wines at Monte da Ravasqueira by making booking directly with them.
If you are staying in Lisbon and would like a hassle-free tour of the Alentejo wine region (so you don't have to drive), we have a number of tours available here for individuals, couples and groups.
Find out more about visiting the region in our article: 8 Reasons Why You Should Visit Alentejo Right Now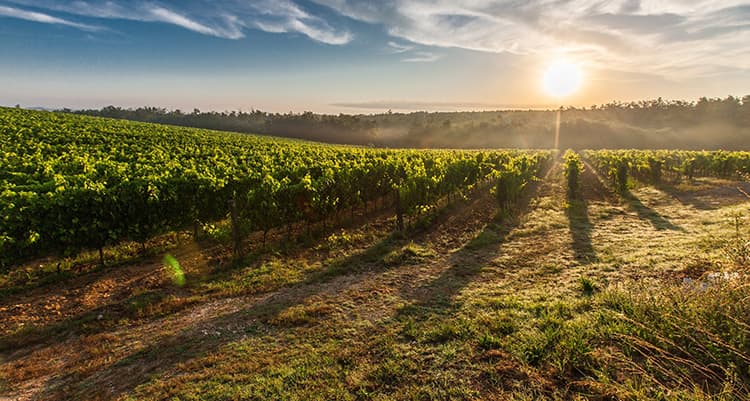 Enjoying your wine tours in Portugal
As you can see there are many wine tours in Portugal to visit as well as to taste different varieties of wines. Portugal is small, but rich in history, culture and traditions, which became more popular among tourists from all over the world especially in the last three years. Wine tourism has really taken off and many vineyards offer amazing experiences.
Hmmm, maybe now it's time for you to discover this beautiful country?
Did you find a wine tour in Portugal that intrigues you here? Do you have any experiences to share? Let us know in the comments below.
Visiting Portugal soon? Don't miss out on great tips and advice by people who know. Subscribe to our newsletter today.
You might also like to know more about Portuguese wines. Check out: Portuguese Wine, a Guide to Finding the Best Wines in Portugal