Who is up for a game of golf?
The sun, the greenery, the manicured lawns and the challenging nine or 18 holes await you in Portugal.
What are you waiting for? Let's tee off!
A bit about golf in Portugal
Did you know that although Portugal is known more for its stunning coastlines, ideal climate and relaxed lifestyle, it is also one of Europe's leading golfing destinations?
There are over 90 golf courses in the country with around 15,000 club members. And, the professional standards and service of the golf courses are what attracts golfers from around the world every year.
But first some history.
More than half of Portugal's golf courses are considered an exceptional standard, which is thanks to a group of British wine exporters who formed 'Oporto Niblicks Club' in 1890 (later renamed to Oporto Golf Club in 1901).
Sir Henry Cotton later revolutionised golfing in Portugal when he opened the remarkable Penina, the oldest course in the Algarve, dating back to 1966. Since then, Portugal has hosted many golf competitions and has become a hotspot for people who enjoy golf both professionally and leisurely.
Best golf courses in Portugal
Each golf course in Portugal has magnificent natural views of the Atlantic Ocean or inland mountains. It is certainly hard to pick the best courses, but here a few notable ones you should know about:
Penina Championship Golf Course
Considered the grandfather of all courses in the Algarve and a permanent living memory to its architect and active promotor, Sir Henry Cotton. Penina Championship Golf Course was originally paddy fields for rice, but was converted into an 18 hole flat and challenging course, for the stronger player.
San Lorenzo Golf Course
San Lorenzo Golf Course is one of the most popular golf courses in Portugal and ranked as one of the finest in Europe. This course resides in a beautiful location on the Quinta do Lago estate in the Algarve. Designed by American golf architect, Joseph Lee, this 18 hole (72 par) green is laid out in a figure of eight and blessed with beautiful grass and often challenging holes.
Laguna Golf Course
Built in 1990, Laguna Golf Course is an 18 hole course in Vilamoura in the Algarve region. It has little elevation, several lakes around the course and a high number of bunkers, which makes the game challenging.

Millenium Course
Located in the Vilamoura region, Millenium Course reflects the typical Algarve style with pine trees tending to surround the holes. Built in 2000 as a resort course, it is relatively open, making it the perfect choice for the leisure golfer.
Oceanico Victoria
One of the first courses to open (1968), the Oceanico Victoria course helped put the Algarve on the golfing map. It has also been the host venue of the prestigious Portugal Masters and the PGA World Cup on numerous occasions. It has a stunning ocean view and is considered a must-play course while in the Algarve. The course is quite hilly for half of the holes and so demands some accuracy.
Old Course
The Old Course was first opened in 1969 in Vilamoura, and is often referred to as the Grand Dame of Algarve golfing. The long Par 73 course winds through pine trees and is said to be similar in style to an English course.
Best time of year to golf in Portugal
Weather wise, the best time of year to visit Portugal for golfing is during the shoulder seasons of spring and autumn. The sun isn't as hot as in June through to August and there is less rain than in December and January.
The courses during May however, are the busiest, so rates tend to increase and advance bookings are generally required. The beginning of October is the golfing high season and the central Algarve courses are extremely busy, so booking tee times is essential.
Golf competitions in Portugal
Due to the large number of championship golf courses and beautiful scenery offered in Portugal, the country is home to several high-level golf competitions each year.
The most notable competition is the Portugal Masters, which is also one of the European Tour's most popular events. For many years, the event has been played at the famous Dom Pedro Victoria Course in the Algarve. It attracts large crowds and a stellar playing field in September every year.
Next, we have the Dom Pedro International Golf Classic, which is held in January each year and attracts the highest level of professional golfers. The tournament takes place at the magnificent Vilamoura golf course in the Algarve, by Dom Pedro Hotels and Golf Collection – the same company who own the Victoria course.
The Dom Pedro Junior Masters is also held at the Vilamoura golf course in July each year; aimed at young players below the age of 18 years.
The Algarve caters for beginners too. In fact, it hosts the Cup of Nations in the Algarve in September each year. The international amateur golfing competition is contested over 54 holes at the Vale do Lobo Golf Resort.
Golfing in the Algarve
The Algarve is unquestionably the most popular golf destination in Portugal. It boasts a phenomenal number of championship courses, with stunning coastal and mountain views. It is quite easy to see why so many golfers travel here each year.
The region is repeatedly considered the best golf destination by golfing and sporting magazines because of its unrelenting quality and breathtaking views. With an ideal climate that lets golfers play year-round as well as over 40 courses to play on, with a large range of holes, the Algarve is a golfers' paradise.
Some courses were designed by legendary golf champions such as Sir Henry Cotton, Rocky Roquemore, and Arnold Palmer. On top of this, there are plenty of hotels nearby with good accessibility to Faro airport and other destinations.
Learning to play golf in the Algarve
The Algarve is also home to a wide range of golf academies with international reputations, to help you take your first steps to improving your golf technique. Most academies offer training programs, equipment, and teaching methods for golfers of all levels.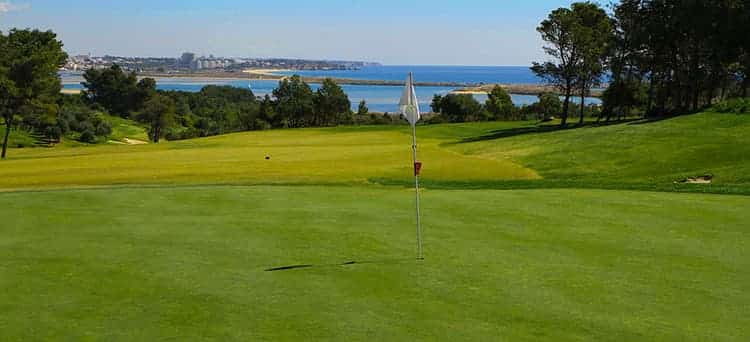 Golfing in Madeira
With breathtaking landscapes across the country, the Algarve is not the only hotspot for golfers in Portugal. In fact, the stunning island of Madeira, located southwest of Portugal in the Atlantic Ocean, has become a popular choice for those willing to travel a little further afield. While Madeira attracts tourists largely for its natural landscapes and spectacular mountain views, it is also home to two remarkable golf courses.
Palheiro Golf Club
From here you will enjoy unparalleled views of the old town of Funchal and the picture-perfect bay. Palheiro Golf Club opened in 1993 and was designed by American architect, Cabell Robinson.
Santo da Serra Golf Club
High above Machico Bay is the Santo da Serra Golf Club, which offers excellent views of the Atlantic coastline. The club hosts the Madeira Open, a sanctioned European Tour event. It is ranked amongst the Rolex World's Top 1,000 Golf Courses and is in the top 10 of Portugal.
Golf holidays in Portugal
The quality and density of championship golf courses in Portugal is unparalleled in Europe. There is no other feeling like the glorious Portuguese sun shining down over you while you line up a golf ball at a course in the Algarve.
Websites such as Golf Breaks and Your Golf Travel can help you find the right golfing getaway for you. Whether you're attending the Portugal Masters or going on a classic Algarve resort break, you are sure to have a golf holiday to remember!
Are you ready for golf in Portugal? Do you have any experiences to share? Feel free to leave a comment below.
Don't miss out on any new information from bePortugal. Be sure to subscribe to our newsletter.