You have probably heard of the fairy tale town of Sintra located on the western edge of Portugal.
Have you always wanted to know what it's like to live there?
Sintra might be just the place you were always dreaming of!
We'll tell you all about how to get to and from Lisbon, the cost of living in Sintra, finding a job, what the healthcare is like and more.
Why you should move to Sintra
This is the place where European leaders signed the famous Lisbon treaty that formed the European Union as we know it today.
Where is Sintra?
Sintra is a small town located about 30 km (19 miles) west of Lisbon and life there couldn't be more different from the vibrant life of the Portuguese capital.
It is the gateway to the Natural Park of Sintra and Cascais, which besides stunningly beautiful forests, is home to some palaces and castles that seem to come straight from your most beloved fairy tales.
Most visitors going to Sintra for a little break from hustle and bustle in Lisbon, go to the park and visit the colourful Palácio da Pena Palace.
Some also come to discover medieval times in the Moors castle ("Castelo dos Mouros").
There's also the chance to explore the stunning Atlantic coastline, such as the Cabo da Roca lighthouse or for those preferring a quieter place, Praia da Adraga beach.
The town of Sintra itself is divided into two areas: the old town which is the popular tourist destination with its beautiful National Palace ("Palácio Nacional de Sintra") and the new town with a large commercial area, containing shopping centres and some multinational companies that you would probably not expect to be based here on the edge of the Portuguese capital.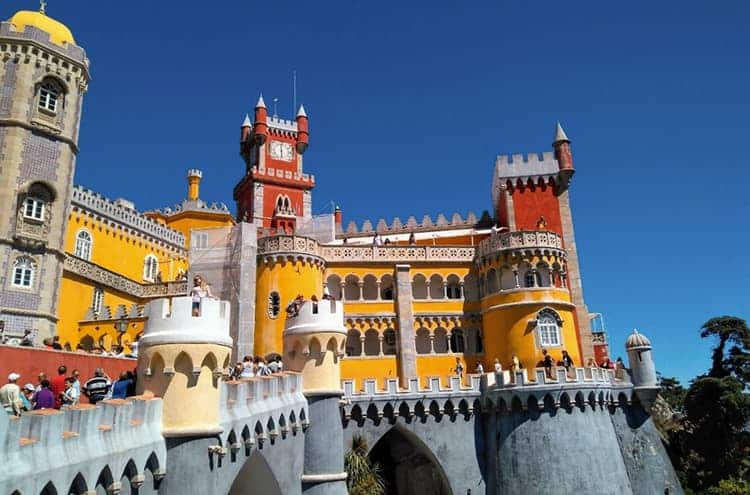 How to get to Sintra?
If you are coming from Lisbon, then getting to Sintra is very straightforward.
Getting to Sintra with public transport
The easiest and probably most economical way is the train. There are regular connections (every 10 minutes during the day) both from Cais do Sodré and the city centre (Rossio station). You can also get to Sintra directly from the modern commercial district and former Expo area of Parque das Nações (enter at Oriente station).
A single ride will cost you just  €2.25 (plus an additional  €0.50 for the reusable Viva Viagem travel card).
If you are planning to move to Sintra, there are also monthly travel passes available which can save you a lot of money. An unlimited 30-day pass for the train is only €49.10.
Getting to Sintra by car
For those preferring to travel by car, Sintra is also well-connected. Just take the IC19 from Lisbon, which does not have any tolls. While the route is easy in terms of directions, you may experience some heavy traffic especially during the commuting hours in the morning and evening.
You should also consider that there is limited parking space in Sintra, which is why overall, we recommend you go by train, as it is usually the easiest, cheapest and less stressful option.
How to get around Sintra?
Getting to the town of Sintra is one thing, but reaching the palaces and castles in the National Park, as well as the beaches and sights at the coast is another. While you may choose to opt for a taxi or one of the many tuk-tuk drivers, you may find this method of transport quite expensive.
Alternatively, you could use the public busses to get around, which provide a frequent service to all major tourist attractions.
For those disliking the idea of being bound to bus schedules, another great and more flexible way to explore the natural park is to rent an e-bike. From just €15 per day, you can ride around the beautiful hills and forests of the natural park and even reach the sea, as you could for example, ride to the small seaside town of Azenhas do Mar.
You can find out more at Park E Bike.
Cost of living in Sintra
Luckily, in terms of rental and property prices, Sintra is still a lot less expensive than Lisbon. In Sintra you can easily find a small T2 (two-bedroom) or T3 (three-bedroom) apartment for two or three people starting at about  €650 per month with higher quality accommodation being available for about  €800 per month.
These prices are roughly equally true for Sintra and the various small towns around the Linha da Sintra train line and the IC19 highway like:
Queluz;
Belas; and
Amadora.
If, on the other hand, you are looking to buy a property, prices for a T2 or T3 apartment currently start at  €70,000. If you are looking for a renovated place you will have to invest at least  €120,000 for your new home in Portugal.
You can compare rent and property prices easily online to get a better impression on Idealista, for example.
Do you want to know more about buying property in Portugal? Read our informative article: Property in Portugal.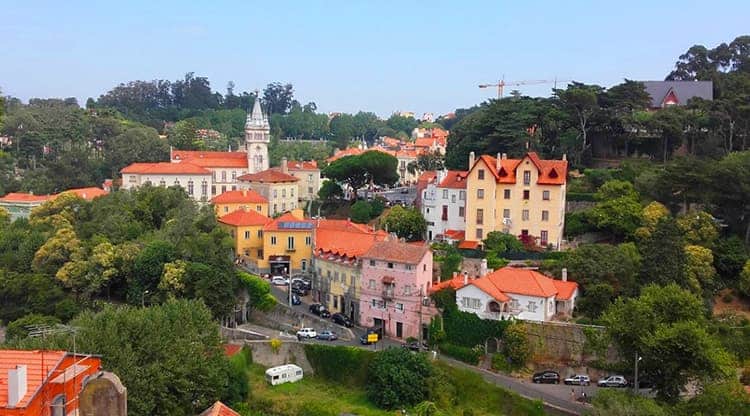 As for day-to-day expenses, Sintra is very much like the rest of Portugal where food and clothing are relatively cheap compared to other major European countries.
Find out how cheap Portugal is in our article: The Cost of Living in Portugal.
Keep up-to-date with all the tips and advice about living in Portugal. Sign up for our newsletter today!

Finding a job in Sintra
While being a small town, the commercial district of Sintra contains a surprisingly large number of multinational companies, including, amongst others: Philip Morris International and Lidl Portugal (website is in Portuguese).
Moreover, given the good transport connections to Lisbon and the city of Amadora (located between Sintra and Lisbon), you could also consider taking a job in one of these cities and commute.
Those used to the wage levels of central Europe, North America and Australia should note that Portugal is, with a minimum monthly wage of just €600 and an average wage in Lisbon of about €860, one of the countries with the lowest wages in western Europe.
However, the very pleasant weather and accommodating lifestyle of this southern European country are likely to compensate the potentially lower salary that you may receive.
Read Finding a Job in Portugal for expert tips on getting a job.
Healthcare in Sintra
In terms of hospital care, you generally, as in almost any other country, have two options: public and private health care.
Public healthcare in Sintra
If you are a legal resident of Portugal, then you are most likely entitled to free public health care under the SNS ("Serviço Nacional de Saúde") scheme. This equally applies if you are on holidays in Portugal and from another EU member state, as you can simply use the EHIC card from your home country.
Please consider however that small contributions are still to be made and that most doctors and nurses in SNS hospitals do not speak English.
The Hospital Prof. Dr. Fernando Fonseca EPE (website in Portuguese) serves as the public hospital for Sintra and Amadora. Before choosing this option, you should consider that if you do not have an urgent condition you may experience some considerable waiting times until you get an appointment.
If you do have an emergency, go to the "Urgências" department of the hospital,
But there's great news: In addition to the existing public hospital, Sintra's city council recently announced the creation of a further hospital (article is in Portuguese), which is expected to open in 2021.
Private healthcare in Sintra
There are some excellent private clinics in and around Sintra, where you are likely to be attended much quicker and will usually be able to communicate in English. This can of course be a great plus, especially if you haven't yet mastered the Portuguese language completely.
A good choice is the CUF Sintra (website in Portuguese), which is part of the José de Mello Saúde group, one of Portugal's largest and most experienced private healthcare groups. Furthermore, despite located in the west of Lisbon, the Hospital da Luz is another renowned private hospital that is easily accessible from Sintra and the surrounding areas.
Please consider however, that for treatments in these private clinics, you will either need comprehensive medical insurance or pay the entire costs of the treatment yourself.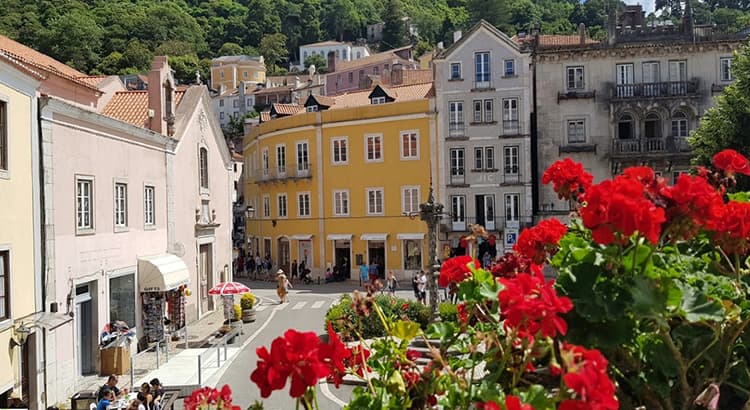 Pros and Cons of living in Sintra
If you're looking for a quiet and relaxed refuge next to beautiful forests and the Atlantic coastline, then Sintra is the place for you. With its rich cultural heritage, the town is a perfect place to move to if you're considering a quiet place close to the Portuguese capital.
Sintra is a chilled town with a high quality of life that allows you to live a relaxed lifestyle, while still being well connecting to the vibrant life of the capital, considering the very good rail and road connections. There are expat groups that you can find on Facebook and the local people are very friendly and welcoming.
You also have stunningly beautiful nature just on your doorstep, including forests, lakes and the Atlantic coastline.
All in all, Sintra allows you to have the best of two worlds. One day you could go out clubbing in Lisbon and on the following day you could find yourself hiking through the forests of the Natural Park of Sintra and Cascais. Doesn't sound too bad, right?
Do you have any questions about living in Sintra? Mention them below and we will answer them for you.