We know that finding a decent apartment to rent in Lisbon or Porto is hard. There are so many questions…
Where to look?
How do I know which neighbourhoods are nice?
What are the processes to get a contract?
Lisbon and Porto are very popular cities, but don't worry, we are going to help you find your new apartment.
How to rent an apartment in Lisbon and Porto
The reason it's getting harder to rent an apartment in Lisbon and Porto is because they are now a popular tourist destinations, so, most landlords prefer to do short-term rentals as it is more profitable for them.
Lisbon is currently facing a bit of a housing crisis now. That does not mean it's impossible to rent an apartment, but it can be difficult.
Porto is also quickly becoming as popular as Lisbon in terms of it being a hot tourist destination, but it's a bit easier to find an apartment to rent.
Finding accommodation in Lisbon or Porto depends largely on how long you will be staying. If it is for a period of six months or less, short-term rentals are still available but for people looking for long-term rents, it can be a bit challenging.
Where to find an apartment to rent in Lisbon or Porto
Go to the best websites.
Like in many other cities, you can find apartments online for Lisbon and Porto. You can search for apartments using classified ad sites and real estate agencies.
Here is a list of some websites you can use to search for apartments in Lisbon and Porto:
If you are finding it difficult to get a place to rent through an agent or classified ad sites, you could try Facebook as it is gradually becoming a popular place to find apartments for rents in Lisbon and Porto.
A lot of landlords and even agents post in some Facebook groups like:
These are closed groups so just ask to join and don't be worried if it's in Portuguese, most people understand English if you ask (and there's always Google translate to help you out).
As a precaution: Never finalise without seeing the apartment first and signing a formal contract.
When searching for an apartment to rent in Lisbon or Porto it might be useful to know that:
T0 is a studio room
T1 is a one-bedroom flat
T2 is a two-bedroom flat, etc.
Best neighbourhoods to live in Lisbon
You may be wondering, what are the best neighbourhoods in Lisbon right now that aren't crowded and expensive like crazy?
Some of the best neighbourhoods to live in Lisbon are:
Alcântara – Which is situated between the city centre and Belém. It is also close to Docas de Santo Amaro (a dock filled with bars and restaurants). LX Factory is also located in Alcântara. The cost of rent in Alcântara is somewhat decent.
Alfama & Graça – This is one of Lisbon's oldest neighbourhoods. It is a unique neighbourhood characterised by narrow and winding streets, houses with amazing views and home to Fado music in Lisbon. Cost wise, the prices are affordable.
Campo de Ourique – Just a bit to the west of Lisbon, is a middle-class neighbourhood with a good vibe. It can be a bit pricey but not so crowded like districts in the centre of Lisbon.
Benfica – Affordable housing can be found in Benfica, multi-purpose stadium located in Lisbon, Portugal. It is a bit far from the city center, but public transportation in this area is good.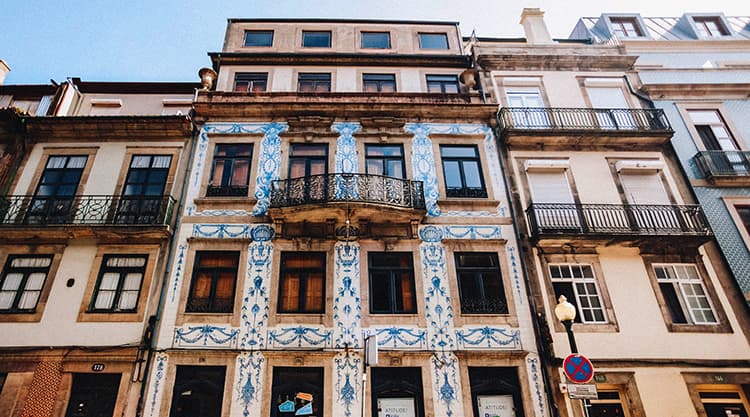 Best neighbourhoods to live in Porto
So now, how about Porto?
Here are some of the best neighbourhoods you could consider if you want to live in Porto:
Campanhã – This is a residential district hugely popular amongst students because of the low rent prices. Although it is a bit far from the centre, it is well served by the metro and railway.
Ramalde – A good place to live and it is also close to Porto's main shopping centre.
Foz do Douro – The historic district in Porto where the Douro River meets the Atlantic Ocean. It is filled with beaches good for sunbathing, bike riding and strolling. Living in this district is a bit expensive, but it is a great area to live if you like a calm seaside environment.
Is it easier to find apartments online or through a real estate agent?
It is easier to find apartments online, although, the exact condition of the apartment cannot be fully assessed until a visit to the apartment is arranged. Using a realtor could be a bit challenging as most realtors are usually more interested in closing a deal rather than getting you the best apartment you might want.
4 vital tips on renting an apartment in Lisbon and Porto
Avoid looking for places to rent in the summer as the prices are usually high. Most landlords prefer short-term rentals at that time of the year. The ideal time to look for a medium or long-term rental is between late October and March.
There are more options outside the city centre, which is very crowded and the prices for an apartment are somewhat expensive. For example, in Lisbon, you can look for apartments to rent in a district like Amadora or Almada which is on the other side of the river. In Porto, you can find cheaper accommodation in the Campanhã district.
Always visit the apartment and have a formal contract before making payments to the landlord or agents.
Finally, you either need to be ready to spend big cash for a place you love or have a lot of patience and wait until you find a great deal.
Watch out for rental scams in Portugal
You may have seen these kinds of messages around, but be aware, these people prey on those who are desperate to move into what seems like a really cheap apartment. They collect deposits from many people and then disappear.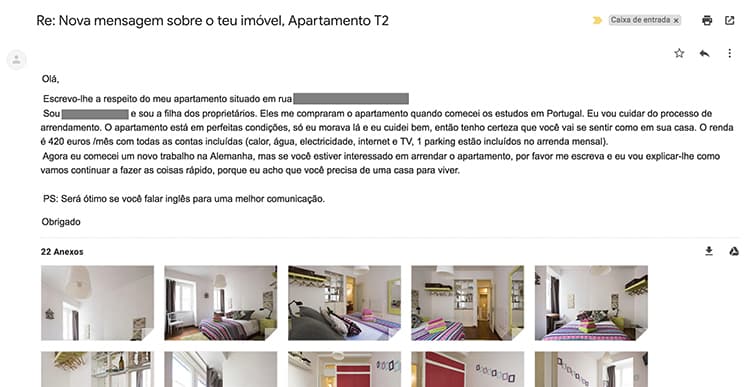 Translated, this says:
Hello,
I am writing to you about my apartment located at (street address).
I am (name) and I am the owners' daughter. They bought me the apartment when I started my studies in Portugal. I'll take care of the lease process. The apartment is in perfect condition, only I lived have there and I took good care of it so I'm sure you will feel like it is your house.
The rent is €420 per month with all bills included (heating, water, electricity, internet and TV, 1 parking, is included in the monthly rent).
Now I have started a new job in Germany, but if you are interested in renting the apartment, please write to me and I will explain to you how we will continue to do things fast because I think you need a home to live in.
PS: It will be great if you speak English for better communication.
Thank you
_________________
As we mentioned in the tips, ALWAYS visit the apartment you intend to rent BEFORE signing any contract or handing over any money.
We hope this article helped you in your search for an apartment or flat to rent in Lisbon or Porto. Do you have any more questions for us? We would love to hear about your experiences so please leave a comment below.
We publish new content every day so be sure to subscribe to our newsletter to get notified of the latest tips for your visit or move to Portugal.