Planning to visit Lisbon, Portugal, but don't want to spend a fortune on accommodation?
What about staying in a hostel?
Hostels in Portugal are clean, secure, fun, and sometimes quirky. It's a great way to meet fellow travellers and you don't have to share a room if you don't want to.
We've put together a list of ten Hoscar Award Winning Hostels that are sure to blow your mind and amaze you.
From simplicity to vintage, modest to luxurious, this list has it all.
10 best hostels in Lisbon
Top hostels near Baixa
Baixa is a great neighbourhood to stay in the heart of Lisbon as it has a variety of attractions nearby. From restaurants to shops to bars, it is one of the areas that has the best public transport.
Baixa opens up to the Tagus River ("Tejo" in Portuguese) that leads up to Cais do Sodré train station.
Take a look at our best hostels located near Baixa to explore the old Lisbon on a budget.
1. Yes! Lisbon Hostel
With several Hoscar wins in 2011, Yes! Lisbon Hostel gives a whole new meaning to hostels, providing excellent service and infrastructure in the best possible location.
The hostel has blonde wooden floors and furniture, with lots of light shining through the French windows which make these rooms bright, cheerful and cosy.
There is also a book exchange, board games and a Playstation for entertainment. Activities are organised by the staff team where you can enjoy a tour of Sintra, a stroll through the city of Lisbon or a pub crawl through some of the city's finest pubs.
Yes! Lisbon Hostel is a great choice for travellers interested in atmosphere, old town exploring and city walks.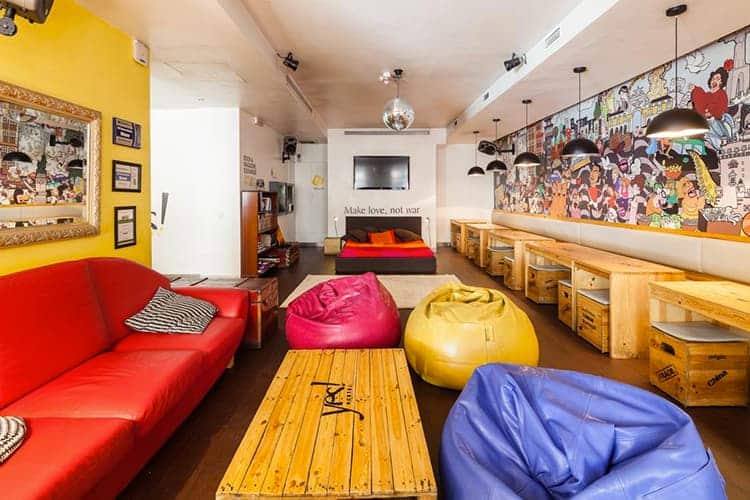 Where is it?
The hostel just steps away from the Augusta Street Arch ("Arco da Rua Augusta") and Commerce Square (Praça do Comércial"), a five-minute walk from Rossio and a 10-minute walk away from the wonderful Time Out food market.
What are the rooms like?
There are 112 beds that spread across four, five and six-bed dormitories. Private rooms are also available for couples. Each floor has two bathrooms whilst some of the dormitories have en-suite bathrooms.
How much does a room cost?
Prices of rooms start from €14 to €50 depending on the season which includes air conditioning and free wifi.
What about meals and drinks?
Breakfast is also provided with breads, local hams and cheeses as well as fruits and pastries.
There are group dinners around 9pm for only €10 including a starter, main dish and dessert plus three drinks of your choice.
The hostel has a communal kitchen which comes fully equipped where guests can enjoy preparing their meals in a leisurely manner and savour them in the welcoming communal meal area.
But if you prefer to eat out and enjoy the nightlife, there are many traditional restaurants and cafés around.
There is also a shared lounge area back at the hostel where you can enjoy a refreshing drink or cocktail from the bar, after a busy day of touring the city.
Address: Rua de São Julião 148.
2. Home Lisbon Hostel
Another hostel perfectly located in the historic centre of Lisbon is Home Lisbon Hostel which offers a great atmosphere and many activities for travellers to enjoy during their stay. There's no place like Home Lisbon!
No matter how much of an adventurer you are, this luxury hostel is the true meaning of cozy with its cabin-style dorms, wooden floors and furniture, modern bathrooms and long curtains.
Along with its snug home-cooked food, this is the kind of place you won't want to leave and it's perfect if you want to visit Lisbon's key sights within minutes.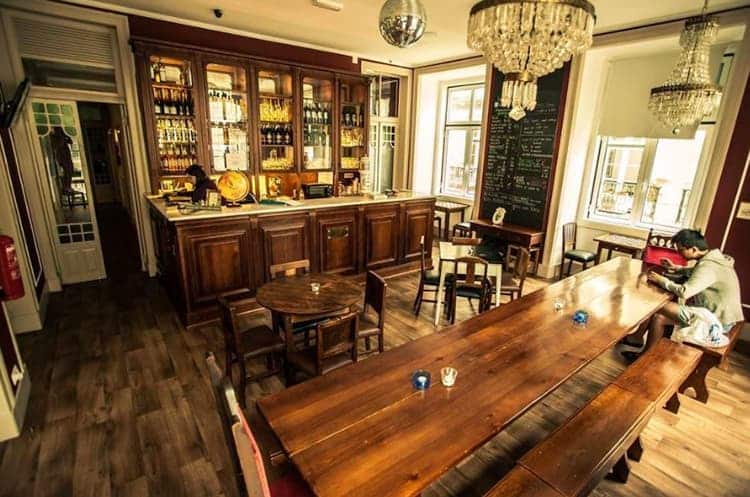 Hostel facilities
Home Lisbon Hostel is part of a 200 year-old building providing a lovely comfortable living room, a dining room, a bar, a great kitchen, a patio and most importantly, comfy beds in spacious rooms.
The services and facilities provided is amazing with a computer room available, games room for entertainment and laundry services.
There's a reminder wall where local concerts and exhibitions are posted and during the summertime, the staff organises surfing lessons north of Lisbon or cultural trips to the nearby UNESCO World Heritage town, Sintra.
How much does a room cost?
Shared rooms are provided with beds spread across mixed dormitories as well as female dormitories.
Price ranges from €20 to €60 and all rooms are fully equipped with a shared bathroom, free wifi, personal storage and air conditioning. In the female dorms you will also find a hairdryer.
What about meals and drinks?
Unfortunately, breakfast isn't included, but there is a dining area and a kitchen at the hostel where home-cooked meals can be served.
There are simple Portuguese recipes you can follow on the blackboard, but due to its beautiful location, you can also check out one of many restaurants that are in the area.
Address: Rua de Sao Nicolau, 13, 2E.
3. Living Lounge Hostel
Located right in the heart of Lisbon near Chiado is the Living Lounge Hostel, which is only two steps away from the Baixa-Chiado Metro station making life so much easier for its guests.
You will come face to face with a beautiful décor upon entering the Living Lounge Hostel. The atmosphere of this boutique-style hostel is cosy and informal with touches of sophisticated features.
Hostel facilities
Special breakfasts and taxis are organised by the staff to accommodate early morning arrivals and departures.
With great services such as a wide range of free activities, including nightlife tours and daytime walks; this is the perfect place for travellers who are on a budget and are wanting to explore the city of Lisbon.
There are several common rooms where you can relax and unwind.
The concept of this space is to provide the best possible experience, offering maximum comfort, modernity and safety combined in an antique building.
About the rooms and prices
Each of their light and airy rooms are decorated in a different colour theme by local artists. There are 23 rooms in total, all inspired by Lisbon's culture.
Living Lounge provides dorms with four, six or eight beds, as well as individual rooms for those who are looking for a little more privacy.
The prices of the rooms range from €12 to €37, depending on the room type itself and the time of the year.
What about meals and drinks?
In the mornings you can enjoy a free breakfast that includes pastries, breads, eggs, cheese and fruits, and even pancakes.
The hostel also serves a nightly three-course dinner for only €9, including wine.
There is also a bar with drinks available 24 hours.
Address: Rua do Crucifixo 116, 2º.
4. Travellers House
Travellers House is also located in the Baixa-Chiado neighbourhood which is a great choice for travellers interested in atmosphere, old-town and city walks.
Like the previous three hostels, Travellers House is within walking distance to all the major attractions and interesting spots of the city, along with a superb transport network at your door.
Overall, you will have a unique experience at Travellers House, creating good times and lifelong memories.
The hostel promotes several events, including the local culture with typical food or wine tastings as well as tours, walking tours and summer events.
There is no other place in Lisbon that has the spirit and movement like Travellers House.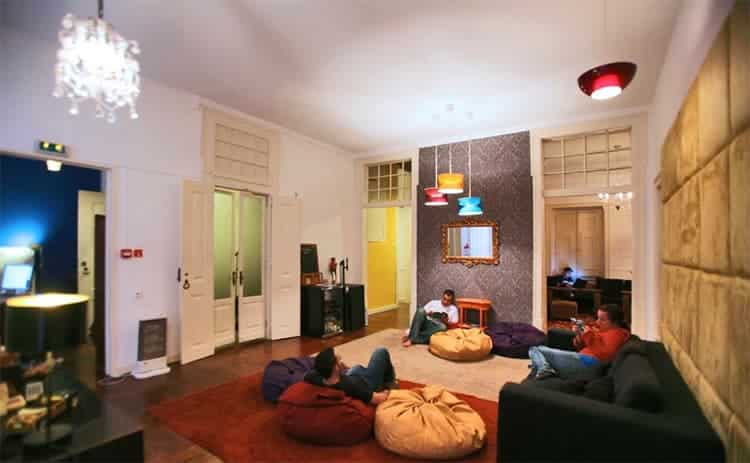 About the rooms
Combining colourful, modern dormitory and private rooms with antique furnishings and polished wooden floors, Travellers House features a lounge area with flat-screen TV, free wifi and movies.
All rooms have high ceilings, polished wooden floors and include bunk beds.
Travellers House offers four and six-bed dormitories, as well as a brand new expansion of modern, double rooms with private bathrooms. These are made affordable for couples who are looking for a bit more privacy and comfort, but still wanting to socialise.
Studios are also available for those travelling with a family. These studios are totally equipped with bathroom, kitchen, satellite TV and high-speed wifi. These studios are located a little uptown at Calçada do Lavra 18-4.
What about meals and drinks?
Travellers House has a shared kitchen along with free breakfast. There are several restaurants just a five-minute walk along Rua Augusta.
Address: Rua Augusta 89.
Top hostels near Cais do Sodré
Cais do Sodré is an understatedly cool and trendy district of Lisbon. The once neglected area has now become quite fashionable with new shops, cafés, bars and restaurants.
There is a lot to love about Cais do Sodré, with the banging nightlife of the Pink Street, delicious food from the Time Out Market and the nearby train station that leads directly to the glorious beaches of the Lisbon coastline.
Check out a few of the hostels near Cais do Sodré as it's definitely an area worth staying in.
5. Lisbon Calling Hostel
Part of a 250 year old building, Lisbon Calling is quite relaxed and artistic with dorm rooms overlooking the church square.
Who wouldn't want to wake up in a hostel like this?
Free wifi is also available and the super-friendly staff have lots of great tips for you to make the most of your stay.
With Lisbon Calling, you can make a quick trip to Bica, Chiado and Alfama. All you have to do is ask the crew and they will guide you on how to get there.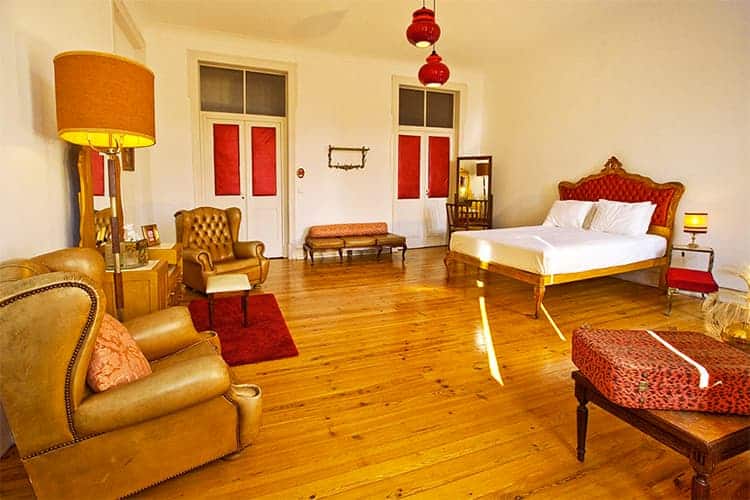 About the rooms
It's all about 'fit to size'! All of you 'big feet' out there can sleep in huge, tailor-made, wooden, bunk-beds and raised sleeping platforms.
Private and deluxe rooms are also available which is almost like the experience of having your own apartment in Lisbon. The address for these is just uptown at Rua da Fé 23.
What about meals and drinks?
A buffet breakfast is provided depending on the room type, but there are also kitchen areas where you can cook up a meal for no extra cost.
Address: Rua de São Paulo 126, 3D.
6. Sunset Destination Hostel
In the Cais do Sodré train station building, you will find Sunset Destination Hostel, another unique place to stay with its breathtaking views over the Tagus River.
It is full of history, where centuries ago, many of the Portuguese explorers ships were built.
The friendly staff are very helpful and deliver excellent customer service to make sure your stay is pleasant and enjoyable.
Things to do there
Activities are organised every day, such as free walking tours, super fun pub crawls and traditional Fado tours. Other tours may be booked online.
If you want to have some chill out time, why not relax at the spacious terrace at the Zebra Bar or go for a swim in the swimming pool overlooking the river! Nice!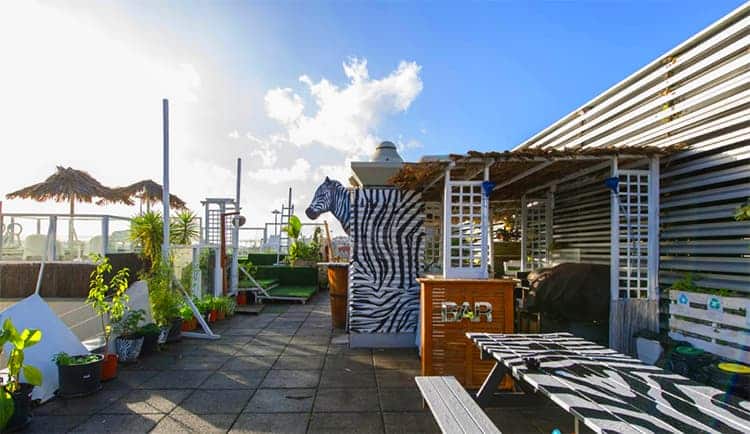 About the rooms
Sunset Destination offers a variety of rooms with wooden floors and air conditioning which is great for all types of people and travellers.
All rooms are accessed by keycard only and come with free wifi and a computer for guests to stay in touch with their family and friends.
Beds are split into four, six and 10-bed dormitories, as well as female dorms, private rooms and a family room with free bed linen and laundry services provided to guests.
How much does a room cost?
The costs of rooms may range between €18 to €60 per night depending on whether it is a shared room type or private. Prices may go up also depending on the availability and the season.
What about meals and drinks?
On top of that, they also throw in free coffee and tea, breakfast, and a 24-hour self-service open bar.
Address: Praça do Duque de Terceira,Cais do Sodré Train Station, 1st floor.
Top hostels near Rossio and Restauradores
Surrounded by numerous typical buildings of the Baixa district, the Rossio is Lisbon's nerve-centre while Restauradores Square ("Praça dos Restauradores") is a plaza in the heart of Lisbon.
In these areas you will find a very interesting mix of styles, but check out our top picks for hostels to stay in below.
7. Hub New Lisbon
Meet Hub New Lisbon, a hostel placed in a renovated 18th century building located between Bairro Alto and Princípe Real, home to some of the best shops, bars and restaurants in Lisbon.
This hostel displays a vibrant design, maintaining the original Portuguese tiles ("azulejos") mixed with vintage elements. Hub New Lisbon provides you maximum comfort and well-being.
Things to do there
Hub New Lisbon is a pretty big deal as it is the only hostel in the world where you can release that inner child and have loads of fun.
With a ball pit made of 70,000 soft plastic balls, a foosball tournament, beer pong, pool, PlayStation and board games; you will never be bored and lonely at the Hub New Lisbon.
They also have a terrace with outdoor showers (not to mention, hot water) where you can work on your tan if you're done playing games.
And not to mention the helpful staff who are there to help and show you all the greatest spots in Lisbon. You will definitely have a true Lisbon experience during your visit to Portugal.
About the rooms and prices
With an innovative design, this low-cost hostel provides affordable shared and private rooms. Private, double rooms and dormitories are also provided.
The dormitories are divided into mixed and gender-specific rooms.
Most of the rooms come with access to shared bathroom facilities as well as panoramic river views.
Oh, and did we mention that you can stay here for one night within the price range of €15 to €40?
So go on, treat yourself with one of the room types that are available to you.
What about meals and drinks?
Hub New Lisbon provides a free breakfast that is available daily, from 7.30am to 10.30am. There is also a shared dining area as well as an on-site bar.
A variety of local restaurants are also accessible with just a five-minute walk away, most serving traditional Portuguese meals for you to enjoy.
Address: Rua de O Século 150.
8. Goodmorning Lisbon Hostel
Say hello to the charming Goodmorning Lisbon Hostel, housed in a renovated historic building from the 1930s in the heart of Lisbon's historic downtown area and a few steps away from the Restauradores Square and the Metro station.
Warm and cosy are two perfect words that sum up the whole experience of staying in Goodmorning. This lively hostel offers a whole lot of services and facilities along with the friendly staff that will give you a unique experience during your time in Lisbon.
About the rooms
The gleaming cleanliness is the first thing you will notice upon arriving here with beds well laid out and freshly cleaned bed linen.
Rooms are all light and breezy with pale wooden flooring, bright and bold wallpaper and big doors opening out onto small balconies that overlook Praça dos Restauradores and other views of the city.
What does a room cost?
The cost of a room can range from €15 to €90 per night which highly depends on the season and what room you are going for.
If you are a couple or are looking for something much more private, you can choose from one of their private en-suite double rooms which will be a little more costly.
However, other beds are divided into four, six, eight and 10-bed dorms.
What about meals and drinks?
You will enjoy Nutella smothered waffles which comes alongside fruit, bread and eggs for breakfast and astonishing pub crawl nights that are organised by the staff.
The busy surroundings also have a variety of restaurants, coffee shops and a supermarket, all within arm's reach!
Address: Praça dos Restauradores 65.
Top hostels near Intendente
Intendente is on the border of the oldest part of Lisbon and is also one of the coolest and hippest neighbourhoods in the city. It appeals to designers, musicians and artists with many cool cafés and bars nearby.
And a number of excellent hostels! Check out our two favourite picks below.
9. Lisbon Chillout Hostel
The popular, modern youth hostel, Lisbon Chillout Hostel, is just a 15-minute walk from Chiado and Rossio Square.
Lisbon Chillout is suited for all travellers and are always happy to welcome new travellers, taking you along on their adventures in the city.
Daily events are planned by the staff including free tours, typical Portuguese meals and music in the garden with barbecue facilities. You can also book some private tours with the offers that are available.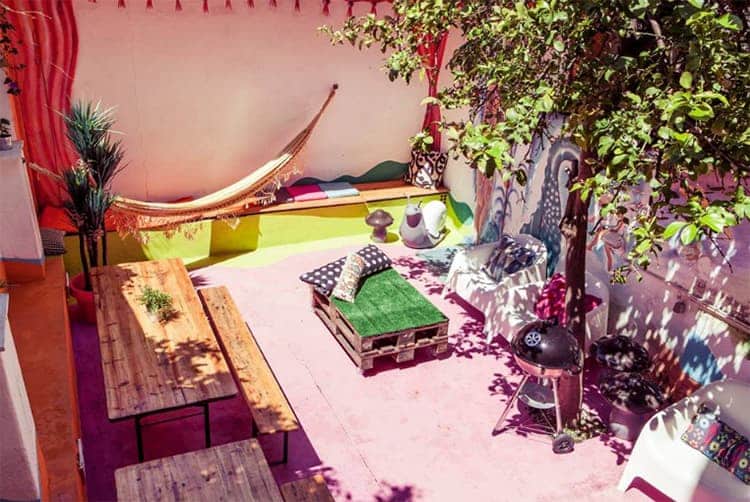 Brilliantly located in the city centre with a beautiful city garden, Lisbon Chillout offers guests an authentic hostel experience, with public transport, bars and restaurants just around the corner.
About the rooms
Lisbon Chillout Hostel offers cosy rooms with hardwood floors, fitted with the choice of double beds, single beds and twin beds, as well as shared bathrooms.
It provides clean and budget female and mixed dormitories that can range from four to nine beds, with a secure key card access and lockers provided.
For travellers who are looking for privacy, there are private rooms with shared bathrooms and linen included.
Each guest receives free wifi, access to the entertainment area with TV lounge, PlayStation, games and even foosball. You also have access to computers.
What about food and drinks?
With any room booked, you receive free breakfast as well as tea and coffee all day
There are also two fully equipped kitchens where you can prepare your own home-cooked meals.
Address: Rua Nogueira e Sousa 8.
10. Poets Hostel
Between the small cobblestone alleys and old streets of Lisbon, you will find Poets Hostel nestled in the eclectic neighbourhood of the Graça district. Here you will also see beautifully restored buildings from the period after the earthquake of 1755.
Just a five-minute walk from Anjos Metro station is the main avenue which is full of typical Portuguese restaurants or "tascas", a mix of galleries, vintage shops and charming cafés.
This area is preferred by poets, artists and musicians where the old traditions combine with the inspirations of the new.
The building is well renovated with bright, big windows, sunny terraces and a stunning view of the city.
With Chiado at your feet, the Poets Hostel has a very cosy and romantic atmosphere. As soon as you enter, you are immersed in an artistic and eclectic environment.
After all, they don't call this hostel "Poets" for nothing.
Aside from the unique decoration, it is warm and friendly and the staff will go out of their way to provide you with the best experience during your stay in Lisbon.
Whether you're travelling alone or with your friends, this hostel will surely make you feel instantly at home.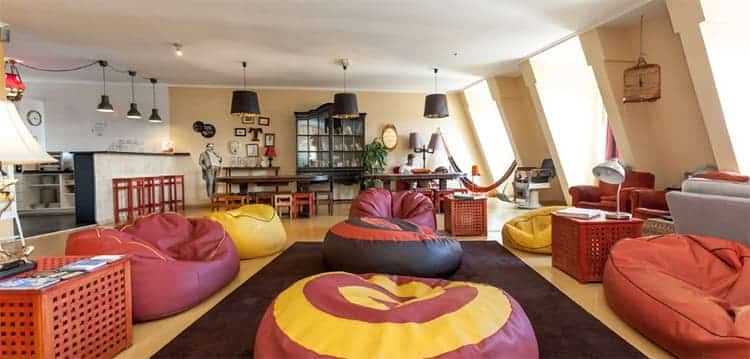 About the rooms
Each room includes comfortable beds, air conditioning, the security of a key-card access system, free lockers and luggage storage.
Beds are split into two, four and six-bed dorms, but private rooms are also available. There are also two charming studios to choose from.
What does it cost?
The pricing for a standard private room will cost around €50 to €60. Otherwise you can go cheap by paying €20 per night for a bed in one of the dormitories.
What about food and drinks?
All rooms include a coffee machine and you will receive a Portuguese free continental-style breakfast served between 8am and 10am. The continental breakfast includes eggs, toasts, jams, pastries, fresh orange juice, coffee and tea.
Like other hostels in Lisbon, you can find some very decent restaurants and enjoy a nice meal as well as go for a stroll through the beautiful, narrow streets of Lisbon.
Address: Rua Heliodoro Salgado 4.
We hope you have found the ideal hostel for you. Let us know how your stay was in the comments below.
Don't miss out on hot tips about visiting Portugal. Subscribe to our FREE newsletter today!