On your next visit to Lisbon, why not relax and take a guided tour to some of the many top attractions in and around the Lisbon city?
It can be the best way to make sure you don't miss anything especially if you only have a short stay. It's also fun in a group so no-one has to do the driving.
We have put together our top five list of the best tour companies we think you should try out.
Got your bags and your camera ready? Let's go check out Lisbon.
Lisbon tours for all budgets and tastes
Tour Lisbon on your own
As expats in this amazing city and experienced travellers, we can truly recommend walking around Lisbon by foot or taking a ride on an old, yellow tram in order to experience the atmosphere of this proud imperial city.
For several days, you can simply wander aimlessly through the streets and staircases, photograph the walls of houses laid out with traditional "azulejo" tiles, listen to the conversations of local residents and admire the scenery.
After that, you can visit the museums as there are dozens to choose from in Lisbon for every taste: archaeological, maritime, puppets, electricity, natural history, and science of Lisbon, carriages and many others.
Tour Lisbon by public transport
You can also get around the city by bus, tram and Metro.
It's very easy.
It is worth buying a 7 Colinas or a Viva Viagem card, which can be bought in any Metro station. The reusable 7 Colinas card can be purchased for one or five days. Both of these cards are valid for a whole year so hang on to it if you are planning on coming back to Lisbon. Each trip is about Є1.45 by using these cards and an average price per day would be about Є3.15.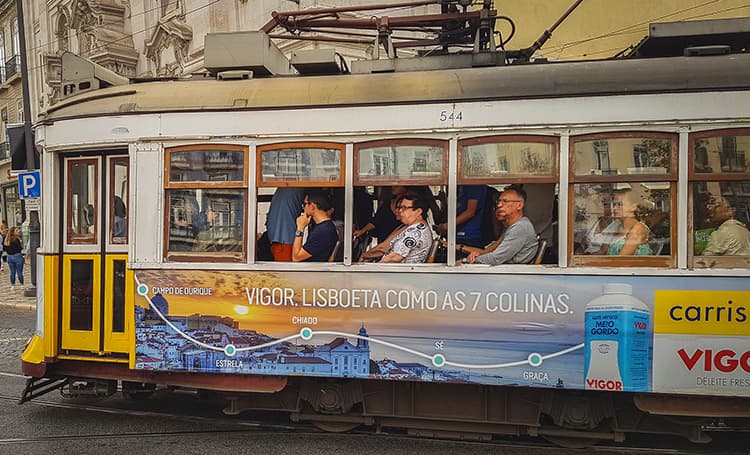 Another alternative is a travel card for all modes of transport like the Lisboa Card which is available in tourist offices and kiosks. These include free entry to some museums, free train trips to Sintra and Cascais, a guide-book and discounts on attractions and tours. The prices for an adult are Є19 for a 24 hour card, Є32 for 48 hours and Є40 for 72 hours.
Getting lost in Lisbon is very difficult, but it is possible, despite the fact that the city is clearly divided into historically established areas, they are all original and each serves its own function.
Top 5 organised tours in Lisbon
Sometimes it's nice to be shown around by the locals so here we have listed our favourite top 5 tours that we're sure you will enjoy.
1. Lisbon Sightseeing Hop-on, Hop-off tour
One of the best tours to see Lisbon is City Sightseeing on their big red, open-top, double-decker buses.
There are four routes: red, blue, orange and green. They begin and end at Marquês de Pombal square and the duration of each route is 90 minutes, but there are many stops along the way where you can hop off and rejoin another bus later.
For example, the red route goes to the western part of Lisbon and the area of Belém where the famous Jerónimos Monastery, Belém Tower and much more are located.
The audio guide on excursions from City Sightseeing is in 11 languages including English.
Tickets are available for 24 hours or 48 hours and prices range from Є15 to Є28. Check out the details and book your Lisbon Hop-on, Hop-off tour any time of the year except Christmas day and New Year's day.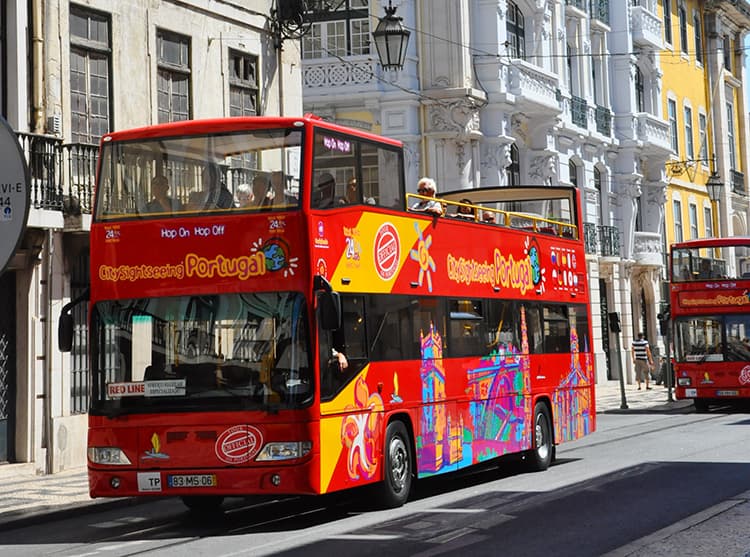 2. Yellow Bus Tagus River tour
The Tagus River tour on the yellow open-top, double-decker bus is provided by Carris, the main public transport company in Lisbon. They start from Figueira Square (Praça Figueira) and travel through the city and along the Tagus River to the area of Belém which includes the Jerónimos Monastery.
They offer 13 languages including English with their audio guide.
A Yellow Bus ticket also gives you free travel on the Airbus, trams, funiculars and the Santa Justa elevator.
That's a great deal don't you think?
It also gives you free access to some museums and discounts in some restaurants, bars, shops and other attractions.
Have a look at the tour page and book your ticket for only Є14.40 which is valid for 24 hours.
3. Lisbon Tagus River Yellow Boat Tour
For those who are dying to get out on the water, this one's for you. Why not take a small cruise on the Tagus River?
The boat will take you from Terreiro do Paço, under the 25 of April Bridge to Belém and the view of Lisbon from the water is breathtaking.
We know you'll love it.
For Є18, you also get an audio guide and a discount book for many attractions around Lisbon. You can book your ticket now which is valid for 24 hours.
4. Hippotrip tour of Lisbon and the river
Hippotrip is a unique sightseeing tour by "bus-boat" which appeared in Lisbon relatively recently in 2014.
First you will see the beauty of the city in the traditional "bus" way, on land, and then it slides into the waters of the Tagus River and continues the tour.
This is a very exciting tour especially for the kids. Onboard you will be entertained by tour guides who speak Portuguese and English.
The bus departs from Doca de Santo Amaro in the Alcântara region, travels through the central squares of Lisbon to Belém, where it drives into the water and takes you up and down the river a bit before returning to the docks.
It's great fun and quite a unique experience.
Prices range from Є15 to Є25 and Hippotrip takes bookings all year, rain or shine.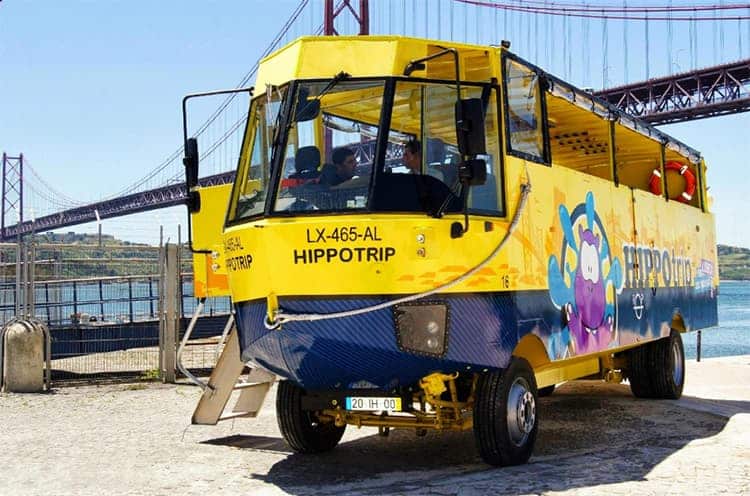 5. Tuk-tuk personal tours of Lisbon
Tuk-tuks are small covered vehicles, for two to six people. They are great to get around the tiny streets of Lisbon where the big buses can't take you. The drivers are usually local guides who speak a number of languages and offer ready-made routes, for example:
The old neighbourhoods of Alfama and Graça;
Belém district;
A route along the coast to the surfers' favourite beach at Carcavelos;
Wine tasting tours;
Fado clubs; and more!
You can even create an individual route.
Prices start at around Є45 and vary depending on the amount of people in your group and where you want to go and how long you want the tour to last. They can be found almost everywhere in the city especially in the downtown area and along the river.
Make the most of your Lisbon tour
We hope that this has been useful for your visit to Lisbon. There are so many sights to see that we are sure you will find something you like. There are many other kinds of tours available including private tours, sailing tours, gastronomy tours and more. You can check out a few more at Get Your Guide.
What was your favourite tour? If you have any experiences to share, feel free to leave a comment below.
If you want to be kept informed of the latest tips from our expert expats, be sure to subscribe to our newsletter.