Planning to take the car to Portugal? Here is some top advice on driving to Portugal from the UK, Spain and France to save you time and money.
Can you drive to Portugal?
Yes, you can. It's a great road trip, if you're up for a long drive, but many people take a caravan to the Algarve for a long, sunny holiday.
Here's how you do it.
Driving to Portugal from the UK
Did you know that thousands of people drive from the UK to Portugal (and especially from London to the Algarve) every year?
Unfortunately, there is no direct ferry to Portugal, so you can either:
Take a ferry or go by the Channel Tunnel (Eurotunnel) to France and then drive to Portugal; or
Take a ferry to Spain and then drive to Portugal.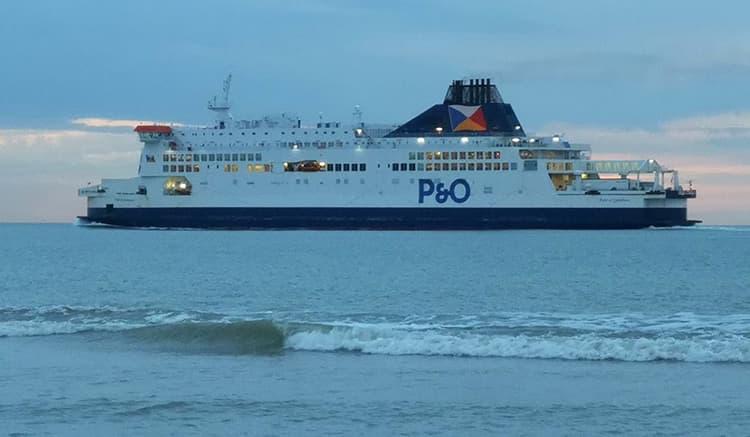 But which is the better option and which is cheaper? We will explain the different routes and what each one entails.
The cheapest route to drive to Portugal
Decisions, decisions… Let's make this easier for you so you don't think you've spent too much.
Whichever route you decide to take, whether you decide to go through Spain or through France, the price will be almost the same.
Why, you ask?
Once you add up the ferry and the tolls there really isn't much difference in price.
Some people prefer not to use the main motorways in France. You spend more fuel with the detours, but you can save money by not using the toll roads.
How to get from the UK to France
Ok, so you want to get to France. How? You need to cross the English Channel.
You have two options here: you either take the car ferry from Dover or the train through the Channel Tunnel (Eurotunnel) from Folkestone. (Yes, you drive your car onto the train.)
Prices start from £30 (about €35 at the time of writing) per car.
The train through the Eurotunnel is the quickest way to get across the English Channel and you stay in your car the whole time. It's a little scary at first, but I can assure you, it is super safe.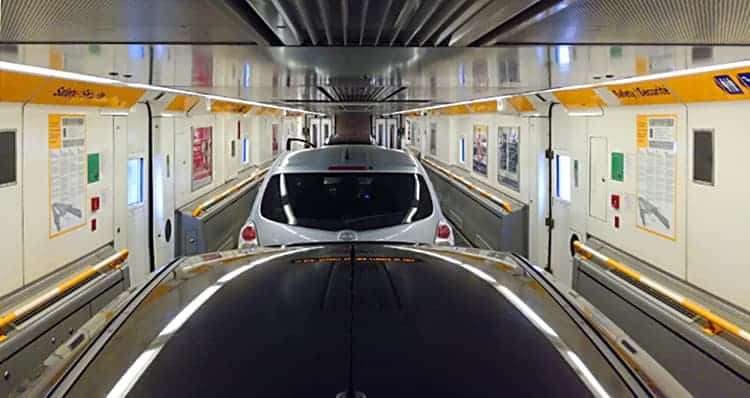 Driving through France
Once you get to France, there are a number of routes you can take, but we'll give you an example.
From Calais you can drive to Nantes (five hours' drive, give or take). From Nantes drive to San Sebastián in Spain (six hours) and from San Sebastián drive to Portugal (eight hours).
In total, this is a 20 hour drive, but if you're making a road trip out of it, you can see the sights as you drive through.
There are more options though, for example:
Quickest route: Calais – Rouen – Bordeaux – San Sebastian.
Scenic route: Calais – Paris – Clermont Ferrand – Barcelona.
Taking the ferry from the UK to Portugal
There isn't a direct ferry to Portugal so you need to go to Spain first. The nice thing about getting the ferry is that you don't have to drive as much, but the difference is it can take up to 20 to 30 hours to get to Spain.
Brittany Ferries are the only operator at the moment, so you'll need to try and find the cheapest price.
There are three route options with the ferry to Spain: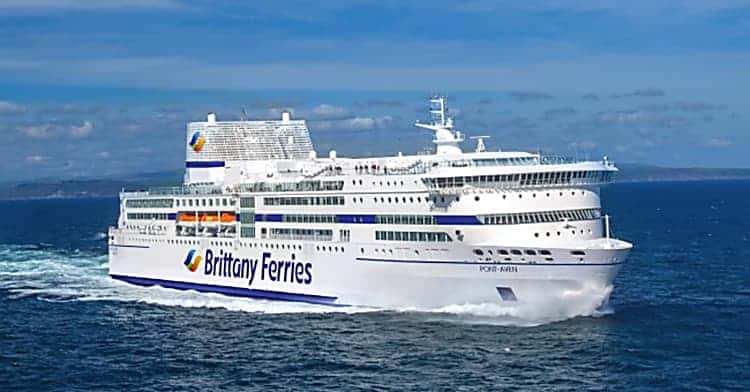 Bringing your pets on the ferry
Brittany Ferries (from Portsmouth to Santander/Bilbao) have kennels for dogs and pet-friendly cabins so you don't have to worry about travelling with pets.
If you're travelling with kids or animals, you might find easier getting a ferry to Spain. It's fun too if you like boats.
Driving from the UK to Portugal: Advantages and disadvantages
What's good about driving to Portugal? You can make a nice long road trip out of it and visit lots of cities and towns as you drive through. You can stay in nice hotels or caravan parks and eat amazing food.
But what about the disadvantages? Well, there are toll roads, ferry tickets and fuel prices to consider, so it's not cheap.
Get all the best advice from us at bePortugal. Sign up for our newsletter here.
Driving in Portugal
Ok, so now you've arrived in Portugal… now what?
Navigation maps for driving in Portugal
If you do not know Portugal very well and if you're planning a trip anywhere in Portugal, you will need a map. Sadly, there are lots of junctions which don't have signs and you'll be guessing half the time whether to turn left or right.
There are lots of apps with maps for driving in Portugal on your app store but Google maps is by far the fastest and most accurate and with free roaming now in Europe, your mobile phone plan should be ok with it.
Otherwise, there are many good navigation devices for the car like Rand McNally, Garmin or Tom Tom.
Tips for driving to Portugal
Here are some of my best tips for your trip:
Plan your trip in advance, try to book your tickets well ahead;
Be aware that you will pay tolls on most motorways;
Plan your stops, especially if you are not going via the motorway;
Make sure you have plenty of fuel;
Don't drive from France to Portugal without stopping. Stop off in Spain and have a rest;
Give yourself time to cross the borders. It might only take a few minutes, but be prepared to wait;
Make sure your mobile phone is charged up (don't forget the charger for the car);
Make sure you have all passengers documentation (passports, ID, etc.);
Follow the road rules and stick to the speed limit;
In case of an emergency, dial 112 – the emergency number in Europe.
If you want to learn more about the rules for driving in Portugal, we have an article available which explains everything from general road rules to toll roads. Check out: Your Ultimate Guide to Driving in Portugal.
There are so many ways to get to Portugal but it's a long trip so it is always easier if you go with someone who you can switch driving now and again.
Whatever you decide to do, PLAN ahead. I can't stress that enough because ferry spots fill up fast especially getting close to the summer holidays.
Make sure you know where you will be stopping and which roads to take. As mentioned before, Portugal lacks road signs in many places, so make sure you have a navigation device or an app to help you.
On a lighter note, make sure you have some nice driving music, snacks and drinks for the ride. Enjoy and drive safe!
Do you have any questions about driving to Portugal? Let us know below.