Each of you will agree with us that every trip abroad starts with choosing the destination and… booking flights.
Lots of questions will surely pop up in your head, such as:
Is this a reliable air company?
What are the luggage regulations?
Is the airport far from my hotel? And many more.
If Portugal is next in your bucket list, we will share the most essential information you need to know about TAP – the flag carrier airline of Portugal.
Read on.
TAP Portugal airlines, what you always wanted to know
TAP Air Portugal History
TAP (short for "Transportes Aéreos Portugueses") was found on 14 March 1945, however, the company officially began operating on 19 September 1946.
Since its foundation, the carrier's slogan has been "De braços abertos" which means "With open arms".
The company's headquarters is based in Lisbon Airport which also serves as its hub.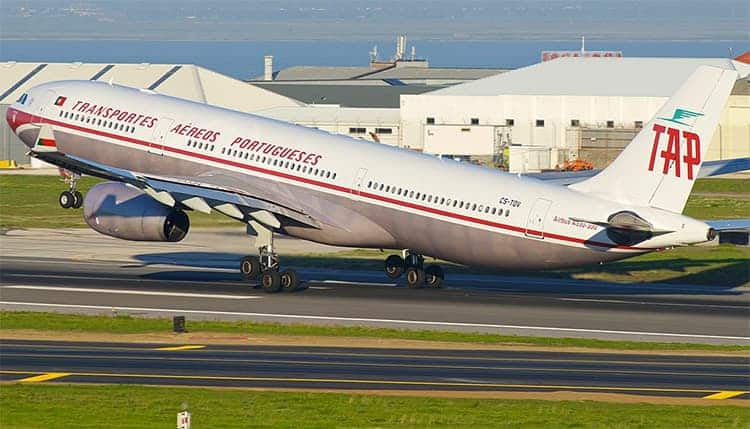 For more than 70 years, TAP Air Portugal has been the leader in connecting sunny Portugal to the rest of the world and the continents to each other. To be precise, its planes currently fly to 89 destinations in 38 countries across Europe, Africa, North America, and South America.
And there is more!
TAP operates between different parts of the country which is really useful and time-saving if you plan to go from Lisbon to Madeira or from Lisbon or Porto to Faro.
Besides, TAP is a member of Star Alliance since 2005. As a reference, this is one of the largest and most powerful airline alliances in the world.
At the moment, TAP Air Portugal has nine divisions, including:
TAP Express
TAP Serviços
TAP Tours
TAP Maintenance and Engineering
Megasis
UCS
TAP Maintenance and Engineering Brasil
CateringPOR
Groundforce Portugal
Let's now focus on some practical information about flying with TAP Portugal.
Are TAP's aircraft comfy and safe?
YES YES YES! TAP has always been aiming to provide its customers with the best flight experience. That's why the company's executives prefer investing in modern, safe, efficient and comfortable aircraft.
The Airbus A340, A330 and A320 are used for long and medium-haul trips, while the Embraer 195 and Embraer 190 as well as the ATR72, will keep you company on shorter flights.
What are TAP Air Portugal luggage regulations?
This is the question that pops up first in each passenger's mind. Right?
When flying with TAP, you can carry a piece of hand baggage in the aircraft cabin, with a maximum size up to 115 cm (dimensions: 55 x 40 x 20 cm), that's 45 inches (dimensions: 22 x 16 x 8 inches).
As TAP is a carrier that operates between several continents, the checked-in luggage regulations depend on the flight destination.
Get familiar with TAP's luggage regulations at the official TAP website.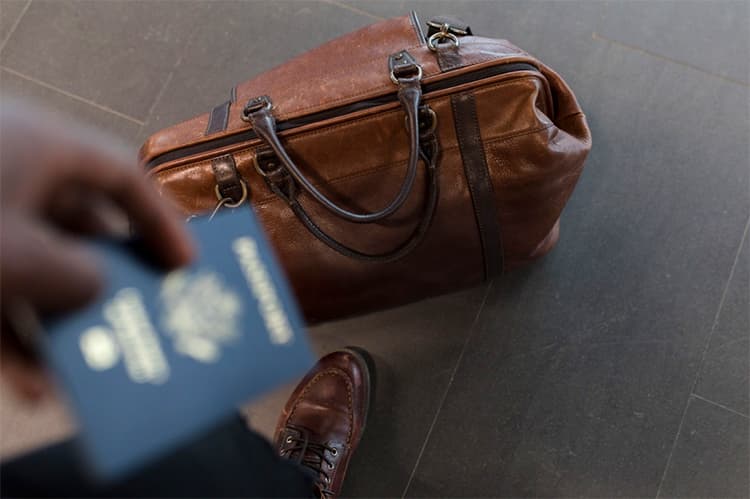 Does TAP Air Portugal allow pet transportation?
In case you are moving to Portugal or prefer traveling with your pet, you can book a flight with TAP as the company allows pet transportation to Portugal in the cabin or in the hold.
Just make sure to book transport for your cat or dog at least 24 hours before departure.
Also, don't forget to bring with you all animal's documents (such as health certificates, passports and other documents identifying the animal).
Does TAP Air Portugal offer an online check-in option?
Check!
TAP gives its customers the option for online check-in. It should be done from 90 minutes to 24 hours before departure.
Also, you are able to change or reserve your seat while doing the online check-in.
If you travel with one or more checked-in bags, make sure to drop them at one of the TAP check-in counters at the airport.
Don't forget to print out your boarding pass and bring it with you to the airport. Alternatively, you can use one of the self-check-in machines at the airport to print your boarding pass.
Keep in mind the online check-in is not allowed for customers with special needs and for departures from the US.
Does TAP Air Portugal have a mobile app?
Affirmative!
If you book a trip with TAP, make sure to install the app so you can book flights to Portugal, do the online check-in and get your itinerary details easier and faster.
How is TAP's business class?
To start with, TAP's brand name for Business Class is Executive Class. It has been offered for long and short hauls.
Moreover, Executive Class comes with all the extras that would make each passenger's experience great – starting from the modern, luxurious and spacious business class lounges at Lisbon Airport, to the comfortable seats with USB ports and electricity plugs to charge your smart devices in-flight, to excellent meals, coffee and much more.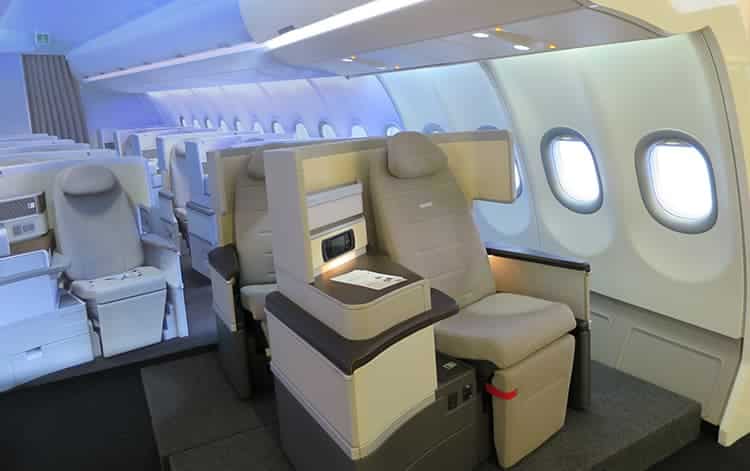 How to upgrade from Economy to Executive Class
In case you are a frequent travellerer of TAP, here is something that might interest you.
TAP has provided the passengers with three different ways to upgrade from Economy Class to Executive Class:
Plusgrade – this way allows you to bid for seats in TAP Executive Class. Simply post the amount you are willing to pay and then wait for confirmation;
Upgrade with TAP Miles&Go programme miles; or
Upgrade directly at the airport (in the check-in area).
Is TAP Air Portugal a reliable airline carrier?
When you serve such a great amount of people every day, there is no chance to make everyone 100% happy. However, TAP is considered as one of the most reliable and friendly airlines at the moment.
Here are some reviews we have gathered for you from different websites (TripAdvisor, Google Reviews and Trustpilot):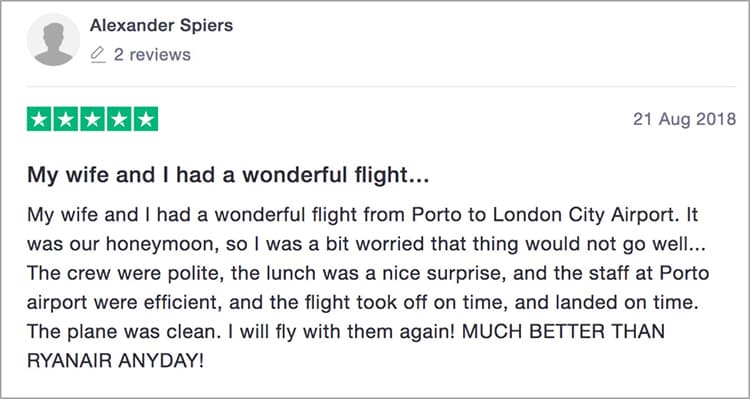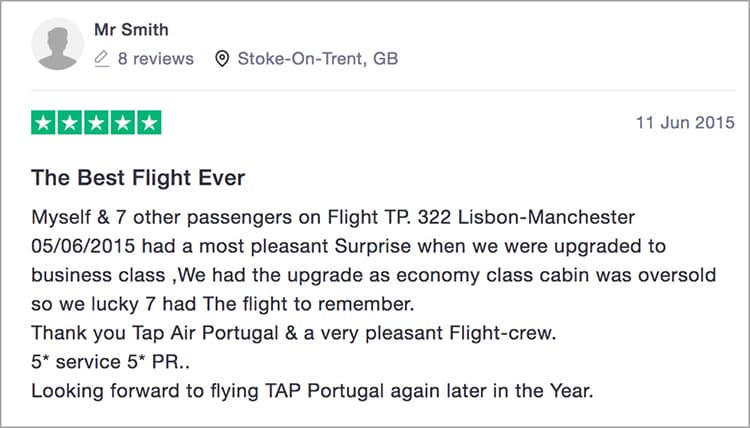 Contact TAP Air Portugal
In case of additional questions, praise or complaints, contact the company in one of the possible ways that you can find on the bottom of the official website of TAP Air Portugal.
There is an option for online support via online chat, email, Facebook, Twitter and phone.
In order to ensure the passengers get the best service possible, the customer support is available every day from 7 am to midnight.
Did you manage to find out everything you wanted to know about TAP Air Portugal? Do you have any good or bad experience to share with us? If so, do not hesitate to leave us a note in the comment section below. Cheers!
Be sure to subscribe to our newsletter to get notified of the latest tips for your visit or move to Portugal.