You may or may not know about TransferWise — but as an expat in Portugal, you should. Moving to a new country means moving your money as well. The best way to do that, however, is one of the most common questions among people moving to Portugal.
So we're here to answer the big question: Is TransferWise the right option for your mobile banking needs?
As expats, we often have bank accounts based in other countries — or at least friends, family, or jobs there, which means at times we need mobile banking that can move money internationally.
TransferWise can be a useful tool for making money transfers abroad easy and cheap.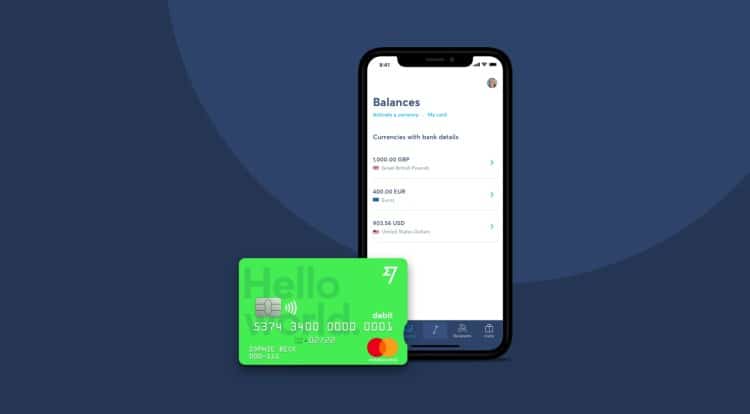 What is TransferWise?
TransferWise was one of the first in the wave of cloud-based financing companies we've seen popping up in the last decade. Started in 2011 in London by two savvy Estonians, TransferWise now facilitates more than 750 currency routes worldwide.
Mobile banking and money transfer has never been easier than it is today. Check out N26 or Revolut for other digital-only banking solutions, or read our comparisons and recommendations of mobile banks here.
In some ways, these modern homebanking methods are leading a democratization in personal finance. This is because traditional currency transfers have a middleman, a broker, who takes a commission on bought and sold currency rates.
TransferWise changes that. In a nutshell, TransferWise matches users directly and takes a fraction of the commission that traditional financial intermediaries take.
For example: One client is transferring euros for pounds and another is buying pounds for their euros.
The process occurs almost instantaneously and the margin is always fixed. This means each client sending money knows exactly how much they'll pay in fees every time they make a transfer. For most currencies, TransferWise also guarantees the exchange rate, so recipients knows exactly how much they'll receive.
TransferWise is cheap, quick and easy to use.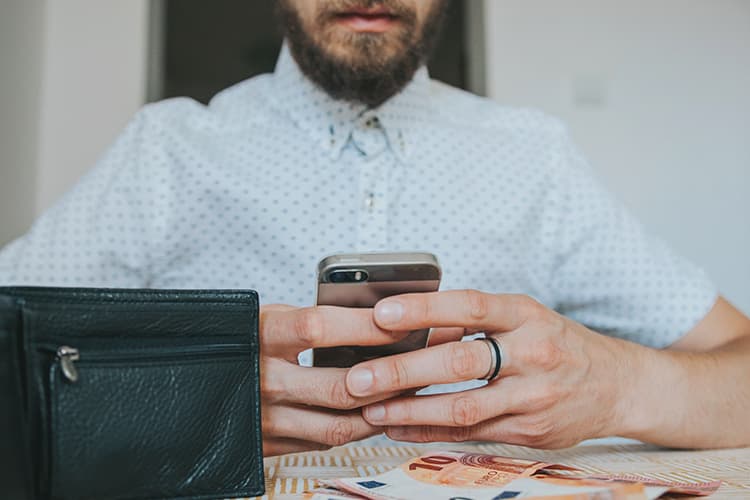 Who is TransferWise best for?
Can we say everyone? Possibly.
Ideally, if you travel frequently or have an international network of acquaintances, then you have a lot to gain from TransferWise's services.
Certainly if you're an expat from the US or the UK living in Portugal, you'll save time and money by managing your money transfers through TransferWise.
Features of the TransferWise Borderless account
The advantages of using TransferWise
Quick transfers: Transfers take a maximum of two days (depending on where you're sending money). However, it's often even quicker.
Competitive transfer fees and clear pricing: Transferwise charge a percentage of the amount transferred plus a fixed fee. For example, 0.35% + £0.80 when sending from GBP to EUR. This means you avoid the exchange rate markups attached to traditional international transfers.
Low or no ATM fees: While you're traveling abroad, you can withdraw cash with no fee from Transferwise up to $250, €200, or £200 per month.
Beneficial exchange rates: You get real-time exchange rate data from Transferwise whenever you transfer funds. And when you set up a transfer, the rate is locked in (for what's typically enough time to make the transfer). This means no surprises midway through a transaction.
Widely accepted: Transferwise offers a multi-currency debit card that allows you to make payments and withdrawals anywhere in the world that accepts MasterCard.
Available for all transfer sizes
User-friendly platform for mobile and desktop
The disadvantages of using TransferWise
Transfer limits: If you're transferring another currency into the US there is a limit of $1 million per transfer. This limit varies slightly from country.
Monthly cash withdrawal limit: While you're traveling abroad, your withdrawal limit of fee-free cash is set at $250, €200, or £200 per month. After that, TransferWise charges an ATM fee of 2 percent.
Deposit limits: Per transaction and per day, you're limited to $250,000.
No interest: You cannot earn interest on the money in your Borderless account.
No cash pickup facility
Does not handle checks
No discounts for high volumes
Technical support not available in some countries
Best TransferWise benefits for expats in Portugal
Borderless account holders have instant access to balances, transfers, and payments at their fingertips. The service is particularly useful for expats in Portugal because your TransferWise card can be used anywhere they accept Mastercard.  Plus, there's no initial fee to sign up or get your TransferWise card.
As far as safety and security go, there's an option to instantly freeze and unfreeze your card directly from the app, so if you notice suspicious activity on your account, you can keep theft and fraud to a minimum. This is no garage operation either; TransferWise is authorized and regulated by the Financial Conduct Authority (FCA).
Note that Transferwise cards are not part of Portugal's Multibanco network. Be aware that throughout Portugal, you'll find some businesses only accept cash or Multibanco — not MasterCard or VISA — which mean you either need a Portuguese bank card or a stop at an ATM to pay.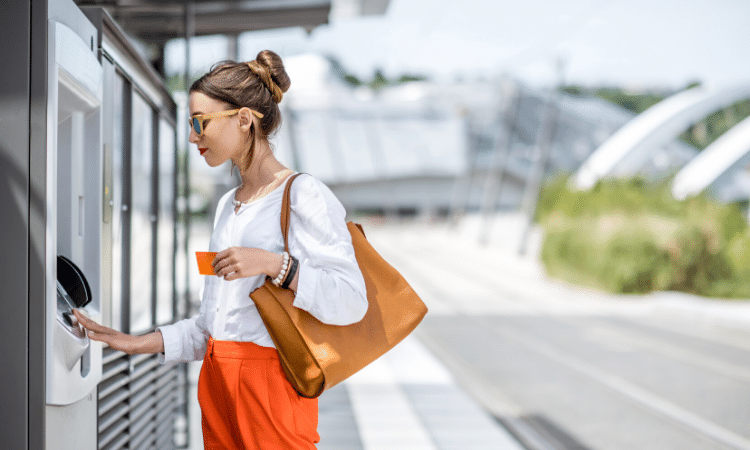 What are the fees for TransferWise?
It's free to set up a borderless account with TransferWise and free to receive money on the platform. There is a small fee to convert between currencies, either in the account or with the TransferWise debit Mastercard but you can always see what it is.
The conversion fee is always shown up front and is usually between 0.35% to 2% of the transaction amount, depending on the currency. There is a fixed fee of £0.65 (€0.60) to move funds from your account to another account in the same currency.
There are no ATM withdrawal fees if you keep withdrawals under $250, £200, or €200 per month. 
Borderless accounts: Different from traditional money transfers
When you sign up for a TransferWise Borderless account, you follow the usual sign-up process for any digital-only bank. Read our full article on mobile banking to see how quick and simple that is.
Using TransferWise in Portugal can be far more convenient than traditional banking. Here's why:
Traditional method: wire transfers
As mentioned previously, the middleman method of traditional banks uses a wire transfer infrastructure. This means that your money travels to a destination account that probably needs its currency converted. For any US or UK expat, this is the case.
These transfers are often carried out through SWIFT (Society for Worldwide Interbank Financial Telecommunication). This is where the middleman comes in. Your money might even be traded and passed through more than one intermediary via SWIFT, each time adding a bit more cost.
You start to realize how the hidden costs add up when you're transferring money internationally via this old-school method.
And despite what the name suggests, SWIFT can be anything but. Transfers can take as long as a week depending on where you are sending money. As your funds change hands among various intermediaries, this makes sense.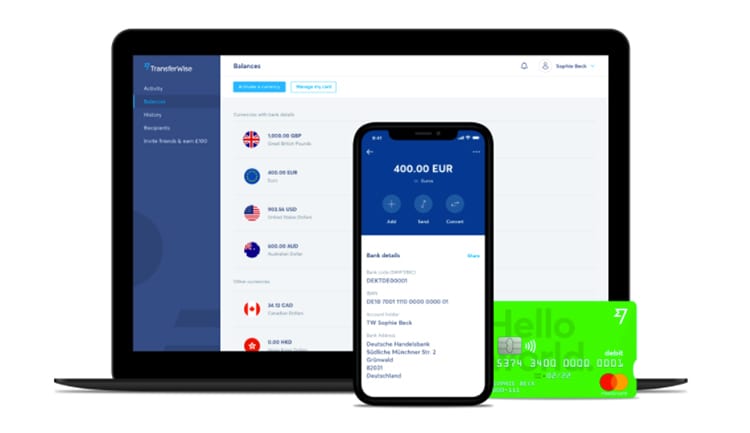 How TransferWise Borderless accounts are different
TransferWise works on the principle that there are lots of individuals around the globe with local bank accounts. Theoretically, all of those bank accounts around the globe could have similar local rates for money transfers if they were able to connect to one another.
TransferWise makes those connections, therefore cutting out the middleman. Of course, TransferWise takes a small commission for making the "introduction" between accounts, but the cost of going the SWIFT route can be up to eight times as much. From our perspective, this makes TransferWise a bargain.
How to open a TransferWise account
Opening a Transferwise account takes about 5 minutes, and can be done from your phone, tablet, or desktop. See our full article on mobile banking, including the typical requirements to sign up for an account.
Basically, you'll be asked for some details about yourself, including your name and where you live. You'll also link your TransferWise account to your home-country account, so you can transfer funds from there.
Once your account is open, TransferWise will verify your identity via your identity card, a photograph of you holding it, and proof of your address. This verification process takes just a couple of days in total.
Also remember, the person you're sending money to doesn't need to be a member of Transferwise.
How long until my TransferWise card arrives?
Your card should arrive at your home address within a few days if you're in the UK, a week if you're in Europe, and up to two weeks for the US, Australia, and New Zealand. If you're planning to use TransferWise in Portugal for an upcoming trip, make sure to leave enough time for the card to arrive before you go.
Also — make sure your address is correct, since TransferWise doesn't use tracking on the cards they mail (like most banks).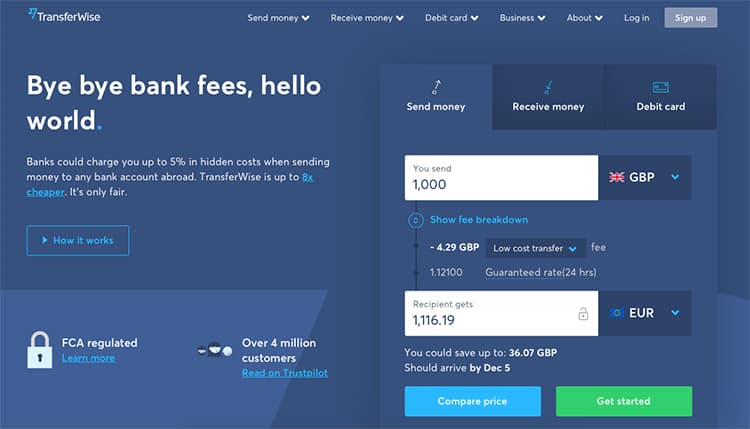 How to send money internationally with TransferWise
TransferWise is a pretty simple online platform to use. There are basically three steps to sending money:
Go to TransferWise.com and select the currency pair you want to convert — dollars to euros, for example. Enter the amount you want to send, and you'll see the converted amount the recipient will get.
Enter the recipient's banking details. You can send money to yourself, another individual, a business, or a charity.
Transfer the amount from your home-country bank account to TransferWise. You can use your bank's debit card, a credit card, or a direct transfer from your account.
That's it! TransferWise will let you know when your transfer begins, how much you'll pay in fees, and when your transfer arrives.
Points to consider when choosing any online banking solution
One of the key considerations when looking into an online banking solution is cost. Using TransferWise in Portugal trumps traditional banking and a few other methods on this factor.
But if you're still trying to embrace online-only banking, a digital storefront might feel a little weird. No brick-and-mortar bank, no counters, no tellers. We know.
But don't worry. TransferWise has a solid financial reputation and is one of the longest standing companies in digital-only banking. They also get great reviews for their customer service and boast high ratings on Trustpilot. And don't forget, TransferWise uses highly personalized safety features like biometric locking and instant account freezing and unfreezing right from your phone. All this makes international money transfers with TransferWise fast, easy, and safe.
Did you find this information about TransferWise useful? Do you have any experiences to share? Feel free to leave a comment below.