Wondering how you will get around when visiting Lisbon, or perhaps you are a resident who hasn't fully explored Lisbon's underground world as yet.
Well, the Lisbon Metro is easy to use, safe, reliable and usually faster to get around the city.
We have covered everything you need to know right here.
About the Lisbon Metro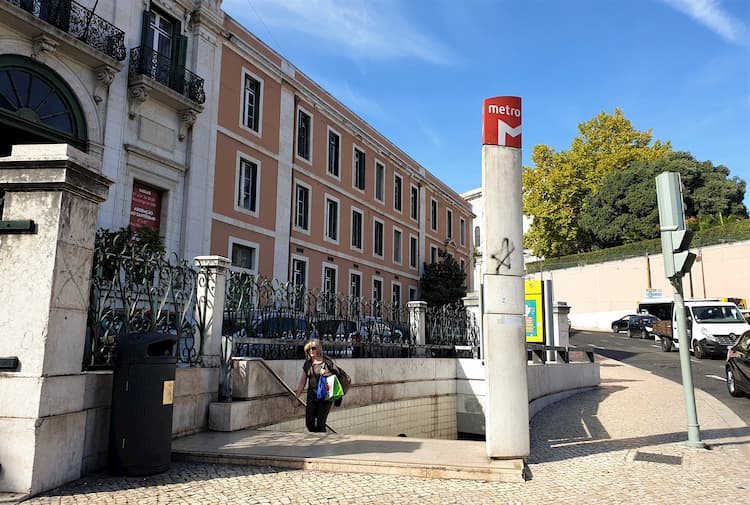 The Lisbon Metro first opened in 1959 and was the first underground system in Portugal.
It started with only 11 stations; a Y shaped line starting at Jardim Zoológico (previously Sete Rios) and Entre Campos, down to Marquês Pombal (previously it passed by Avenida and ended in Restauradores).
These stations were thoughtfully designed and all excluding Avenida feature artwork by Maria Keil.
Today the Lisbon Metro has 56 stations and the theme of having them decorated with artwork was carried through most of these stations.
Continue reading and find out which stations are a must to stop and see. We also cover everything you need to know about using the Lisbon Metro and all you need to know about the Lisbon Metro cards.
For more interesting and informative content about all things Portugal, make sure to subscribe to our free newsletter!
Using the Lisbon Metro
Is it good to use the Metro in Lisbon?
Absolutely! The Lisbon Metro is certainly a good public transport option and the cheapest public transport option too. The stations and train carts are maintained very well and are always clean. They are safe and well lit up.
If you feel unsafe while on the Metro, press the help button and security will be waiting to assist at the next stop.
Many stations have elevators for those who cannot use stairs and escalators.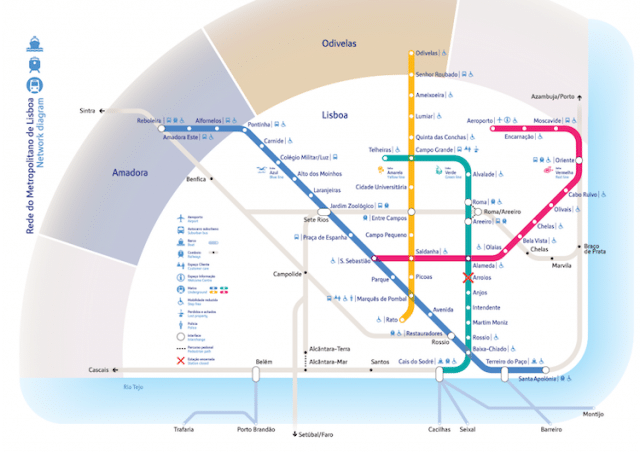 Another great benefit of using the metro in Lisbon is that you do not have to search for parking. In the city center parking spaces are scarce, when you do find one your parallel parking better be on point and paying for parking is expensive.
Furthermore, the Lisbon Metro is the most reliable form of public transport. Unlike a bus that may be delayed or the railways (Comboio) which occasionally go om strike, the metro continues to operate 365 days a year.
Is it fast?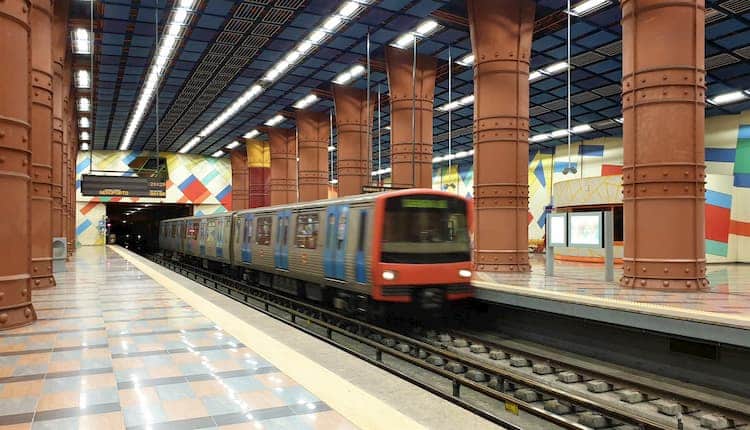 Whether the Metro is considered fast or not, depends on when and where you are travelling to. During peak hours, traffic in Lisbon is slow and unpleasant and the Lisbon Metro is a sure winner.
Compare your travel time by using Google maps for a car journey estimate and the Lisbon Metro trip planning tool to estimate your metro journey travel time.
Operating hours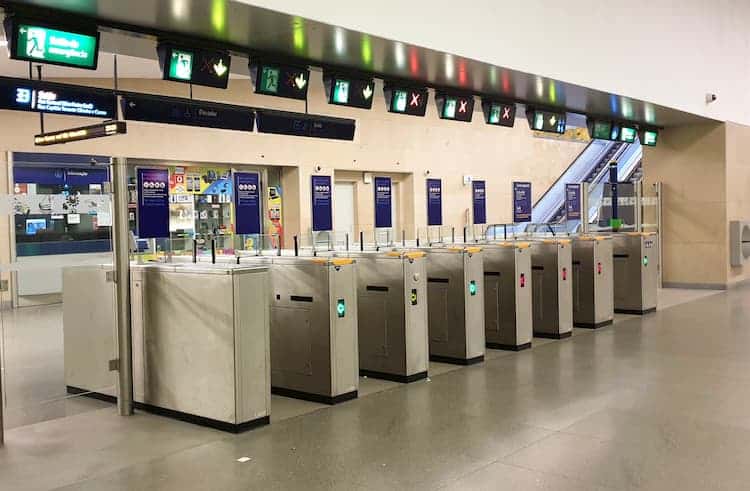 The Lisbon Metro Operates from 6:30 am to 1:00 am every day of the year. The first train departs at 6:30 am and the last train departs at 1 am.
Trains are as frequent as 3 minutes and 35 seconds apart during peak hours and up to 11 minutes and 50 seconds apart during off-peak hours. On weekends and public holidays, intervals might be longer.
Avoid the rush hour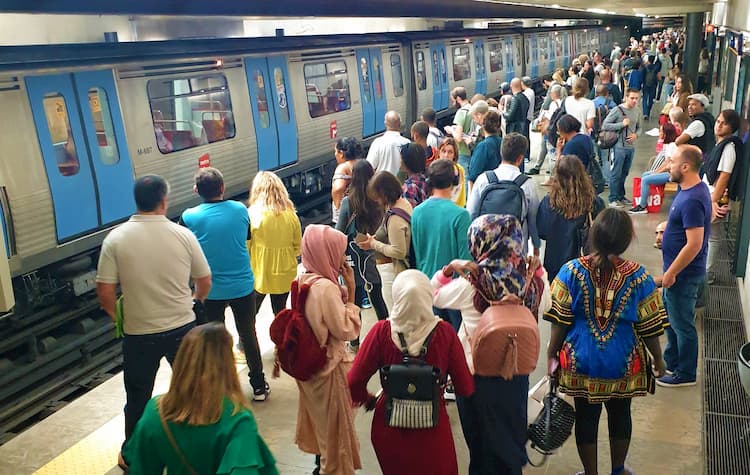 Portugal is more of a 9 to 6 country or even later. The Lisbon Metro is busiest between 7:15 am to 9:30 am and 4:30 pm to 7:30 pm, though still quite crowded until 8:30 pm.
It may get extremely packed during these hours, so be prepared to get your shoulders bumped a couple of times. Knowing how to say excuse me (com licença) and sorry (desculpe) in Portuguese will come in handy.
Peak Season
During the Summer holiday months of June, July and August. Tourism in Portugal is at its peak. Christmas brings large crowds as well. Despite this, operating hours continue as normal although trains may be more frequent when required.
Since Christmas is around the corner, take a look at our article that tells you how to spend Christmas in Portugal, or what to expect when visiting in December.
How to use the Lisbon metro from Lisbon Airport
The Lisbon Portela Airport has its own metro station (Aeroporto). This means its as easy as walking out of the airport exit doors, and straight ahead into the Aeroporto Metro station. Its the cheapest way to travel, and gets you into the city centre within 20 minutes!
Certain stations do not have elevators so if you are travelling with large and heavy bags you may want to skip the Metro this time. Have a look at which stations are step-free over here.
For more information about the Lisbon Portela Airport, check out our guide.
The Lisbon Metro Lines and Stations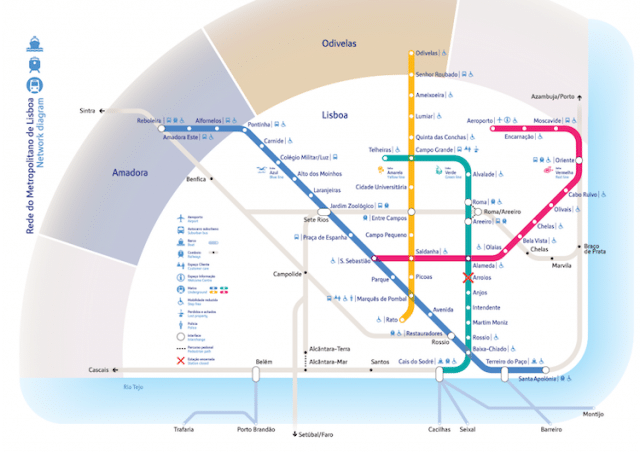 This is the diagram of the Lisbon Metro network. It also displays where the metro connects to the railways and Cacilhas ferry. Download the map here.
The Lines and Stations

Remember these two things and you should find the metro easy to use: The line colour that your station lies on and the name of the last station in the direction you will be travelling.
These are the four lines and their starting and ending stations
Signs for a specific line are only displayed in Portuguese, showing the line colour and symbol. I have never heard anyone referring to a line by its symbol so simply knowing the colour and its Portuguese translation is sufficient.

When you enter the Metro station, only signs showing the line colour and name of the last station is displayed. This guides you to your line, and the two signs displaying the first and last stations tell you which side of the line you need to be.
Most popular stations
The most popular or rather busiest stations are the ones where lines connect with another line or the Railway.
In addition to a little standing coffee shop found at most Lisbon Metro stations, these stations often have a couple of stores to do a little shopping on the go.
Oriente
São Sebastião
Marquês Pombal
Campo Grande
Entre Campos
Saldanha
Alameda
Cais do Sodré
Prettiest stations
The Lisbon Metro doubles as an art gallery. The tradition of decorating walls with tiles 'Azulejos' was continued throughout the underground.
Artists created amazing artwork throughout the Lisbon Metro Stations that make your travel experience more pleasant. Stations added after 1988 feature themed artwork based on its surroundings.
If you are a lover of art, use a day ticket or your monthly pass and hop on and off as many stations as you wish, admiring the artwork at each one.
If you would like your very own authentic Azulejos to take home, have a look at our Portugal souvenir guide to find out where to get one.
Olaias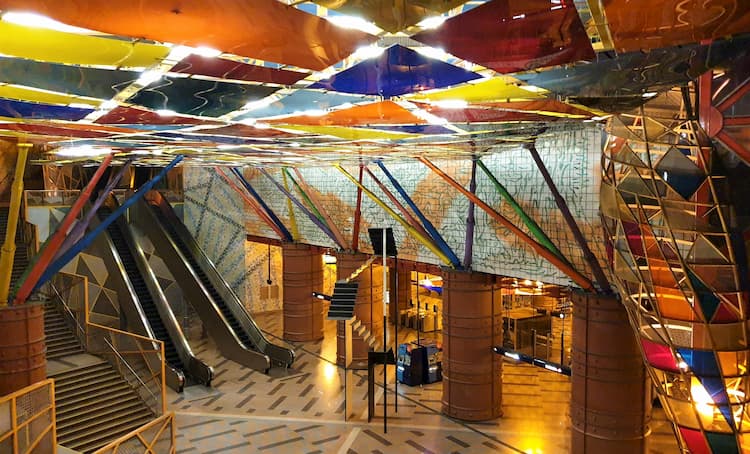 Prepare to feel like you are walking through a kaleidoscope. The Olaias station along the red line is the prettiest station by far. The station is larger than most with huge red columns, geometric patterns, colourful tiles and lit up glass panels.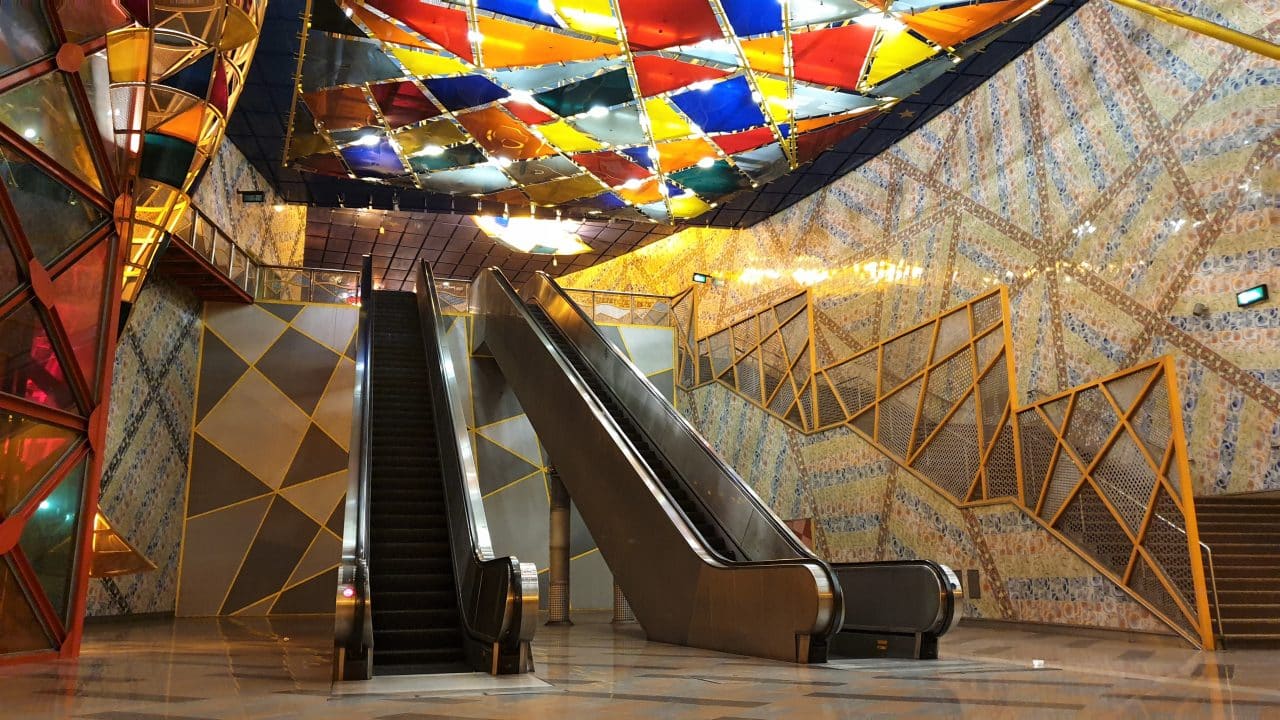 It is suggested to eventually stop at each decorated Metro station as each tells a story of its own. These are a few more favourites worthy of viewing.
Aeroporto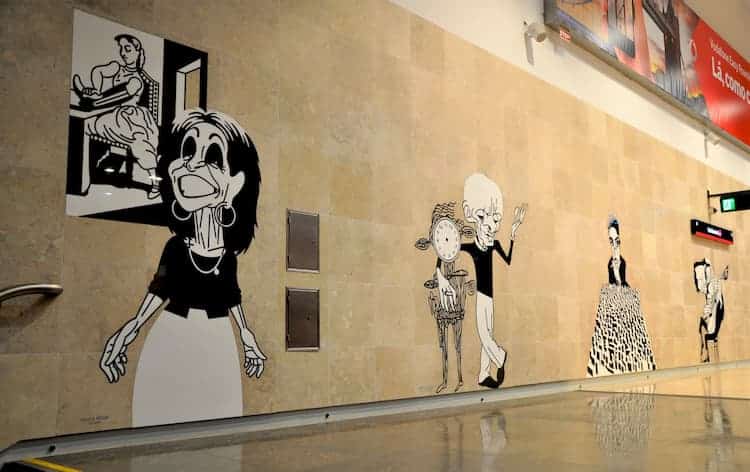 Try not to rush through the Aeroporto station too quickly, the pictures on the wall are not random drawings but illustrate Portugal's history through interesting to look at characters.
Chelas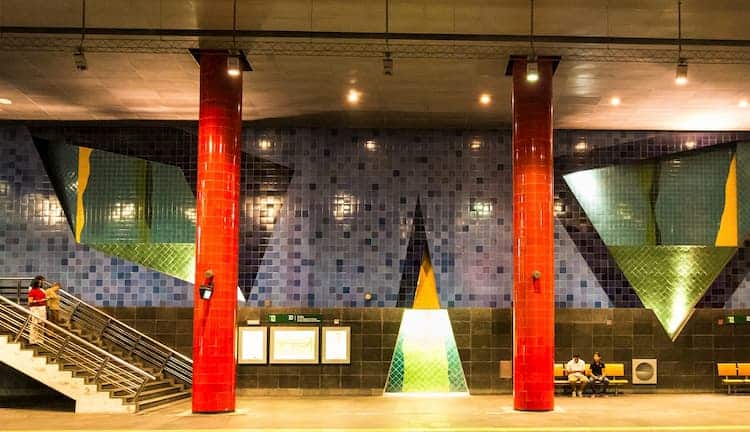 Striking red-tiled columns against the patterned walls at the Chelas Metro Station.
Oriente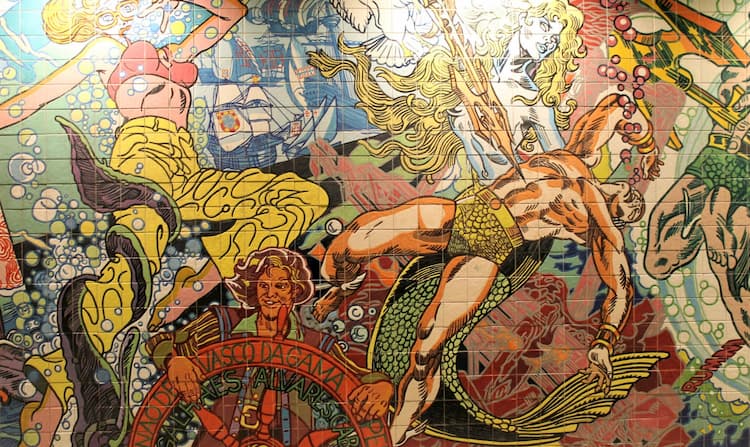 A very likely stop for most visiting Lisbon, the Oriente Metro station connects you to the Vasco Da Gama Shopping Centre and Oriente Train Station above. Take a stroll around the Park of Nations (Parque das Nações).
Colégio Militar/Luz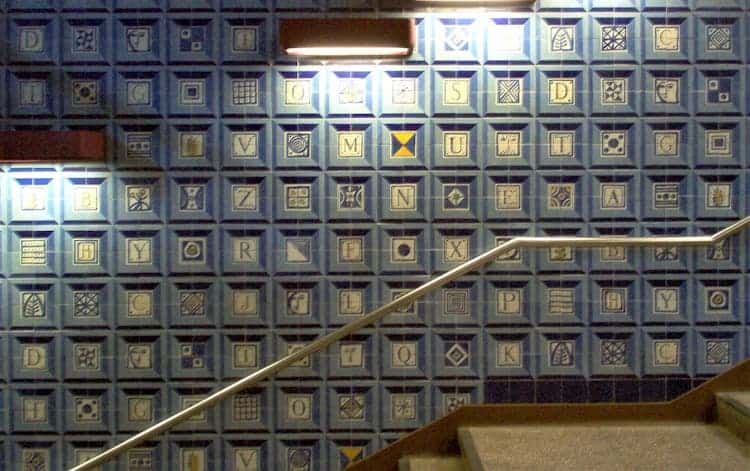 This Station displays blue tile artwork, perhaps the truest to Portuguese tradition.
Bela Vista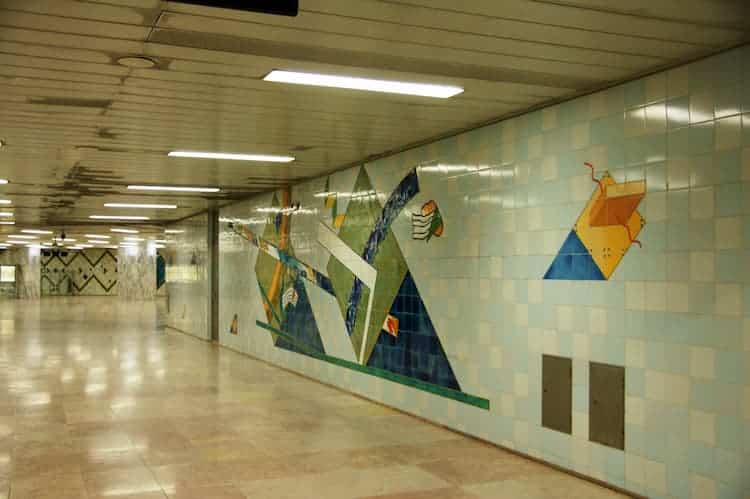 The appreciation for the beautiful abstract art throughout the Bela Vista station is well earned.
Saldanha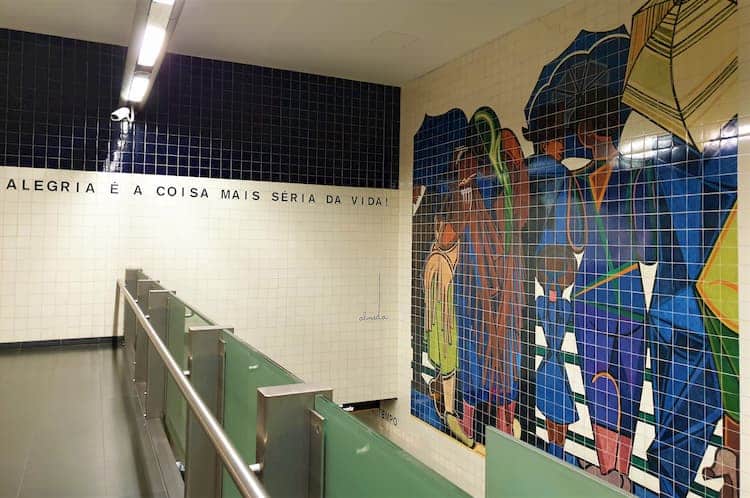 Various illustrations with their own significance creatively displayed with traditional tilework.
The Lisbon Metro Tickets and Passes
Viva Viagem card
This is the card obtainable from the ticket vending machines or ticket office (if open) at any Metro Station and is valid for a year. It costs €0.50 and a single trip on the Metro costs €1.50, more trips can be loaded at once or simply load Zapping credit.
1 Day ticket
There are three 1 day ticket options to choose from. Each ticket is valid for 24 hours from the first validation and includes unlimited rides on the transport methods allowed.
Carris and Metro €6.50
Carris, Metro and Transtejo (Cacilhas river connection) €9.50
Carris, Metro and CP (Sintra, Cascais, Azambuja and Sado lines) €10.55
Lisboa Viva card and Navengante passes you may purchase
The Lisboa Viva card is the permanent card and costs €7 or €12 for the express card. Senior citizens and pensioners pay €3.50 or €6 for the express card. The express card can be collected after 1 day, instead of the standard 10 working days.
A pass is valid for one calendar month only. Even if you load your card in the middle of the month, the fee is the same and will only last until the last day of that month.
Individual monthly passes
Navegante Municipal*: €30
Navegante Metropolitano**: €40
Navegante +65 (for senior citizens/pensioners): €20
Navegante 12 (for children from 4 to 12 years old): Free of charge
Children up to 3 years old accompanying a fare-paying passenger may travel free of charge.
Family monthly pass
Navegante família Municipal* €60
Navegante família Metropolitano** €80
The family pass is for family members living in one household.
*Municipal refers only to the Lisbon municipality or Amadora's municipality or Odivelas' municipality.
**Metropolitan covers Lisbon's greater metropolitan area.
See all options and special discount passes here.
Zapping
You may add Zapping credit to your Viva Viagem or Lisboa Viva card up to €40. When Zapping, a trip on the Metro costs €1.30. The credit may also be used on the railways, buses and trams.
How to get your Viva Viagem card
The Viva Viagem Card card can be purchased at any Metro station from the vending ticket machines. More than one trip can be purchased at a time. One trip includes switching trains from inside the metro station.
How to get your Lisboa Viva card
Applying for the Lisboa Viva monthly pass is quite easy
You simply need to complete the application form (available from the metro stations listed), provide one passport-sized photo and present your passport or Portuguese ID.
It takes 10 working days to process and you may send someone to collect it on your behalf, as long as they have your collection slip.
These are the stations where you may apply between 7.45 am to 7.45 pm: Marques Pombal, Colegio Militar, Jardim Zoologico, Campo Grande, Rossio, Baixo Chiado, Cais do Sodre, Oriente, Aeroporto.
If you would like to collect your card the next day, opt for the express option available at Marques Pombal and Campo Grande. Apply between 8:30 am and 8:30 pm.
Where to top up your Viva Viagem or Lisboa Viva card
Top up your Viva Viagem or Lisboa Viva card at any Metro station. The quickest way is to use the ticket vending machine which has an English option, however, the ticket office will also be able to assist.
Other ways to top up is online using the Viva portal or Multibanco cash machines (ATM).
Payment methods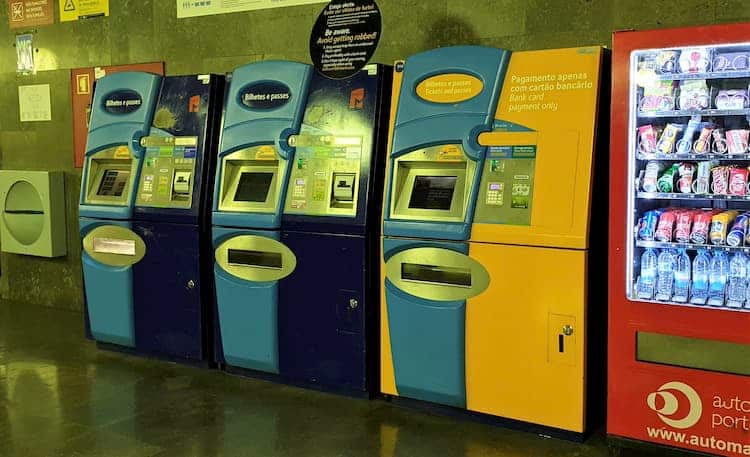 Most ticket vending machines accept all payment methods, cash (coins and notes), debit and credit cards. Where there are machines that only accept cards (yellow machines), there will always be another machine that does accept cash.
When using cash, the machines do not return change greater than €10. Instead, it will reject your payment until a note of a lower value is inserted.
For more information about buying your ticket or pass, click here.
Keep your receipt until the end of your trip in case you lose your card or it fails to validate.
Lisbon Card
For those of you only visiting Lisbon for just a few days, you should definitely buy the Lisbon Card.
You can get a 24h, 48h or 72 hours card and with it, you'll have unlimited free access to the Lisbon metro, as well as any other public transport form.
Included in the card is also free access to more than 23 museums and attractions. With this card you also get vouchers and discounts in many places including restaurants.
Can I plan my trip online?
Because it is always better to plan a trip ahead, the Lisbon Metro allows you to plan your trip online. All you have to know is which station your trip starts at, and which station it ends at.
The handy planning tool details which Metro line to use, where to switch stations and even calculates the journey time.
I simply enter my location into Google Maps, zoom in and search for the closest Metro station. Metro stations are marked as an M on Google Maps.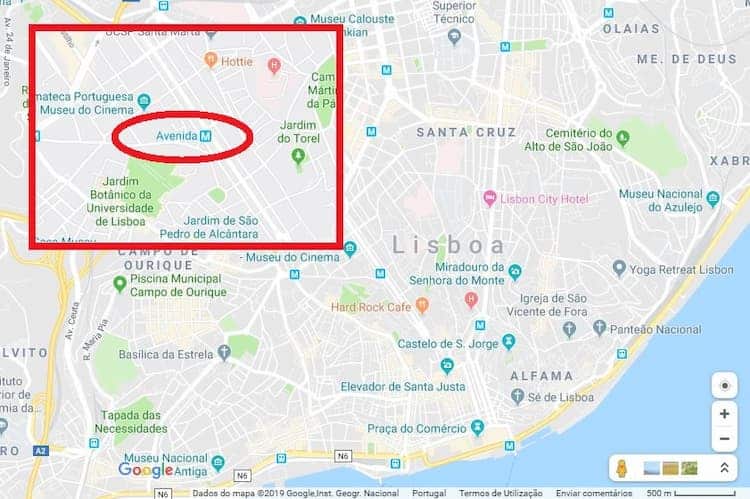 Does it have a connection to any metro alternatives?
Yes, the day ticket and monthly pass allow connections to buses and trains and most certain trams. The ticket option you select specifies what other means of transport may be used with the card. Don't forget that the same zoning limits still apply.
Should you use the Lisbon Metro?
Yes, you should. With so many great reasons above why you should use the metro when in Lisbon, there is no need to feel hesitant about trying it out.
Feel free to share your own useful metro tips or favourite Lisbon Metro Station in the comments below.