The Yeatman Hotel Porto is a luxury hotel built on the Gaia side – you can only imagine the views of the city of Porto and also river Douro…
In this article, we will guide you on how to get there, the best season to book and what you can eat at its famous 2-star Michelin restaurant.
The Yeatman Hotel
First things first, why is the Yeatman Hotel so famous?
It is a luxury wine hotel, one of the most recent in the city. Even though it is situated in Gaia, Yeatman is presented to the world as being in Porto, which we may think of it being a form of advertising to attract guests to go to Porto.
Yeatman Hotel Porto belongs to Relais & Châteaux hotel chain, a prestigious company known worldwide for combining hotels and restaurant experiences.
As you can imagine, this is a hotel that is much more expensive than others in the city. It has luxurious themed rooms and suites that are worth a night spent.
It is a prestigious place in the city of Porto, very much visited by tourists and other curious ones.
Where is the Yeatman Hotel?
Between the cities of Porto and Gaia, a very popular bridge is responsible for connecting both – D. Luis bridge. That being said, it is better for you to understand the hotel's location, since it is built on the Gaia margin, close to the bridge which, therefore, is close to Porto's side.
To be precise, you can find the Yeatman Hotel Porto at Rua do Choupelo (Santa Marinha) in Vila Nova de Gaia with the GPS coordinates: 41.13305; -8.61360.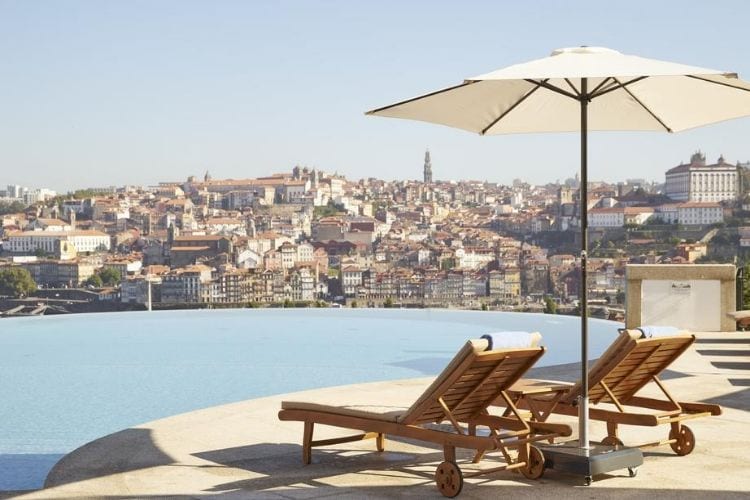 Is it a good location?
In general, luxurious hotels tend to be built right in Porto's heart. There are a lot of examples of that. You can find some of the most luxurious hotels in Portugal. So, it is not common that such a type of accommodation is built in Gaia, however, there's a reason for that… The views!
The Yeatman Hotel Porto has a prestigious location in terms of the beautiful views it offers to visitors. From there, you can see the whole Ribeira area (one of the most antiques in Porto) and also the river separating the cities. It is indeed a breathtaking experience to have.
Almost all rooms are facing the river, so imagine waking up to such a unique view!
How to get to the Yeatman Hotel from Porto
There are plenty of ways to get to the hotel, mainly by metro, train, bus and car. Let´s find out how!
By metro
Even though the metro does not stop right at Yeatman's doorstep, it can take you pretty close. If you are coming from Porto, the fastest and most direct way to do it is to hop on the metro that leaves São Bento station on line D (the yellow line) to the direction of Santo Ovídio.
You can catch the same metro at Trindade station as well, which is more central.
Either case, you would then have to get off at General Torres station. The journey lasts for about 10 minutes, costing around €1.20, which takes you from one side of the bridge to the other. Imagine the astonishing views! From the station to the hotel, you can either go on foot which takes around 13 minutes, or catch a taxi or Uber.
Make sure you plan your journey ahead. Please check out the Metro do Porto site for more information.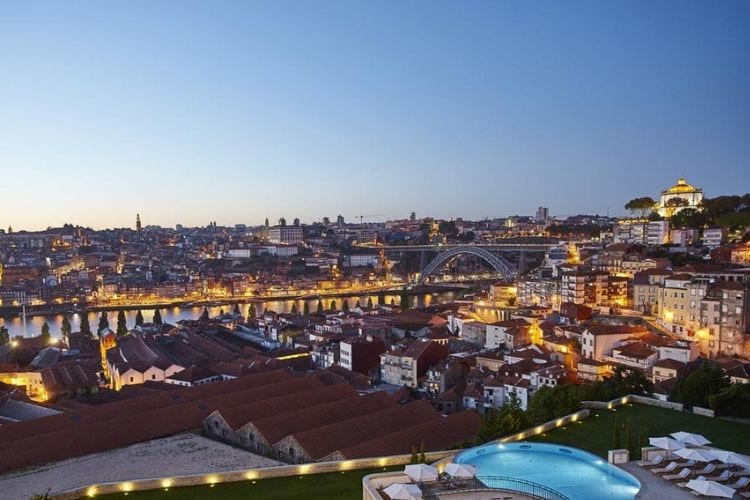 By train
Coming from Porto, it is also possible to travel by train to get to the Yeatman Hotel Porto, but you will need to get off at General Torres station, just like the metro. However, the distance between the train station and the hotel is much shorter, so you will have no difficulty getting there on foot.
That being said, you just need to catch the train from São Bento station and hop on the Aveiro line (yellow line). Trains leave every 5 minutes and a single journey costs €1,45 and lasts approximately 15 minutes. You can plan your trip ahead here.
In the meantime, check out this great guide on Porto's train stations.
By bus
Catch the bus at Trindade or Avenida dos Aliados, which is right within the center of Porto. You can either hop on bus number 901 or 906, with buses arriving every 20 minutes. A single trip costs around €1,20 and the journey lasts around 20 minutes. All you would have to do is get off at Via da Mesericórdia stop. From there, the Yeatman Hotel Porto is just a 4-minute walk away.
By car
There is no need for renting a car as the distance from Porto's downtown to the hotel is very close. The best option is to call a taxi or an Uber. There are companies like these that operate ins the city, such as Cabify or Taxify.
If you are familiar with these mobile apps, all you would need to do is open the app and call the nearest car. Depending on the place you call an Uber or any other services from, you will spend an average between €4 and €6.
How to book your stay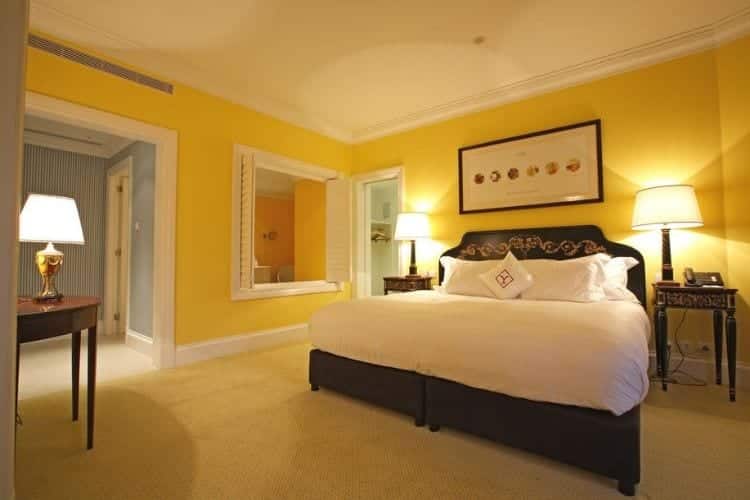 There are plenty of ways to book your stay at the Yeatman Hotel Porto. Even though you can use travel agencies, it is often cheaper to do it yourself online. Check out the best options out there:
All you need to do is choose the number of people staying, how many nights you intend to spend at the hotel and of course, the dates. Yeatman is one of the best luxury hotels in Porto that will provide you an experience you will never forget!
What is the average price?
As mentioned earlier, to spend one or more nights at the Yeatman Hotel Porto can be a bit expensive. However, this is expected as we are speaking of an elegant luxury hotel with luxury services. The prices are high due to the privileged views you get. Let´s have a look at the average prices:
High season
The highest season is normally during the months of Summer. Even though we are not talking about a hotel by the beach, for instance; this is a very specific type of accommodation and, since it has an outside swimming pool, it is also the most enjoyed place to be throughout the warmer days.
To help you with your search, in order to guarantee the best price possible, you can always use services such as Skyscanner or Momondo, which compares all the online booking services available. For example, if you are looking for a room to accommodate two adults. These are the average prices:
July 13 to July 17: €1417 with breakfast included.
August 4 to August 11: €2380 with breakfast included.
September 16 to September 20: €2145 with breakfast included.
Low season
If you are looking for a romantic getaway, the best way to go is during Winter and Spring. You will find that the prices are much lower, which is great for those who would like to stay for a week. Start planning, so you can enjoy an amazing experience at a luxurious hotel!
December 8 to December 15: €1649 with breakfast included.
January 5 to January 12: €1709 with breakfast included.
February 16 to February 23: €1649 with breakfast included.
The Yeatman Hotel amenities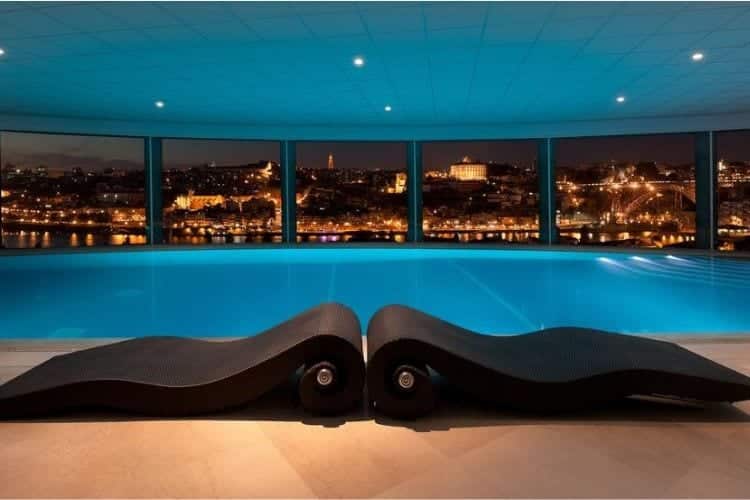 Being a 5-star hotel, you need to have it all, right?
Absolutely! The Yeatman Hotel Porto has a lot of services for their guests to enjoy and brings a once in a lifetime experience in one place. This includes the following:
Swimming pools: There are two swimming pools at the hotel, one outdoor and one indoor (heated), both are absolutely marvelous!
Spa: One of the most exclusives in the city (and in the country, to be honest). Besides the amazing views, you have access to massages, treatments amongst other relaxing packages. Even if you are not staying at the hotel, you can also book a treatment there.
Fitness Center: The hotel has a very complete fitness center and also has a variety of classes that you can book in advances such as pilates, ABT (Abdominals, Buttocks, Thighs) and personal trainer/individual classes.
Bar: Dick's Bar is the perfect place to enjoy a glass of wine or cocktail. It opens at 9 am and closes at 1 am the following day. You don't need to be hosted at the hotel since the bar is open to everyone.
Let's not forget about the 2 Michelin-star restaurant…
Yeatman's Restaurant
It is called Restaurante Gastronómico and it truly is a one of a kind tasting experience. It has joined the Michelin Guide in 2017, being classified with two stars right away. Chef Ricardo Costa is responsible for the menu that combines different flavors with the best wines that Portugal has to offer.
Ratings
Restaurante Gastronómico is very well rated and that is why it has 2 Michelin stars, an accomplishment that is very hard to achieve. According to Zomato, it is rated 4.4/5, and 9.6/10 according to The Fork.
Prices
The Yeatman Hotel Porto's restaurant has a fixed price. It charges €170 per person and includes a tasting menu that varies depending on the season, and always serves 8 to 10 different dishes. To complement the experience, you can add 6 different wines for €75 per person.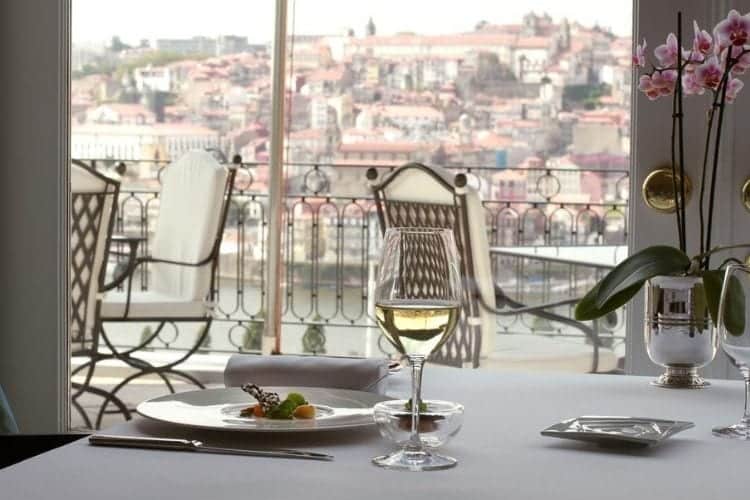 The menu
The menu is fixed and only changes as the season does. It includes several combinations inspired by typical Portuguese food, offering a great number of fresh products and fish. It is always planned by Chef Ricardo Costa, who is responsible for the second Michelin star and a great enthusiast of the Portuguese cuisine.
How is the experience?
Those who try it, enjoys it. However, be prepared to eat fine gourmet dishes which does not include high quantities of food.
Is it worth staying at the Yeatman Hotel Porto?
It is an experience! This is not a "normal" hotel, but rather a unique one. We thought of the best way to show you how great this hotel is and there is nothing better than considering the customer's reviews.
What customers say about Yeatman Hotel Porto
According to the reviews found on TripAdvisor, this 5-star hotel has almost 5 full circles of classification (with over 2000 reviews), which is the way this service classifies the reviews it receives. From the location, cleaning, overall service and price, all of the categories are classified as excellent.
Another thing is that the Yeatman Hotel has been rewarded with the Travellers' Choice Award in 2019, which is assigned annually to only 1% of the enterprises that are present on TripAdvisor.
Amazing, don't you think?
We have selected some of the best reviews from guests all over the world. Check these out:
"One of the hotels with the best views in Portugal! We were very well catered for and the accommodations are wonderful. It is worth checking. The hotel pool is splendid, the breakfast is wonderful and has great service" – Eliseu Neto.
"Excellent facilities, comfortable and spacious rooms, spectacular view to Porto, helpful and attentive people, very good spa, very good breakfast, highlight to the outside bar, perfect for relaxing, admiring the view and having a few glasses" – Carlos Aranha.
"Fabulous service.

They upgraded me to Superior Deluxe courtesy, the room is spacious, the room faultless, and has a WONDERFUL view.

It has a terrace with table and loungers that in the summer has to be spectacular.

The breakfast: varied and delicious and served in the Orangerie, full of natural light and facing the river Douro. Everything there is beautiful, elegant and wonderful. And nowhere else in the world would I get to the room and have my favourite chocolates, courtesy of the hotel" – Paula.
Hotels in Porto – Alternatives to the Yeatman Hotel
Porto is boiling with tourists as well as brand new hotels that are popping up in the city. Even though Gaia has some great options, we have decided to also include Porto in this list, since the city has a lot more to offer.