Portugal skirts Europe's western edge, drawing in massive amounts of surf from the mighty Atlantic Ocean. While Ireland can claim more frequent swell events, it also faces the brunt of the passing storms.
Portugal, some 2,500 kilometres to the south, frequently reaps the rewards of the storms in the form of surf, while dodging the horrible weather.
With 830 kilometres of coastline, Portugal offers heaps of places to surf, from the dredging sand-bank barrels of Espinho to the towering peaks of Nazaré.
Surf's up
As you go further down the coast and into the bay near Lisbon, all that raw winter energy gets groomed into clean lines. The urban breaks of Caparica, Carcavelos and Cascais can be quite calm and fun while the outer Atlantic waters rage.
Further down, the Algarve doesn't get as much swell as the west-facing points of Portugal. Waves coming from a more southwesterly direction get into this beautiful area known for its towering sandstone cliffs and a weather-worn coastline.
But the surf doesn't stop when the Portuguese mainland ends. The islands of Madeira and the Azores deliver surf-able coastline still technically under the Portuguese flag.
Surf holidays in Portugal – we've combed the country for you
To explore this wave wonderland we've done the work for you and scoured this beautiful country from top to bottom to bring you 10 surf camps. And, to make it easy for any geography challenged minds out there, we've listed them from north to south.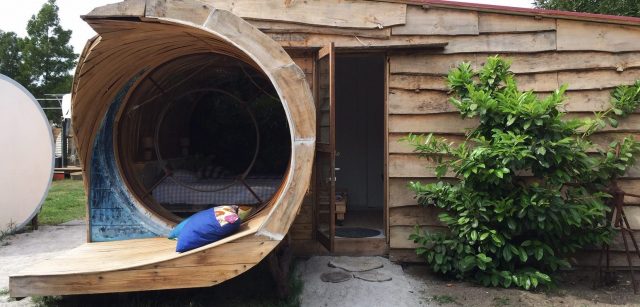 1. Maceda Surf Camp, Porto Region
Maceda Surf Camp has deep Portuguese roots. Run by local hero João Diogo the camp offers beginner lessons and advanced surf guide services from their base in Cortegaça. The funky, custom-built camp embodies a cool DIY vibe with an earthy organic sensibility. Rooms are either shared or single and all the things you need for a good stay between sessions are included.
Location: Maceda Surf Camp, Rua da Charneca, 647, 3885-722 Maceda, Ovar
Perks: Lessons for beginners and personal surf guides for experts looking to score the area's great surf
8 days/7 nights starting at 790€. Click to book.
2. Freesurf Camp & Hostel near Nazaré
Just a short drive south of Nazaré is the Freesurf Camp & Hostel. It's a great base camp offering quick access to the major surf spots around Peniche and if you time it right, the Rip Curl Pro Peniche WSL event.
The town of Ferrel offers a variety of surf spots and has a huge expat community of like-minded globetrotters. For surf lessons, the folks at Freesurf have designed their retreat to suit all levels. The accommodations are comfortable and lowkey and very reasonably priced.
Location: Rua do Cataló, No. 61 A, Ferrel, Peniche
Perks: Low-rates with access to some of the most famous waves in Portugal, either for surfing or just watching.
7 days/ 6 nights starting from 295€. Click to book.
3. Buddha Retreats Yoga and Surf Hotel, Peniche area
Buddha Retreats Yoga and Surf Hotel is a unique mix of high-end self-realization resort and core surfing destination just a short drive to the famed pits of Supertubos.
This hotel offers organic gardening, artful cuisine, meditation and yoga workshops all set in a stunning centuries-old country house, or "Quinta."
Location: Rua Salvador Carvalho dos Santos 7-9, 2540-590, Columbeira
Perks: Amazing culinary delights, fresh on-premises produce and super mellow, healthy vibes.
4 days / 3 nights starting from 475€. Book it here.

4. Hostel & Surfcamp 55, Ericeira
Hostel & Surfcamp 55 prides itself on dishing out a unique, personalized, and spectacular surfing experience. The staff is friendly and experienced and familiar with all the surfing nooks and crannies in the area.
A great option if you're traveling solo, you can crash at the hostel and be within a stone's throw of the area's famous breaks. For the newly anointed to surfing, there are lessons all year round. Another bonus is yoga classes and photo and video services.
Location: Rua Doutor Eduardo Burnay 4, Ericeira, Mafra
Perks: Surf lessons, beach transportation, yoga classes and camaraderie of like-minded travelers.
7 days/6 nights starting at 365€. Book it here.
5. Ljmonade Hostel, Cascais
The Ljmonade Hostel in Cascais is set in the leeward side of the peninsula where the Tagus Bay of Lisbon meets the Atlantic. Due to its unique positioning the weather here is balmier as it's blocked from the prevailing Atlantic winds.
Consequently, the surf is smaller than elsewhere in Portugal, but that's perfect for learning. The Ljmonade offers surf lessons, wetsuit rentals and surf spot transport plus weekly bike outings.
Location: Rua Manuel Joaquim Gama Machado No 4 A, 2750 – 337 Cascais
Perks: Affordable urban beach setting and great beginner surf lessons.
7 days / 6 nights starting at 410€. Book it here.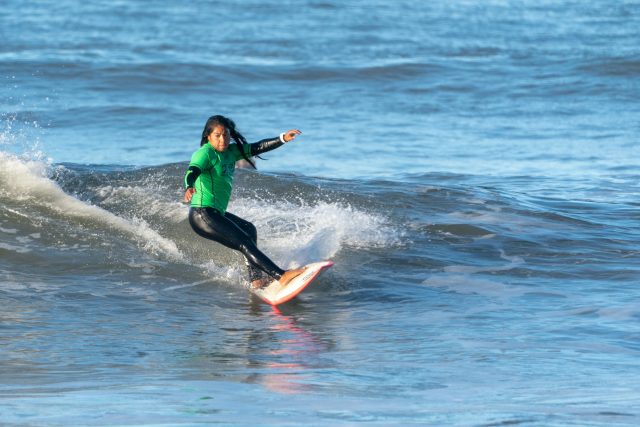 6. Salty Pelican, Estoril
The Salty Pelican in Estoril, Cascais is a fun-focused surf camp that offers meditation and yoga. They break it up into morning Yang Yoga to prepare for the day, and cap it off with afternoon relaxing Yin Yoga for balance.
Their local spot is Ursa Beach which has several bluff-top nature walks nearby. It's a relaxed, hip, colourful surf camp just 500m from the beach.
Location: Rua Madrid 6, 2765-419 Estoril
Perks: Nature walks and dual yoga sessions each day
4 days/ 3 nights starting at 250€. Discover more here.
7. 7 Waves Surf Hostel, Almada
The bustling urban setting of Caparica is party central during the summer peak season but quiet and calm during the transition times of Spring and Autumn.
7 Waves Surf Hostel weathers both extremes in fine style, offering a little something for everyone. Their main beach access point is a little further away from the hustle and bustle of the Costa Caparica WSL surf contest, but the hostel itself can serve up a festive time should you desire it.
But the main draw here is Ricardo, a seasoned surf coach who will also share his extensive knowledge of graffiti art and local culture. He's also a tattoo artist.
Location: Rua Francisco Ribeiro 12, Costa Da Caparica, Almada
Perks: Organised surf shuttles and tours, bike use, easy access to Lisbon and tattoos.
4 days/3 nights starting at 320€. Book it here.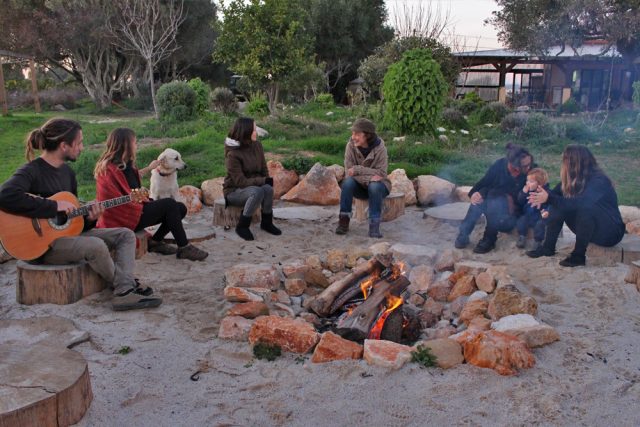 8. Casa Vale da Lama
Few things go as well together as surfing and yoga. Yes, it took the surf world a few decades to put the two together, but now they are seemingly inseparable.
The Casa Vale da Lama offers surf lessons and yoga classes so you can either jump in and learn both, or tune up your present skills.
The charming facility has stylish rooms built to take full advantage of the sun's path to warm in winter and keep cool in summer. You can also hone your craft skills including palm weaving and natural dying. Be sure to rub shoulders with the farm's sheep, chickens, ducks, pigs, and Levinho (donkey).
Location: Quinta do Vale da Lama, EN 534 Vale da Lama, Odiaxere
Perks: Yoga, surf lessons, crafts, horseback riding, chanting and a groovy, organic way of life.
7 days/6 nights start at 1,090€. Book it here.
9. Duck Dive Nature Sports, Azores
If you've made it all the way to the Azores, chances are you already know how to surf. To up your game, check-in with Duck Dive Nature Sports, a coaching and surfing centre that will help you reach your full surfing ability while on the island.
When you're not enjoying the tropical setting and pool and spa facilities, you'll be surfing and getting feedback from expert surfing coaches.
Location:  R. Vereda de Baixo nº 13, 9545-261 Fenais da Luz
Perks: Personal help becoming the best surfer you can be in the scenic setting of the Azores.
7 days/6 nights from 945€. More information here.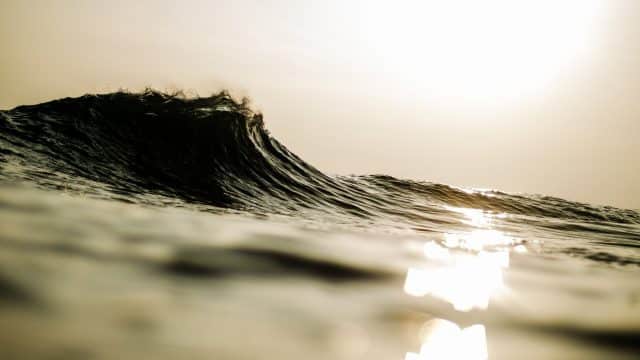 10. Madeira Surfing Life Surf Camp
On the beautiful island of Madeira there are few places like the Madeira Surfing Life surf camp. It's a hardcore surf camp where you can get lessons and equipment and personal tours around this mountainous island.
The surf spots are dotted along steep cliff drives and a guide is a must. The crew here have sussed out the best learner beaches and will share their stoke with you. You can also try your hand at shaping your own surfboard.
Location: R. Vereda de Baixo nº 13, 9545-261 Fenais da Luz
Perks: A deeper connection to the surf scene than you'd get just passing through and staying at a hotel.
8 days/ 7 nights from 385€. Book it now.
Embrace the Portuguese surf life
Should you go on a surf holiday in Portugal? Yes, of course. The area is quite possibly the most blessed for consistent surf with a wide variety of options in different conditions. In short, there's almost always someplace to surf each and every day.