When thinking of a holiday destination on the Mediterranean coastline in southern Europe, you will probably be faced with the option of either vacationing in the Algarve or Costa del Sol (South of Spain)?
To help you decide, in this article you will find information about the weather, the beaches, what to expect and how safe both places are.
The Algarve or Costa del Sol?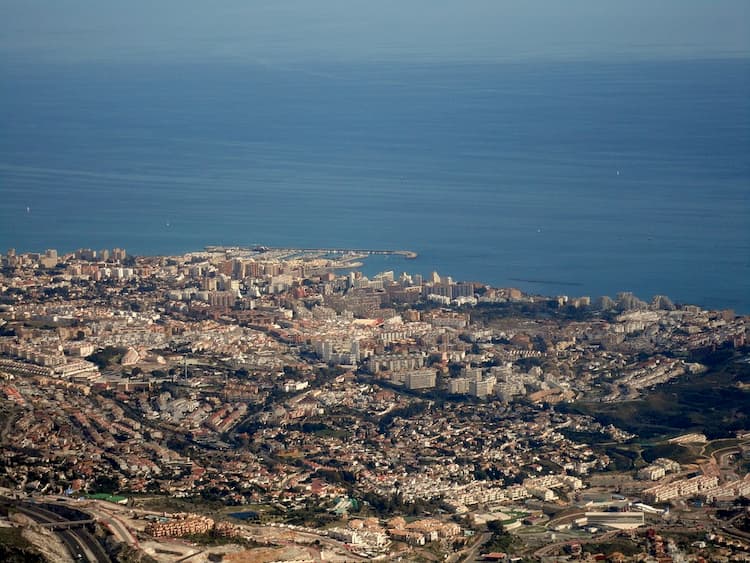 These are both lovely and exciting destinations with lots of similarities – from sharing both Roman and Moorish history to incredible beaches.
The coastlines and excellent seafood, as well as sunshine all year round,  are more characteristics which make these two regions very popular.
Because of these close similarities, it is easy to understand why choosing between The Algarve or Costa del Sol can be difficult.
However, these two places are still a bit different and might suit different people, depending on your preferences.
We publish new content every day so be sure to subscribe to our newsletter to keep updated on Portugal.
Where is the Algarve?
The Algarve is situated along the southern coastal area of Portugal.
It is blessed with incredible natural beauty, stunning landscape and mountains, as well as uncountable golden sandy beaches. It is also popularly known to be one of the best places to retire in the world.
Looking for a place to stay in the Algarve? Here are The Best Algarve Resorts for Your Stress-free Holidays.
Where is Costa del Sol?
Costa del Sol, literally meaning "Coast of the Sun", is situated on the southern coastline of Spain, which is popularly known as Spain's Andalucía region.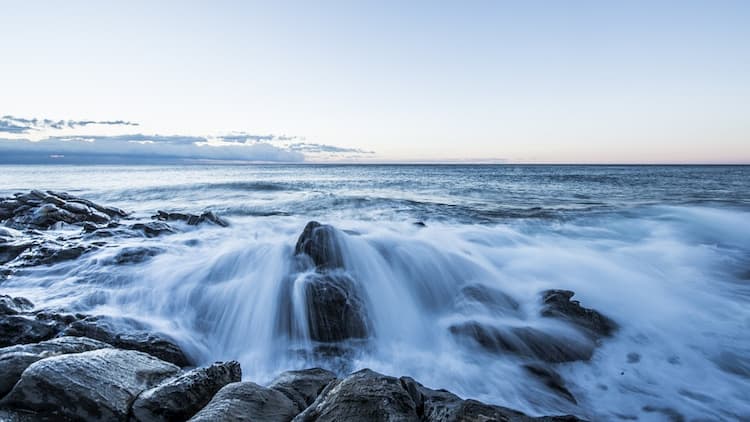 It is also one of the most popular tourist destinations in the world, with popular cities and towns like Málaga, Nerja and Marbella.
The scenery in Costa del Sol is equally stunning and the coastal motorway drive through the coast is simply magnificent.
Looking for a hotel in Spain? Here are some.
Weather in the Algarve vs Costa del Sol

In terms of climate and weather, it is quite difficult to separate the Algarve from Costal del Sol. They offer identical weather conditions for most parts of the year, as they both share a subtropical Mediterranean climate.
This typically means long and hot summers and rainy winters.
Both regions have a Mediterranean climate. In the summer, both the Algarve and Costa del Sol can get very warm, with temperatures as high as 35°C (95°F).
Also, you can expect a lot of sunshine during the summer season as there is an average of 11 hours of sun each day in the summer months.
The winters in both regions are also usually pleasant and somewhat mild. The average daily temperatures range between 15°C (59°F) to 17°C (62.6°F). It is also the season with the least hours of sunshine in both places, but you can still enjoy about 6 hours of sunshine each day during the winter.
However, in terms of rainfall, the Algarve has more rainy days than most towns in the Costa del Sol area.
Best time to visit the Algarve or Costa del Sol
The best time to visit either the Algarve or Costa del Sol is between April to October. However, depending on the activities you may wish to do, visiting in certain months can be more favourable.
For example, if you would like to hike and go for walks you should visit in April, May or October.
Alternatively, if you are looking to do a beach holiday you should visit in the summer months (June to September).
Algarve beaches Vs Costa del Sol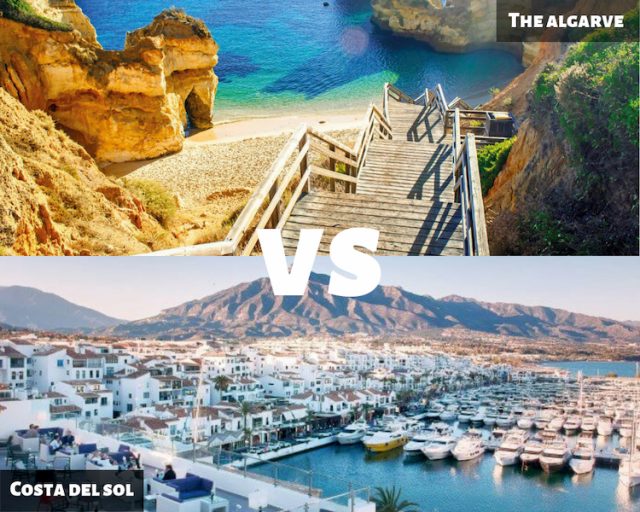 Depending on where you decide to start the counting, the coastlines of the Algarve and Costa del Sol stretch over 160km (99 miles) each.
In the Algarve, the coastline stretches between Cape Saint Vincent to the west and the Spanish border to the east while in Costa del Sol it stretches between Punta Chullera to the west and Maro to the east.
So, you can rest assured that in either region you will find a beach that suits your lounging needs – from the small secluded bays to the long expanses of sand.
However, you should also know that the very popular cities in these regions usually have crowded beaches in the summer.
If you want to avoid the crowd, you can opt to visit less popular towns in these areas as they also have amazing beaches with good facilities.
In general, both coasts are some of the most scenic and beautiful regions in Southern Europe.
If you are interested in hidden beaches in the Algarve, read this article: Lagoa Portugal: The Perfect Summer Escape.
Is it safe to visit the Algarve and Costa del Sol?
They are both very safe places to visit. However, be cautious to avoid pickpockets, especially in crowded areas.
Are they cosmopolitan destinations?
The Algarve and Costa del Sol are very international destinations and attract people from all over the world.
In the Algarve, you will find many expats and retirees from countries like:
Ireland,
The United Kingdom,
The United States,
Denmark,
Norway,
Finland
Canada.
In Costa del Sol you will also find people from all over the world but the majority of the foreign residents are from the UK.
This diverse mix of people from different parts of the world living in both places creates a nice cosmopolitan atmosphere.
Transportation to and within Costa del Sol
Costa del Sol has a very well organised transportation infrastructure. The International airport of Málaga is the main airport in this region and has regular flights to and from many major cities in Europe.
It is also located not too far from the city centre in Malaga, which is only a 10 to 15 minutes' drive from the airport.
For example, if you are flying from the UK there are several airlines (including low-cost options) like EasyJet and Ryanair that fly directly to Malaga.
From the airport, you can get to popular beach towns like Estepona, Marbella, Fuengirola, Benalmádena, Torremolinos and Nerja with ease.
For example, if you are heading towards Marbella you can get direct bus service from the airport to Marbella. This takes about 40 minutes and costs about €10 for a one-way ticket.
Looking for a relaxing start of a holiday? Get a quote for transfer services.
Transportation to and within the Algarve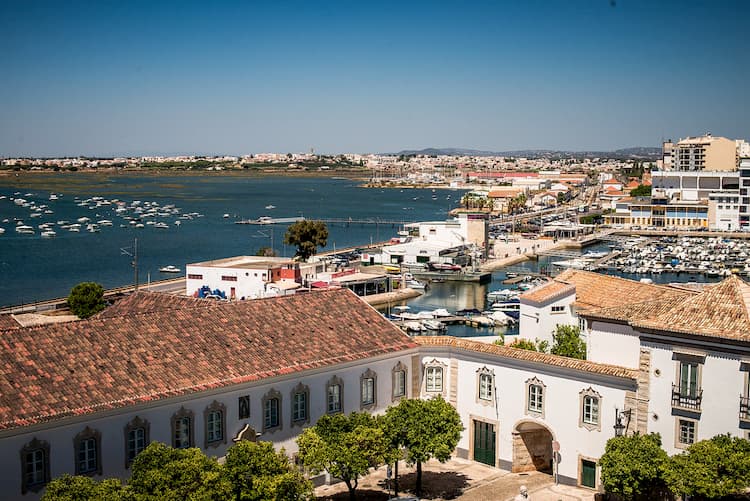 Faro airport is the main gateway to the Algarve and from here you can travel to the main resort towns in the region. It is also well served by various airlines like British Airways, EasyJet, Ryanair amongst others.
However, it is important to mention that taking public transports from Faro airport to the major resorts is quite rare. So, you are better off taking a taxi or arranging shuttle service to reach your destination.
If you would like to use either the bus or train to get to your destination within the Algarve, you would need to get to the main bus terminal in the city centre. This is about a 20 minutes bus ride from the airport.
From here, you can get buses going to Albufeira, Portimão, Lagos or other beach resort towns.
Also, the Faro train station is next to the bus terminal. There, you can catch the train going towards the major resorts.
See also: Visit Faro: What To Do and See in the Capital of The Algarve.
Should I visit the Algarve or Costa del Sol?
In all, both the Algarve and Costa del Sol are two wonderful places to visit and there is really no wrong option. It will come down to personal preferences and holiday budgets.
In my opinion, the Algarve is generally a more relaxing and calmer destination, if you are looking for a quiet holiday on the coast.
Nonetheless, if you would like a fun and partying kind of holiday, Albufeira is the perfect destination for that in the Algarve.
On the other hand, Costa del Sol offers a really exciting holiday, with lots of entertainment options and buzzing nightlife.

Disclaimer: Our posts might contain affiliate links, which means we earn advertising fees if you make a purchase. There's no extra cost to you, it just helps us keep the website going.