If you have a trip booked to Portugal in February, you'll be pleased to know it can be one of the best times of year to visit. There are very little crowds and tourists, the weather is usually starting to brighten up and there are plenty of events and activities to participate in.
Certainly it's not the best time to lie on the beach all day in a swimsuit, but it can be a lovely time of year to go walking, exploring the sights and enjoying Portugal's gastronomic scene.
You might be wondering, what exactly is Portugal normally like in February?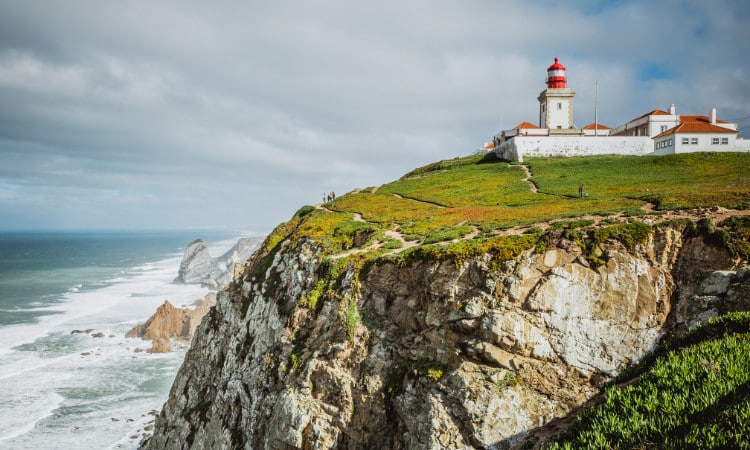 Visiting Portugal in February
The winter, or what winter Portugal has at least, is starting to disappear in February and in Portugal springtime arrives.
There is no doubt that February is the perfect month to visit Portugal. With events like the Carnival, you get to enjoy the city as much as possible.
Don't forget that winter in Portugal is also halfway gone by that point and the locals are out to celebrate it!
Is it warm in Portugal in February?
As you probably know, Portugal is on the Iberian Peninsula bordered by its neighbor Spain and the North Atlantic Ocean. It is the most far-west country in Europe and has a pleasant year-round climate with mild winter temperatures.
Portugal in February can be quite mild and wet. However, you can visit places that offer some good winter sun. February is considered to be an off-peak season month as well, which means that the prices for most activities and accommodations will be a little less expensive.
Learn all about: Weather in Portugal, a Detailed Look at the Mainland and the Islands.

Things to do during your stay in February
What's really great about Portugal in February, is that you will find a lot of things to do that are well within your budget.
There are no bank holidays but with Lisbon being the main city, there are a lot of festivities and events happening during this time of year.
And being off-season, you don't really need to book anything ahead so it makes it a lot easier to visit places in a short period of time. Take a look at a few things that you can do and see.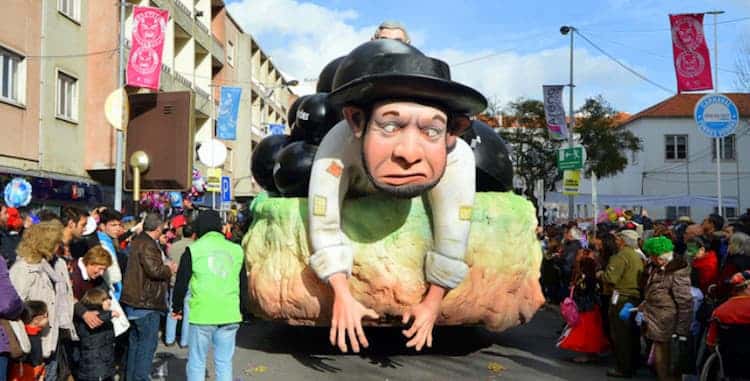 Attend the Torres Vedras Carnival
The Torres Vedras Carnival is known as Portugal's most Portuguese carnival due to its deeply traditional character. It is one of the most anticipated and popular events that takes place every year with great style and spectacular themes.
Due to its originality and revelry, the event receives thousands of people who are driven by the pride of staying true to its Portuguese traditions. If you are planning on visiting one of the most iconic Carnivals in the country, this would have to be one of them.
Learn all about one of Portugal's most ancient celebrations: Carnival Portugal, The Craziest Party You'll Ever Go To.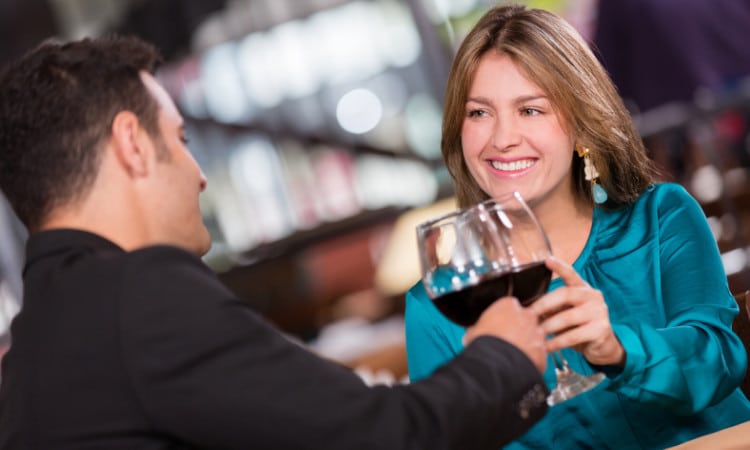 Share a romantic night on Valentine's day with your loved one
There is no better place than to be in Lisbon for Valentine's day to impress your loved one.
Before Feb. 14, you can plan ahead and pick the perfect romantic hotel along with a rooftop restaurant in Lisbon that offers stunning views of the cityscape and the River Tejo. What could be more romantic, right?
Want to plan a romantic weekend with your loved one? Check out our article on Lisbon City Break: Your Guide To The Most Romantic European City.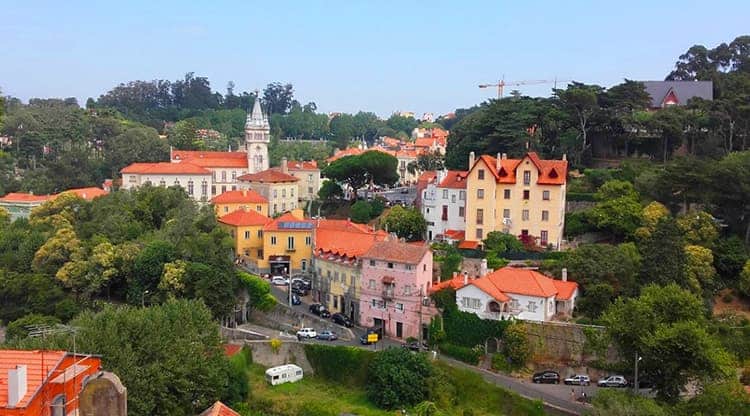 Visit the wonderful tourist attractions in Sintra
Another spectacular thing that you can do during your stay in Portugal is to visit Sintra and it's extravagant palaces, opulent mansions, and the ruins of an ancient castle.
February is a perfect time to visit as these tourist attractions aren't so overpopulated.
You can also calmly enjoy the cloudy weather that brings a whole gothic vibe to the town of Sintra.
For more information on Sintra, check out this article Visit Sintra in Portugal, a Place of History, Royalty and Magic.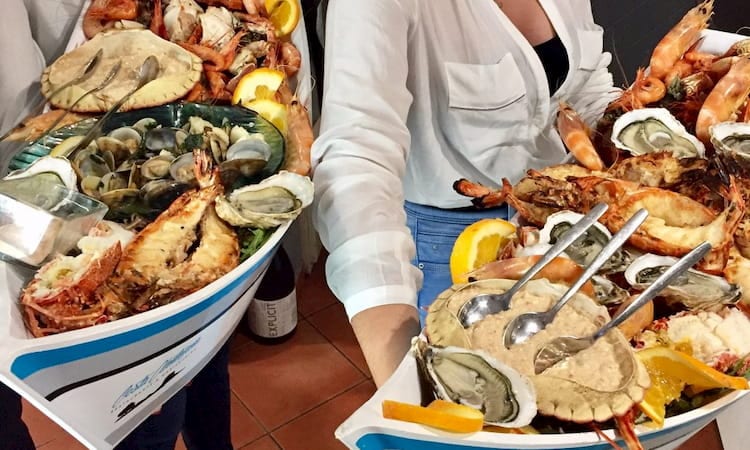 What to eat in Portugal in February
Enjoy the traditional winter food and drinks in Portugal as there are lots to choose from.
Surprisingly, Portuguese cuisine isn't well-known so you can expect to be pleasantly surprised by the variety and deliciousness of our most traditional dishes. Pair it with the countries' amazing and affordable wines and you will fall in love with Portugal's food scene.
Lighter dishes dominate the long, hot summer seasons but in winter, you can enjoy much heavier and hearty dishes around the country.
One of the heartiest of all is cozido, a hearty stew made with potatoes and other vegetables, plus pork, beef, and chicken.
In every region, they will have different versions, but regardless of that, cozido is definitely a traditional, local affair that is worth a try.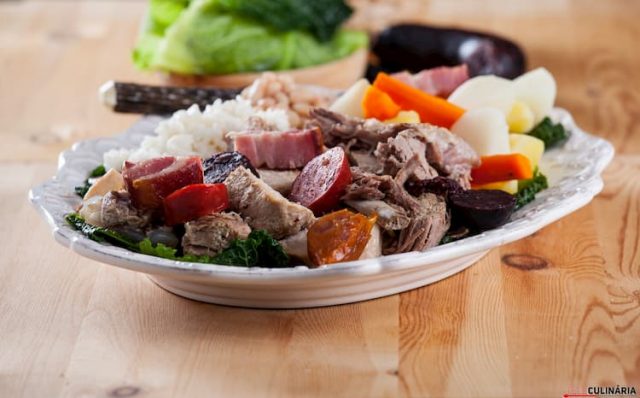 Winter is also a great time for caldo verde, a tasty soup that often makes an appearance on traditional menus. Some places sell them throughout the year. The basic traditional ingredients for caldo verde are potatoes, greens, olive oil, and salt.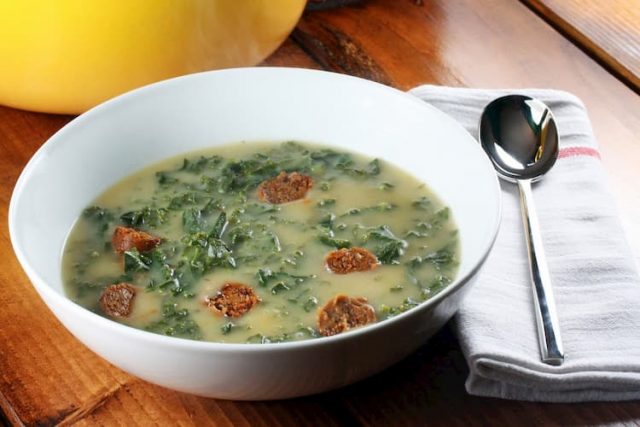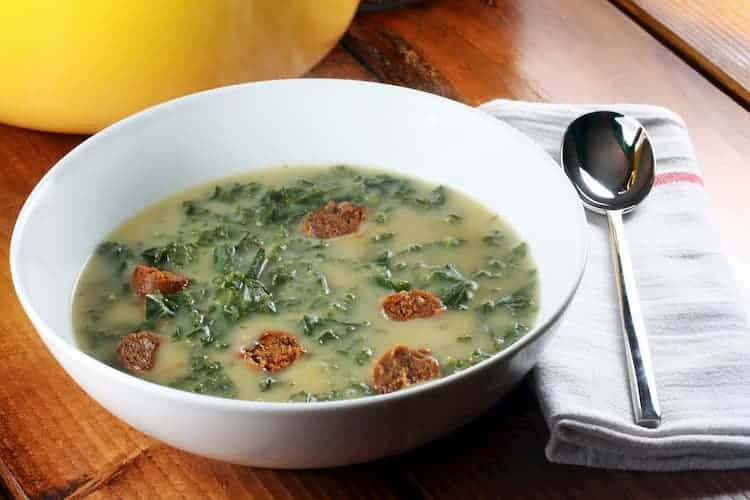 Why don't you try to cook this delicious soup at home? Here how: The Beloved Caldo Verde: Portugal's Quintessential Soup.
Why should you visit Portugal in February
Although February is a cooler month and potentially wetter than the rest of the year, you can still have a fantastic experience, enjoying some sun and taking advantage of sightseeing without the long-lasting queues.
Not only that, if you want to visit Portugal but you're on a tight budget, this is the best time of the year as hotels and apartments are less expensive.
Book your hotel with Booking.com
With Booking.com you can book the best hotels in Portugal for the cheapest price. Get instant confirmation, pay 0 booking fees and even cancel your booking for free at most hotels. 
Booking.com -
Find the best prices and prepare your trip to Portugal today
Where to stay in Portugal in February
Tivoli Carvoeiro Algarve Resort
This is a perfect resort for those who are planning to stay in Algarve. At 4-stars, Tivoli offers high standards of quality and level of service, along with a great unique space of architecture. In February, it is also not too expensive with prices that range between 70-90€ per night.
Check availability at the Tivoli Carvoeiro here.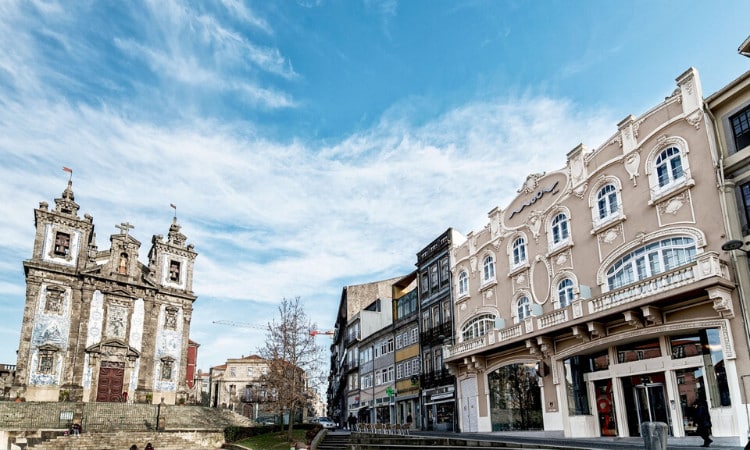 Moov Hotel Porto Centro
The mythical 4.5-star hotel opens doors to a new hotel experience in downtown Oporto, offering welcoming space. This is perfect for those who are looking for something much more sophisticated that doesn't blow your bank. The prices for one room can range between 50-70€ per night.
Check availability at the Moov Hotel here.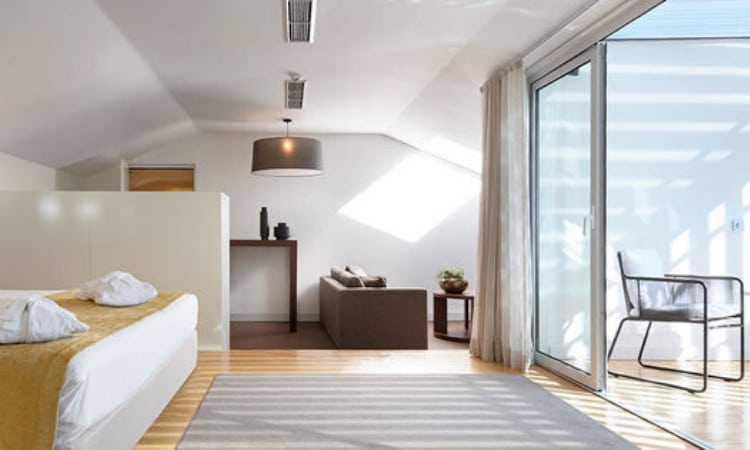 Inspira Santa Marta Hotel
A 4.5-star trendy hotel that offers an urban retreat to those visiting Lisbon. In February 2020, prices are 20 percent less than usual, ranging between 80-100€ per night.
Check availability at the Inspira Santa Marta Hotel here.
Want to discover more hotels in Lisbon? Please check out our article on Lisbon Hotels: Find The Best Option For Your Budget.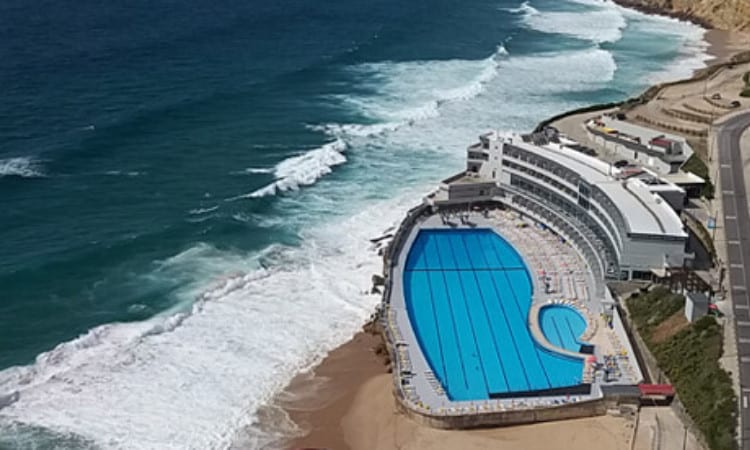 Arribas Sintra Hotel
At 4-stars, this contemporary Sintra hotel offers one of Europe's largest swimming pools, fabulous guest rooms and suites, as well as a breathtaking view of the Atlantic Ocean and the stunning beach. The hotel is quite inexpensive, with prices that range between 40-60€ per night.
Check availability at the Arribas Sintra Hotel here.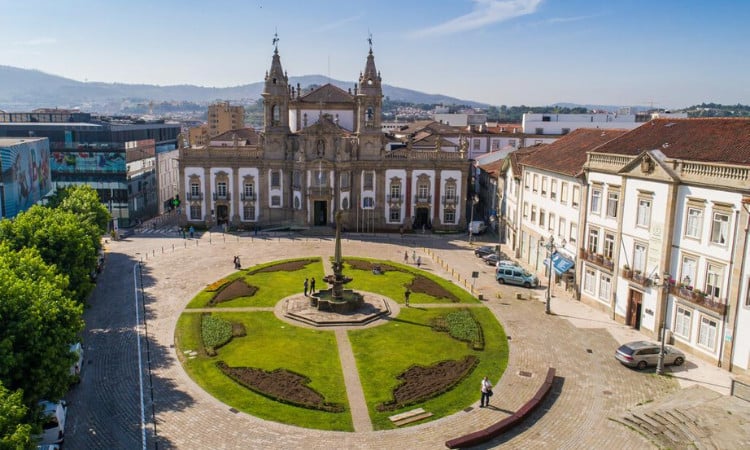 Vila Galé Collection Braga
Planning to visit Braga? At 4.5-stars, this hotel is a beautiful historic building that has maintained its existing structure and original vaulted ceilings. The prices of this hotel is a little higher than the others that are mentioned, but it will surely offer you a unique hotel experience during your time in Braga. Prices range between 90-115€ per night.
Check availability at the Vila Galé Collection here.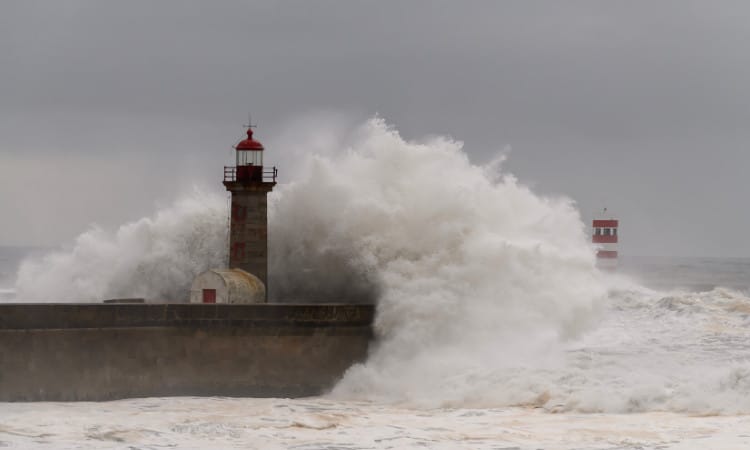 Why take a vacation to Portugal in February?
Anyone who is planning a vacation should really consider going to Portugal in February. Not only does this country have a merited reputation for amazing weather, but it is also budget-friendly. Winter is also the best time to avoid the tourist crowds at the most popular attractions and landmarks.
Planning to visit Portugal?
Make the best of your trip with our tips.
FAQ
Is February a good time to visit Portugal?
Yes, February is a great time to visit Portugal. While the weather will likely be too cool (and possibly rainy) for lying on the beach, February has lower crowds, so it's perfect for exploring. Also, Carnival is in February, which means celebrations around the country.
Is Portugal warm in February?
No, Portugal is not that warm in February, but southern areas like the Algarve can be mild – maybe pleasant depending on where you're from! It's warm enough to go out with a sweater and/or a light jacket. And sunny days are still lovely for a drink and a snack on a terrace or patio.
What is the weather in Portugal in February?
Portugal is not hot in February, but the southern section of the country is much warmer and drier than the north. You'll see overall daytime temperatures hit the low 60s (F) regularly. Also, be prepared for rain. The average February rainfall in Portugal is about 3 inches.
What is the best time of year to go to Portugal?
Spring and fall are the best times to visit Portugal. From late March to May, sunny skies and warmer weather mean the entire country is in bloom. From September to October, the weather is still very summery but tourist season is largely over. Perfect for late-season beach days!