Why is Águeda called the Umbrella City? What is there to see and do in Águeda? The answer is… a lot!
Trust me, you'll be surprised by the number of things there are in Águeda! Where to eat? Where to stay? The answers are all here, so read on!
Where is Águeda, Portugal located?
Águeda is part of the district of Aveiro, in the former region of Beira Litoral. It is located 240 km (149 miles) from Lisbon, 72 km (45 miles) from Porto and 20 km (12 miles) from the city of Aveiro. You can either drive to or get a taxi to Águeda, but there is also a train station in Águeda if you are looking to use public transport. For more information check out the Virail website.
When is the best time to visit Águeda?
Weather-wise, the average temperatures can vary. Due to the humidity, the temperatures feel nice most of the year, excluding some cold weeks in the winter. The warmest time to visit Águeda is between June – September.
Have a look at the seven-day forecast for Águeda:
In my opinion, the best time to visit Águeda is in July. We will explain why below!
What to do in Águeda, Portugal
Here are some of the top things to see and so in Águeda.
AgitÁgueda
As I just mentioned, best time to visit Águeda is in July. Why you may ask? Águeda has an art festival on in July for three weeks called AgitÁgueda.
AgitÁgueda has many events, parades, flash mobs, concerts and workshops.
The most important and beautiful event in Águeda is the Umbrella Sky Project. The Umbrella Sky Project began in 2011. Each year, during the hot summer months of July, August, and September, the city's streets gain colourful umbrella canopies that provide shade for the people walking through.
The streets in the centre of town have a kaleidoscopic canopy composed of some 3,000 umbrellas. Hence the name, Umbrella City! You can find more information about AgitÁgueda here.
The Railway Museum
The Macinhata do Vouga Museum is located at the railway station of the same name on the Linha do Vouga. This small but nice Museum was founded in 1981. You can find eight restored steam locomotives, a ticket hall from 1914, a carriage from 1942 and the interior of a postal train dating from 1954. You can find the location here.
The Songbook Museum ("Casa Museu do Cancioneiro")
This 18th century townhouse is full of furniture, art and porcelain from another historic property, the Casa da Alta Vila, and shows you the lives of the wealthy in Águeda at the beginning of the 20th century.
Each room gives you an insight about their dining etiquette, religious customs or handicrafts, and some have mannequins dressed in the clothing of the period. You can find the exact location here.
Aliança Underground Museum
10 minutes from Águeda in Sangalhos, you can find a museum in the Aliança Wine Cellars. Here you can discover African art, contemporary Zimbabwean sculptures, ceramics from Caldas da Rainha, antique Portuguese tiles and fossils. You can also find out more about how the wine and aguardente spirits are made. You can find the exact location here.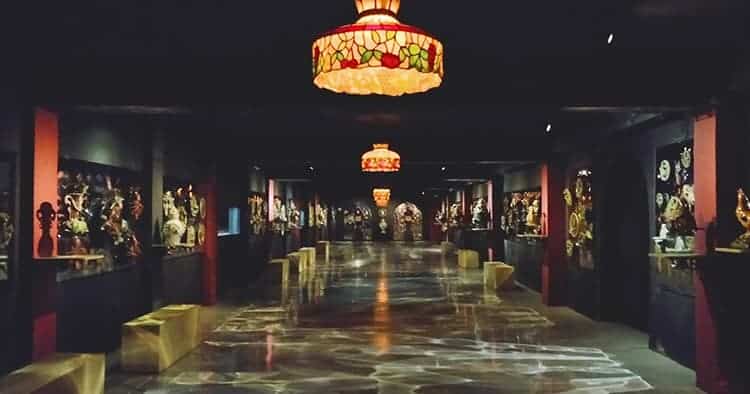 Visit the Lake
The lake in Águeda is called Pateira de Fermentelos and it is the largest natural lake on the Iberian Peninsula. It's a 20-minute drive west of Águeda.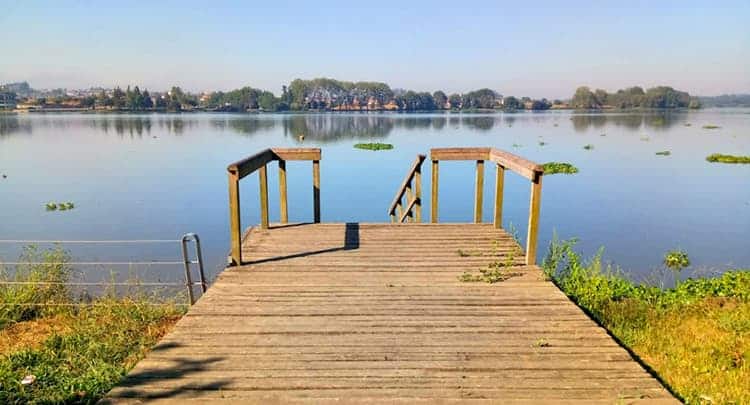 Horse Riding
If you are into horse riding, you can find stables at Abrigo d'Aventura. They can teach you the basics and show you where to ride. You can find more information about the stables here.
The Walks
Águeda has lots of sign posted trails. For example, you can go in direction to Pateira de Fermentelos, walk along the Águeda river and then follow the route to the historic railway. This is just one example, but there are many more trails for you to follow!
Archaeological Site of Cabeço do Vouga
You can find a 3000 year of fort which was reused by the Romans. You'll find here amazing ruins of the dwellings and defences. You can find more information about the ruins here.
Águeda Church
The Church in Águeda is called "Igreja De Trofa Do Vouga" or Church of São Salvador and it is a Portuguese national monument. You can find its location here.
Wine Tours near Águeda
If you want to do a wine trip you can visit these vineyards: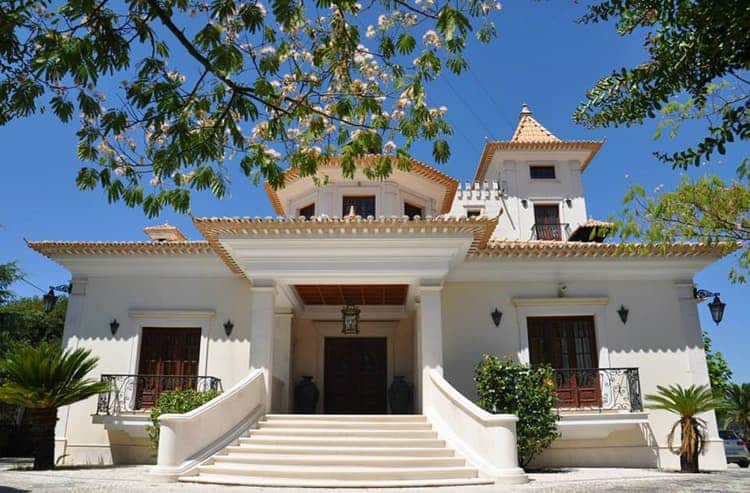 Visit Aveiro
The beautiful city of Aveiro is only 20 minutes away. In Aveiro you can take a ride on a wooden "moliceiro" boat to see the canals – a trip I recommend!
Where and what to eat in Águeda
In Águeda you can eat a special dish called "Lampatana" which a type of stew slow-cooked in special clay pot, normally with mutton or goat.
There also is a famous dish called "Leitão à Bairrada" which is a roast suckling pig, normally served with wedges of orange (my personal favourite!)
Here is a list of some of the best places to eat in Águeda:
Restaurante Casa Vidal
Restaurante Casa Vidal is the perfect place to eat Leitão à Bairrada! It also won a certificate of Excellence between 2015 – 2018.
Address: Almas da Areosa, Aguada de Cima.
Restaurante Os Três Manos
At Restaurante Os Três Manos you can find tradition Mediterranean & Portuguese food. Highly recommended!
Address: Rua Liberdade, Mourisca do Vouga.
Catorze 21
Great Portuguese dishes and not too expensive at Catorze 21!
Address: Rua Porto Moita.
Restaurante Manjar da Helena
At Restaurante Manjar da Helena you can really feel the great Portuguese atmosphere. They have outstanding food.
Address: Rua Dr. Manuel Pinto 8.
Boutique Pão de Barro
At Boutique Pão de Barro you can have light snacks. They also serve Italian food. You must try the salmon tosta!
Address: Largo Dr. António Breda 1, N212.
If you liked this article, there are plenty more about visiting Portugal. Sign up for our newsletter today and never miss a thing!
Hotels in Águeda, Portugal
Here is a list of some of the best places to stay in Águeda:
In Gold Hotel & Spa
In Gold Hotel & Spa is a four-star hotel with a garden, a terrace and a shared lounge. The hotel has an indoor pool and free wifi.
Address: Rua Manuel de Sousa Carneiro 25.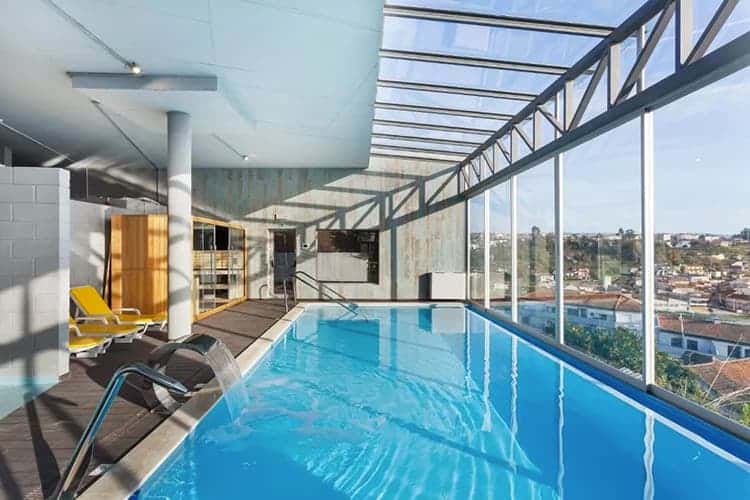 Hotel Conde de Águeda
Hotel Conde de Águeda is located in the historical centre of Águeda, offering panoramic views of the city, fields and mountains. Guests can also enjoy cocktails and light meals on an outdoor terrace.
Address: Praça Conde de Águeda.
Bamboo Guest House
Bamboo Guest House has barbecue facilities and a garden. The rooms are equipped with a TV with cable channels, a coffee machine, a shower, free toiletries and a wardrobe. Rooms include a private bathroom. All units will provide guests with a microwave.
Address: Rua da Gandarinha 246 Paredes.
Residencial Celeste
Residencial Celeste is centrally located in Águeda. This cosy hotel offers great-value accommodation with free wireless internet access and free parking.
Address: Rua da Misericórdia 713 (EN1).
Águeda Hostel & Friends
Águeda Hostel & Friends has barbecue facilities and a garden. The accommodation offers a shared kitchen and luggage storage for guests. There is also a terrace, a shared lounge, as well as a bar. Continental and buffet breakfast options are available every morning.
Address: Rua José Maria Veloso 8.
Have you been to Águeda? Let us know in the comments below.