Monese is here to reform everything you know about banking. No more suffering with bureaucracy, no more need for the proof of address nor credit card history.
You only need your phone and the Monese application to get the online banking experience.
Want to know more? Read our guide about Monese now!
Is Monese a bank?
Yes, Monese is an online bank that works with a digital banking app on your smartphone.
The company was established in the UK in 2013, by the Estonian entrepreneur Norris Koppel. The bank launched the first product in 2015 and has been getting more and more popular since then.
Thanks to the instant registration, money transfer and paying methods, Monese became a comfortable and trustworthy solution for banking.

Can I use Monese in Portugal?
Sure thing. You can open your account anywhere in the UK as well as in continental Europe. Even if you don't have an address in the UK and don't have a regular income certificate.
You can use Monese everywhere in the European Economic Area and it is portable between 20 European countries.
The service was designed like this to help people who just moved to another country and need a bank account before getting an official address and a new job.
Find out more about money in Portugal, subscribe to our newsletter.
How does Monese work?
Monese works with the bank's application. A few days after you registered, you receive your debit card and that's it.
You can transfer money and follow your spendings through the application and you can use your card to pay and to withdraw money for free up to €200 per month.
In case you want to learn more about other online banking solutions read our articles of N26 and Revolut!
How safe is Monese?
In the banking sphere, security is one of the main values and Monese is not an exception in that.
The application can be used from only one device at once and at every login, it requires a five-digit password.
In case your debit card is stolen or you are suspicious about the place you used it, you can block it instantly with the app and order a replacement card. You can also be sure that your money is in a safe place.
Since Monese is registered as an FCA (Financial Conduct Authority) it is technically not a bank. However, it is authorized to deal with electronic money.
That means that they have to store your money separately from their own finances and they can not re-invest it as normal banks do. This way even if it becomes bankrupt, your money stays untouched on your account.
How the app works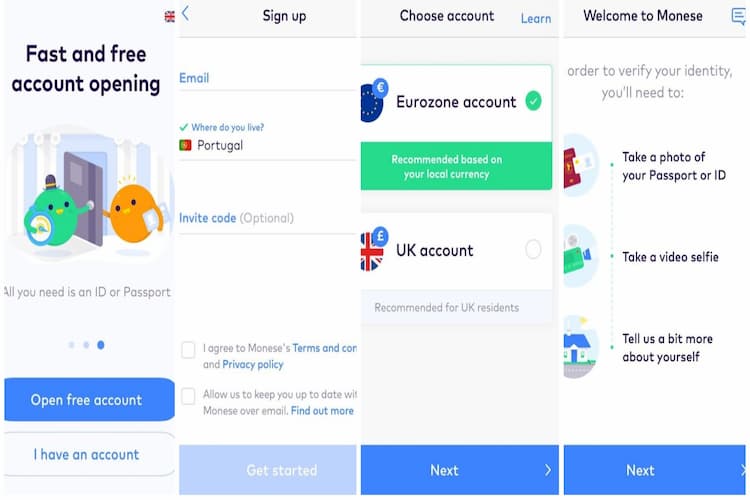 First of all, you have to download the Monese app on your phone. Click here if you have an iPhone, or here if you have an Android phone.
When you open it, it gives you the option to open a new account.
After that, you have to provide your e-mail address and phone number and confirm them with a code they send you via text.
Then, you can choose if you want to have a Eurozone or a UK account.
The next step is to scan a personal document, such as your passport or ID card. When it is verified you have to confirm it with a video selfie as well.
The last step is to choose between the Simple, the Classic and the Premium account.
What are the fees?
You can find the differences between the accounts on the picture below. The Simple one is a free account, with a card delivery fee of €4.95. The Classic costs €4.95 per month and the Premium is €14.95 per month. Of course, with those higher fees, there are more benefits as well.
How do I get a card?
When your account is set up you can order your contactless Mastercard debit card. As we mention above, there's a card delivery fee of  €4.95 for the Simple plan, but your card is free on the Classic and Premium plans. It will arrive in 3-5 business days and you can immediately activate it via the app, with the help of the code which comes with your bank card.
If you are more curious about exchanging and sending money abroad, the TransferWise and TransferMate guides can help you with it!
How to top up my account?
Open the application and look for the flashing red sign on the top left corner. Click it to add money and choose between the options!
Even if it is an instant top-up from another debit card, a bank transfer or a money request, they are all free of charge.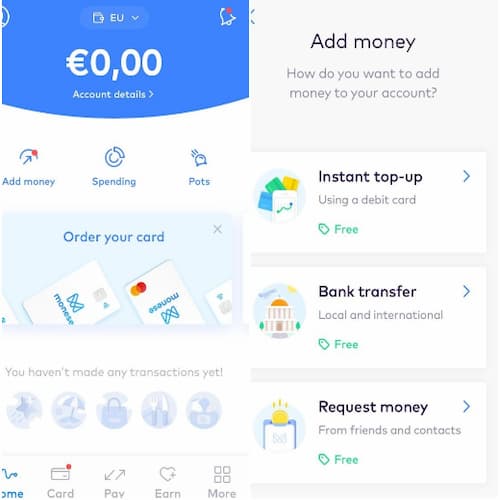 How to send money?
Via the Monese application of course. You can see on your contact list who else has a Monese account and you can transfer the money instantly, for free.
For other EUR accounts, you can also do the transaction for free and it will reach its destination in 2-4 hours.
Foreign transfers
Monese uses the interbank rate for international transfers. That means that you can send in different currencies using the bank's exchange rate, sparing a lot of money.
Check on their website which currencies are available and try the exchanging tool for calculation!
Are there problems with using a Monese card?
There shouldn't be. The Mastercards from Monese should work perfectly just like any other Master or Visa cards.
Nevertheless, in some places in Portugal, they only accept Portuguese bankcards at the payments. These shops and restaurants the TPAs are not able to recognize the Monese card or any other foreign card.
If you are in this situation you have two options. You either have a Portuguese card and you use that one or you find the closest ATM and withdraw the cash you need for your purchase.
Can I use Apple pay with Monese?
Hell yes! Apple pay in Portugal is still only available for some online banks, such as Monese, N26 and Revolut and one traditional bank, Crédito Agrícola.
To learn more about how to use Apple Pay in Portugal and what kind of benefits you can have from it, read our detailed article here!
What are the advantages and disadvantages of having a Monese card?
The pros
Easy and quick set-up without the proof of address nor credit check

£

 and € accounts are both available and you can switch between them
Contactless debit card
Free card payments and ATM withdrawals
The cons
The Free account only allows €200 ATM withdrawals per month, and charges a fee after that
They do not accept it in every Portuguese store and restaurant

Is Monese a good travel card?
It is, thanks to the free foreign ATM withdrawals and cheap exchange rates. A trustworthy partner during your travels, a company you can rely on, without problems.
Need some more convincing? Check their rating on Trustpilot and read the comments of the satisfied customers. Then visit their website and get started.
And if there is something else you would like to know about opening a bank account in Portugal click here. We are ready to answer all your questions about money and bank issues in Portugal.