Looking for a fully functioning bank account without a lot of fees? Learn more about the Revolut card and what it can do for visitors or expats in Portugal.
The banking revolution is here. And Revolut is one of the new homebanking apps that is changing the way we think about money transfer and mobile banking while traveling.
Over the last ten years, digital-only banks have been gaining popularity at an incredible rate. No surprise there – low-cost accounts, transparent fee schedules, and affordable currency conversion rates make online banks very appealing.
What is Revolut?
Revolut is a banking app started in 2015, with a focus on flexibility and low fees. Not only is Revolut compatible with Google Pay and Apple Pay, but they also give you a debit card that works in stores and online – globally.
While Revolut is good for just about anyone, it's going to be most useful if you're:
An expat living in Portugal
A tourist staying short-term in Portugal
A frequent traveler
Anyone trying to save money
What does Revolut offer expats in Portugal?
If you're an expat in Portugal, you might want to seriously consider getting Revolut card. As expats, we often have a bank account still active in our country of origin when we get to Portugal. Those foreign accounts can hit you with some hefty fees when you use their bank cards in Portugal, whether for purchases or ATM withdrawals.
That's where Revolut can help. A Revolut card can be a useful way to manage finances while abroad. It gives you a fee-free way to transfer funds internationally, and can help manage a budget because it won't charge the interest rates of a credit card.
If you're living in Portugal, you might want to open an account with a Portuguese bank at some point, but Revolut makes the transition across borders pretty painless. Read more about traditional banking options in Portugal here.
And if you just like to travel a lot, Revolut can also be a very efficient way to manage spending and currency conversions while you're abroad.
Why should I get a Revolut card?
There are quite a few solid advantages to Revolut:
Real-time updates on your spending.
Speedy money transfers.
Highly competitive fees: With low overhead and cutting-edge technology, Revolut has very low fees.
Accounts can be opened for free, without proof of address.
The Revolut card works anywhere MasterCard is accepted.
Four big advantages to consider are:
Real-time exchange rates
A major benefit of the Revolut card is that you are charged the real-time exchange rate used by banks. This means you get the best possible exchange rate whether you're withdrawing cash or making a purchase online.
Security features
Revolut offers some very high-tech security, including a location security feature that protects against fraudulent transactions. Once you enable this feature in the Revolut app, it accesses your phone's GPS location. If you are with your phone in one location and the card is being used for a purchase in another location, Revolut stops the transaction (so keep your phone and card with you).
There's an in-app feature that lets you instantly freeze and unfreeze your card if you've lost it or notice suspicious activity on your account. You can also disable ATM withdrawals, contactless payments, and magstripe payments at will.
This definitely helps keep the consequences of theft and fraud to a minimum.
Multiple currency balances
One of the biggest benefits for expats: The Revolut card allows you to keep balances in different currencies. This comes in very handy for frequent international travelers, since you won't need to keep changing currencies for each place you want to visit.
Global medical insurance
For Premium and Metal account holders, Revolut gives you travel medical insurance at no extra cost. The insurance covers emergency medical expenses, as well as dental treatment while traveling abroad. You can get reimbursed for medical expenses directly into your Revolut account.
 And Revolut has some possible drawbacks:
Revolut isn't compatible with Portugal's Multibanco system. ATMs, yes; Multibanco at point of sale, no.
Customer service is only via digital chat or phone line, since there are no physical bank branches
If you're transferring large amounts of foreign currency, you'll see a 0.5 percent fee (on transfers of more than £5000)
Revolut is currently only available to residents of the US, European Union (EU), European Economic Area (EEA), and Switzerland.
Two big drawbacks to consider are:
Increased weekend rates
On weekends (from Saturday to Sunday in the Portuguese and UK time zone), Revolut applies a markup of 0.5% on major currencies and between +1% to +2% on other currencies. This means spending during the weekend is a bit more expensive. You can avoid this by making crucial expenses during the week.
Limited access to fee-free cash
Your fee-free cash withdrawals at ATMs are only €200 per month! This amount is low if you prefer spending cash abroad. After reaching Revolut's monthly limit for cash withdrawals, you'll be charged a fee.
How to open a Revolut account
Whether you're in the US or the UK and want to open a Revolut account ahead of time for your stay in Portugal, the same quick procedure applies for opening an account.
To open an account, you simply sign up on the Revolut website, then download the Revolut app to your phone, and verify your identity with a photo of your ID, plus one of you holding it, to confirm it's really you. This whole process took me a matter of minutes.
Here's a step-by-step look at how to open a Revolut Standard account:
Download the app to your phone.
Enter your phone number and tap Continue.
Create a 4-digit passcode and tap Continue.
Revolut will send a six-digit code via text. Enter the code.
Fill in your personal details.
Add your home address.
Fill in your email address.
That's it — pretty easy, right?
You don't have to deposit any amount of money to open the account. However, you will need to put some money in there to receive your debit card, since there's a charge of around £10 ($13) to have your card delivered.
What kinds of accounts does Revolut offer?
Revolut offers three types of plans: Standard, Premium, and Metal.
The Standard plan has no monthly fee. It includes a free account in the UK, a European IBAN number, and the app to manage your account. You'll get the benefit of no ATM fees for up to €200 per month in withdrawals, and free currency exchanges in 24 currencies.
Premium and Metal are Revolut's two paid plans, with monthly fees of €7.99 and €13.99, respectively.
The plans offer some great benefits, like overseas medical insurance, delayed baggage coverage, delayed flight insurance, instant access to five cryptocurrencies, and more.
Here's more information about Revolut's accounts and prices.
How to add money to your Revolut account
The first time you use your Revolut account, you'll need to link it to your main bank account. And once you're ready to transfer, be sure to top up your account in your local currency — not your home currency (if they're different).
Here's a step-by-step guide to adding funds to Revolut:
Open the Revolut app on your phone and tap Top Up.
If you haven't already added bank details, the app will prompt you for them. Add your 16-digit card number, expiration date, CVC code, and billing postcode.
Enter the amount you would like to add to Revolut.
Tap Top Up. You'll know it worked when you see the funds instantly appear in your Revolut "wallet."
Note: If your postcode is wrong, your transfer won't work, as a security measure. In that case, it can take up to five working days for the almost-transferred money to return to your original account.
There are a few other ways to top up your account, so for more information, visit the Revolut website.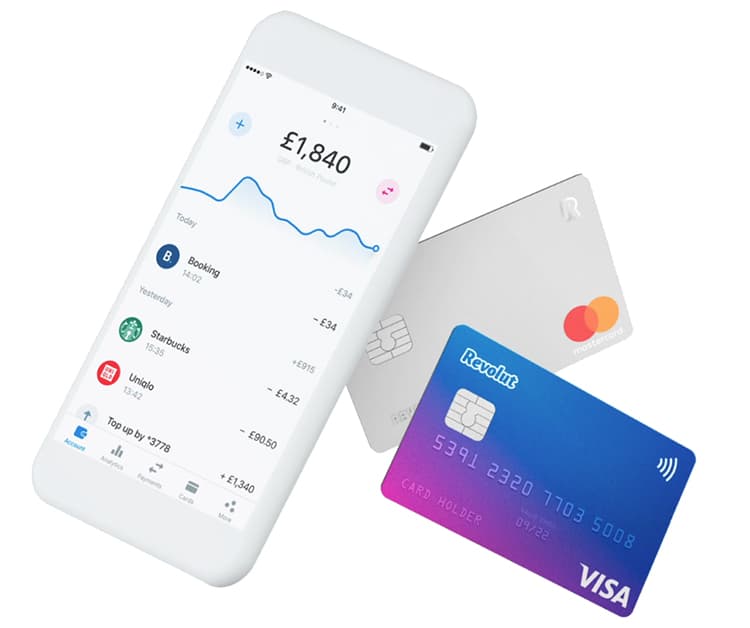 Can I get a Revolut card in Portugal?
Of course. You can use Revolut in Portugal anywhere MasterCard is accepted.
If you are looking for an alternative way to transfer money to and from Portugal, take a look at: TransferWise in Portugal.
How long will my Revolut card take to arrive?
Dependent on whether you pay for express delivery or not, the card can take between three days and two weeks to arrive in the mail.
However, once you've ordered your card, your account is activated and you can start using Revolut with Google Pay or Apple Pay or to transfer funds right away!
Check out the delivery fees in other countries if this applies to you.
Get your free Revolut Card right now.
Can I get a Revolut credit card?
As of right now, Revolut does not offer a credit card.
Final review: the Revolut card is a solid choice for expats and travelers
When we sign up to a digital-only banking solution, security is one of our top concerns. Considering that the app is made safer through its use of biometrics and instant freezing and unfreezing, it's actually a more secure option than traditional banking.
And as we mentioned, Revolut has a very good reputation for customer support, which is a huge plus.
The final consideration is cost. We all want to get the best deal on daily banking needs and particularly international transfers, considering how widely these costs can vary. Revolut has a great reputation for having unbeatable costs. Sophisticated technology and real-time updates on currency rates mean you can be certain you're getting a great deal on homebanking with Revolut.
If you like Revolut, you might also be interested to know about a TransferWise Borderless Account.
Do you have experience with Revolut in Portugal? Let us know in the comments below.
Interested in business services? Learn more about Revolut business, for companies.