Have you heard of TransferMate?
If you're looking for a quick, easy and cheap way to transfer money abroad then TransferMate might be the right banking solution for you.
Read on and find out all about this service.
Transferring money abroad with TransferMate
Although transferring money from country to country is easier than ever, it can be challenging to know which company to trust with your funds.
With several key players vying for your attention, it is important to understand which offers better services based on your individual needs.
TransferMate is a global transfer solution that allows you to transfer money abroad quickly and easily.
TransferMate: is it the right money transferring solution for you?
If you're based in Portugal and looking for a money transferring solution, you're likely to come across several main contenders.
One of the big operators in the field of global payments is TransferMate.
With offices in 9 countries, currently dealing in 134 currencies, they have established themselves as a trusted provider internationally, but are also best suited towards certain types of clients.
With bigger benefits for large business transactions, TransferMate might not be the best option if you're simply looking to transfer small amounts of money as an individual.
That being said, here is an overview so you can make up your own mind, along with some suggestions for TransferMate alternatives.
How do I use TransferMate?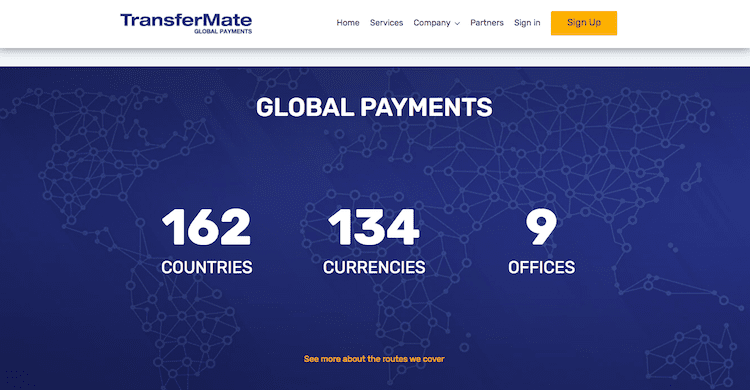 Currently, the TransferMate website is available in English, Spanish, French, German, Dutch, Polish, and Italian. As stated above, they cater more explicitly to business clients, who can choose from mass payments, international receivables, spot transfers, market orders, and stop loss orders.
Signing up with TransferMate takes no more than a few minutes and it operates dedicated websites for different regions.
Although they don't currently offer an interface in the Portuguese language, you can certainly transfer money in and out of the country without any problem.
Find out how all the other options with which you can send money to and from Portugal with our guide.
What other benefits does TransferMate offer?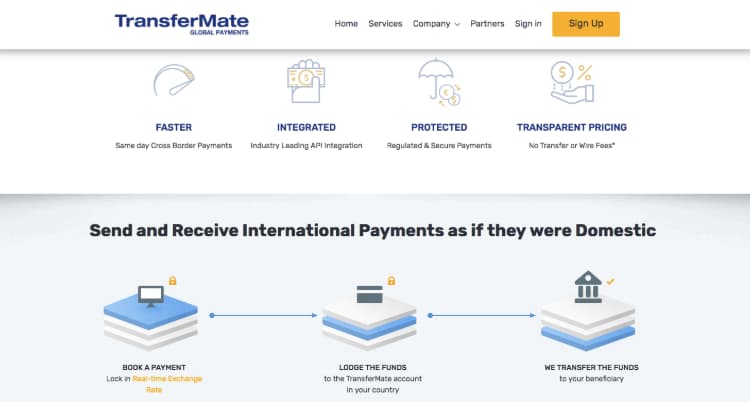 The TransferMate experience is also enhanced by a few nice features that they offer. For example, the payee notification and verification of bank account details are automated for opening a bank account in Portugal.
TransferMate also offers API integration with the world's leading accounting software platforms.
They provide round-the-clock phone support in case you run into any problems.
TransferMate fees
Of course, the biggest question when it comes to picking a money transferring company, is how much is this going to cost me?
When dealing with TransferMate, individual transfers attract fees, but business transfers come with fee-free thresholds.
If you're looking to transfer large sums of money, then TransferMate can offer good value for the service they provide.
In this sense, they are better suited towards business clients as there are no transfer fees from business clients if they transfer more than €5.000.
For all transfers under this amount, a nominal fee will apply. Further, if you initiate a transfer as an individual, you'll need to pay a €10 fee regardless of the amount you're looking to send.
For transfers under €5.000 there may be a small fee which is typically less than those charged by a bank.
Which countries can you send money too?
TransferMate will let you register from most countries the world over.
They are able to process transfers in all major and exotic currencies to countries across the world, except for restricted currencies and countries.
How long does it take to send money?
Once your funds have cleared in our Client account, the converted funds will be credited to your nominated overseas account in no longer than 2 working days.
This is regardless of whether you're transferring in the same currencies or not. So, for example, a transfer from the UK to Portugal would be complete in under 48 hours.
On their website, they ask you to remember that transfers must be uploaded by 12pm to be processed on the same day.
Furthermore, when using TransferMate, they will endeavour to transfer funds to your beneficiary from their local currency which speeds up the payment.
Is TransferMate safe to use?
As the company is well established, it is fair to say that you may use TransferMate without worrying about the safety of your information or money.
Their website relies on high levels of encryption to keep the transmission of data secure and Interpay Ltd, which trades as TransferMate, is regulated by the Central Bank of Ireland.
They have the required licenses to provide payment services in 28 member states of the European Union.
Their website also uses Secure Socket Layer (SSL), 256-bit encryption to protect your transaction details. 256-bit encryption is the latest and strongest data encryption techniques commercially available for securing information works by encrypting/scrambling data from their website to your computer.
What are the best alternatives?
Depending on where you're located and the type of transaction you're trying to accomplish, recommendations from people you know might be the most efficient way to determine which service is best for you.
However, with a number of variables involved in the process, your individual requirements should play a role in the company you select.
A few things to consider when looking for a TransferMate alternative include looking at the regions they service, the payment methods on offer, the minimum transfer amount requirements as well as the fees and processing times. Some trusted alternatives include:
TransferWise
TransferWise is a UK-based TransferMate alternative that has been around for 8 years.
They have offices in the U.S. and Estonia and you can register as an individual or a business.
Their website is also available in several languages and a TransferWise Borderless account gives you an easy way to receive payments and hold funds in multiple currencies.
Depending on where you live, you may be able to pay using credit cards.
We've written an article about it and I happen to have a TransferWise account. It's easy to love I really recommend it.
N26
It's fast and it's free to sign-up, you can get free ATM withdrawals in euros (also worldwide). The app is easy to use – set payment limits, lock your card, and send money to friends in real time. Also, there are no fees on foreign transactions and you don't have to pay any maintenance fees!
You can sign up to the N26 here or read our comprehensive guide about the N26 here.
Currencies Direct
This TransferMate competitor has been in operations for over a decades, making it one of the oldest money transferring services around.
They have their headquarters in the UK, in addition to offices also in the U.S., France, Spain, Portugal, South Africa, and India.
You can register as an individual, a business or an online seller, check them out.
OFX
Founded in 1998, this TransferMate alternative operated as OzForex until 2015.
Headquartered in Australia, this company also has offices in the U.S., the UK, New Zealand, Canada, and Hong Kong.
OFX provides services to individuals, businesses, online sellers and business events in Portugal.
One point to note is that access to its website comes only in English.
Advantages and disadvantages of TransfeMate
All in all, there are lots of reliable options out there to choose from.
TransferMate advantages:
Fast payments
Better exchange rates
Lower transfer fees
Security
24-hour online system
24-hour customer system
Sign up for free
Safe ads and secure transfers
Quality customer service
The only disadvantage I can see is that their services are targeted more towards businesses, so you should assess your situation carefully before selecting the money transferring service that is best for you.
Did you find the information you were looking for about TransferMate in Portugal? Did we miss anything? Let us know in the comments below.
Don't forget to sign up for our free newsletter so you can be kept up-to-date on all the news from bePortugal.