If you're an avid traveler or expat living in Portugal, you've probably considered a mobile bank account. If you've been comparing mobile banks, but aren't sure which to choose, take a look at N26 in Portugal.
Mobile bank accounts offer the security and services of a traditional bank, but with technology that means you can bank from anywhere, anytime — no bank branch required. N26 offers online banking throughout 22 EU countries, plus Switzerland, the UK, and the US. This makes it great for expats and travelers in Portugal.
Opening an N26 account is easy and quick. You can usually complete the entire process in just a few minutes.
Mobile banking with N26 in Portugal
N26 is fully operational in Portugal, of course. While it's not part of the Multibanco system in Portugal, it is accepted anywhere Mastercard is used.
Benefits of N26 in Portugal
Some of the most important features of N26 are:
Free sign-up
Free or low-fee ATM withdrawals in euros (depending on location and frequency)
No maintenance charges
Intuitive, easy-to-use app
But that's just for starters. With an N26 account, you can also benefit from:
No minimum balance
English-language app and customer service
No foreign transaction fees when you're traveling
The ability to lock or unlock your card instantly
Mobile alerts for any transaction
Instant money transfers between N26 customers
Security and stability of the German Deposit Protection Scheme
Excellent customer service
How did N26 enter the mobile banking business?
Founded in February 2013, N26 is headquartered in Berlin, Germany. Initially available only in some European countries, N26 started offering US-based accounts in July 2019. The mobile-only bank already has more than 500,000 customers across Europe, and an estimated 1,500 new accounts opening every day.
How do I open an N26 account?
As with other mobile-only banks, N26 has a quick, online process for opening an account. If you'd like to know more, read our full article on mobile banking in Portugal.
You can use either a US address or a Portuguese address to open an account. This is convenient if you're considering becoming an expat in Portugal, because you don't have to wait to move before opening an account you can use here.
To open an account with N26 is a three-step process:
One: Fill out the online registration form
Just go to the N26 website, here. Fill in the form with your information, including:
Full name
Address
Email
Telephone
Date of birth
Job title and industry
Nationality
Country of birth
Passport information
Taxpayer ID number
N26 will send an email asking you to verify your email address. After that, you can log into the N26 website and choose an account type (we talk about those account choices further down).
Two: Verify your identity
Once that's done, N26 will verify your ID. To do this, you can take a selfie and a photo of your identification through N26, or set up a video call with you in English. On the call, you just show your passport and confirm that you're the person holding it. Once N26 verifies your identity, they'll send approval and your password to your phone.
Three: Enable your account on your phone
This is the last step, and then you're an N26 user! If you haven't already done it, now's the time to download the N26 app to your phone. The newly downloaded app doesn't know your account information, so you'll need to help it out.
Log in using your account info, and you'll be walked through the process of connecting your account information to your app. Note that the phone number you used at sign-up must be correct. You'll be asked to confirm it, then N26 will send a verification code to you via SMS.
Enter your code into the app, and you're done. Your phone is paired with your N26 account.
If for some reason you've entered a different phone number, you can contact N26's customer support reps and they can help you change it.
What accounts does N26 offer?
You have three choices for personal accounts. N26 also offers business accounts, which we'll discuss in more detail below. If you want to dig into some more information, N26 provides a Fee Information Document for full transparency on each account.
Your N26 account choices are:
The basic N26 account
This N26 account is the free, standard plan, and a great place to start. You have access to your account via the N26 mobile and web apps, of course. You also get an N26 MasterCard debit card. Remember, this is a debit card, not a credit card. You can use it anywhere MasterCard is accepted, and it draws funds directly from your account.
The free N26 account also lets you make ATM withdrawals in euros without a fee (up to five a month), with a small fee if you make more withdrawals in a month.
Also, international transactions incur no fees at all when you pay with your N26 debit card.
If you withdraw money in a foreign currency — say, US dollars on a Portuguese-based account — you pay a 1.7 percent fee on the total withdrawal amount.
N26 You
Formerly called N26 Black, the N26 You account has a monthly maintenance fee of €9.90, debited automatically from your account. What that fee gets you, however, is significant — especially if you travel a lot.
You'll receive all the benefits of an N26 basic account, plus unlimited free ATM withdrawals in any currency worldwide. You also get a solid Allianz travel insurance package included along with everything else.
N26 Metal
The next step up is N26 Metal. It offers all the benefits of an N26 You account, but with dedicated customer service and exclusive discounts from N26 partners. You also get a swanky metal card. This membership will cost you €16.90 monthly, debited automatically from your account.
N26 Business
If you need to keep your personal and professional finances separate, consider an N26 Business account. It's a no-fee business account that could be a great solution for freelancers.
You're going to see most of the same features as a N26 basic account, but with the ability to categorize your spending with tags like #office or #client. You also can customize the tags, of course.
The N26 Business account includes a free business Mastercard that allows transaction tracking and is accepted all over the world. You also get 0.1 percent cash back on all your Mastercard purchases.
Most importantly, N26 Business offers 3D security to protect your account against fraud when making online payments.
Transfer money overseas with N26 in Portugal
N26 has partnered with TransferWise. This gives you the power to transfer currency worldwide, from directly within the N26 app. And using TransferWise can be up to six times cheaper than using traditional banks. Check out Currency Transfers in Portugal: Transferring Money with TransferWise.
When will I receive my N26 card?
It takes about six working days to get your N26 card in Portugal. Once you receive it, you can activate it from your phone, and you're good to go.
If you want to know more about banking in Portugal, check out our article: Best Portuguese Banks: Manage Your Money and Keep it Safe.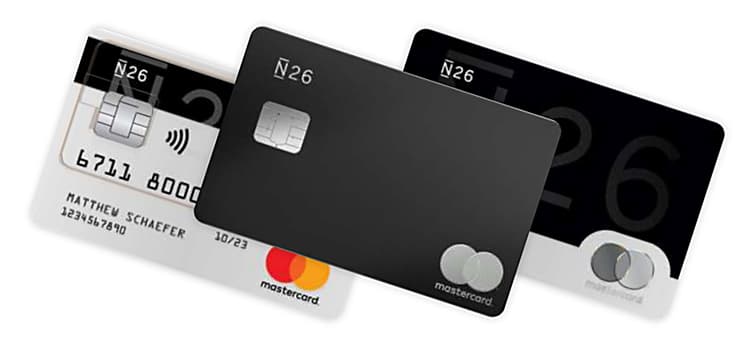 How does the N26 app work?
The N26 mobile and web apps are intuitive and well designed, so even if you're new to mobile-only banking, you should have a good user experience. When you open the app, you'll see three main areas (this is for all memberships):
N26 spending insights
N26 is great for keeping track of your spending habits. It gives you a clear, instantly updated representation of what you spend money on and how much you are spending in relation to other expenses.
N26 spaces
N26 spaces is an organization tool that lets you set up a savings plan for a specific project. Say you're saving for a trip to Italy, or you want to buy a new laptop. Spaces can help you track your progress as you get closer to your goal.
N26 notifications and alerts
As you'd expect, N26 has a section listing any notifications and alerts. You'll get an instant alert whenever you make a transaction, but this section helps you track your spending. Perhaps most importantly, you can see how much you've spent in your home currency while you're traveling.
The other bonus is security alerts. If you lose your N26 card, you'll receive an instant notice on your phone if a purchase is made. And remember, you don't need to wait; if you realize you've lost your card, you can freeze it instantly from the mobile app without calling N26 customer service.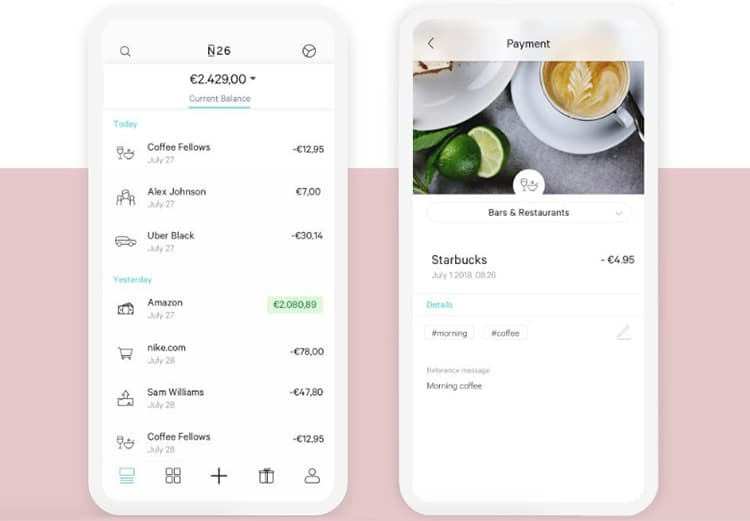 How do I deposit funds into my N26 account?
This is an easy one! To deposit money into your N26 account, you can make a simple online transfer via TransferWise or directly from another bank account through the N16 app, as you usually would.
Want to deposit cash? Stop by any ATM in Portugal and use your N26 card. It will walk you through the deposit process, and the N26 app on your phone will show you your IBAN to make things easier.
How can I learn about other mobile banks like N26 in Portugal?
We've got you covered. Read on for:
Did you find the information you were looking for about N26 in Portugal? Did we miss anything? Let us know in the comments below.