Porto Santo may be a small island but it's big on natural attractions. With crystal clear waters and an iconic 9km strip of golden sand, it's also known as Portugal's Golden Island.
With sunshine throughout the year, picturesque cliffs and enviable swimming spots, the island is a red hot destination for travellers. Laying in paradise on the fine sand, you'll discover its famous beaches are also proven to hold therapeutic properties that can treat rheumatism and circulatory problems too!
So, get ready to relax and unwind while receiving some natural healing on the beach. We've got everything you need to know for your next visit to Portugal's Golden Island!
Where's Porto Santo?
Porto Santo is a small Portuguese island located in the Atlantic Ocean. The island is the northernmost and easternmost island of the archipelago of Madeira. Although it appeared on maps as early as 1339, the islands were first claimed in 1418 by Portuguese navigators João Gonçalves Zarco and Tristão Vaz Teixeira.
Before his voyage to the Americas, Christopher Columbus even lived on the islands with his Portuguese wife, their home is now a museum which you can also visit.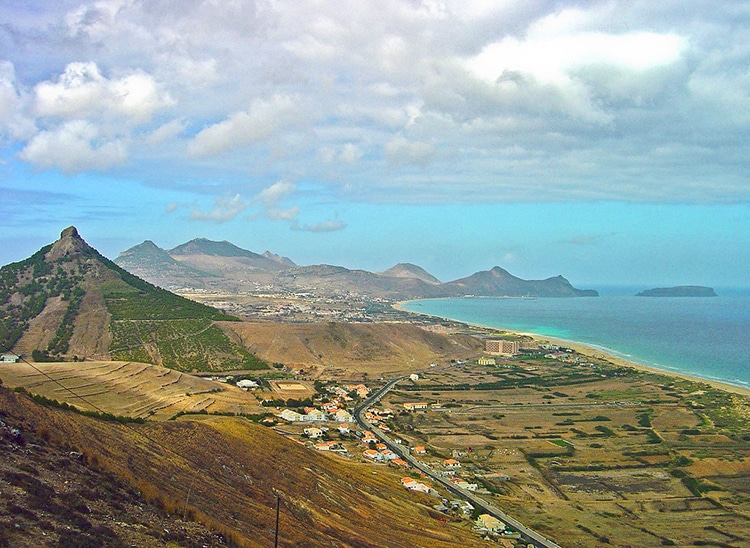 The island is characterised by two main terrains. The northeast features mountains, rocky ledges and cliffs. While the southwest has a more coastal plain which means it's relatively flat and features the infamous 9km long white sand beach.
As of 2011, the island holds a local population of 5,483, living in an area of 42.17 km².  
Find out more about the Portuguese islands, subscribe to our newsletter.
How to get to Porto Santo?
Porto Santo has one major international airport on the island – Porto Santo Airport, located in its capital Vila Baleira. The airport has daily flight connections to Madeira Airport, which is only a short 15-minute flight away. These flights serve as the main gateway to access the main island and also cater for most international flight connections to the island.
Binter Canarias and Sevenair are the two airlines that cater to these inter-island flights.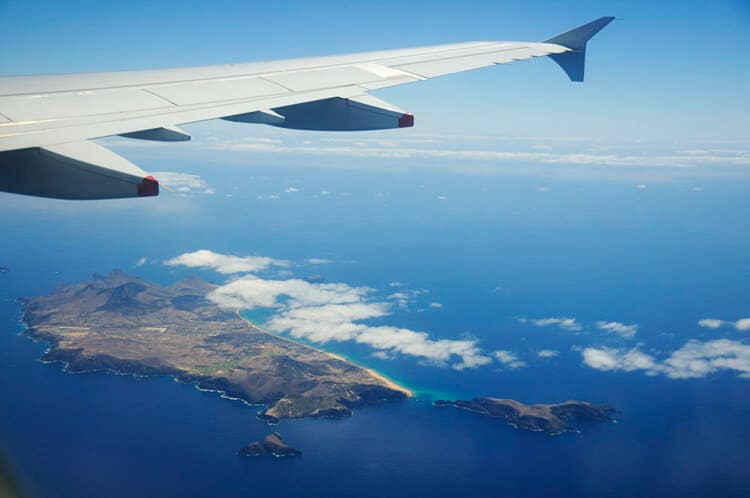 For connections with mainland Portugal, you can find direct flights to Lisbon Airport via TAP Portugal. There are no direct flights to Porto Airport but you can access this route with a connecting flight via Madeira Airport with TAP Portugal, easyJet or Transavia.  
For international visitors, there are direct international flights available from England, Germany and Belgium. These are operated by TUI Airways, Condor Airlines and TUI fly Belgium, respectively.

If you are travelling from other parts of Europe, you must fly into Madeira Airport first and transfer to the connecting flight between islands. 
What's the best time to visit Porto Santo?
Unlike rainy Madeira nearby, the island benefits from a relatively dry climate and averages a warm temperature of 21°C throughout the year. Its very mild winters and pleasantly warm summers make it a great destination to visit year-round!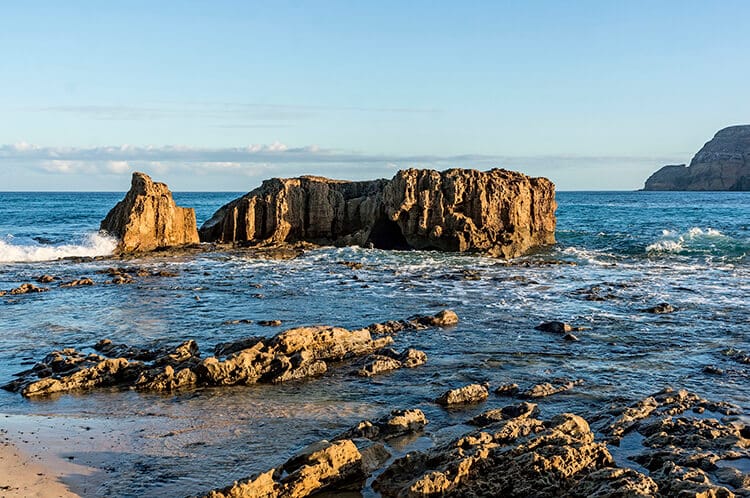 During the winter months from October-April, temperatures still average a high of 18°C. Yes, you read that right – I said winter! This makes Porto Santo an ideal destination if you're looking to escape the otherwise chilly European winter. While sunshine is still abundant during these months, the islands are not completely exempt from periods of rain.
For the most ideal conditions, we'd recommend visiting in the summer between July – September. During this period, the temperatures can reach highs of 25°C and rain is practically absent. Even better, for those keen to swim, the water temperatures reach up to 23°C in the summer.
Best beaches in Porto Santo
Porto Santo is best known for its stunning 9km long beach, found along the southeast side of the island. It's appropriately nicknamed ' The Golden Beach ' for its beautiful golden sand and crystal clear waters.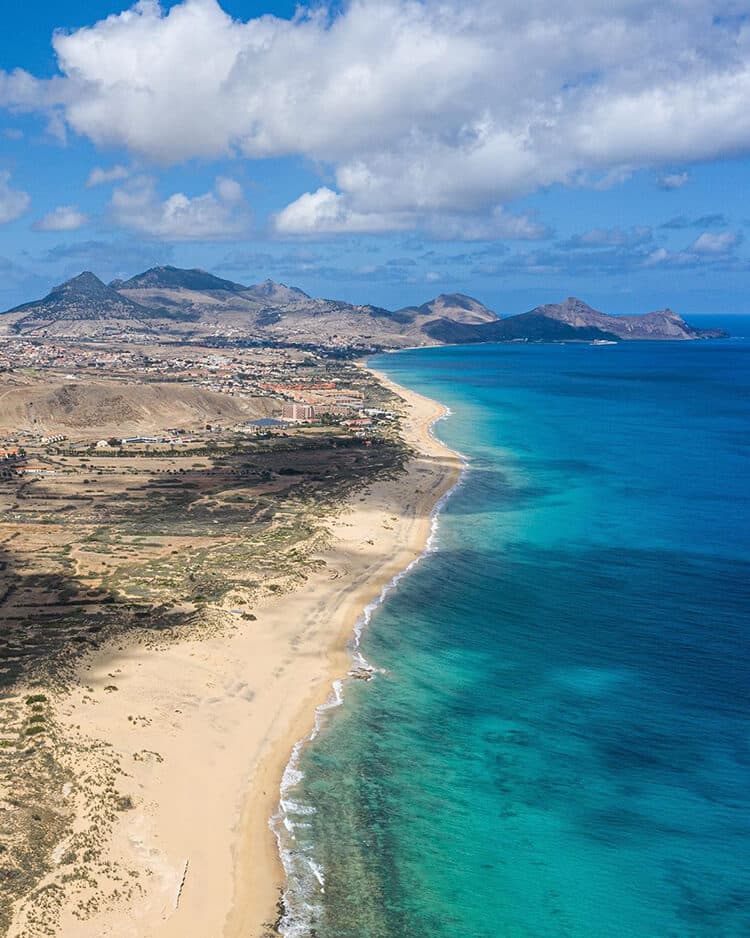 Not only is the sand ideal for sunbathing but it's also renowned for its therapeutic properties. The sand and water are rich in iodine, magnesium and calcium. Recent studies show these are especially beneficial for treating rheumatism and bone diseases. 
Though technically it's one long strip of sand, the beach is actually divided into several smaller beaches:
Praia da Fontinha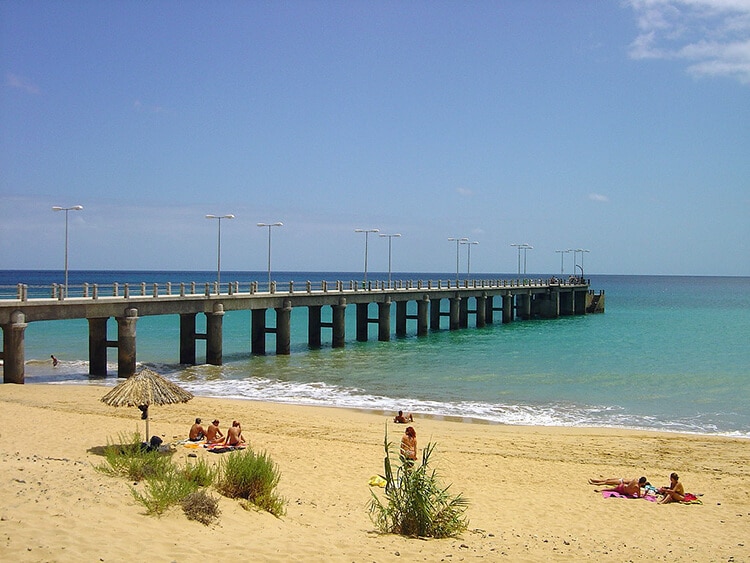 One of the most popular beaches, Praia da Fontinha is almost 720 metres long and much loved by both locals and tourists. Starting at the Cais Velho, it stretches up towards Vila Baleira and ends near the Hotel Torre Praia. 
There's a jetty along this beach that also provides the perfect spot to watch fishermen try their luck in the water. Facilities offered here include parasols, sunbeds, changing rooms, lockers, a restaurant and car park.
Praia das Pedras Pretas 
Translated as 'The Beach of Black Stones',  Praia das Pedras Pretas is a favourite spot particularly for local families. It's fairly remote, which is a plus because it doesn't attract the larger crowds as some of the other beaches.  To access the beach, follow the wooden walkway that leads to the sand. 
Facilities on the beach include shower, bar, lifeguard and first aid centre. If you want to visit a slice of local paradise then definitely head to this beach!
Praia Cabeço da Ponta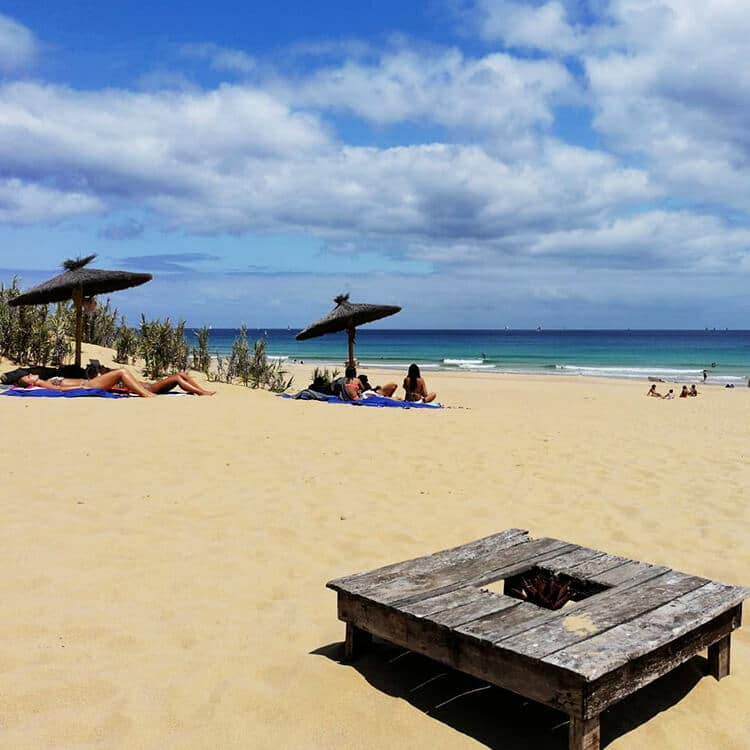 Located close to where most of the hotels and resorts can be found, Praia Cabeço da Ponta is super popular with visitors to the island. Its proximity makes it an ideal beach to visit, as there's plenty of restaurants and bars to visit nearby. Its clean and tepid waters make it absolutely perfect for a dip after spending the day laying in the sun. 
Facilities at this beach include lifeguards, lifeboat, first aid centre parasols and sunbeds
Praia do Penedo 
Far away from the main crowds, Praia do Penedo is a favourite for its much calmer location. The beach is ideal for those that prefer to relax on the sand without much noise around them. The beach has excellent conditions with a large area of fine sand and clear waters. 
Facilities at this beach include a lifeguard, restaurant, first aid centre and car park all available.
Ponta Da Calheta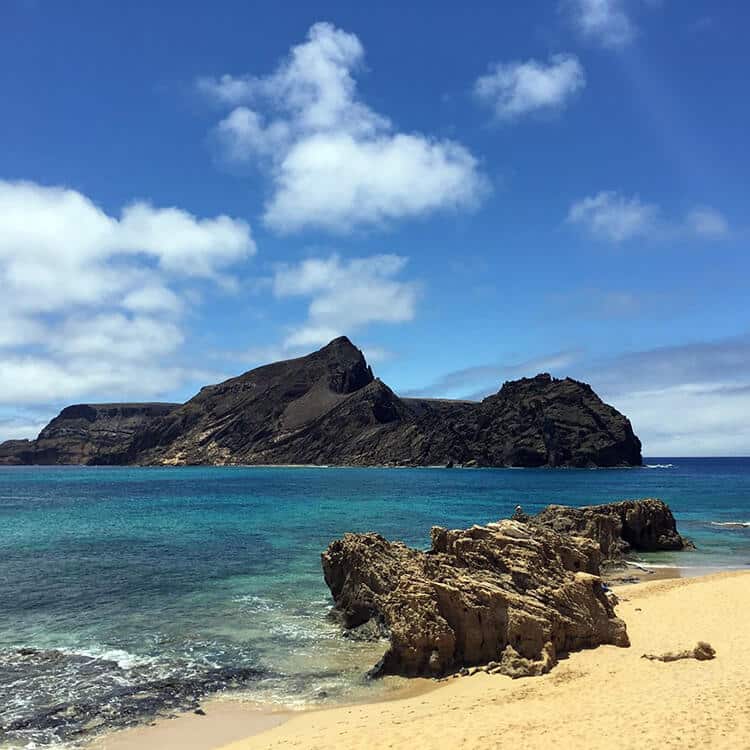 Just south of the main beach strip, Ponta Da Calheta is a tiny beach made up of sand and also surrounded by rocks. It provides a tranquil and extremely picturesque alternative with amazing views south of the island. It's especially popular during sunset, where you can enjoy a romantic setting with few people around. There's parking available at this beach and a great restaurant right above the beach. 
Porto das Salemas
Though not technically a beach, we couldn't leave out the stunning Porto das Salemas from our list. An amazing, hidden gem that requires a bit of a trek to reach, we assure you the beautiful scenery waiting is truly worth it. It's famous for its natural rock pools which are large enough for you to lay in or swim in. Make sure you check in advance and visit during low tide though, as it can become quite dangerous during high tide.
As the beach is quite remote, accessing it can be difficult for those less mobile. There are BBQ facilities available though as it is a favourite spot for families to picnic. 

Best hotels in Porto Santo
As it is a relatively small island, you'll find most accommodation options are relatively close to each other. Wherever you choose to stay, you'll be sure to be close to the airport, beach and all the main attractions. Find your ultimate vacation stay from one of our top picks listed below! 
Pestana Ilha Dourada Hotel & Villas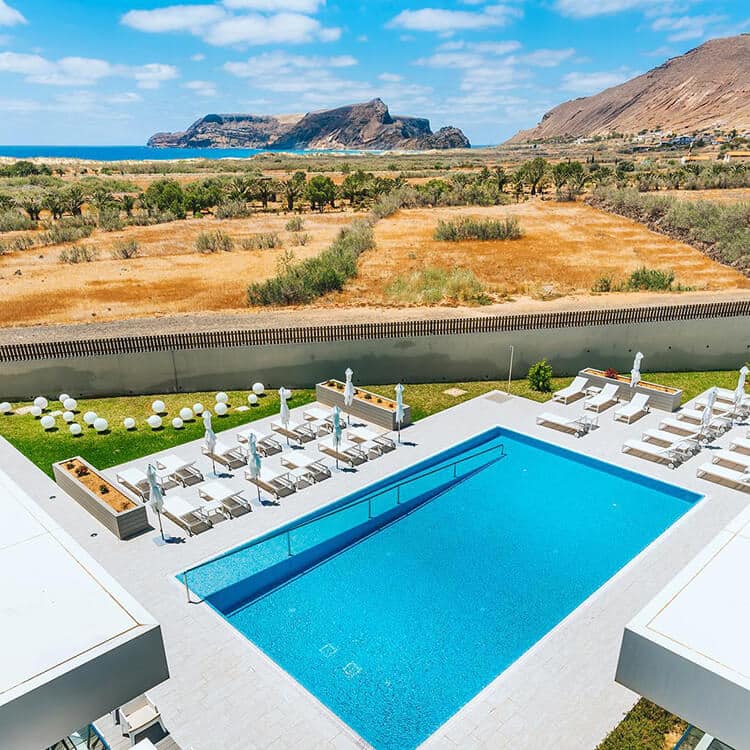 A 5-minute walk from the beach, Pestana Ilha Dourada Hotel & Villas is the top hotel on the island. It's not hard to see why, with its ideal location providing a calm and peaceful environment just away from the main centre. The hotel boasts an enviable swimming pool, beautifully landscaped gardens and scenic views of the island throughout. Guests particularly love the location of the hotel and fantastic service staff who go above and beyond to treat guests like family.
Prices from: €139
Address: Rua Ponta dos Zambujeiros 207, 9400-242 Vila Baleira
O Hotel – Vila Baleira Resort 
Located right by the beach, O Hotel Vila Baleira Resort was originally built by German doctors who discovered the medicinal qualities of the island's sands. The resort's major feature is the Baleira Thalasso & Spa centre, which offers the only thalassotherapy centre on the island! Guests favour the great facilities available at the resort which include access to the Rheadive Diving Centre, large swimming pools and The Beach Club situated right on the Golden Beach. 
Prices from: €354
Address: Sitio do Cabeço da Ponta, 9400-909 Porto Santo

Pestana Porto Santo Beach Resort & Spa – All Inclusive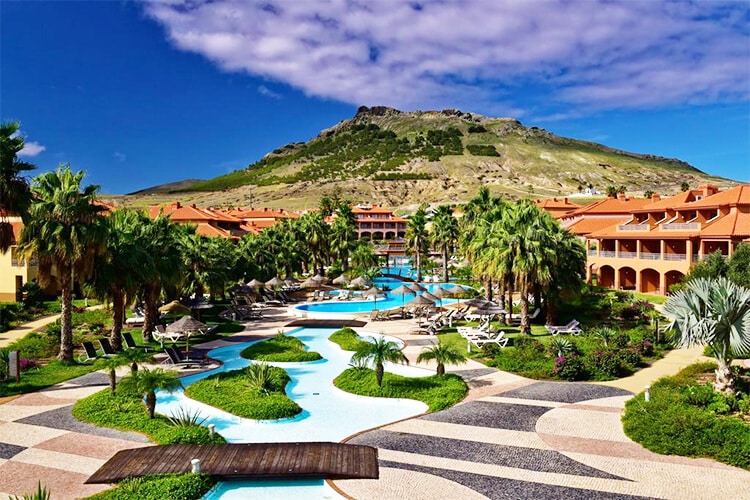 The second of 3 Pestana Hotels on the island, Pestana Porto Santo Beach Resort & Spa is a 5 Star resort that makes you feel like a celebrity as soon as you arrive! The resort delivers world-class service and was recently voted the best All-Inclusive resort in Europe. For those unfamiliar with the concept, All-Inclusive means all meals and domestic beverages are complimentary during your stay!

The resort features 2 natural style pools with stunning gardens throughout. Guests who stay here love its 6 restaurants and 5 bars and its relaxing spa area equipped with water jets, saunas and aromatic steam bath. 
Prices from: €166
Address: Estrada Regional 163 Sítio do Campo de Baixo, 9400-242 Porto Santo
INATEL Porto Santo 
For those looking for a more budget-friendly option, INATEL Porto Santo is a fantastic hotel that offers all the great amenities of the resorts nearby. The hotel features an outdoor swimming pool as well as diving and cycling facilities. Its spacious rooms also come with a balcony to enjoy the view of the island. Guests particularly love the hotel restaurant and bar as well as the attentive and super friendly staff. 
Prices from: €43
Address: Estrada Regional 120, Cabeço, 9400-242 Porto Santo
Hotel Torre Praia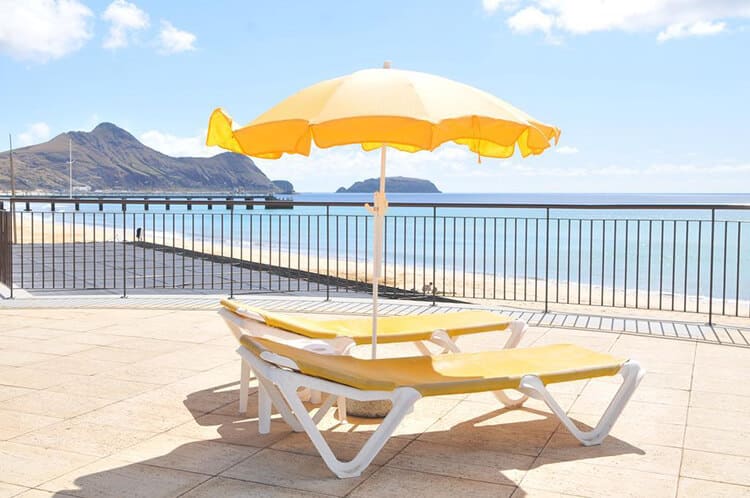 With an amazing beachfront location, Hotel Torre Praia is as close as you could get to wake up by the beach. The hotel features spacious, modern and chic rooms each with balconies, so you can wake up and enjoy your morning view of paradise! The hotel features 2 on-site restaurants, as well as a snack bar by its outdoor pool. Guests staying here love the squash court, sauna and massage treatments all available at the hotel too.

Prices from: €68
Address: Rua Goulart Medeiros, Porto Santo Island 9400-164, Portugal
Pestana Colombos Premium Club Beach Resort – All Inclusive
The 3rd Pestana Resort, Pestana Colombos Premium Club Beach Resort is another 5-star resort located on Praia Cabeço da Ponta. Much like its sister resort next door, it is an All-Inclusive resort which means all meals, snacks and domestic beverages are complimentary during your stay! The resort has a prime location right by the beach, with a pedestrian bridge to easily connect you from the resort directly to the beach. There's also a Kids Club available for families travelling with children. Guests especially love the indoor and outdoor swimming pools as well as the 6 fantastic restaurants available at the resort.
Prices from: €157
Address: Estrada Regional 171, 9400-242 Porto Santo
Best Restaurants in Porto Santo
No holiday planning is ever complete unless you have the best restaurants already on your list ready for your visit. These restaurants all excel at serving delicious meals using the very best local produce. While visiting these great restaurants, don't forget to end your meal with some Poncha too, a local drink from Madeira made of sugar cane and juice cocktail! 
Casa do Velho Dragoeiro Restaurant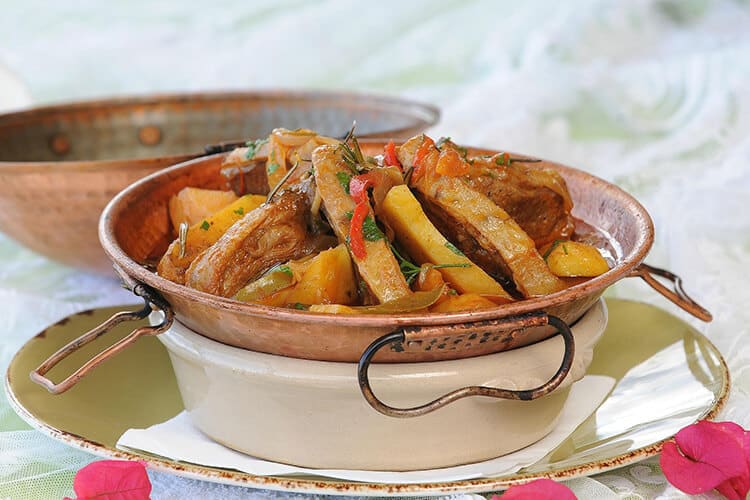 With an amazing view overlooking the ocean, Casa do Velho Dragoeiro Restaurant is fine dining but with reasonable prices. An elegant yet relaxed atmosphere, the restaurant specialises in top quality seafood dishes – with its Cataplana do Mar and Grilled Octopus as visitor favourites.  The restaurant is also highly favoured for its exceptional service, with its friendly waitstaff complimenting always providing an all-round memorable meal. 
Average Price of Mains: €25 – €30
Address: Street Manuel Gregorio Pestana 16 a 9400-172, Porto Santo Island 9400-172 Portugal
Telephone: +351 291 634 413
Casa d'Avo
It's hard to fault the fantastic meals served at Casa d'Avo. With large portions and fresh ingredients, many who dine here rate it as their favourite meal of their holiday. Located just 10 minutes walk from the Pestana resorts, the restaurant is easy to access and is basically at the centre of the beach. The owners and staff are super friendly and accommodating to make sure each diner is looked after. Visitors particularly recommend trying the Mussels, Octopus and Steak dishes here. 
Average Price of Mains: €15-€20
Address: Estrada da Calheta, Campo de Baixo, Porto Santo 9400-015
Telephone: +351 291 982 037

Restaurante Torres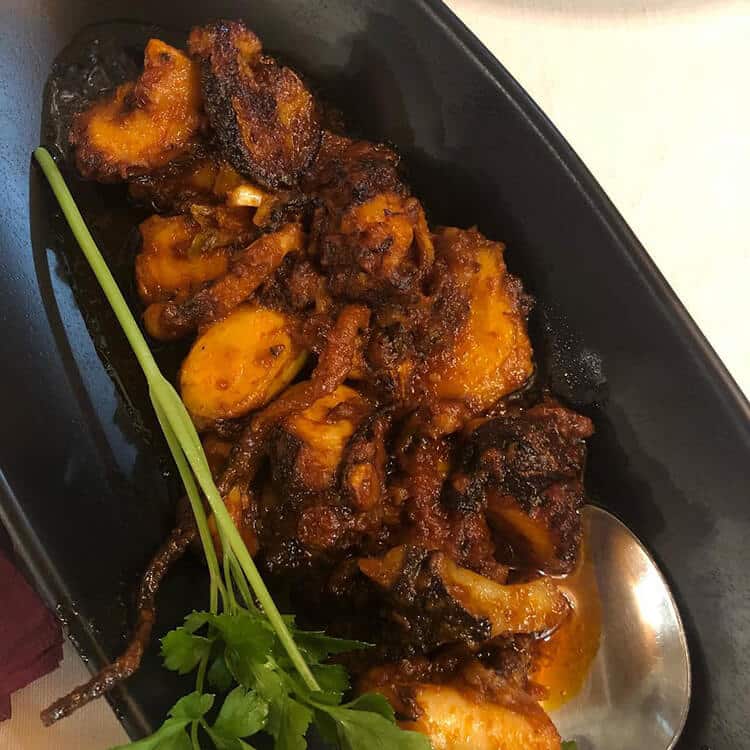 A truly authentic Portuguese restaurant, Restaurante Torres is a hidden gem, tucked away in the village of Camacha. Offering fantastic food, great service and amazing hospitality, the owners even offer to drop you back to your accommodation after dinner! The restaurant is renowned for having the very best grilled seafood and meats on the island. Visitors highly recommend ordering the flamed grilled chouriço, black pork and 'Grandma's octopus' – a 40-year-old recipe passed down the family! 
Average Price of Mains:  €15-€20
Address: Estrada Domingos D'Ornelas 68, Porto Santo Island 9400-010 Portugal
Telephone: +351 291 984 373
Restaurante Porto Santo Golfe

Away from the main beaches, you'll find Restaurante Porto Santo Golfe, which, as the name suggests is situated in a golf club. While you might initially wonder if you want to dine at a golf club, the scenic and gorgeous views at the restaurant will erase all doubts. Visitors love the delicious meals on the menu and especially the grilled entrecôte and chicken skewers. It's also worth noting that there is a transfer service available to pick up and drop off guests wishing to dine at the restaurant.
Average Price of Mains: €15
Address: Campo de Golfe do Porto Santo, Porto Santo Island Portugal
Telephone: +351 969 674 988
Panorama Restaurant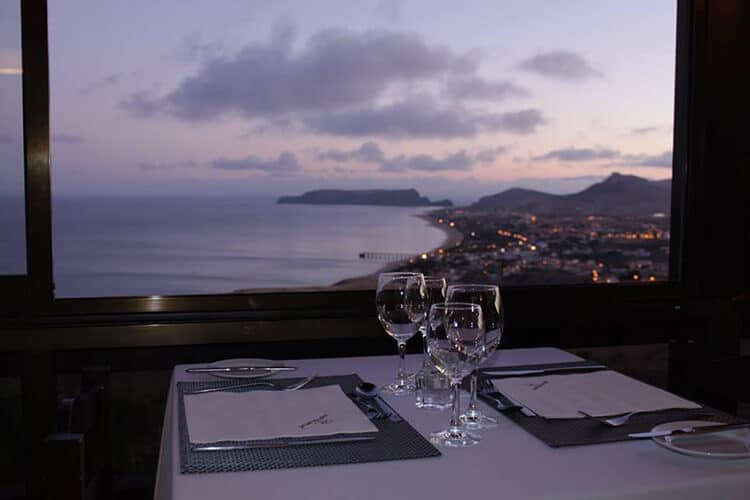 As the name suggests, Panorama Restaurant provides an impeccable view overlooking the island making it the perfect setting for an unforgettable meal. Fantastic food is complemented with friendly staff, who go above and beyond in making sure they are personable with each diner. Visitors particularly love the risotto, prawns and perfectly cooked steaks available. Like other restaurants on the island, Panorama Restaurant also offers a courtesy bus to transfer you to/from your original accommodation! 
Average Price: €17
Address: Estrada Carlos Pestana Vasconcelos, Porto Santo, Porto Santo Island 9400-212, Portugal
Telephone: +351 966 789 680
What other activities can you do on the island?
While many visitors enjoy relaxing in the sun on the golden sands, there's still plenty to explore on the island. Find the best activities to do for those looking for a little more adventure.  
Snorkelling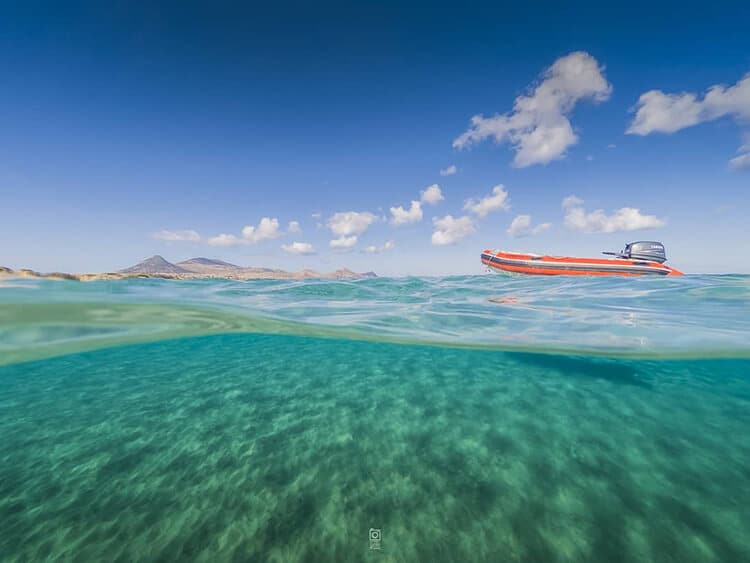 The island's crystal clear waters are ideal conditions for snorkelling. With a beautiful oceanic landscape, you will see hundreds of marine life – everything from colourful fish, fireworms, eels, starfish and even octopuses! The ideal time to go snorkelling is early in the morning, as it is low tide and safe for children too. There's a fantastic snorkelling tour available on the island for those that feel more comfortable with an instructor as their guide. The tour is free and based on a tip or donation at the end.  
Diving
For those that want to go below the ocean surface, the island also has great diving options available. The knowledgeable diving guides will lead you to the best dive sites on the island. You'll be able to see the stunning marine reserve and learn the history of two interesting shipwrecks. The visibility of the water is unbeatable and you'll be sure to see plenty of fish and marine life, full of amazing colours. Porto Santo Sub – Diving Center and Rhea Dive are two great diving companies we recommend!
Viewpoints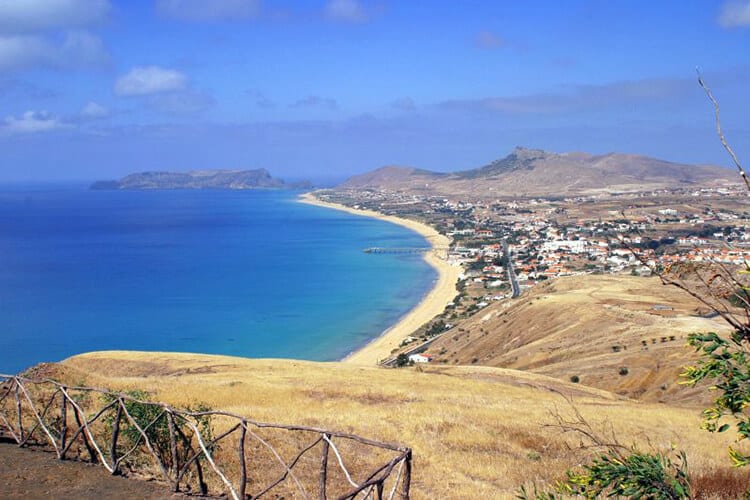 The best way to appreciate the full beauty of the island is definitely from above. There's plenty of great miradouros (viewpoints) around the island to discover. Visit Pico do Facho for the highest point of the island, an important location that used to warn the island of approaching pirate ships. Nearby, Miradouro do Pico Castelo is also a great spot to admire islets that surround the island and overlook the city of Vila Baleira. Miradouro da Portela offers a stunning view overlooking the 9km golden beach and also has three charming windmills. While Miradouro das Flores is a favourite spot for sunset, with panoramic views of the south of the island. 
Golf 
Believe it or not, the island even has a golf course for those that want to have a hit on the greens! Porto Santo Golfe course was designed by champion golfer Severiano Ballesteros and hosted the Madeira Islands Open. The field is a 27 hole golf course, spread across 6,434 metres. The golf course also has facilities including a sauna, jacuzzi, bar and restaurant to enjoy fantastic views of the island.
Sailing Tours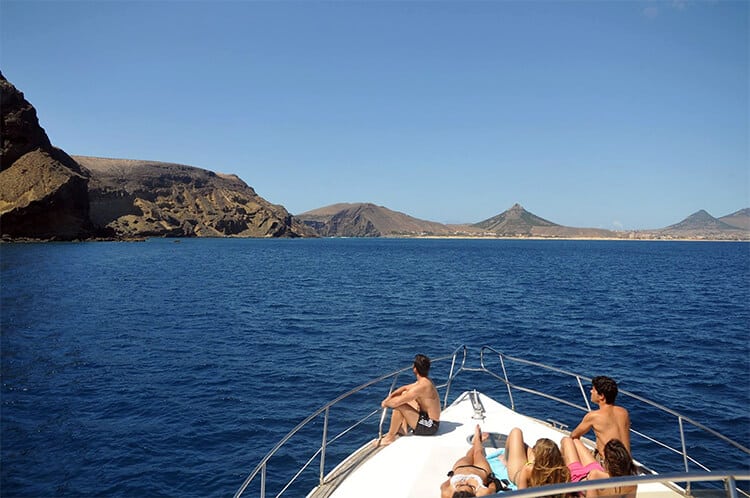 How does sailing onboard a luxury yacht sound? Sounds like paradise right? With the Bonus Journey sailing tour, you can live your absolute best life exploring the island from the sea. An unmissable activity, enjoy the beautiful scenery on board and if you're lucky you can spot dolphins, whales and turtles on your trip. Experience pure bliss as the guides take you around the best spots with breaks to let you swim and snorkel around the island too!
Jeep Tours
Looking for an adventurous way to see the whole island? Why not try a jeep tour for a truly unforgettable day of sightseeing. The knowledgeable guides of Loop In Tours provide a 4×4 tour complete with historical and geographical facts about the island. Find all the great spots and hidden gems of the island, all while riding across different terrains in the impressive jeep. A truly unique experience! 
What is the cost of living in Porto Santo?
Do you suddenly find yourself wanting to pack your bags and move to this paradise? We don't blame you! Living here, you'll have consistently great weather with a relaxed, island lifestyle. 
Given it's a smaller island, you'll find it's similar to  Living in Madeira and properties to rent can be quite limited. For a rough guide you'll find the following prices by apartment type and size:

– T1 apartments average 350€/month for a T1 apartment that's approx 70m² in size.
– T2 apartments average around 400-450€/month that's 70m² in size.
– T3 houses average between 750-900€/month that's 120m² in size.

You can use sites like Casa Sapo, Imovirtual or idealista to find available properties for rent. The average price in Porto Santo is roughly 5.83€/m².
As the island is a bit more remote, the prices for everyday goods is marginally higher than on the mainland of Portugal. This logically makes sense as the shipping of products to the island will usually incur higher charges. As a base you will find a typical meal will cost roughly 7€, beer is roughly 2.20€ and milk is roughly 0.75€. You'll find electricity will be slightly pricier and fuel for cars is above the already high national average at around 1.80€ per litre.
Despite its prices hovering above the Portuguese average, you'll see that compared to the rest of Europe it's still a relatively cheap way of living. You can use CostToTravel to compare the cost of living with most of the major European cities. Here, you'll see that Porto Santo actually comes in as a super-economical option to consider!
Your next visit to Porto Santo
The Madeira Islands are having a red hot moment as Portugal continues to steal the world's travel spotlight. With its enviable climate, beautiful beaches and delicious and authentic restaurants, it's not long before Porto Santo starts to appear on everyone's travel list. Make sure you plan your next visit soon to see the natural wonders of this amazing island!