Portugal is known for deep historic roots, beautiful landscapes, and warm sea breezes. The main cities of Lisbon and Porto are the most touristic places, but when you get out of the hustle and bustle, there is so much more to the little coastal country.
Dotted throughout the nation are some of Portugal's best kept secrets: villages that offer the perfect reasons to escape the big cities.
Top 7 holiday villages in Portugal
Read on to discover which holiday villages in Portugal are the true hidden gems – before everyone else does!
1. Nazaré
Nazaré is a beautiful seaside village nestled almost halfway between Lisbon and Porto. It appears to be just a small fishing village, but the culture and history are incredibly rich. The friendly residents and the village's easygoing vibe match perfectly with the easy breezes from the Atlantic. It offers beautiful weather and some of the country's oldest fishing traditions. This little haven on the sea is home to only about 10,000 residents.
Nazaré is split into three main areas: Praia, Sitio, and Pederneira.
Things to do in Nazaré
Nazaré Beach (Praia de Nazaré) is perfect for sunbathing and visiting the market every Friday.
Nazaré's beach-side streets are filled with typical Portuguese shops, hotels, bakeries, and restaurants offering local specialties and the catch of the day.
Sitio's hilltop views are spectacular and are accessible by stairs, road and cable car. Don't miss Miradouro do Suberco viewpoint, offering one of the best maritime views in Portugal at 110 metres (361 feet) altitude.
Religious sites worth visiting include:
Getting to Nazaré
Nazaré is easily accessible from Lisbon by car via the A8 highway in approximately 90 minutes.
By bus from Lisbon, the trip is just shy of two hours. Book your ticket at Rede Expressos here.
From Porto, trains leave hourly from the Vila Nova de Gaia and will bring you to Coimbra. From there, a bus will drop you at the main bus station in Nazaré.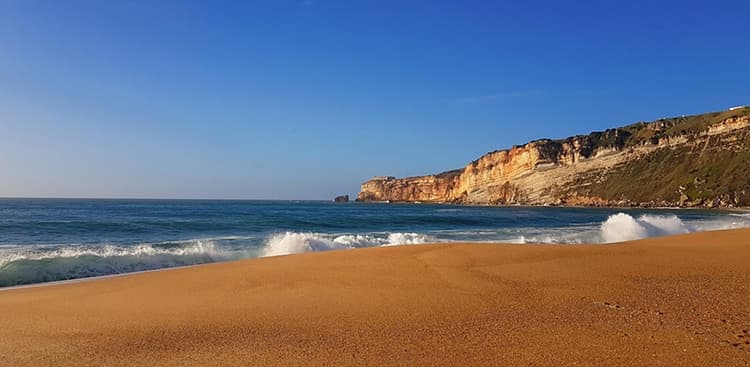 2. Ericeira
Ericeira is best known as a surfer's paradise and is one of the top surfing destinations in Europe.
In addition to the powerful waves that bless its beaches, this holiday village in Portugal offers awe-inspiring views from its cliffs that tower above the town and crystal blue waters. The town's energy begins at its central park known as Praça de República and ripples outward from there.
Whether you are looking to catch a wave, bask in the sun or dine at one of the many restaurants, Ericeira surely meets the mark.
Things to do in Ericeira
Stroll the town's cobblestone streets and take in the centuries-old churches and whitewashed buildings.
Go to one of the many live music performances during the summer months that can include jazz, blues, rock and roll or reggae.
Have drinks in the town's lively centre that is always bustling with bars, pubs, and beach themed lounges.
Getting to Ericeira
By car is the easiest and quickest option to get to Ericeira at just 45 minutes from Lisbon.
Buses leave from Lisbon's Rossio station frequently and cost about €7 which you can buy from the driver.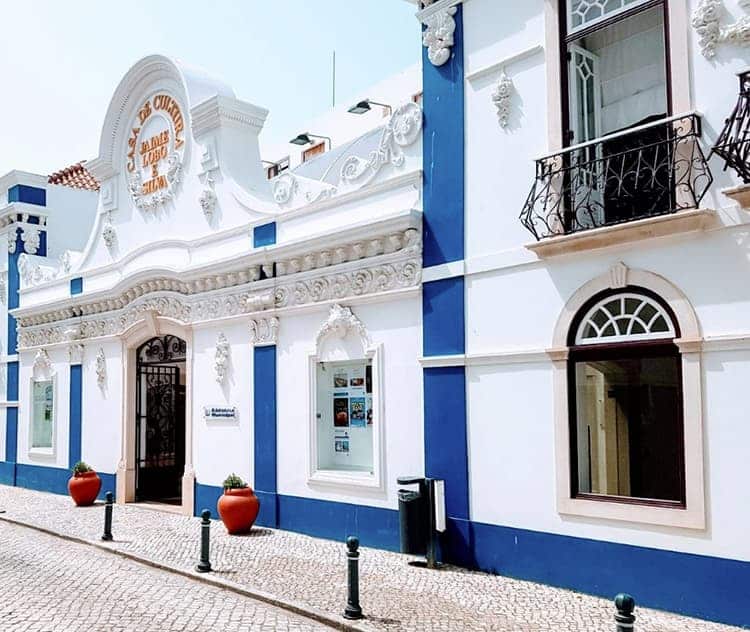 More of the best holiday villages in Portugal
3. Óbidos
Inside the walls of the village of Óbidos you will find churches, castles and spectacular medieval charm. Its intriguing beauty and history date back as early as the 12th century.
This holiday village in Portugal was traditionally given as a gift to the Queen of Portugal on her wedding day. Alongside its cobbled streets and traditionally painted houses, Óbidos' character shines as brightly as the pride of its residents.
Things to do in Óbidos
The Lagoa de Óbidos offers crystal clear waters and a great alternative option to the country's many beaches.
In nearby Quinta dos Loridos, home of Bacalhôa vineyard, you can visit Europe's largest collection of Buddha statues at Buddha Eden.
Caldas da Rainha offers hot springs and a quaint town centre just a few minutes away.
Getting to Óbidos
Óbidos is a quick one hour drive north from Lisbon by car.
Buses from both Porto and Lisbon run frequently to the village.
Trains from Lisbon are a one and a half hour journey.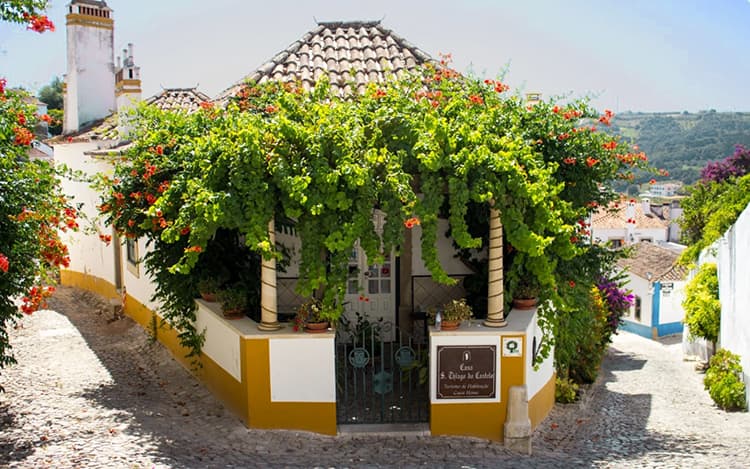 4. Évora
It is no surprise the walled city of Évora is already a World Heritage recognised city. This breathtaking holiday village in Portugal takes you back in time to a world long lost. The Cathedrals, churches, megalithic structures and Roman temples are a sight in themselves. The Alentejo wine region surrounds the area, so there is no shortage of options for everyone's taste.
Things to do in Évora
Capela dos Ossos offers something quite unique: a chapel decorated with human bones.
Megalithic enclosure of Almendres is a Neolithic structure of a similar style, but smaller scale than Stonehenge.
The Church of São Francisco is the town's most infamous Gothic church.
Visit one of the many beautiful wineries in the surrounding Alentejo region.
Getting to Évora
Évora can be a great day trip from Lisbon as it's just one and a half hours' drive inland.
Trains and buses run frequently to the village and are on average €15 from the country's capital, Lisbon.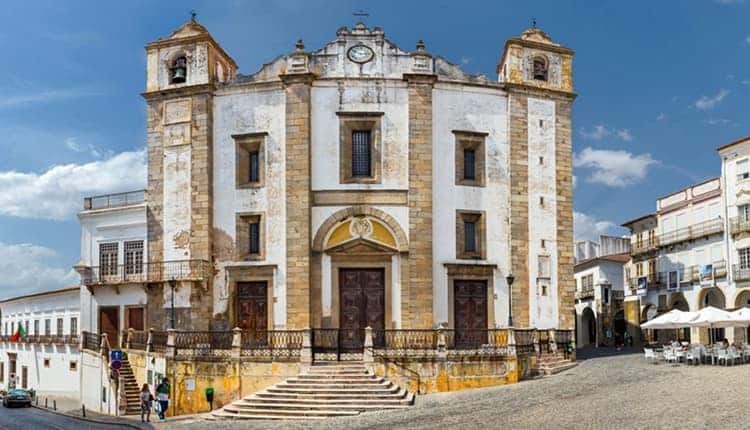 Like this article? Make sure you subscribe to our newsletter for even more like this.
5. Almeida
If you're into escaping the crowds of typical tourists hot spots, Almeida is perfect for you. This tiny holiday village in Portugal (featured photo) is home to less than 1,500 people and yet is an incredibly important destination. Bordering Spain on its central connection, the village of Almeida has protected the residents of Portugal for centuries. A fortress, an underground labyrinth, barracks, and jails are all on offer to explore.
Things to do in Almeida
The medieval neighbourhood of Castelo Bom is worth wandering through as the stone walls and buildings speak of the town's deep and storied past.
Visit the Picadeiro D'el Rey which was was originally an artillery barracks and is currently a riding arena.
Museo Historico-Militar de Almeida is the village's underground museum that showcases the important role that this town has played in Portugal's history.
Getting to Almeida
Driving is the best way to get to Almeida so you can visit many sites along the way. The ride from Porto will take about two hours without stops.
Both buses and night trains run from Lisbon to Porto and take approximately five hours.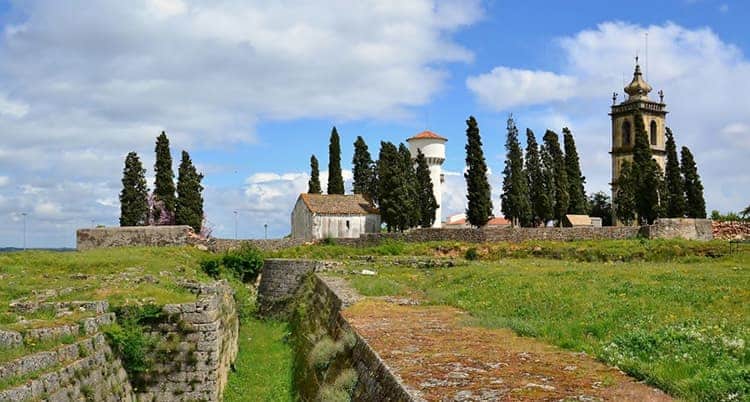 These holiday villages in Portugal have something for everyone
6. Sortelha
Sortelha is the perfect holiday village in Portugal to feel connected to the culture and history. It has a calm and casual vibe, and you won't find ticket booths, lines or street-peddlers. Climb up to the hilltop castle for stellar views of the town and beyond. The region is steeped in history, and the rugged, bouldered landscape gives the perfect backdrop up to the town's Gothic entry gates.
Things to do in Sortelha
Admire the Manueline-style Pillory monument and Church (from 1573) that still has a painéis-style roof.
Walk the town's medieval squares and discover how the times of the old are still influencing present day.
Getting to Sortelha
Hop over from the historic fortress village of Almeida, just one hour's drive.
Bus trips from Porto will get you there in under four hours.
Trains from Lisbon run more frequently than Porto but will take a bit longer.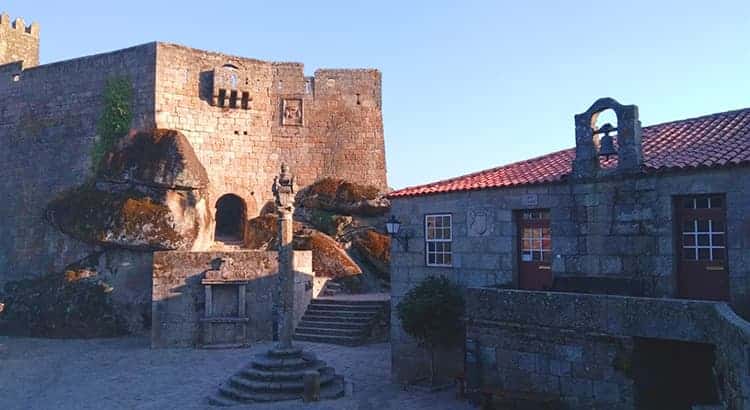 This holiday village in Portugal shines with Baroque style and tastes of the region's famed Port wine.
7. Lamego
Take a step in Lamego, and take a step back in time. This holiday village in Portugal shines with Baroque style and tastes of the region's famed Port wine. Surrounded by the sloped vineyards of the Douro Valley, Lamego is a sanctuary giving credit where credit is due. It was here that the first Portuguese Cortes were held, called and dismissed by the King in 1143.
Shrines, churches and cathedrals adorn this village among the well-manicured gardens.
Things to do in Lamego
The Shrine of Our Lady of Remedies is a picturesque building in an enchanting garden at the top of the town, perfect for a break from exploring.
The Balsemão River comes into Lamego from the mountain range above and is the perfect natural addition to the village.
Quinta de Santa Eufémia is a winery and vineyard nearby that offers tastings, tours and a look into the flourishing wine region and its history.
Getting to Lamego
A quick one hour drive from Porto will put you in the centre of town.
Buses leave daily from Porto and take approximately two hours.
Trains run from Porto but because of their circuitous route take three hours or more.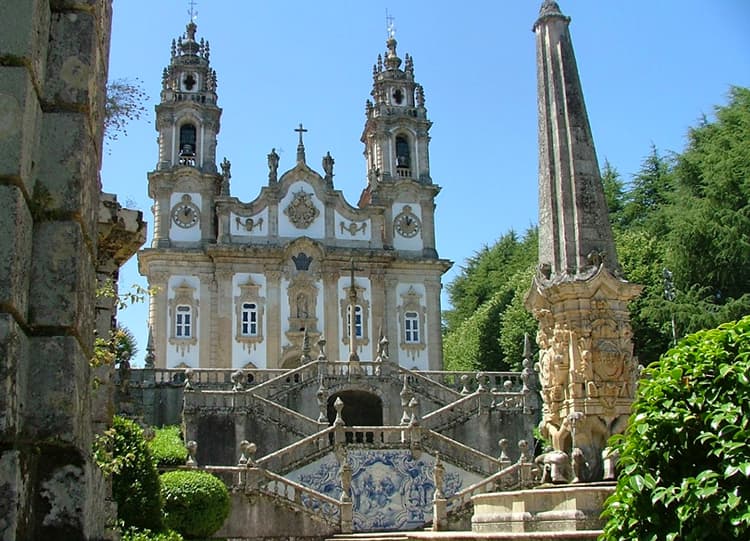 No matter what region you are in, you will certainly find no shortage of options for a holiday village in Portugal!
Do you have a favourite holiday village in Portugal? Let us know in the comments below.