Ahhh breakfast: the most important meal of the day.
There are lots of famous breakfasts out there. The top ten breakfast-loving countries includes the UK, Australia and wait for it… Venezuela!
But what about Portugal? What do the Portuguese like for their breakfast? What can't they live without?
We will answer all these questions below and we will have a list of the "top 10 places to have breakfast in Portugal" for you too, so read on!
What is a Portuguese breakfast?
The most important… drink of the day!
The one thing the Portuguese have to drink in the morning (and after lunch, and after dinner) is a Portuguese coffee.
Coffee, coffee, coffee. But not just after breakfast, lunch and dinner. They have their small black coffee (bica), at their break at 11 am or when they go to their local café (hence the name) at 11 pm.
Every place in Portugal has a coffee machine.
Just so make sure you understand how important coffee is, here is a list of the different types of Portuguese coffee you can order:
Standard black espresso – "café" or "bica";
Double espresso – "café duplo";
Weak milky espresso – "um garoto";
Weak watery espresso – "uma carioca";
Espresso with a spot of milk – "café pingado";
Cup of coffee with milk – "meia de leite" (half coffee/half milk) or "galão" (1/4 coffee ¾ milk).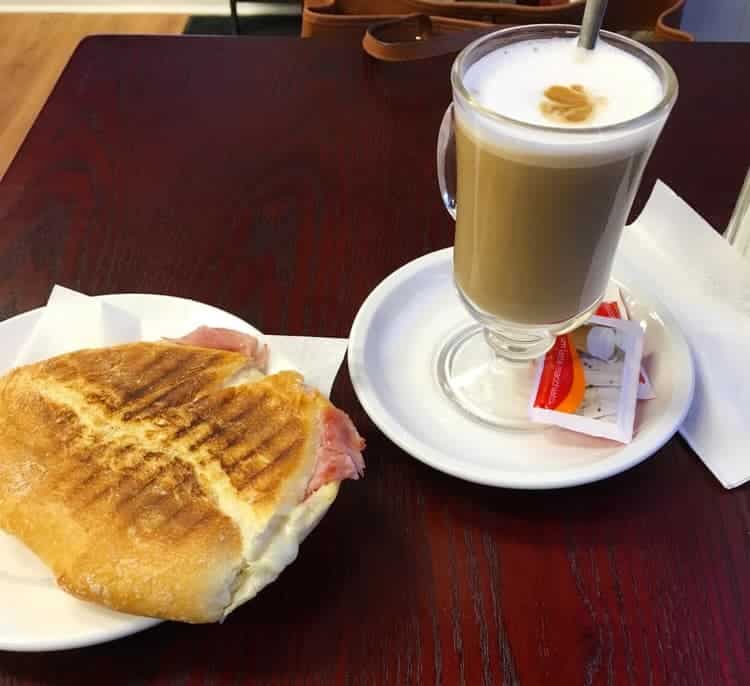 But what do the Portuguese eat for breakfast?
Normally the Portuguese eat toast with butter or a sandwich or croissant with a slice of ham or cheese. With this, they usually have Portuguese drinks such as drinking a milky coffee or freshly squeezed orange juice.
The Portuguese usually eat just enough to get through to 11 am. This is when they have a pastry and a Portuguese coffee (more about pastries below).
Lunch is more important than breakfast for the Portuguese, so they don't eat that much.
Kids usually have cereal. The younger generation is starting to follow western traditions and teens are starting to eat more yogurts and fresh fruit.
Which bread to eat for a Portuguese breakfast
When you want to eat a sandwich, there are so many different types of bread to choose from, so here is a small list to explain what each type is:
Papo-seco
Papo-seco are the most popular bread rolls and are great for just a simple sandwich. They are also used to make typical Portuguese toasted sandwiches, which contain ham, cheese, or both.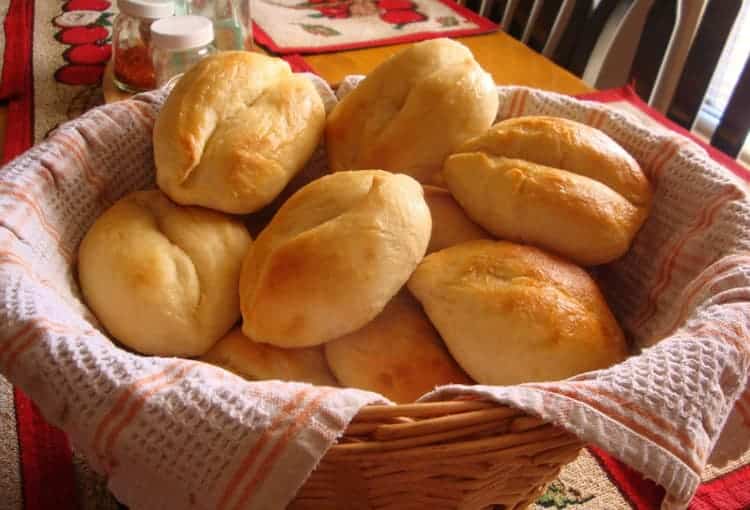 Pão de Milho
One of the oldest types of Portuguese bread is Pão de Milho which is like cornbread and usually comes in a loaf that you can slice.
Pão de Centeio
Pão de Centeio is a Portuguese rye bread made into a round loaf.

Bolo do Caco
Bolo do Caco bread comes from Madeira. It's a very soft flat roll and very nice warmed up with butter!
Pão de Mafra
As the name explains, this bread comes from Mafra. You can either get it as a loaf or buns. It is made from artisanal flour and has a long fermentation period.
Bola de Mistura
Bola de Mistura is a wheat and rye bread roll. Another great option for a simple sandwich.
The delicious Portuguese pastries for breakfast
The Portuguese also eat lots of pastries; they love to have a café and Pastel de Nata. But what is a Pastel de Nata?
Pastel de Nata
Pastel de Nata are basically custard tarts. The dough is made similarly to puff pastry and with their creamy filling, they are one of the most famous sweets in Portugal.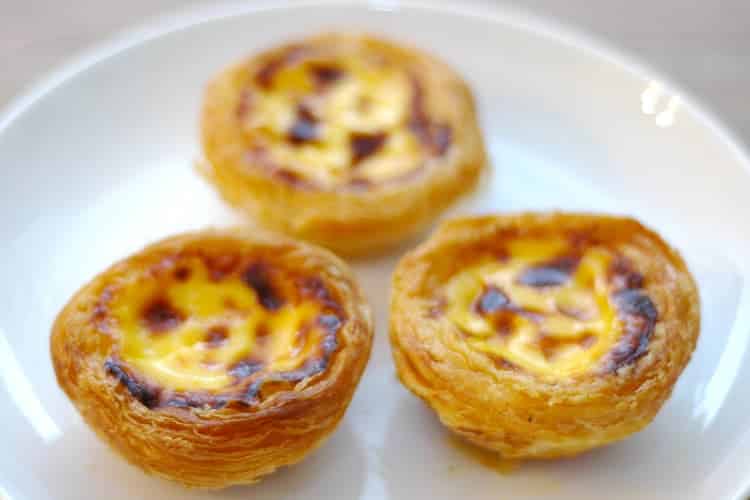 Pão de Deus
God's bread ("Pão de Deus") is made with butter, eggs, sugar, milk and grated lemon. It is then filled with coconut and baked until golden brown – they are my personal favourite warmed up with butter… delicious!
Bola de Berlim
A Bola de Berlim is a doughnut with custard cream like the Berlin ball. It's fried with sugar on top. It's great if you have a sweet tooth!
Salame de Chocolate
This chocolate salami (because it looks like salami!) is made from chocolate, eggs and crushed biscuits. You just roll it all together and stick it in the fridge for a couple of hours.
Pão de Ló
Pão de Ló is a very simple and delicious sponge cake made from eggs, flour and sugar. Very nice with a cup of coffee!
Want to try some other typical Portuguese snack foods? Have a look at: Snack Food in Portugal
Top 10 places to have breakfast in Portugal
We've picked the best bakeries ("padarias") and pastry shops ("pastelarias") throughout the country who have the freshest and tastiest breakfast options, great coffee and Portuguese-desserts (of course).
Breakfast in Lisbon
1. Pastelaria Versailles
Pastelaria Versailles dates back to the early 1920s. Here you can find the most amazing selection of cakes, biscuits and pasties all arranged in original glass counters. Savoury snacks are also available. Their house speciality is hot chocolate with a dollop of whipped cream.
Address: Avenida da República 15A.
Open from 7.15 am to 11 pm.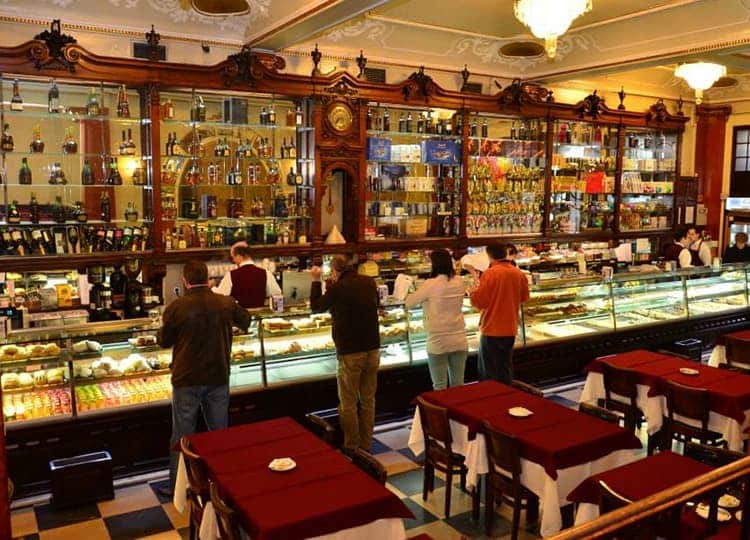 2. Chiado Caffe
Here you can find the "Pão de Deus" and Chiado Caffe bakes them on the premises to sell straight off the tray. They also have lots of croissants including a richly smooth chocolate variation, plus toast and sandwich combinations.
Address: Rua do Loreto 45-47.
Open from 7 am to 8 pm.
3. Brunch Café
At the Brunch Café, you can find a full English breakfast. But that's not all. The menu includes everything from crêpes and croissants to a nice ice-cream sundae.
Address: Rua da Alfândega 120.
Open from 8.30 am to 4 pm.
Breakfast in Porto
4. Padaria/Pastelaria Cristal
If you want a really good pastry in Porto, Padaria/Pastelaria Cristal is the place. They also sell lots of different types of bread (rye, seeded, etc.), and they sell lunches here with their traditional daily soup.
Address: Rua de Cedofeita 585.
Open from 7 am to 8 pm.
5. Molete Bread & Breakfast
Molete Bread & Breakfast provides several breakfast menus from their café from Pastel de Nata to orange juice, coffee and croissants with ham and cheese.
Address: Avenida de Rodrigues de Freitas 256.
Open from 7 am to 8 pm.
6. Confeitaria Chicana
Confeitaria Chicana is famous for its croissants. Here you can also have your toast with butter or just a sweet biscuit (or two).
Address: Avenida de Rodrigues de Freitas 36, Porto.
Open from 7 am to 8 pm.
7. Leitaria da Quinta do Paço
If you have a sweet tooth, Leitaria da Quinta do Paço is the place to go. They have the normal breakfast (croissants, pastries, etc.) and you can also find the most amazing cakes and éclairs here.
Address: Praça Guilherme Gomes Fernandes 47, Porto.
Open from 9 am to 9 pm.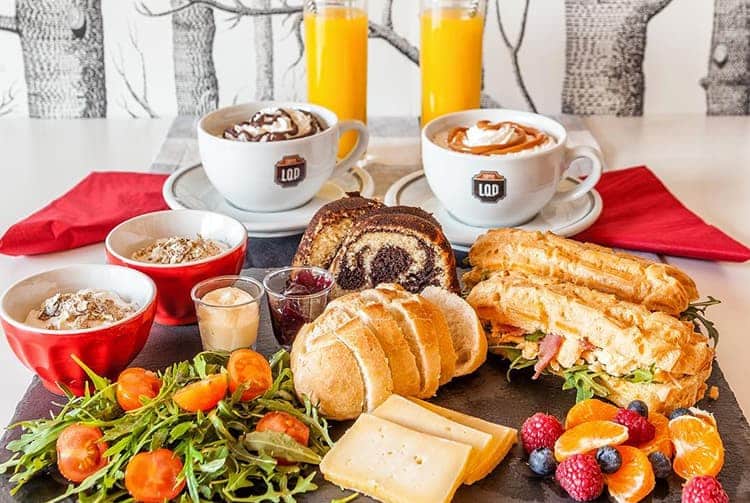 Breakfast in the Algarve
8. Best Waffles (Algarve)
As well as waffles, at Best Waffles, you can find a huge selection of sweet and savoury breakfast treats to eat right next to the Quarteira Beach.
Address: Avenida Infante de Sagres 1, Quarteira.
Open from 9 am to 9 pm.
9. Doçaria Almeixar (Algarve)
At Doçaria Almeixar you can find everything from waffles, crêpes, French toast, etc. They also serve lunch.
Address: Estrada de Vale Rabelho, Albufeira.
Open from 8 am to 9 pm.
10. Earth Shop & Café (Algarve)
Earth Shop & Café is the perfect place for vegetarians. They serve amazing breakfasts all day and also sell handicrafts.
Address: Rua das Flores, Carvoeiro.
Open from 8.30 am to 5.30 pm.
So what to eat first for your Portuguese breakfast?
One thing I forgot to mention is, if you really want to have breakfast at four in the afternoon, you can. Really!
The cakes and pastries are available all day, every day.
I hope you try all the pastries, cakes and coffees Portugal has to offer. Try a milky coffee and a Pão de Deus first (my personal favourite) or if you're in a rush just have a small black coffee and a Pastel de Nata. You'll be pleasantly surprised!
Too late for breakfast? Try out The 15 Best Cafés to Eat Brunch in Portugal
Do you enjoy a Portuguese breakfast? Tell us what you like best in the comments below.