Are you planning to visit Terceira?
Then you can not miss the most important city on the island, Angra do Heroísmo. It hides numerous beauties and interesting sites you should definitely visit during your stay.
And what are those and how to get there?
Don't worry, just read further.
We will tell you everything about Angra do Heroísmo, including how and when should you go, where to stay and eat, and of course, what to visit.
Where is Angra do Heroísmo in Portugal?
Angra do Heroísmo is one of the three capitals of the Azores island, located on Terceira island, in the middle of the North Atlantic Ocean. It is approximately 1600km away from the mainland, a 2.5 hours long flight from Lisbon and Porto.
Ryanair, TAP and Azores Airlines also operate direct flights between the destinations.
However, you can arrive there from the other Azores islands as well and here is how.
Curious to learn more about the Azores Islands? Check out our article about them.
How to get to Angra do Heroísmo from São Miguel?
SATA Air Acores operates direct flights between the Azores islands. A flight from São Miguel, from the airport of Ponta Delgada, is only 40 minutes long to Terceira.
However, it is very pricey compared to the distance. A one-way ticket can cost approximately €80-€100, depending on the day.
For more prices and details click here and choose your ticket.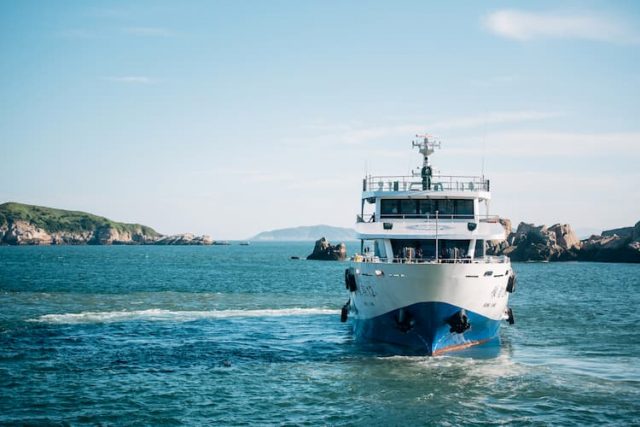 The other option is to go by ferry. It is a much longer solution since the trip between São Miguel and Terceira islands takes six hours. You also have to be aware that the ferries do not operate all year round between all the destinations.
Take a look at the schedule of the ferry company, Atlantico Line, and make sure you have a boat during your planned travel.
An extra tip: if you do not find anything from Ponta Delgada to Angra do Heroísmo, try the other port in Terceira, Praia da Vitória.
How is the weather in Angra do Heroísmo?
Thanks to the surrounding Atlantic Ocean, Angra do Heroísmo and the whole Azores islands have its special climate. The weather is never too hot, never too cold, but can change extremely fast from sunny to rainy.
The hottest and driest month is August, with an average of 23°C, while the coldest month is February with 15°C.
Most of the rain falls in January. During this month we have to count on approximately 20 rainy days and 155mm rain. Also, from October until April the weather is significantly rainier than during summer.
The temperature of the water is usually around 17°C, but during the summer months, it can reach 23°C.
Want to know more about the weather in Portugal? Click here.
When is the best time to visit Angra do Heroísmo?
Looking at all this information about the weather makes the decision quite clear. If you try to avoid rain and clouds, you might plan your travel to Angra do Heroísmo for the summer months.
Between May and October, you can enjoy the city with the biggest possibility of sunny weather. Furthermore, the Atlantic ocean might be also warm enough for a bath.
Although it's peak season, you have the biggest chance to get the best of your travel in Angra do Heroísmo from June to August.
If you want to go on a guided tour through Angra do Heroísmo, check out this fun activity.
Things to do in Angra do Heroísmo
Angra do Heroísmo was founded in 1478 and since then had an important role at the Azores islands.
During your visit, you will find several historical memories in the town – which is part of the UNESCO list – and natural beauties in the surroundings. Here, we recorded all the spots which are definitely worth a visit.
Fortress of São João Baptista: the fort has numerous stories to tell about defence and battles from the past 500 years.
Cathedral of Angra do Heroísmo: you can find in the middle of the city centre the most emblematic church of the island, the Cathedral of Angra do Heroísmo. Make sure to walk in and look around the centuries-old building when you pass by.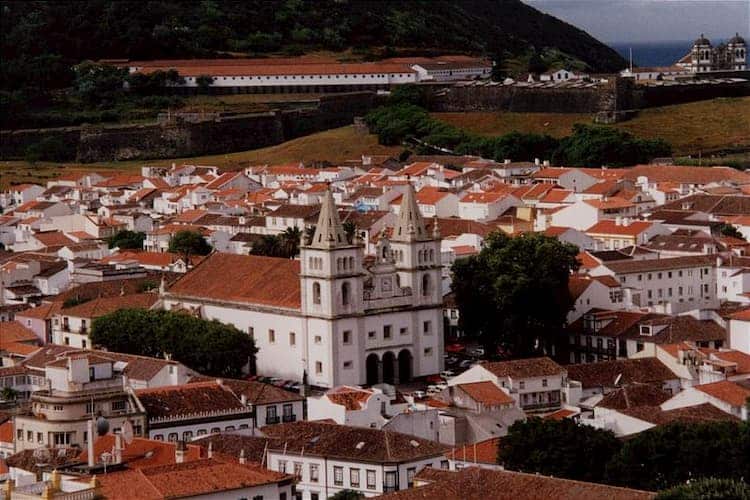 Duke of Terceira garden: also located in the historical centre, the garden is a beautiful remain from the romantic times of Portuguese history.
Monte Brasil: it is not only the Fortress of São João Baptista you can find here but several walking routes and a beautiful view to the city of Angra do Heroísmo.
Algar do Carvão: in case you are looking for a real adventure, visit these ancient lava tubes. They were created approximately 3.500 years ago thanks to the volcanic movements.
To get weekly information about Portugal, subscribe to our newsletter.
Best hotels in Angra do Heroísmo
Here are our best choices to stay during your holiday in Angra do Heroísmo. Book a room in any of these hotels and you will not be disappointed.
Terceira Mar Hotel
The hotel faces Fanal Bay and provides a beautiful sea view from the rooms. The large pools and the Turkish bath are also helping when you wish to rest after a day of wandering around the island.
Check their availability here.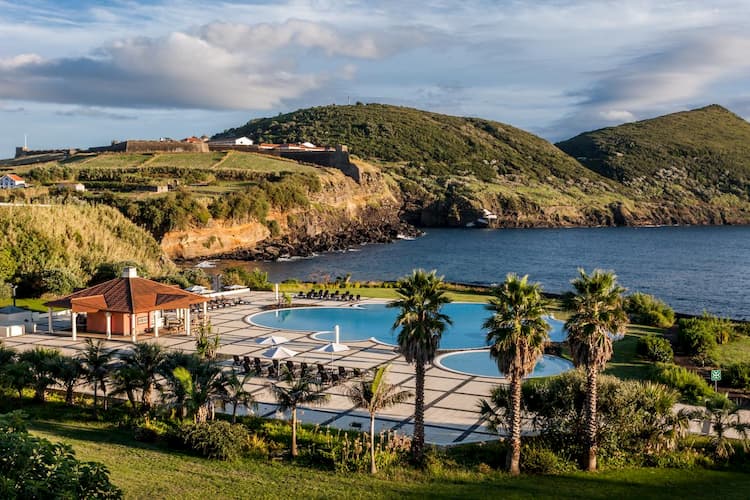 Hotel do Caracol
Go and discover the coastline from Hotel do Caracol. The beachfront hotel is just a few steps away from the beach where you can try scuba diving and see the colourful reefs.
Check their availability here.
Azoris Angra Garden – Plaza Hotel
Located in the main square of Angra do Heroísmo, we can not find a more central accommodation than the Plaza Hotel. The hotel offers all the modern luxury in a historic building. This way we can enjoy the comfort and the centuries-old surroundings at the same time.
Check their availability here.
My Angra Boutique Hostel
In case you are looking for something more bohemian, the My Angra Boutique Hostel is the right choice for you. Cosy design in the private and in the dormitory rooms as well.
Check their availability here.
Casa da Maria
Are you travelling with more people? Try the Casa da Maria with its cute, rustic decorated rooms. There is space for up to six people in three double rooms.
Check their availability here.
Which ones are the best restaurants in Angra do Heroísmo?
You might also want to know where to have great food, right? Then keep reading and book a table at your favourite place.
Taberna Roberto: delicious meats and fish cooked in a wooden oven, with excellent wine and great staff.
Birou Bar: Birou Bar might be small, but it has a huge beer menu and delicious local food for very friendly prices.
Beira Mar São Mateus: right at the São Mateus port you can find the freshest fish in town. Good news that its not only fresh but very well cooked and seasoned, a must-try place for fish lovers.
O Cachalote Restaurante: If you had enough of the seafood and are looking for a good old bloody stake, this is your place. The best steak in Angra do Heroísmo is waiting for you in O Cachalote Restaurante.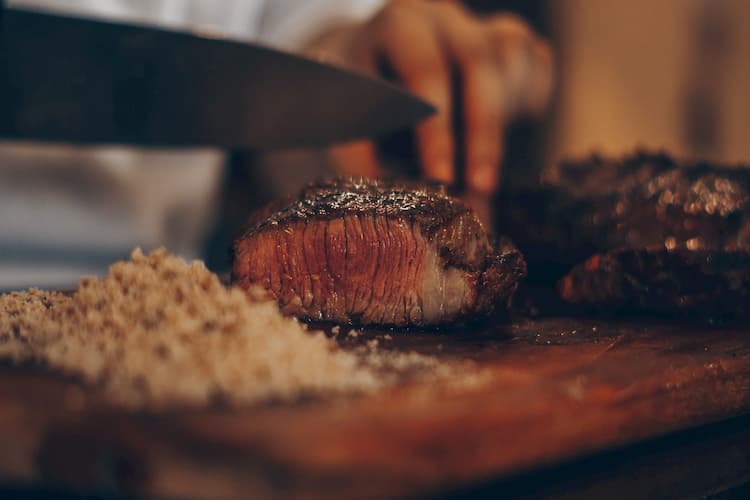 Restaurante Caneta: If you decide to eat here do not hesitate to order the traditional food of Terceira, the Alcatra. And for dessert, try their speciality, the vinegar dessert.
Dying to know more about typical Portuguese food? We have prepared a guide just for you.
Is Angra do Heroísmo a good place to visit?
Angra do Heroísmo is a perfect stopover during your adventures in the Azores islands. It can be your base in Terceira from where you can discover the whole island.
Here, you can get familiar with the history of the islands, the natural beauties and of course the local culture.
Book your trip right away.