While we do talk about them a lot, Portugal isn't just beer and beaches. In fact, the country is a fantastic kid-friendly destination too. Portugal with kids can be an incredible experience.
If you're planning a holiday with the family, then we have a few reasons why you should consider Portugal.
9 Things You Must Do In Portugal With Your Kids
The country has plenty of kid-friendly activities, from the Algarve to the North and every other region in between. Check out my list of favourite things your kids (and your inner child) are bound to love in Portugal.
1. Visit The Oceanarium in Lisbon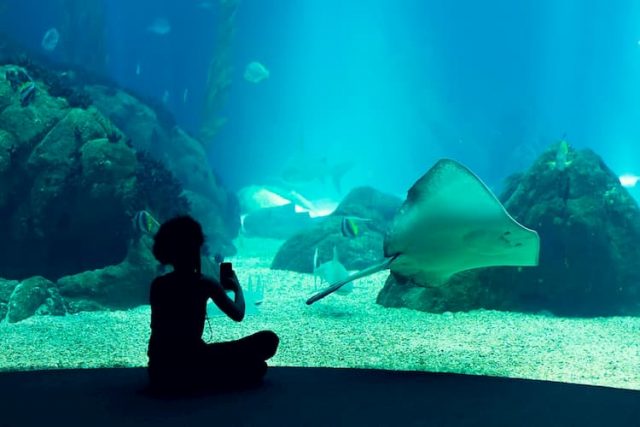 Located in Parque das Nações, just out of the centre of Lisbon, you'll find Europe's second largest aquarium – the Lisbon Oceanarium (Oceanário de Lisboa).
There are over 8000 different aquatic species inside the oceanarium, including sharks, penguins, rays, sea dragons, otters and more!
Children will definitely be squealing with excitement on a journey through here. Book your ticket here.
Address: Esplanada Dom Carlos I, Lisbon 1900-005
Hours: 10am -6pm
Price: Children up to 3 go free, adults pay €16.20
2. Tram 28 City Tour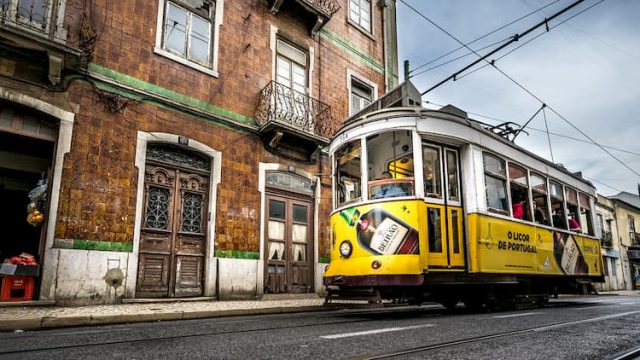 Kids of young ages always seem to enjoy seeing the sites from the windows of public transport. Car rides, boat rides, trains, and in Portugal, trams!
Lisbon's best-known tram number 28 will take you and your family on a journey through the hills of Lisbon and your kids will surely love every minute.
First departure: Martim Moniz
Hours: 6am-10.30pm
Price: €1.50 (special discounts for children)
3. The Lisbon Zoo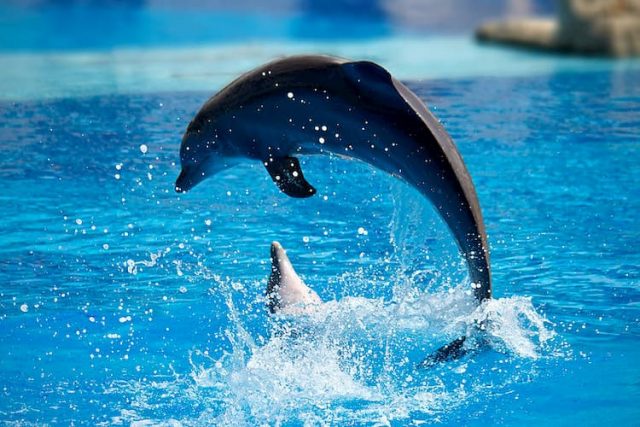 If your kids love animals then The Lisbon Zoo (website in Portuguese) is an exciting place to see wildlife from all around the world in just one day. You will see big cats, monkeys, colourful birds, reptiles and more.
The Lisbon Zoo is both an educational and fun way to enjoy some of the world's greatest species. Book your ticket here.
Location: Praça Marechal Humberto Delgado, 1549-004 Lisboa
Hours: 9am- 6pm
Price: Starts at €14.50; free for children under 11 years
4. Hippo Trip in Lisbon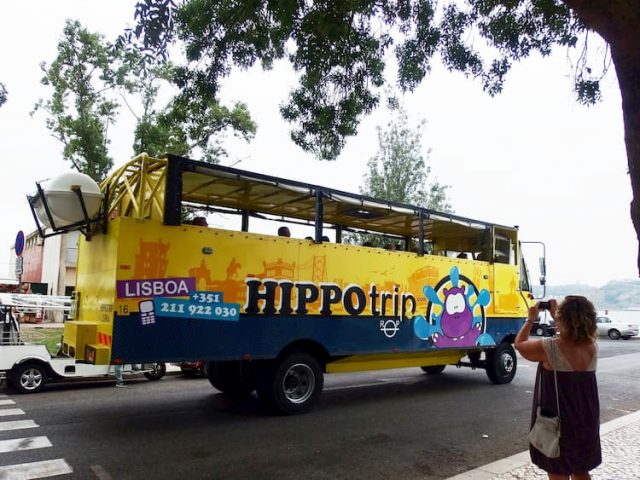 For an original experience try crossing the River Tagus in Lisbon aboard the HIPPO Trip bus and boat ride. Kids will definitely enjoy.
This vehicle will take you on a land and sea excursion that explores the city's Alcântara district, city centre and even the historical centre of Belém. This is an easy, family-friendly idea. Book your ticket here.
Location: Edifício HIPPO Trip, Doca de Santo Amaro Lisbon, 1350-353
Hours: 10am-4pm
Price: From €15 to €25
5. Palaces and Castles in Sintra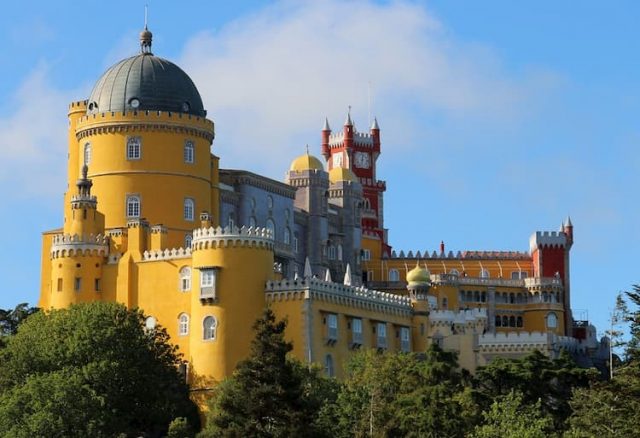 Do your children like fairytales? If the answer is yes, then make a day trip to Sintra and all its glorious castles and palaces. If you're unsure of which to choose, I'd say that Pena Palace is one of the most magical, its exterior resembling Little Mermaid's Atlantica.
The Quinta da Regaleira and its gothic façade and enchanting gardens are also worth adding to your to-do list.
These impressive castles will have kids and parents imagining they are in a storybook. Book your tour here.
Location: Sintra
Price: €45 per person
6. Kayak Tour in Lagos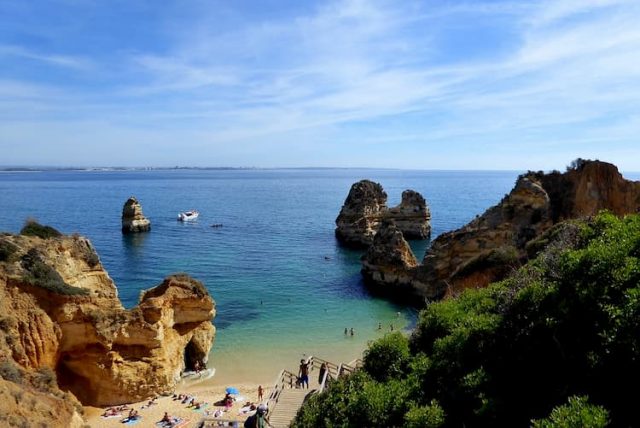 If you're exploring the beautiful southern region of Portugal, then there is no better way to see the Lagos coastline than by being in the water.
Kids and adults are sure to enjoy kayaking along the coastline, exploring hidden beaches and caves and snorkelling in the crystal-clear waters.
Keep in mind that the tour lasts three hours, and parents will surely take on most of the work! Book your tour here.
Location: Av. dos Descobrimentos, Cais da Solaria, Lugar 2, 8600-345 Lagos
Price: children pay €18, adults pay €45
7. Slide and Splash in Albufeira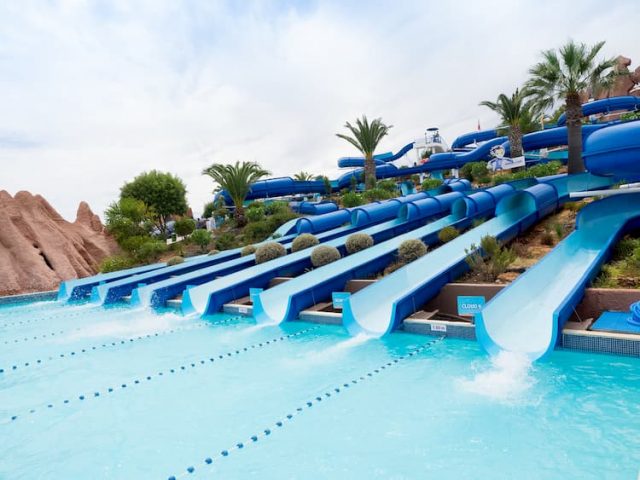 For a day of summer fun, splashing around in the water, Slide and Splash is a water-adventure park your kids are bound to love.
There are plenty of slides, lawns, sun lounges, animal shows, and even massage and fish spas to enjoy.
The park also provides restaurants and a store, so you can turn a visit into an all-day affair. Buy your ticket here.
Location: Vale de Deus 125, 8401-901 Lagoa
Hours: 10am-5pm (reopens 1st of April 2019)
Price: Children under 4 go free, prices start at €18
8. Tile Making Class in Porto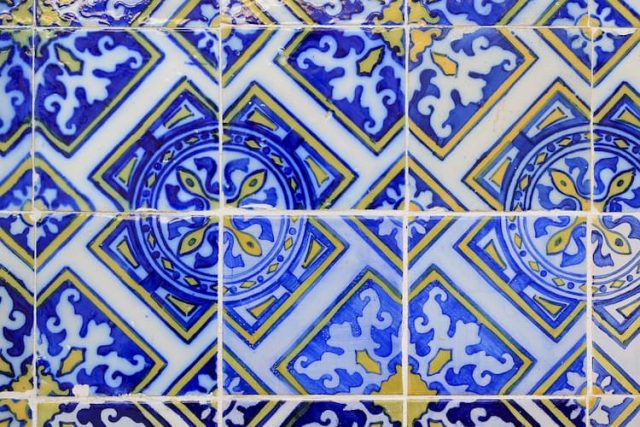 If you're visiting Porto then you'll soon discover the beauty of the Portuguese tiles (Azulejos Portugueses).
For a fun, hands-on experience, why not try creating your very own Portuguese-inspired tile!
Teresa has 20-years experience in this art. She will provide you with all the materials necessary, as well as some history about the tiles, styles and techniques. Book your experience here.
Location: Rua Santo Isidro, Porto – Porto
Price: €30 per person
9. Swim with Dolphins in The Azores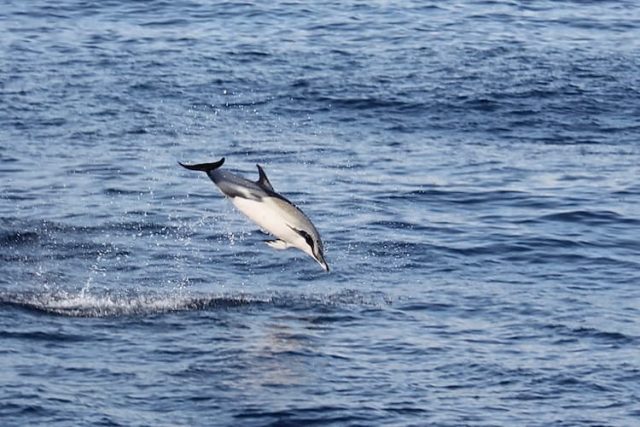 If your family holiday has a larger budget and you're interested in heading to one of Portugal's island archipelagos, then swimming with dolphins in the Azores is sure to be a hit!
Tours generally include mask and snorkel training, half-day trips to swim with dolphins, and a kids' activity pack.
Optional extras also include whale watching trips, cycling tours in Portugal, nature walks, kayaking, and more. There are strict safety regulations and marine biologist on board. Swimming with dolphins could very well be the trip of a lifetime! Book this tour here.
Address: Portas do Mar shop, 26 9500-771 Ponta Delgada, Futurismo
Price: Children pay €35, adults €75
Ready for a trip to Portugal with your children?
Now that I've given you a list of my favourite things to do with children, have fun and start planning your next holidays, tantrum free. Portugal with kids is actually better than you think.
Do you usually travel abroad with your kids? Would you like more suggestions about what to do with your children while on holidays in Portugal? 
Sign-up for our newsletter today and get travel tips and ideas on places to visit in Portugal.