Quinta do Lago in the Algarve is one of Portugal's most luxurious and alluring destinations.
Below you can find out where to stay, where to dine, what to do and more in the most sought after resort in the Algarve.
Holidays in Quinta do Lago
If you've never heard about this luxury resort, get ready to be very surprised, there's a whole new side of the Algarve that you've definitely been missing.
Set between the Atlantic Ocean and the sublime scenery of Rio Formosa Natural Park, Quinta do Lago is known for its outstanding golf courses and gorgeous beaches in Portugal.
A secluded luxury resort in the Algarve
Quinta do Lago is comprised of 2000 acres of rolling hills and pine woodlands, making it one of the most prestigious locations in Portugal.
The Golden Triangle of the Algarve
Part of the golden triangle, a beautiful area of the central Algarve, along with Vale do Lobo and Almancil, Quinta do Lago has also established itself as a popular playground for the rich and famous.
The most expensive real estate in the Algarve is located here and footballers like Eric Cantona, Wayne Rooney, and even singer Bonnie Tyler have property in the area.
How to get to Quinta do Lago
It is an easy 20-minute drive from Faro airport to Almancil, the town where Quinta do Lago is located. From Lisbon airport, the trip is also quite direct if you take the highway. The drive should take around 2h30 to complete.
If you're planning on driving to Quinta do Lago, I suggest you rent your car with Rentalcars.
For those of you who prefer a private transfer service from Faro or even Lisbon, I recommend this company Luxclube.
Things to do in Quinta do Lago
There's a reason why the rich and famous flock to this region in the summer. It's not just the pure sandy beaches or the warm weather, there's also the fabulous cuisine you can taste here, the award-winning golf resorts and some of the most comfortable and luxurious hotels in the Algarve. Check out all of the things you can do when you holiday in Quinta do Lago.
Golf Courses in Quinta do Lago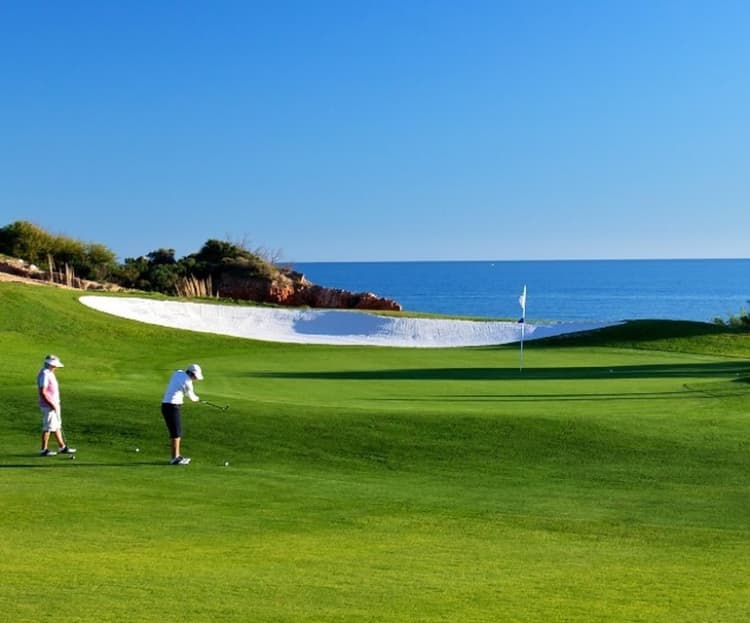 If you're looking to get the clubs out while visiting Portugal, there is no better place to do it than Quinta do Lago in the Algarve.
This exclusive estate has been built around its 3 golf courses, which comprise 72 holes, and an additional 36 holes, including the famous Ocean Course, can be found at Vale do Lobo, just a 5-minute drive away.
The resort also features a golf academy offering everything from private lessons to holiday camps, and whether you're a beginner or an advanced golfer, they guarantee quality results.
Do you like golf? We've made a list of the best golf courses in Portugal.
Ria Formosa Natural Park, a natural oasis
Quinta do Lago in the Algarve is also a prime destination for any nature lover looking to encounter rare species of fauna and flora.
The Ria Formosa Natural Park is right next door and there are the two gorgeous nature trails near the resort.
Do you like bird-watching? Enjoy a three-hour private tour in Ria Formosa Natural Park.
Quinta do Lago beach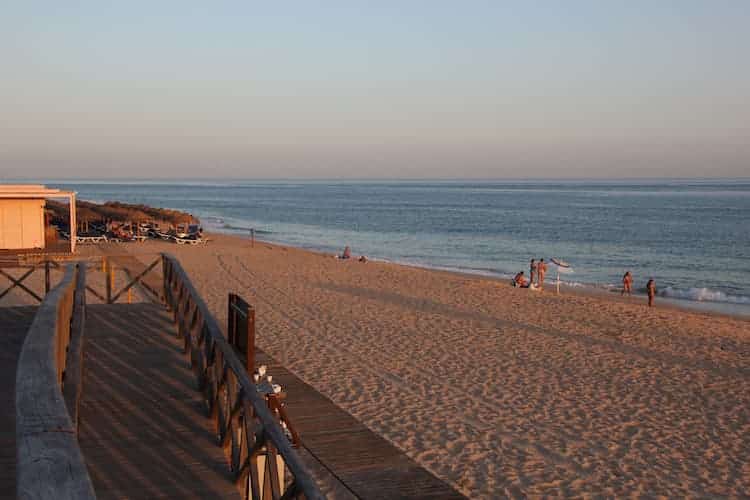 If you're simply looking to relax, in Quinta do Lago beach, you'll find over 2 miles of golden sand, with magnificent sand dunes and plenty of facilities.
There are cafes, restaurants, sun beds for rent, and all kinds of water sports available to participate in. Away from the beach, you can also try activities like horse riding, tennis, and even clay pigeon shooting.
If what you really like is going to the beach there are also other beaches around Quinta do Lago which you can explore:
Praia da Cacela Velha
Vale do Lobo
Praia da Quarteira
Trafal Beach
Cape St. Mary
Shopping in Quinta do Lago
A convenient luxury.
Although Quinta do Lago feels quite secluded and will allow you to avoid the crowds of Algarve holidaymakers, there are two shopping plazas which are situated by the entrance to the resort.
The Quinta Shopping Centre has a large variety of upscale designer stores, eateries, and is also home to a large supermarket.
Be ahead of everyone else and find out the latest news about Portugal. Sign up to our weekly newsletter.
Where to Sleep in Quinta do Lago
There's only one way you can sleep in Quinta do Lago and that is sleeping in style.
Quinta do Lago in the Algarve also hosts some of Portugal's top hotels and villas, and although this isn't really the place to go for a budget retreat, you're sure to have a memorable experience staying in one of the resort's world-class hotels.
The Magnolia Hotel
New to the Quinta do Lago hotel scene, The Magnolia Hotel offers a laid-back Miami vibe complete with funky pink neon signs looking to inspire a sense of playfulness in the young at heart.
Their lighthearted approach doesn't mean they don't take good hospitality seriously though, they have 5* quality beds, sheets of Egyptian cotton, fluffy towels and attentive staff.
A weekend for two in May is only €368. Enjoy a "pre-summer break" for a fraction of the price you would pay in the summer.
Make sure you make a reservation with Booking.
Quinta do Lago holiday villas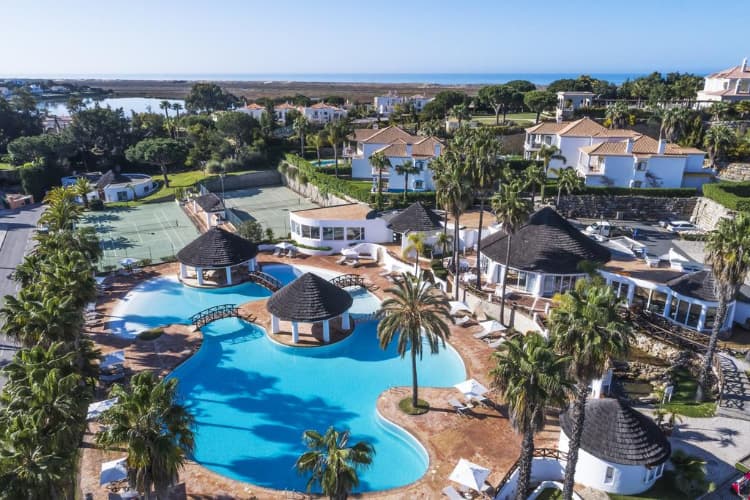 The villas available for rent in Quinta do Lago come with more than simply a place to sleep. These top-quality accommodations are accompanied by an exciting range of services through the 'lifestyle' card you receive upon arrival.
This provides you access to the undivided attention of the Guests Services team who will assist with booking local restaurants, golf reservations, transfer reservations, car services and bookings for tours or activities in the area.
Check out this stay and play package on Quinta do Lago website.
The Conrad Algarve
Hospitality is the name of the game at The Conrad Algarve. They have an established reputation for providing service of the highest standard, making each guest feel like the most important person in the joint.
The décor is bright, comfortable, and luxurious. The rooms are stylized down to the last deal and there is a beautiful outdoor leisure area.
A weekend in May, with a superb breakfast included, will cost you €576 but in my opinion, it's really worth it.
Reserve it now on booking, it can get really busy.
Restaurants in Quinta do Lago
Indulge your inner gourmand.
As you're likely starting to realize, Quinta do Lago in the Algarve is a good place to come if you're looking to spoil yourself, and there is certainly no shortage of options of where to do so when it comes to sustenance.
Casa Velha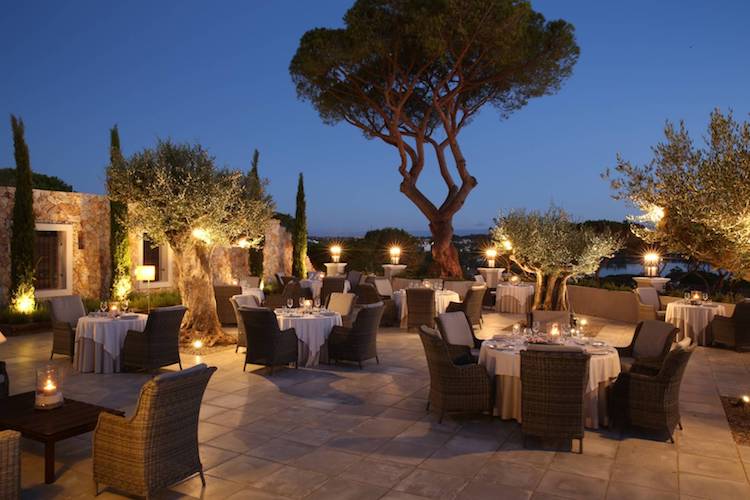 Casa Velha has undergone extensive renovations and you can now dine on a lovely patio with breath-taking views across Quinta do Lago lake. In addition to the view, the cuisine is also first rate.
The menu changes with the seasons in order to make the best use of the freshest produce. You can usually find Foie Gras, fresh scallops, sea bass and lobster and meat of exceptional quality.
The wine list is also a notable feature, containing the best of Portuguese wines and some French classics.
I would suggest you book your table on the Fork as much in advance as you can. These restaurants can become quite busy.
Casa do Lago
With a relaxed and friendly beach vibe, this place is open all day serves a variety of tasty, healthy dishes.
The lakeside sun lounge is perfect for relaxing with a cocktail and the menu relies heavily on fabulous fresh seafood including lobster, fresh fish of the day and scallops, as well as great beef, chicken and lamb options.
Don't forget to reserve your table in advance. You can use any booking platform but I usually like to use the Fork.
Bovino Restaurant
If you're hoping your stay in Quinta do Lago will include a steak dinner that you're not likely to forget anytime soon, visit Bovino.
This luxury steakhouse serves top-quality beef from around the world, in a setting that beautifully combines contemporary and traditional touches.
How does beef dry aged for 28 days, cooked with care and served with flair sound to you? Don't miss this one.
This is another popular restaurant so make sure you make your reservation on the Fork.
Dano's
For sports, craft beer, and friendly service, Dano's can't be beaten.
A stylish, relaxed, light-filled space, this is the place to come to for a day time snack, a tasty meal or to catch all the sporting action on the multiple screens, while enjoying a drink at the bar.
It's home to great late-night live music too, so prepare for some foot-stomping fun.
Visit the Fork to book your table.
Should you go to Quinta do Lago?
If you can afford a more upmarket destination this is the place for you. Known for its exclusivity, planning in advance and booking a room or a villa is quite essential since this is a very popular area, especially in the summer.
I would suggest you book your holiday 5 months in advance, so if you're planning to go in the summer, you should be doing your booking right now.
All in all, if you're looking for a glamorous and exclusive holiday this is the place to go.