Is Lisbon a hipster city? If yes, where can find the spots outside the cultural mainstream and the streets where the creative minds get together?
Let's find out.
We bring you the true hipster guide of Lisbon
You will find many blogs guiding you through hipster Lisbon and we suppose you have already marked many of these spots as "done".
But, we want to dig a little deeper here and take you to the hipster spots of today, tomorrow and the day after.
First, let's check the ones you probably already know.
LX Factory: the classic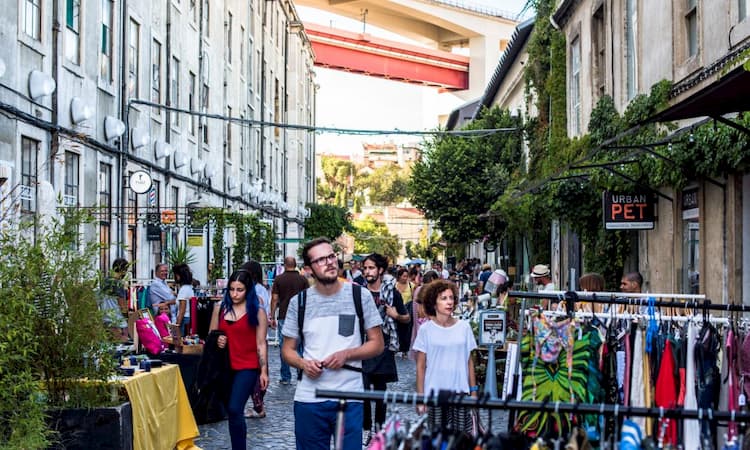 There's no denying it, this is the Hipster Kingdom of Lisbon!
The former factory site is home to cooperatives and professionals of the creative industry, but most folks will go there because of its:
Modern Restaurants;
Creative Shops;
Great Cafés;
Hipster appeal.
In the meanwhile, It might be also useful to see the list of best restaurants in Lisbon (according to real reviews).
Sunday Market
This place is great to get yourself the newest hipster wear (especially at the Sunday market).
You might get the feeling that's it's a bit too curated to the hipster world though, like gentrification has gentrified itself, or so. And there's nothing wrong with that either, sometimes it's nice to get what you expect.
If you want to get your "hurr did", this is your chance! The two gorgeous ladies of Madame Dussu will fix you up like you've made in a shade for an oddball!
How to get to LX factory
The Lx Factory is located in street Rodrigues de Faria 103, 1300-501 Lisboa.
From Cais do Sodré you can take the 15E tram or the 714 Bus.
The price is usually 2€ for 1 round trip so if you're looking to save some money the best option really is to get the Lisbon Card from get your guide.
It includes
Free transportation.
Can buy it in advance (skip queues);
Free access to dozens of Museums and other attractions;
Other benefits such as discounts.
Príncipe Real: the hipster Prince in town
Best for hipsters with cash, the LGBT community in Portugal or both.
Embaixada Shopping Gallery
You should definitely check out the Embaixada shopping gallery if you are in Príncipe Real, especially if case point one applies to you.
If the former Arabian palace was a painting, its name would be "Dreamy Dandy hits his credit card limit". It's like a teenie-weenie hipster mall.
See also: Top 10 Luxury Hotels in Portugal
Gin Lovers bar
Next to the beautiful shops, you'll find a steakhouse and the stylish Gin Lovers bar served by waiters with an authentic smarty-pants attitude. Just the way you like it!
Bear bar Tr3s
If you wanna dig a bit deeper (hehe), check out the bear bar, Tr3s, just two streets further down. We're sure they don't mind if you take a peek inside: just open the man bun, put on a wife-beater and trust that the hipster beard has got your disguise covered.
If you want to know more about Lisbon we suggest you subscribe to our newsletter to receive real advice from a team of expats and locals who live in Lisbon.
Hipster spots in Bairro Alto
Bairro Alto is one of the trendiest places to have dinner or drink or something else, like a tattoo.
The most hipster-ish action here would be to get a tattoo on one of the few blank spots on your body. How about a diamond on your ring finger? Maxim at Queen of Hearts will be happy to add more colour to your life.
Also, if you're looking for an artistic place to stay in Lisbon, check out the Raw Culture Art & Lofts located in Bairro Alto.
Feira da Ladra in Alfama
Originally the market of the thieves, this is now the market who steals hipster's hearts. You can find literally everything here: a grandma selling her original vintage stuff a.k.a.: clutter from her mother.
What else?
A lot of products made out of real Portuguese cork (assembled in China Of course – check labels!), the comic store owner from The Simpsons and so on. Don't be fooled, some of it is original, some are not.
Just please do us a favour and don't buy portuguese tiles here as they are most likely just stolen off some beautiful buildings in the area.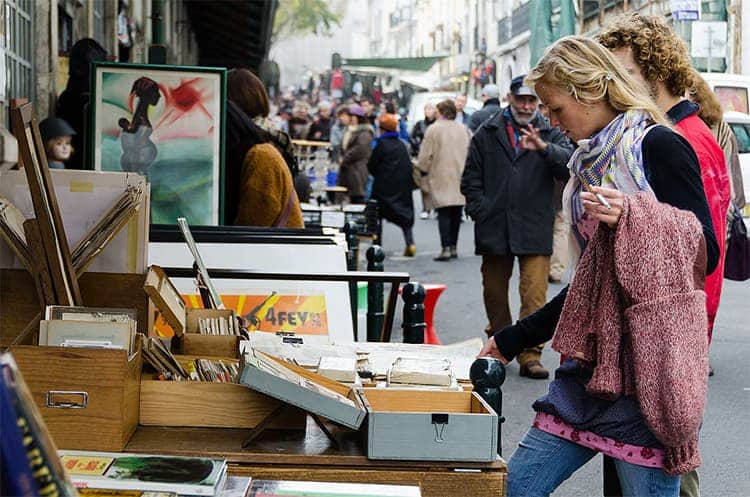 The upcoming hipster spots in Lisbon
Ok, so we've covered the classics hipster spots in Lisbon.
But now come closer and let me whisper in your ear, hear my conspirative voice:
Ladies and gentlemen, these, below, are the REAL hipster treasures of Lisbon!
Beato and Marvila
Certain hipster tribes have been spotted in the prairie already, but you should still keep a close eye on the Beato and Marvila neighbourhoods.
Dois Corvos brewery
Craft beer breweries like Dois Corvos which is full of Instagram-esque motives and are proof of something boiling in the kitchen.
Hub Criativo Beato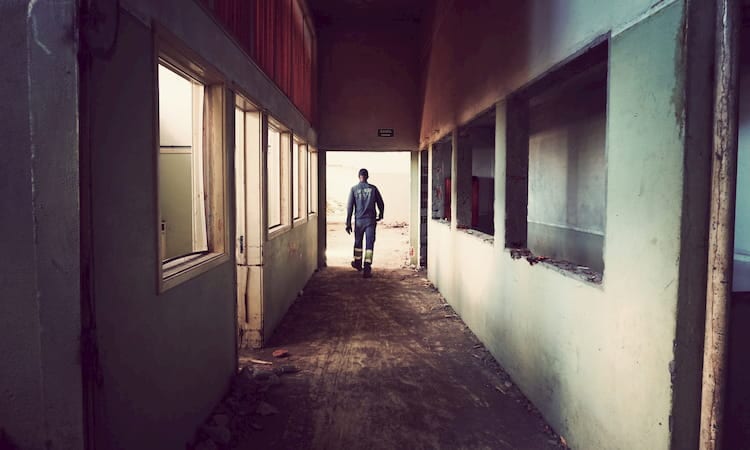 And let's not forget about Hub Criativo Beato, a century-old factory being converted into one of the biggest creative hubs in Lisbon.
Their description reads:
"35,000 m2 distributed amongst 20 buildings are being renovated to house national and international entities in the areas of technology, innovation and creative industries, that call Lisbon an entrepreneurial open city and a world reference."
Sounds like an undercover hipster nest to me.
Be sure to drop by these the amazing, huge, graffiti in Marvila, that have put Lisbon officially on the premium graffiti map of Europe.
Café da Garagem in Graça neighboorhood
My personal favourite hipster café hides in the labyrinth-like streets of Graça in Lisbon.
(If you're not sure of how to get to Graça in Lisbon, check out our Lisbon Public Transport Guide.)
To reach the Café da Garagem, you first have to pass by the "portier" of the theatre with the same name.
We're sure this will give you the feeling that you are one of only a few accomplices in the city to know this place.
Please don't be sad when, in the end, it's full of fellow hipsters.
Breathtaking view of Lisbon
Your climb up the mountain will be rewarded by a breathtaking view and about 1 million photo motives (of the decor, the view, even the bathroom is great!).
Nomad's Goods: hipster shop and café
Located near "São Bento" Nomad's Goods is a warm and welcoming place that makes my little hipster heart boom. And I'm writing these lines to you straight from there (ahem here) right now.
Obviously, nomads and their laptops totally go love it there.
The owner, Natalia, will give you a warm welcome and the shop itself is a homewares and lifestyle store. It even has a design studio which is sitting under the little roof.
If you're a digital nomad, check out our article on the 20 best Lisbon coworking spaces.
Street Regueirão Anjos
Close to Graça and to Intendente Metro Station you'll find this narrow, one-sided road.
It looks a bit creepy, but it's safe, at least during the day.
Here you'll find:
Street art;
Arta – a recreative association;
Hidden pubs that don't even appear on google maps.
Hipster café No.2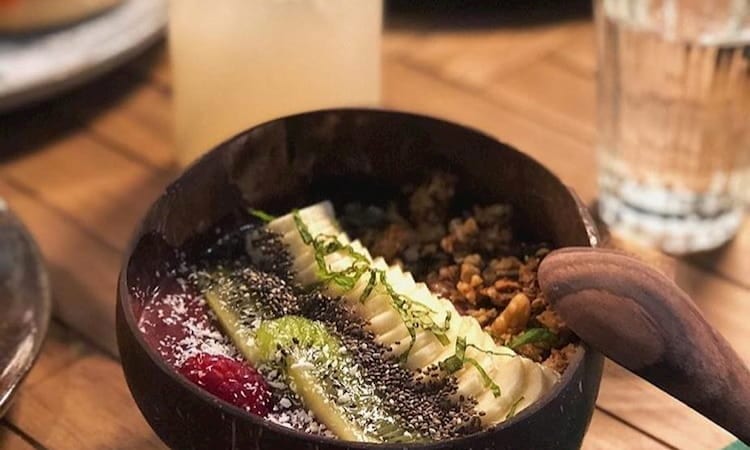 Surfers, but also everybody else, will love the new Boutik café and chill out haven in São Bento.
Relax in their hanging chairs or enjoy their brunch for €15 including everything a healthy weekend warrior needs: avocado on toast, a fruit bowl, juice, coffee, and a smoothie.
The integrated store sells boho bling bling, surfboards and wear, and things that nobody needs, but definitely wants.
Veganeats: hipster restaurant
Aren't all hipsters vegan? Or at least 78% of them are?
And are you always looking for a place that has not been discovered by all the other hipsters yet?
Don't you worry, Veganeats is so inconspicuous that they don't even have a sign at the entrance and will not be found by the rest of the Brady Bunch. Instead, AMAZING cakes, changing daily menus and a lovely family who runs the restaurant, are awaiting you.
If you're wondering how's it like to Being Vegan in Lisbon, check out the experience in first hand by our vegan copywriter who's based in Lisbon.
Lisbon is a nice city for hipsters
So, we hope you enjoyed our Tango together through hipster Lisbon!
We know, actually, nobody likes to be called a hipster, but in the end, a modern (and of course great) sense of style will already put us in that box. And there is absolutely nothing wrong with that!
What about your favourite places? Do you have any to share that you don't mind to be flooded with other hipsters soon to come? Leave a comment below and let us know.