There's no shortage of reasons to visit the beautiful Algarve region in southern Portugal.
With plenty of stunning beaches and magical historical villages to explore, it can be easy to forget that this world-famous holiday destination also has an exceptional culinary reputation.
Algarve Food Specialities
Whether you're looking for a Michelin star experience, or to enjoy simple, freshly prepared local food, you'll find something special in the cuisine of Portugal's Algarve.
For food lovers looking for a truly authentic experience when it comes to sampling some of the best that this part of Portugal has to offer.
Here are some dishes you should absolutely seek out while visiting the Algarve, and even where to find them.
1. Frango da Guia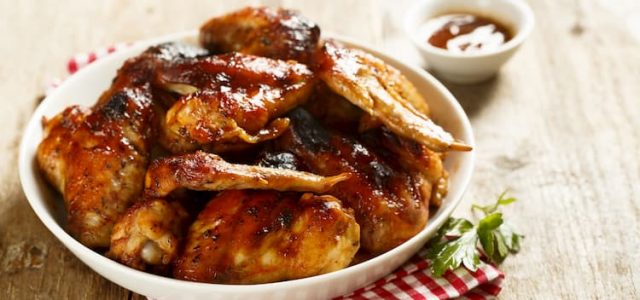 You will undoubtedly see this staple of Portuguese cuisine on offer throughout the country, but this wonderfully delicious spicy chicken actually originated in the Algarve, so this is the place to try it.
Said to have hailed from Guia, each "churrascaria" (chicken restaurant) has their own take on the regional classic.
Some insist on marinating the chicken in the spicy sauce in advance, while others cook it on the charcoal grill and then cover it in the sauce afterwards.
In my opinion, if the sauce is up to par, both methods yield a delicious result.
Generally speaking, the sauce includes malagueta chilli peppers, garlic, olive oil, bay leaves, salt, vinegar or lemon, paprika, and possibly a secret ingredient or two.
Try it at Ramires in Guia, where they have been grilling up spicy chicken for over half a century.
2. Conquilhas à Algarvia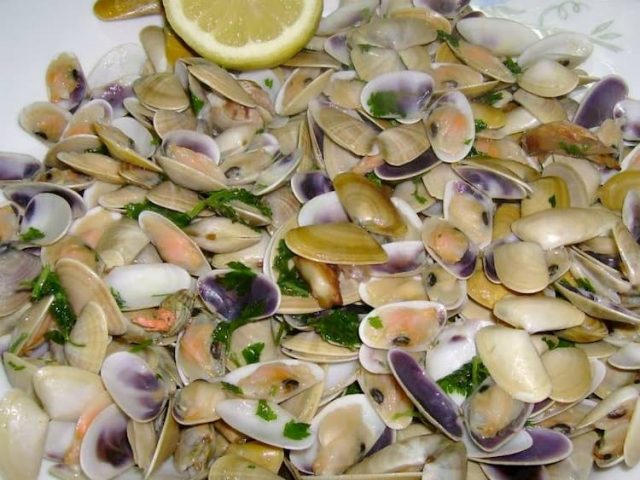 Even if you're not always into trying seafood, I would really beg you not to leave the Algarve without trying the region's succulent clams.
Fresh from the Atlantic Ocean, these are the star of Conquilhas à Algarvia, a wonderful dish with fried onions, garlic and sliced Portuguese sausage. All cooked together in a pan with fresh clams and garnished with parsley or coriander.
You will find these treats of Algarve cuisine on offer throughout the south and you really can't go wrong.
That being said, enjoying them against the blue-and-white tiled backdrop of the simple Tasca Jota in Lagos is an experience worth having.
| If you're planning to go to Lagos, we recommend you take an amazing cruise along the coast of the Algarve while trying the local food. You can book it with Get Your Guide. It's a 2.5 hour guided tour and you can cancel it for free.
3. Cataplana de marisco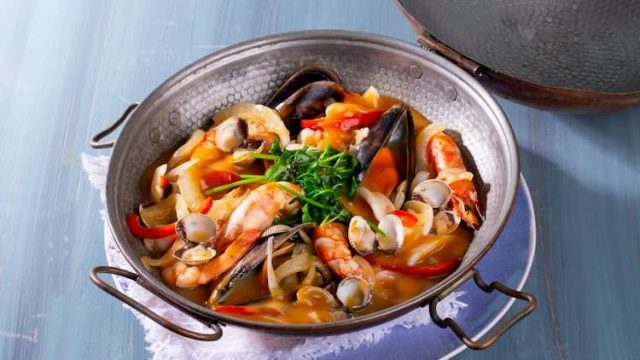 On the other hand, if seafood is why you came to the Algarve in the first place, then definitely don't miss out on the pleasure that is the cataplana de marisco (seafood cataplana).
A dish that truly celebrates what the sea has to offer, this dish combines lobster, clams, squid and whatever else is available on the day.
All the various components are gently fried with herbs, white wine and tomatoes and served with the blissful sauce that is created as a result.
Try this gorgeous seafood concoction at A Taberna do Pescador in Albufeira, where they have truly perfectly every aspect of it.
| We've prepared a guide of Albufeira, one of Algarve's most popular holiday resorts. Get ready for your holidays with our help.
4. Sardines (in Portimão)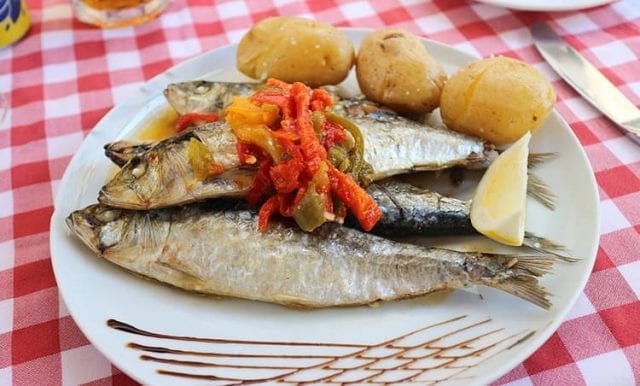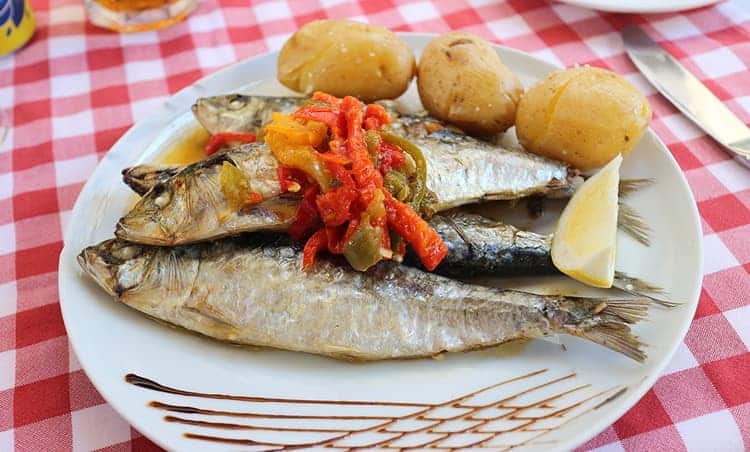 Summer in Portugal means sardines and you definitely shouldn't miss out on the chance to sample this popular dish that seems to go hand in hand with parties and celebrations of all types.
When it comes to the Algarve, Portimão is the place to go for sardines and they actually host an annual sardine festival each August.
Even if you can't make it to the festival though, be sure to sample this favourite local delicacy.
Try them any time of year at Restaurante Mistral in Portimão and you'll understand what all the fuss is about.
| If you liked this article, there are plenty more about visiting Portugal. Sign up for our newsletter today and never miss a thing.
5. Shrimp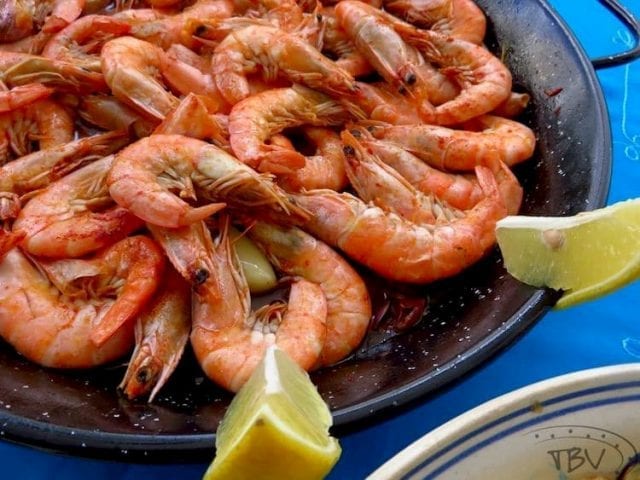 The prawns of the Algarve are really in a class all their own. Used in many different ways throughout the region's cuisine, I like these best when they are simply grilled over charcoal and eaten hot.
You'll also see them boiled, fried, peeled or with heads and all, with lots of garlic or some piri-piri, you really can't go wrong.
Treat yourself to one of the prawn dishes on offer at Maré Shrimp & Stuff in Olhão, and you'll be glad you did.
6. Javali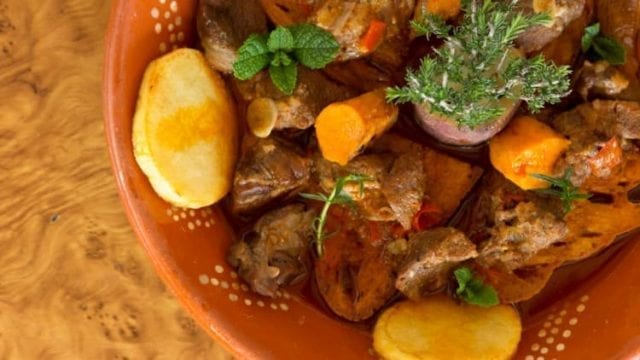 If you need a break from the seafood or are simply just curious to see what else Algarve cuisine has to offer, you'd be well advised to head a bit inland and try some of the region's delicious meat dishes.
Wild boar (javali) is one example of this, and it's something that you'll see on restaurant menus throughout the area.
Try it at Retiro do Camponês in Loulé, where they've been doing traditional family cooking right for over 20 years.
7. Doce Fino do Algarve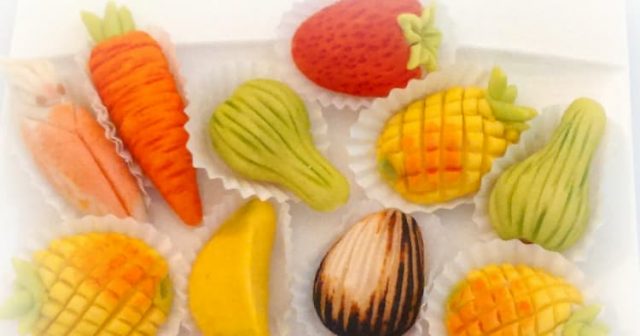 Of course, don't forget you're in Portugal, and therefore never far away from something sweet.
Doces finos are the small marzipan treats shaped and sculpted in different forms and are a point of significant regional pride in the Algarve.
Made from almond paste, the origin of these delicate (and delicious) works of art can be traced back to Moorish times.
Definitely try some while you're in the area, but also pick some up to take with you as they make a great souvenir gift.
You'll find some of the best at Pastelaria Arade in Portimão.
| Spend a perfect holiday in Portimão. Find out what are the best restaurants, hotels and beaches with our guide.
8. Dom Rodrigos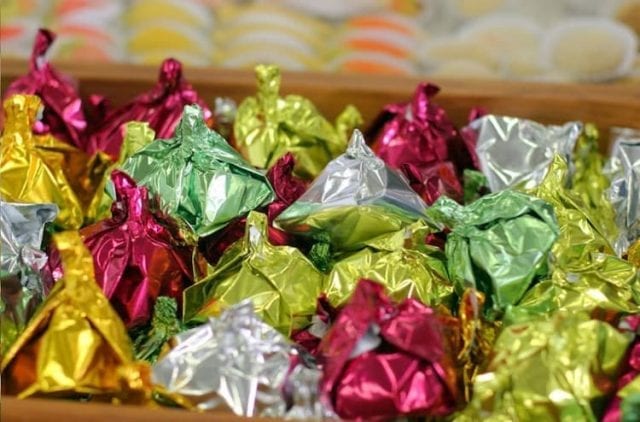 Sweet number two on our list is another tasty treat we've been given by Algarve cuisine- the Dom Rodrigo.
These delicate little nests are made using fios de ovos, strings of egg yolks finished in syrup, or 'angel hair', along with egg yolk, cinnamon and almonds.
They are often presented in colourful foil wraps and are especially popular around Easter.
You can find them in bakeries (pastelaria in Portuguese) throughout the land, but if you find yourself in Albufeira.
Try them at Pastelaria Martinique Velha.
9. Tarte de Alfarroba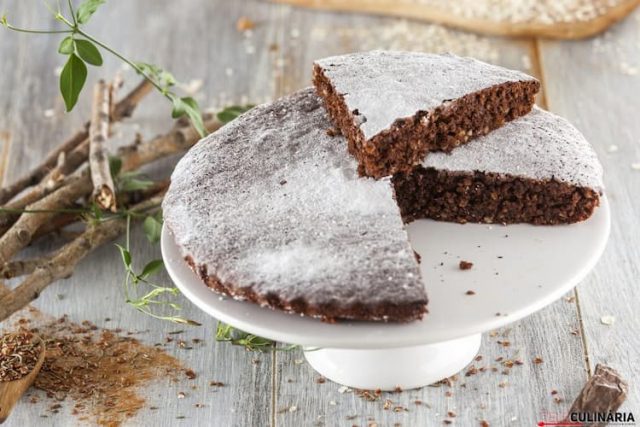 The tarte de alfarroba is one of the most typical desserts in the Algarve. Carob (alfarroba in Portuguese) is a weird looking fruit but what it lacks in appeal it makes up in deliciousness: it's sweet and flavourful, tasting a bit like cocoa.
The alfarrobeiras, carob trees, grow everywhere in the region, making it a very appealing ingredient for many desserts.
This pie is delicious and soft especially because of the perfect mix of dry fig and crushed almonds.
This is absolutely a must if you're in the Algarve.
10. Wine of the Algarve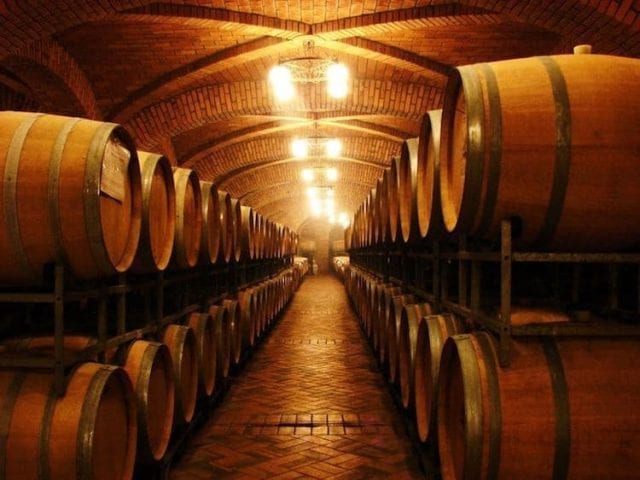 It might not be the most globally recognized of Portugal's wine producing regions, but the Algarve certainly shouldn't be overlooked when it comes to doing wonderful things with fermented grapes.
The four regions of the Algarve, Lagos, Portimão, Lagoa and Tavira, all have their own distinct wine varieties, and each offers something unique to discover.
Due to the fact that Algarve is rich in sunshine throughout most of the year, the wineries in this part of Portugal produce everything from light, refreshing whites to full-bodied reds.
| Check out the Portimão: Boat and Jeep Coastal Tour with Wine Tasting, this activity includes wine tasting, a jeep and boat tour and lunch.
Is it worth trying typical Algarve food?
As you see, there's no excuse not to have a memorable culinary experiencing while exploring Portugal's sun-drenched southern coast. The cuisine of the Algarve has something for everyone.
Eat up, drink up, and enjoy!

Disclaimer: Our posts might contain affiliate links, which means we earn advertising fees if you make a purchase. There's no extra cost to you, it just helps us keep the website going.