Castelo de Vide might have only approximately 3000 habitants, it has almost this many reasons to visit too. The municipality is famous for its cultural heritage as well as for its natural resources.
The centuries-old Jewish quarter, the Gothic buildings, and hot springs are all waiting for you to discover them. Learn more about Castelo de Vide now and prepare your luggage for a medieval journey.
Where is Castelo de Vide in Portugal?
Castelo de Vide is located in the Alentejo region, Portalegre district, right at the Spanish border. It is surrounded by the Serra de São Mamede mountain range, which makes it one of the few places in Alentejo, where you might find snow during winter.
How to get to Castelo de Vide from Lisbon?
By car, you can drive to Castelo de Vide from Lisbon in three different ways.
The fastest is the Northern road on the A1 and then A23. You can also go from the South on the A6 highway. This trip takes 20 minutes longer, 2 hours and 40 minutes instead of 2 hours 20. In case you prefer to arrive a bit slower, but do not want to pay for the highway, try the N119 national road.
Don't have a car? No worries, Castelo de Vide is also accessible by public transport. Rede Expressos operates two buses per day in this route from the Sete Rios station. The trip by bus takes 4 hours and 5 minutes and costs approximately €16-€22.
Want to know how public transportation works in Portugal? Click here.
How is the weather in Castelo de Vide?
The hottest time of the year is between July and September. During these months the daily temperature can be as high as 31°C and the average is between 21-24°C. The precipitation is also the lowest during summer, with 0-3 rainy days per month.
From October the weather cools down and the number of rainy days increases to 3-7 per month. During winter, from December to February there are 7-8 rainy days per month, and the average temperature drops to between 10-14°C.
In spring the weather gets slowly warmer and drier.
To get weekly information about Portugal, subscribe to our newsletter.
When is the best time to visit?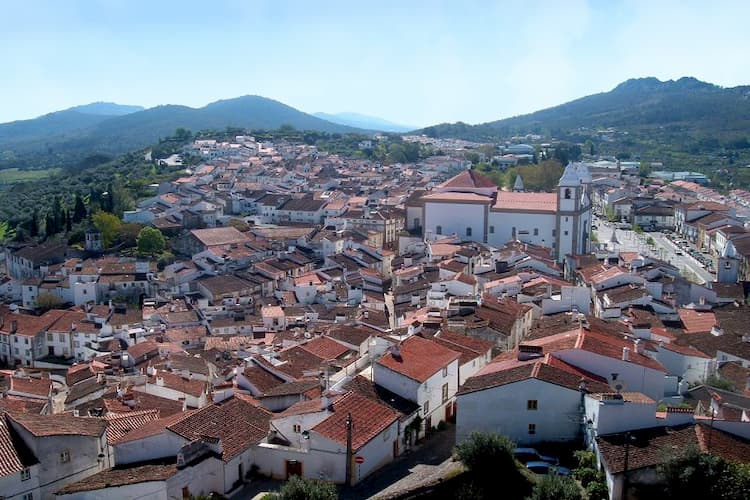 It depends on how you plan your holiday. However, between tourists, the most popular times to visit Castelo de Vide are the winter months and April.
In case you would like to avoid the crowd, planning your holiday for the summer or even October is a good choice. This way you might find cheaper accommodation and services in the area.
Things to do in Castelo de Vide
As Portugal's best-preserved medieval town, Castelo de Vide has numerous programs to offer. Here is our list of the most important monuments and things to do that you can not miss during your visit.
Castelo: the castle ruins remind us that originally Castelo de Vide was just a very tiny town between the walls of the castle. Climb up there and enjoy the view of the surrounding town and the mountains.
Judiaria: next to the castle you can find the Judiaria, the former Jewish district. The first Jewish community settled here in the 12th century and the area still keeps memories from those times. Visit the synagogue and the museum and find out more about the past of the Judiaria.
Casa da Inquisição: very soon the newest museum of Castelo de Vide will open its gates. Learn about the dark times of inquisition in this 17th-century mansion.
Fonte da Vila: take a sip of fresh mineral water from the most famous fountain of Castelo de Vide. Here you can also find a washing area from the 16th century which is worth visiting.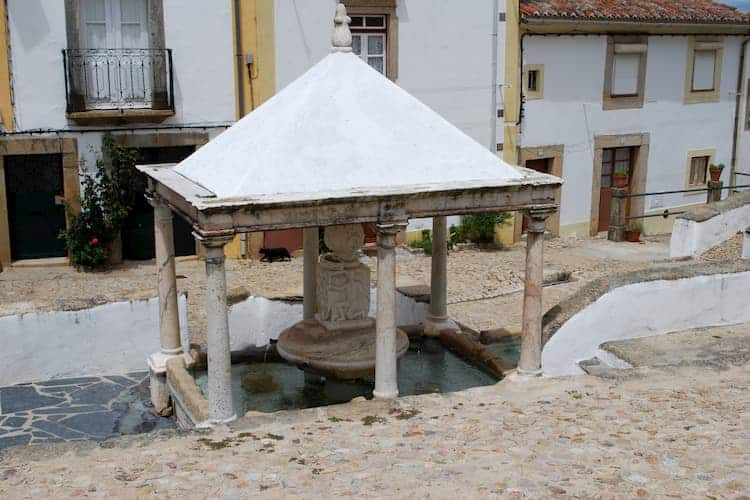 Capela do Salvador do Mundo: this is the oldest church in the region, dating back to the 13th century. The church is simple white from the outside but hides white and blue painted tiles on the inside.
Spas: the spa of Castelo de Vide is located just 20 meters away from Fonte da Vila. The place was famous for its healing water. A lot of patient with diabetes, skin diseases, anaemia or gynaecological diseases visited the bath frequently. Currently, the spa is under renovation, but no need to worry. Only 17km away from the centre you can find the Monte Filipe Hotel and Spa where you can enjoy the benefits of the local healing water.
Where to stay?
Here we are to give you some tips on where to reserve accommodation for an unforgettable holiday. Check them out and choose your favourite hotels in Castelo de Vide.
Hotel Sol e Serra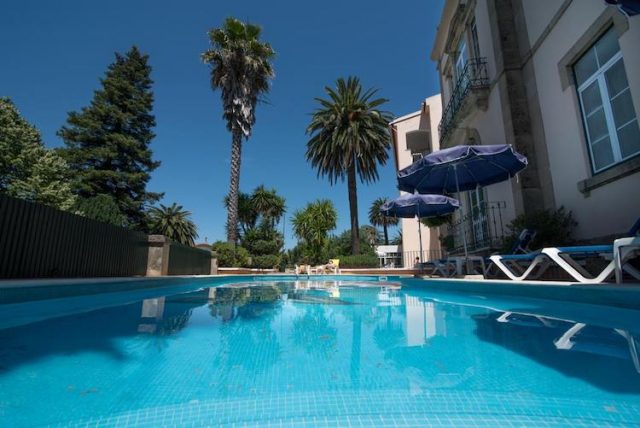 The hotel is located in the centre of Castelo de Vide, close to everything that is important. Start your discoveries from here or just enjoy the outside pool.
Check their availability here.
Quinta Serra de São Mamede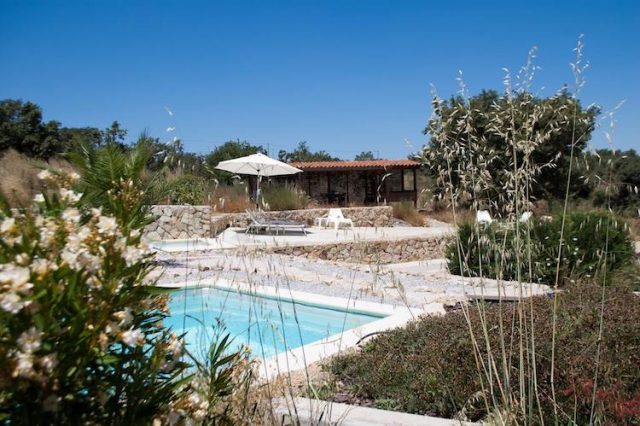 are you looking for something close to nature, something really romantic? Then you should book your accommodation in this countryside villa, from where you can easily bike around the area.
Check their availability here.
Quinta das Lavandas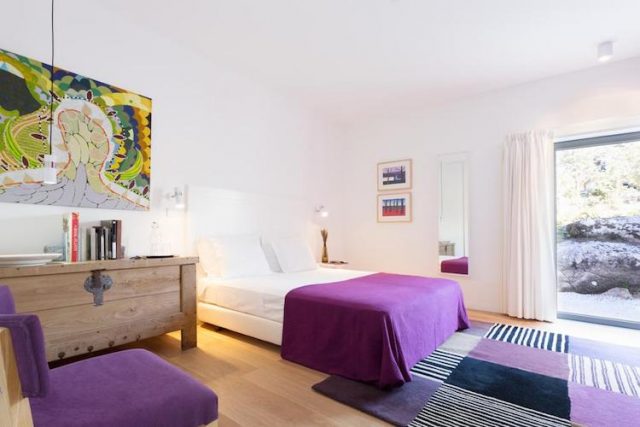 Spend your holiday on a lavender farm! Enjoy the purple fields and the sweet smell of lavender in this charming cottage.
Check their availability here.
Casa da Muralha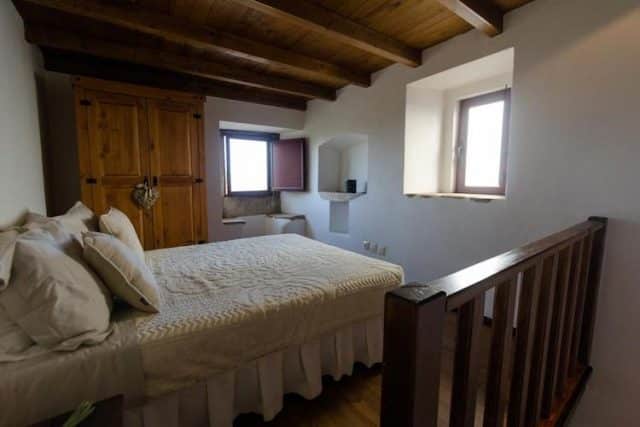 This typical Alentejo styled house is located close to the castle, facing the mountains of the area. The house has a spectacular view, but also a fireplace in the living room if you want to spend the colder nights inside.
Check their availability here.
Casa de Santa Maria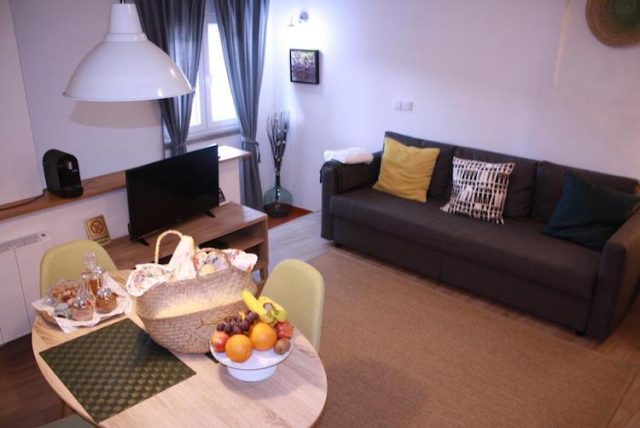 Right in the historical centre, you can find this little apartment house. It has accommodation for couples, but bigger families and companies can also rent the duplex apartment, which is enough for up to six people.
Check their availability here.
Which ones are the best restaurants in Castelo de Vide?
During vacation, everyone likes to leave the cooking-stove alone and eat out instead of cooking. This way you can not only support the locals but also be reacher with some new flavours. In our list, you can see the best restaurants in Castelo de Vide, where you can find the traditional dishes of the area.
Confraria: you will definitely need a reservation at the most popular restaurant in Castelo de Vide. The place is always full since the fresh, seasonal food with great wines attracts a lot of people.
Pirolito: Pirolito is not just a great tapas bar but a meeting point of food and culture. Occasionally you can listen to live music, and there is an always changing art exhibition in the back of this redesigned bottle factory.
Don Pedro V: a simple but great place to eat tasty food for a good price, served by friendly staff.
O Miguel: do not look for anything fancy in O Miguel, just for good quality local food. In weekdays try to catch the lunch menu and try something traditional.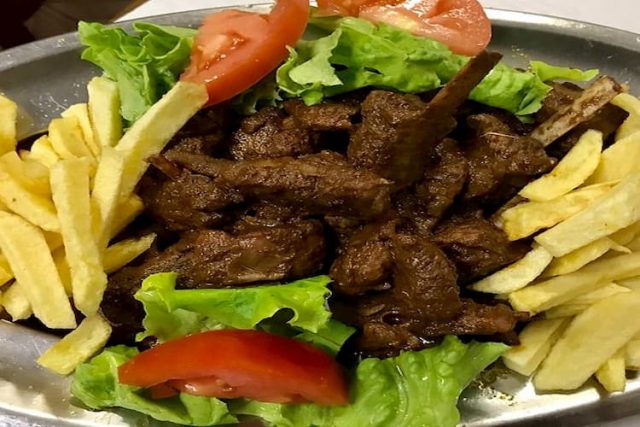 Doces and Companhia: craving a nice dessert? Try the ice creams or cakes here and you will not be disappointed. But if you do not want to be full of just sweets, you can order a quiche or a burger first.
Want to know more about this type of food before trying? Read our Alentejo food guide here.
Is Castelo de Vide a good place to visit?
Castelo de Vide is a perfect place for a weekend getaway. The little streets and stairs of the medieval town, the castle and the museums enchant you to a totally different world.
You can also discover the nearby area, ride a bike and hike around the hills and forests. And when you get tired, you might even be lucky enough to find a hot spring where you can rest your muscles.
So what are you waiting for? Start to plan your relaxing holidays now.
Need more information? Read our article about the Alentejo region here.

Disclaimer: Our posts might contain affiliate links, which means we earn advertising fees if you make a purchase. There's no extra cost to you, it just helps us keep the website going.