If you are searching for a holiday that mixes beautiful landscapes, incredible cuisine, and at the same time, offers you the possibility to taste incredible wines then you should visit Alentejo.
Alentejo is renowned for its olive oil and oak (Portugal is the number one exporter of oak in the world). It's also a region recognized in Portugal and the world for its vineyards and incredible wine.
As a matter of fact, in 2014 the readers of USA Today declared Alentejo as "the best wine region in the world". If you've ever tasted this wine, you will know it was about time!
Still trying to decide why you should visit Alentejo? Here are 8 Reasons Why You Should Visit Alentejo Right Now
Alentejo Wine
It's a tradition of excellence that dates to Roman times. Alentejo wines were the first product to be exported from Portugal. The Roman empire upper class was its main buyer. Mostly because they loved their fruity and full-bodied taste.
Furthermore, to protect the production and its quality, the winemakers from Alentejo are entitled to use a denomination for their wines: Alentejano Vinho Regional.
Due to its taste and quality, wine tours in the Alentejo are becoming increasingly popular. This is especially true for travelers looking for a relaxing holiday and want to enjoy warm weather as well as see incredible landscapes.
Quick Tip: For the best "instagrammable" pictures go to Herdade dos Grous and admire the landscapes and the lagoon at its fullest.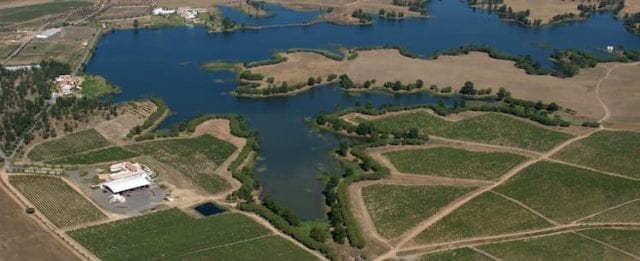 You may also be interested in The 10 Best Places to Visit in Alentejo, Portugal
Types of Alentejo Wine
If you would like to know more about the types of wine this region produces, the answer is simple. There are two main types of wine that can be tasted in Alentejo.
Under the Alentejano Vinho Regional label of quality, there are several groups of strong red and gentle white wines, unique for its taste.
For instance, the Tinto Alentejo: a full-bodied red wine rich in flavor (made by the fusion of different types of grapes, namely Trincadeira, Aragonês and Alicante Bouschet).
You can also find the Branco Alentejo: a light-bodied, sweet white wine (made using usually a single type of grape: the most important are Arinto, Roupeiro or Fernão Pires).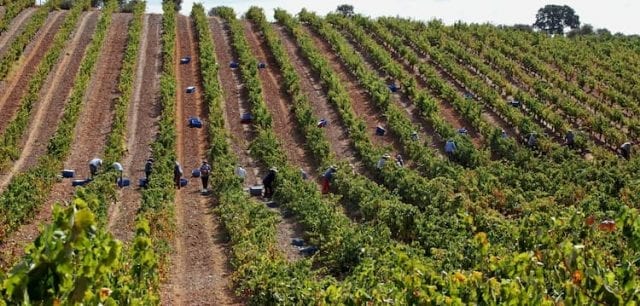 This may also interest you Montemor-o-Novo, A Hidden Gem In The Middle Of Alentejo
Wineries on the Alentejo Wine Route
Holidaying in this region gives you the chance of mixing breath-taking and vast landscapes with the possibility to dive in some of the most famous wineries in Portugal.
Following the Alentejo wine route means being able to admire the Tagus river, the hills, and the large vineyards while chilling with a glass of wine whose taste has its root in history. Tempting right? So let's see the best Alentejo wineries in the region.
Adega da Cartuxa
Our Alentejo wine route starts in Évora, a city that has been declared by UNESCO a World Heritage site.
Adega da Cartuxa is a perfectly preserved winery, built on an ancient monastery: its past can be spotted in the architecture of the building.
At Adega da Cartuxa you can take a guided tour where you will visit the wine cellar, and do a wine tasting experience (you will have the chance to drink their famous white wines) that you won't forget due to its quality and its particular style.
You can visit this winery any day of the week. It is open every day between 10.00am to 7.00pm, but you need to book in advance because there is a limited number of places (tours are offered only for 50 people).
Adega Mayor
After Adega da Cartuxa, your next stop should be Adega Mayor. It's a winery known worldwide for its production of impeccable wines.
Adega Mayor has also received numerous prizes from all over the world for the unique shape of its building designed by the architect Siza Vieira.
In Adega Mayor, you will be able to enjoy wine tasting experiences and workshops about wine and how it is made.
You must book in advance since this winery is quite popular for its architecture and for its rosé wine (a rarity, considering most of the wine production is focused on red or white wines).
Herdade da Malhadinha Nova
The tour of the Alentejo wine route brings us to Herdade da Malhadinha Nova, a modern and sophisticated winery where you can enjoy a guided tour of its cellars or a massage in its magical and renovated spa.
This winery, apart from having a lot of Alentejo wines to offer, has a famous restaurant and it provides guided tours in its vineyards where you can see how wine is produced.
It also provides a lot of events that change according to the season. The most important events happen in May and June. During these months, there are photography classes of the vineyards and wine masterclasses. It is usually a five-day full immersion in top-quality red wines produced at this winery.
Herdade do Esporão
Herdade de Esporão is a prestigious brand in Alentejo. This winery was a pioneer in wine tourism. The Esporão red wines are known to be pleasant, seductive and with good aging potential.
The selection of red wines offered on the guided tour by this famous winery will make you fall in love with Alentejo wines.
However, in order to taste Alentejo in a glass, you will need to book in advance since this experience is reserved to a very limited group of people (even if it is not that expensive).
Herdade dos Grous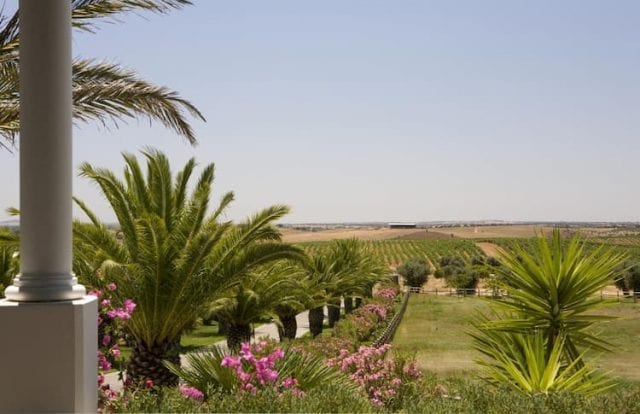 Herdade dos Grous is the next stop on our Alentejo wine route. This winery perfectly fits the Alentejo landscape with the unique architecture of its cellars.
Using sophisticated technology to macerate the grapes, this winery produces great red wines and super flavorful white wines.
The wine tasting experience offered at Herdade dos Grous is very comprehensive. It is highly recommended to take part in one of them, considering that all the grapes are controlled and selected manually on a table, giving the wines produced here a unique taste of love.
It is essential to book a place because there is a limited number of "seats". If you book in advance, you will be one of the 50 lucky persons that would have tasted a piece of paradise.
L'AND vineyards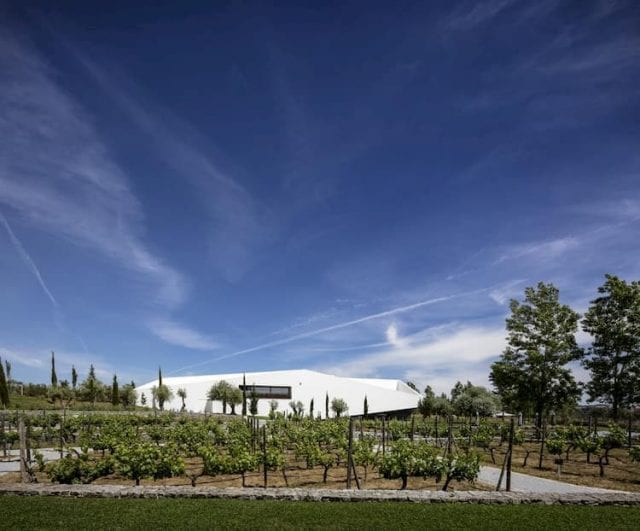 On the Alentejo wine route, another must see is a visit to L'AND vineyards. Along with the winery, there is also a fancy restaurant that offers Portuguese dishes with a modern twist.
It also has a super organized spa where you can recharge your batteries and feel alive again.
If you stay in this magical resort, you will become a member of the Wine Club. This will allow you privileged access to the wine cellar where the wine is produced.
You can also participate in enology courses, where you will taste L'And famous red wines known for their structure and strong flavor.
However, if you really desire the quality of L'AND wines, you must book your taste experience in advance. There is a limited number of places (only ten people).
Adega Vila Santa – João Portugal Ramos Wines
Would you like to admire the vastity of the Alentejo region while chilling with a glass of wine that is recognized worldwide for its prizes? If the answer is yes, you should go to Adega Villa Santa and taste one of the João Portugal Ramos Wines (especially the red ones).
It's open during the week from Monday to Friday (9:30 to 18:30). For weekend visits you should plan to visit between 10:00 to 18:00.
Adega Villa Santa offers you the opportunity to taste its products made according to the Portuguese winemaking tradition.
To be part of this experience you must be book at least two days in advance. You will also have the opportunity to make your own wine or do a regional product tasting tour.
Monte da Ravasqueira
Located in the middle of a magical set of hills covered with vineyards you will find Monte da Ravasqueira. Its a winery known to produce top quality wines that have a unique taste due to the microclimate of this region.
Only one hour away from Lisbon, Monte da Ravasqueira has become more and more famous for its family reserve wines, formed by both red and white wines.
The cellar of Monte da Ravasqueira, inspired by the one created in Napa Valley (in California), is equipped with sophisticated technology for rigorous control of the whole winemaking process.
To enjoy this wine tasting experience, you must book in advance. There are only 30 places available.
Herdade das Servas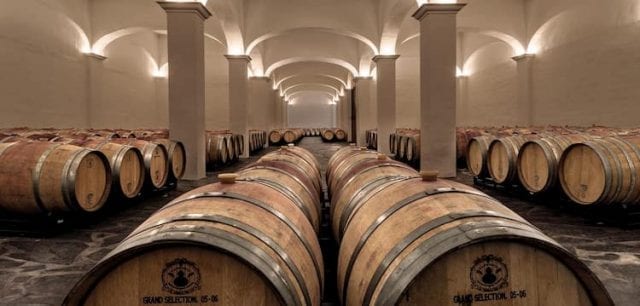 Launched in 1998 by Serrano Mira brothers, Herdade das Servas exploits the centurial Serrano Mira family tradition in the production of wine.
Fun fact about this winery, it uses the same Clay jars that were used in 1667 for wine production.
Besides the wine tasting experience of fresh vibrant rosé and fruity white wines. Herdade das Serva also offers an immersion in the typical Portuguese cuisine with its fancy restaurant.
Quinta do Carmo
This is a winery whose wine production relates to history. Legends have it that King João IV wanted the creation of this winery so that he could have a quiet place to meet one lady of his royal court.
However, the history of this winery is now a modern cellar with sophisticated technology and innovative wine producing techniques.
The two wines you must taste here are Quinta do Carmo white and Quinta do Carmo Reserva. It is the befitting way to end your Alentejo wine route tour.
The wines in Alentejo are incredible and so are the dishes. See our article on Alentejo Food: The Dishes You Absolutely Must Try in Alentejo
Alentejo wine tour
If you want to taste some excellent wine but you don't have time to get on your car and follow the Alentejo wine route, there is no problem. There are a few guided tours through this region and its worldwide famous wine.
Monte de Ravasquiera Guided Tour and Wine Tasting
This two-hour tour of Monte de Ravasquiera will give you the chance to join a local wine tasting experience (five premium wines). Also, you will see the beautiful natural landscape that surrounds the winery. It is only €25.
It's very affordable and I highly recommend it as it can into any scheduled holiday. You can book it here.
Alentejo Wine Tour from Lisbon
This is a nine-hour wine tasting tour from the Setúbal Peninsula to Alentejo. During this tour, you will have the opportunity to drink some of the top-quality wines made in these two regions.
You will also have the chance to see the beauty of Portugal and some stunning villas. As well as relish a 360-degree experience of Portugal's lifestyle.
The cost is a bit higher, it's €160 per person. But it is more encompassing as you will travel to two regions. The cost is also lunch and supper inclusive. Even if it is expensive, it is worth it. Book it here.
The best Wine Hotels in Alentejo
It is possible for you to book your stay in some wonderful wine hotels in Alentejo.
We have already seen some of them, like L'AND Vineyards hotel and Herdade dos Grous. However, I would like to dig in a little more since there are some fantastic options you might want to consider.
Convento do Espinheiro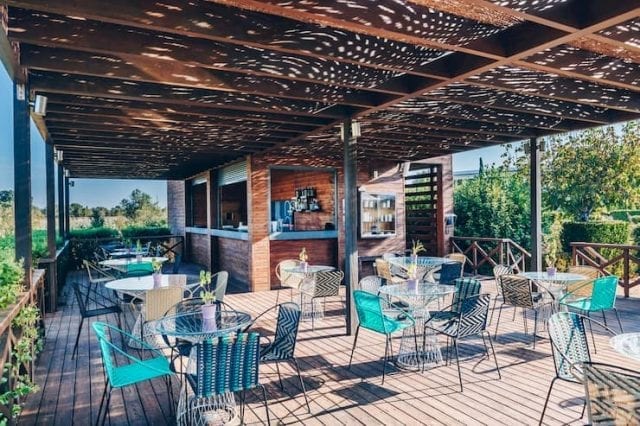 Convento do Espinheiro is a very popular wine hotel. To get a room here, you should book in advance. It's a top-notch hotel with an impeccable design, furnishing and a classy restaurant.
Staying here a few days will have you feeling like you are living the life as the Royals once did when they used this convent as their home.
Finally, Convento do Espinheiro is in a magnificent garden of 8 hectares, where guests can admire the beauty of the Alentejo landscape.
However, be prepared to spend some money, because even in the low season you are likely to spend about €200.
Torre de Palma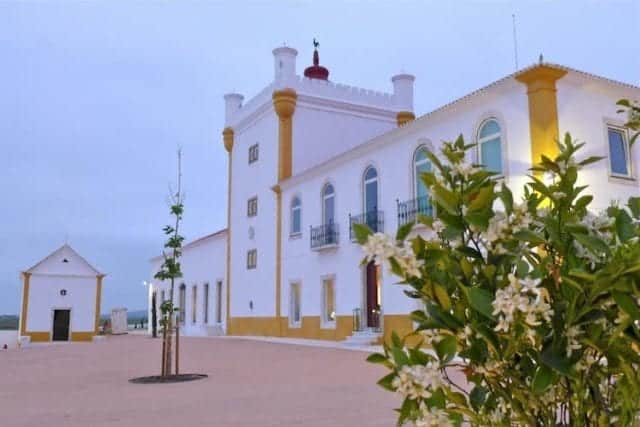 Torre de Palma offers to its costumers 19 thematic rooms in different Alentejo houses that will make your stay a wonderful and intimate adventure in the Alentejo vineyards.
The hotel provides a lot of services like indoor swimming pools, a spa, a library, and a very fancy restaurant.
In this wine hotel, you will also have the chance to taste some very fresh, vibrant and flavourful white wines. This will probably give you the best memories of your stay.
On top of that, I would like to say that booking this hotel is not extremely difficult. The price is not overwhelmingly high. In the low season, you can book your room for about €130.
Wines of the Alentejo
This is a brief description of Alentejo, its wine route, its vineyards, and its winery. There is so much to talk about that we will need more than one article.
Now, I suggest you stop reading, book your holiday there and jump into this experience. The beauty of this region and the taste of its wine will make you love Portugal more than any other place in the world.
Don't forget to subscribe to our newsletter to receive articles like this one in your inbox.