Portugal's Algarve offers some of the most beautiful beaches in the world.
Throw in delicious seafood, an active nightlife, and a huge array of outdoor activities, and you've got yourself all the ingredients for a vacation to remember.
As far as accommodations go, when it comes to truly making the most of your stay in this premier holiday destination, I would highly recommend staying as close to the beach as possible.
The Algarve offers so many wonderful beach hotel options that it is easy to find something for all types of holidaymakers.
Here are some of the top picks by region.
Albufeira
A former fishing village that has become a major holiday playground, Albufeira boasts an array of candy-coloured apartments and a gorgeous waterfront promenade.
Sandy beaches and happening nightlife make it a great destination whether you're looking to relax or let loose.
3HB Falesia Garden
Part of the Falésia Beach Resort, this stunning hotel is located on the idyllic Falésia Beach and is just a few minutes away from Albufeira.
Here you'll be close to restaurants, bars and shops, while still enjoying the peace and tranquillity of beachfront lifestyle.
In addition to a perfect location, this complex offers one-bedroom apartments with kitchenette, bedroom, living room and bathroom.
In order to make your holiday even more relaxing, here you'll also find a wide range of services and facilities, from a buffet restaurant to a large pool area with comfortable sun lounger and enjoy the wonderful views over the beach.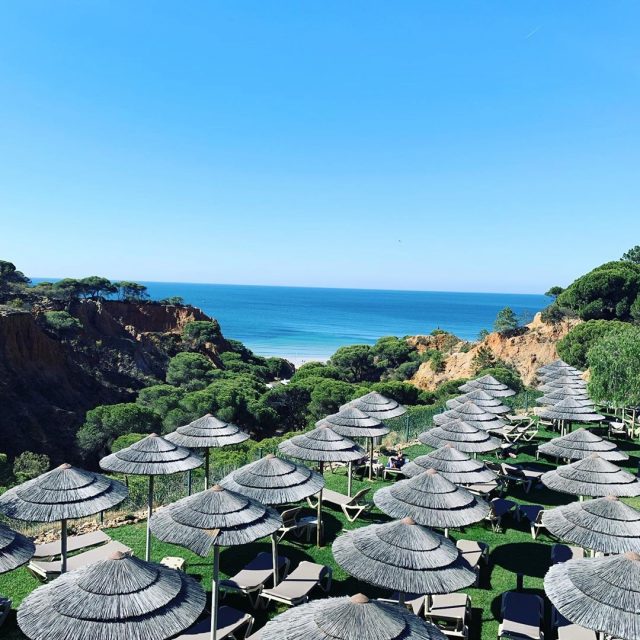 Muthu Clube Praia da Oura
This extensive 4-star resort is located in Praia da Oura and offers direct access to the beach.
It also has two lovely outdoor pools and a tropical garden.
If you're hoping to enjoy your stunning view in private, you'll be happy to know that all apartments have a private furnished balcony with views over either the Atlantic Ocean, swimming pools, or the gardens.
They also have a restaurant serving an à la carte menu of international dishes and offer evening entertainment like live music and karaoke. They also focus on offering fantastic customer service and have a golf desk, and 24-hour reception.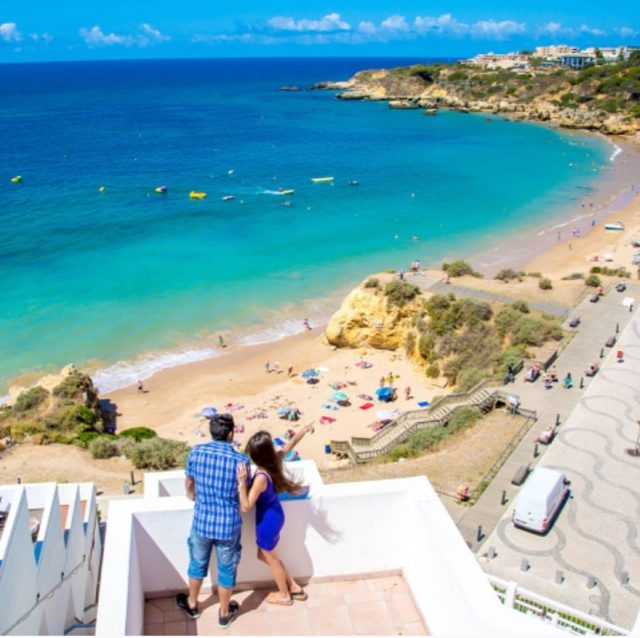 Mónica Isabel Beach Club
This lovely beachfront resort in Portugal's Algarve features an indoor and outdoor pool and a bar with sunrise views and entertainment shows.
Located on Forte São João Beach, this seaside getaway has a buffet restaurant and beach kiosk. All rooms are also air-conditioned and boast a private balcony, most of which overlook the Atlantic Ocean.
Whether you're looking for an active or relaxing vacation, you'll find what you need here.
They have a sauna, large terrace, in addition to sports facilities such as volleyball, tennis and a games room with darts and billiards.
Mónica Isabel Beach Club is 2 km away from the local shops and cafés of Albufeira's town centre.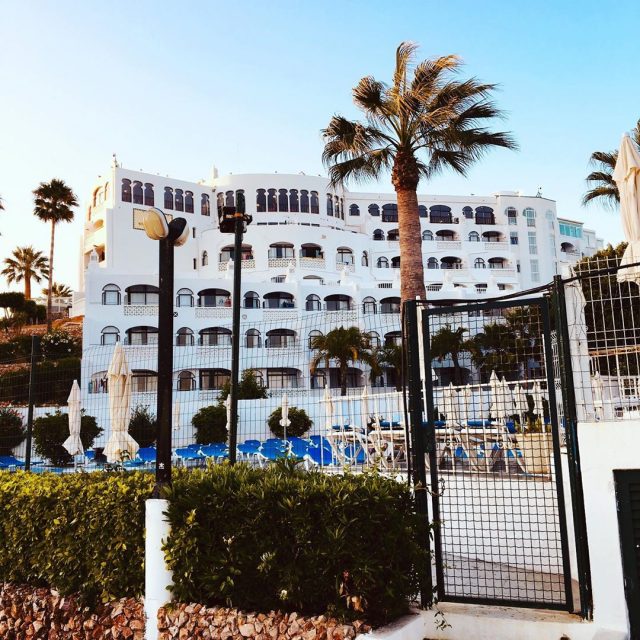 Book your hotel with Booking.com
With Booking.com you can book the best hotels in Portugal for the cheapest price. Get instant confirmation, pay 0 booking fees and even cancel your booking for free at most hotels. 
Booking.com -
Find the best prices and prepare your trip to Portugal today
Lagos
With stunning cliffs, a romantic walled old town, and breathtaking Atlantic beaches, Lagos is something out of a dream.
Offering stunning views and steep steps winding down to sandy coves, a stay at a beach hotel in Lagos is likely to an experience you will never forget.
Iberlagos
When it comes to beach hotels in the Algarve, you really can't beat this setting. Iberlagos offers sweeping views of Praia da Rocha and the Atlantic in a picturesque pool and garden setting.
You're located right on the beach but still have easy access to Lagos town centre.
The self-catering apartments include a well-equipped kitchen and a balcony overlooking the gardens.
Some rooms offer panoramic ocean views and there is a tiled outdoor pool area and garden, providing the perfect place to relax under the Algarvian sun.
There is also a snack bar where guests will find light meals and cold drinks.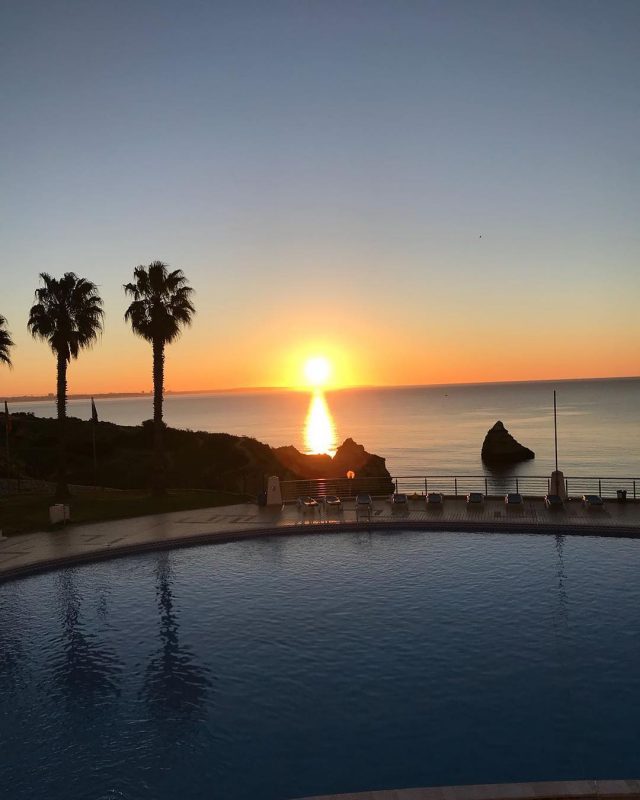 Belmar Spa & Beach Resort
If you're looking to get spoiled while staying in the Algarve, the lavish Belmar Spa & Beach Resort is the place for you.
This seaside hotel overlooks the beautiful beach of Porto de Mos and offers a wide range of luxurious spa treatments and an outdoor pool.
The chic guest units feature a balcony overlooking the pool area or the garden, in addition to a modern kitchen and spacious seating area.
Regional cuisine and continental breakfast are served in the hotel's à la carte restaurant and the resort also has a charming poolside bar.
The spa offers everything from an indoor swimming pool, sauna, Turkish bath and Vichy shower, in addition to a well-equipped fitness centre.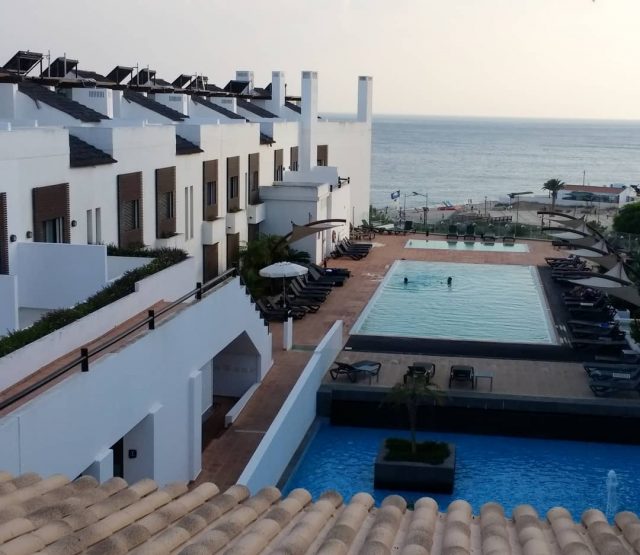 Clube Porto Mós – Sunplace Hotels & Beach Resort
Also situated on Porto de Mós beach, Hotel Clube Porto Mós is a 4-star apartment resort just minutes outside the centre of Lagos.
All the apartments feature a large balcony or terrace with views over the beach, are air-conditioned and have a kitchenette. Amenities include a health club equipped with a hot tub, indoor pool and gym, all surrounded by beautiful gardens and overlooking the sea.
There is also an onsite restaurant serving regional and international cuisine in an informal atmosphere.
There is also a very chill bar where you can enjoy an evening cocktail and an esplanade and a buffet breakfast served each morning.
Golf enthusiasts will be happy to know that the Boavista Golf Course 3 km away.
Faro
The capital of southern Portugal's Algarve region, Faro is easily associable due to its international airport and prime location. It has some of the region's most beautiful beaches and just about any other amenity you can dream of.
Aeromar
Located on the island of Faro, Aeromar is a beautiful hotel with the beach at its doorstep. The onsite restaurant offers stunning views of the Ria Formosa Natural Park and serves a beautiful array of fresh fish.
Room service and 24-hour reception are available, in addition to a snack bar with a terrace and a lounge area. The hotel also includes a solarium with stunning views over the Atlantic Ocean and the Ria Formosa.
For convenience, you can also rent bikes and organize boat tours right at the hotel.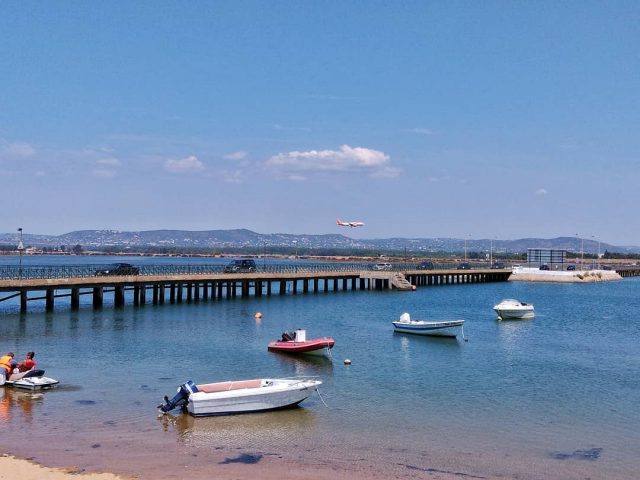 Ria Beach House
Ria Beach House is perfect for those looking for a mix of recreation and relaxation. Located right on Faro Beach, where you'll also be close to plenty to places to engage in activities such as cycling and hiking.
Totally independent, the apartment is equipped with 1 bedroom, a living room, a fully equipped kitchenette with a dining area, and 1 bathroom.
This is a great place to stay if you want to feel like you're getting away from it all while still have access to all the amenities Faro has to offer.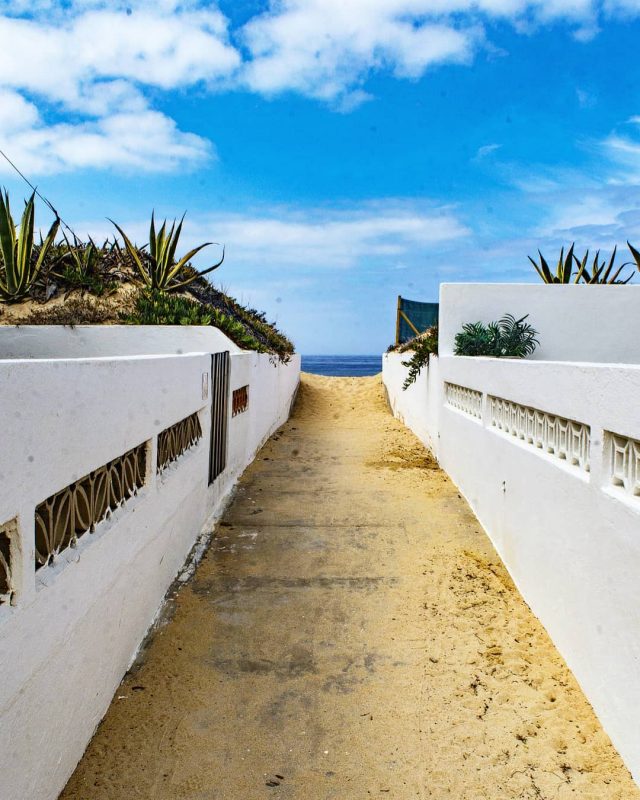 Luxury Beach Guest House
Facing the ocean and mere steps from the sand, the Luxury Beach Guest House is located on Faro Beach.
It offers comfortable rooms, with a terrace, a hot tub and an on-site bar. Activities in the areas include horse riding, windsurfing, sky surfing and cycling.
The guest house also offers bicycle and car hire, and it close to plenty of places to eat, drink, and be merry.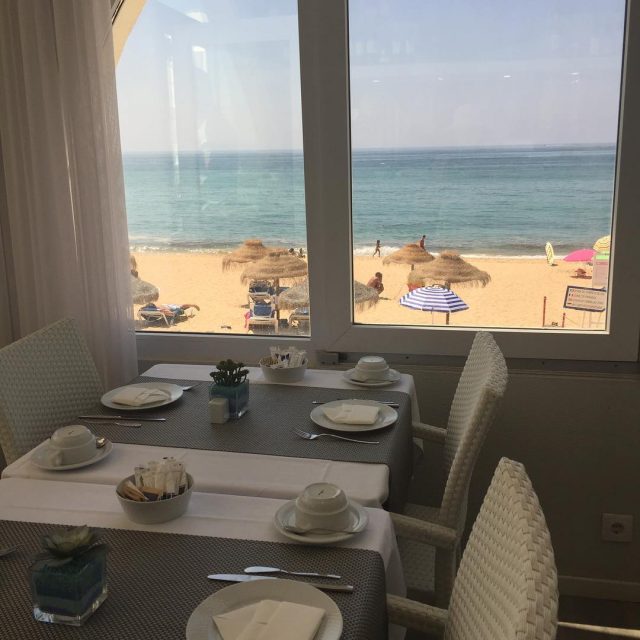 Winter or summer
Case in point, you can't really go wrong when picking a seaside hotel in the Algarve.
Staying close to the sand is the best way to make the most of all that this incredible part of Portugal has to offer.
Don't forget to pack your shades, your sunscreen, and go soak up the rays!