Ola Amigos! (Hello friends!) If you're going to Portugal, you are in for a treat. There is an enormous array of delicious snacks to try on every corner.
But what are they all and why do the locals have so many cakes and pastries to choose from?
You probably know about all the croissants and doughnuts but there are many more typical Portuguese snacks that you should try.
Today we will be talking a little bit about Portuguese gastronomy, particularly about common pastry foods and the cafés they sell them in ("pastelarias") you can expect to find on your visit to Portugal.
If you are a sweet tooth, Portugal is the perfect place to indulge yourself.
In Portugal, they like their pastries sweet. Eating snack food with a cup of coffee is also very common. You will be spoiled with so many choices and they are never too far away from you.
What sorts of snack food is available in Portugal?
What are the pastries and snacks in the windows?
You might be wondering what those deliciously looking snacks in the transparent windows of most Portuguese pastelarias are called and which ones you should try. Below you will find a list of just some of the popular snacks they love to eat in Portugal.
Bifana
Bifana is a cheap, delicious traditional Portuguese savoury sandwich found in almost every corner of Portugal if not all. It is a Portuguese bread roll ("papo-seco") with thin pork cutlets seasoned with garlic and other spices which is put inside the bread roll. As simple as the recipe may seem you will be amazed by its delightful taste. Try it with mustard if you like it.
Pastéis de bacalhau
A pastel de bacalhau or a bolinho de bacalhau in the north, is a slightly crunchy codfish and potato cake usually soft on the outside and creamy on the inside. It is a popular snack in Portugal, especially in the Lisbon area.
Pastel de nata
This is a common Portuguese dessert like the Pastéis de Belém. The recipe of the Pastéis de Belém is a heavily guarded secret with the bakers at the factory and café in Belém, Lisbon, but it is basically an egg-based custard tart. There are many places that make these and a pastel de nata is available anywhere in the country. It is yummy and creamy with a crisp flaky pastry bottom and is usually consumed in two or three bites! You can sprinkle cinnamon or icing sugar on top for extra sweetness.
History of Pastéis de Belém
The traditional Pastéis de Belém was developed by the nuns in the Jerónimos Monastery around the 17th century. They were known for making lots of pastries around the country and lots of egg yolks were the main ingredient. Some people say the egg yolk was the central ingredient because the nuns used the egg whites to starch their clothes. They eventually sold the recipe to the sugar refinery near the monastery known today as Pastéis de Belém. If you happen to be in Lisbon, you must try it out. There is a high chance you might get hooked on it, as it is uniquely delicious.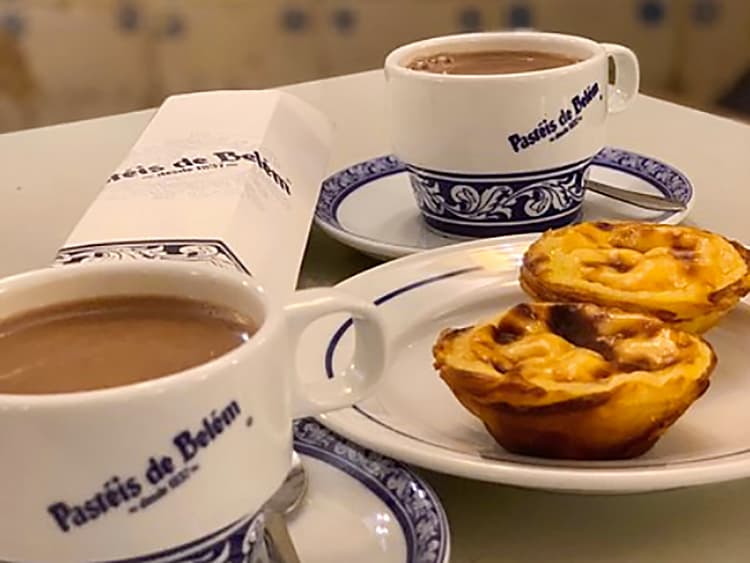 Pão de Deus
Pão de Deus (God's bread) is a popular, delicious snack in Portugal made from a little roll of bread covered with egg candy, coconut and sugar. You can also put ham and cheese in it and eat it as a sandwich.
Top 3 pastelarias in Lisbon, Porto and Alentejo
Lisbon
While in Lisbon, you can stop at any of these pastry shops to enjoy some good old-fashioned Portuguese pastries and cakes.
Confeitaria Nacional
Established in 1829, Confeitaria Nacional is one of the oldest pastelarias in Lisbon which once served as the official bakery for the Portuguese monarchy. It is in the downtown area of Lisbon on the narrow street of Praça da Figueira (number 18B) and is a fanciful, family owned candy shop ("confeitaria") and bakery which serves delightful egg tarts and other pastries.
Manteigaria
Located in the corner of Largo de Camões in the Chiado area is Manteigaria. A small, but thronging pastelaria filled with locals and tourists alike, either buying freshly baked egg tarts or waiting for the next batch to be ready. You should not leave Lisbon without eating an egg tart from Manteigaria as they make one of the best pasteis da natas. And, they are usually open until midnight for that late night snack!
Pastelaria Versailles
Pastelaria Versailles was opened in the 1920s and is in one of the old buildings on Avenida da República 15A (one of Lisbon's main streets) and to this day, it retains its quaint charm. It is always bustling with businessmen, politicians and other locals trying to enjoy a snack from the vast array of pastries and other Portuguese delicacies. It's a place to have lunch, a nice dessert or enjoy some coffee with friends.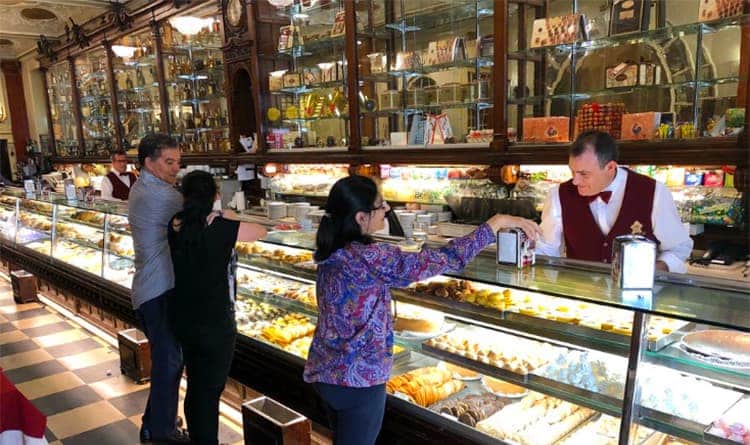 Porto
If you find yourself up north in Porto, you should treat yourself to some lovely pastry foods from some of these pastelarias.
Padaria Ribeiro
Once known as the Square of Bread, Padaria Ribeiro is today one of the best places to get very good pastries in Porto. It is very popular among the locals for local sweets and desserts. You can also find different varieties of bread and over 20 types of artisanal biscuits. They have two locations now at Praça Guilherme Gomes Fernandes, 21-27 and Rua João de Barros 313.
Pastelaria Tupi
Pastelaria Tupi is a one-stop-shop with good pastries, food, excellent wines, whiskeys and other great meal selections. It is an authentic place with great prices and you can find it at Rua de Sá da Bandeira 144.
Tavi Confeitaria da Foz
A popular pastry shop on the seaside in the Foz do Douro area, at Tavi Confeitaria da Foz you can enjoy any number of your favourite Portuguese snacks or desserts whilst basking in the spectacular view of the Atlantic Ocean.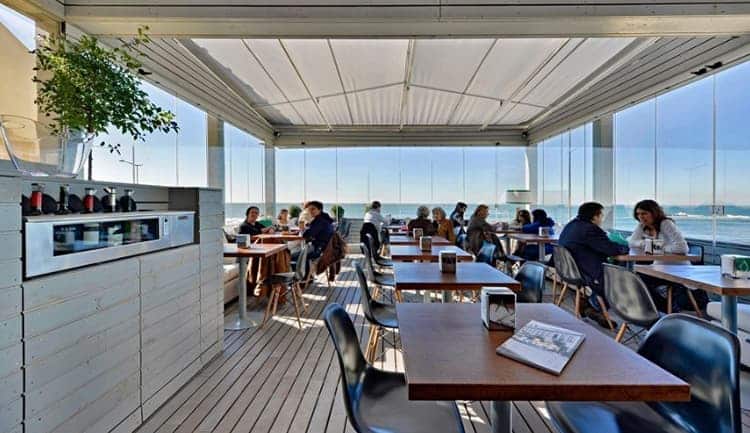 Alentejo
This region is known for the production of excellent wine in Portugal, but they equally make some very nice pastries especially in the Évora part of Alentejo.
Some good pastry shops in Évora are:
Fabrica dos Pasteis (address: Alcárcova de Cima 10);
Pastelaria Conventual Pão de Rala (address: Rua de Cicioso 47);
Uafas that also do waffles (address: argo de Álvaro Velho 4).
The best thing about snack food in Portugal
On a final note, Portugal is one of the countries with the most inexpensive pastries and as such, it should not cost you a fortune to enjoy nice pastry food any time of the day (or night!). Bom apetite!
Did you find any snack foods you want to know more about? Leave a comment in the section below and we'll look into it gladly.
Be sure to subscribe to our newsletter to keep up-to-date with everything we are doing here at bePortugal.
If you liked this article, you might also like:
Top 13 Typical Portuguese Foods You Must Try in Portugal
Fish and Seafood in Portugal
The 15 Best Cafés to Eat Brunch in Portugal