Online banks are making our life much easier. We feel safe and comfortable to travel with them and would recommend them to anyone.
Revolut, N26 or Monese, all are reliable and trustworthy.
But then, what makes Revolut for Business different? How can an online bank take care of the finances of your business as well?
We'll show you why you should consider opening a Revolut business account to manage your funds!
What is Revolut for Business?
The Revolut for Business account is a platform for domestic and international payments, designed to save you time and money.
It is the perfect choice for international businesses since it provides quick and cheap money transfers in numerous currencies from all over the world.
How does it work?
You can manage your Revolut business account entirely from your smartphone or your tablet. All you need to do is to sign up or download the Revolut Business app, create a profile on Revolut's website and you are ready to manage your payments and your company's money.
When you open the app, you can see all your accounts and business balances in 28 currencies. You can organize them easily, receive money from your clients and send it to your employees.
How can I create an account?
First of all, you have to register your work email address on the Revolut Business website. They will then send you a 6-digit code to that email address and then to your phone number to confirm your profile.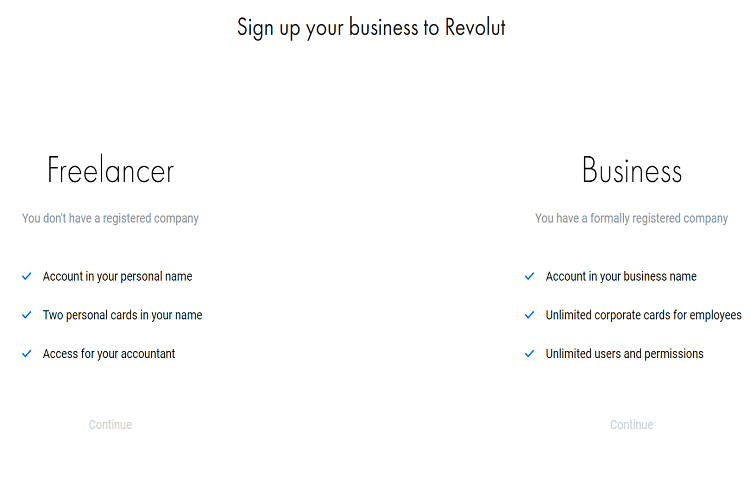 After you have provided your personal information, you can choose between two kinds of accounts.
If you do not have a company, you can register as a freelancer with your personal name and two cards in your name.
If have a company, the account will be in your business name and you will have unlimited corporate cards for your employees.
Next, you have to provide more details about the nature of your business, projected payment amounts and the countries to which you send and from which you receive money.
Then you just have to verify your identity by taking a photo of your ID card, passport or driving license.
Done?
Great, there is only one last step left to finish your application!
Select your plan! The starter account for freelancers is free but has fewer benefits than the professional one for £7 per month. Look at the picture below and decide which account suits your needs best!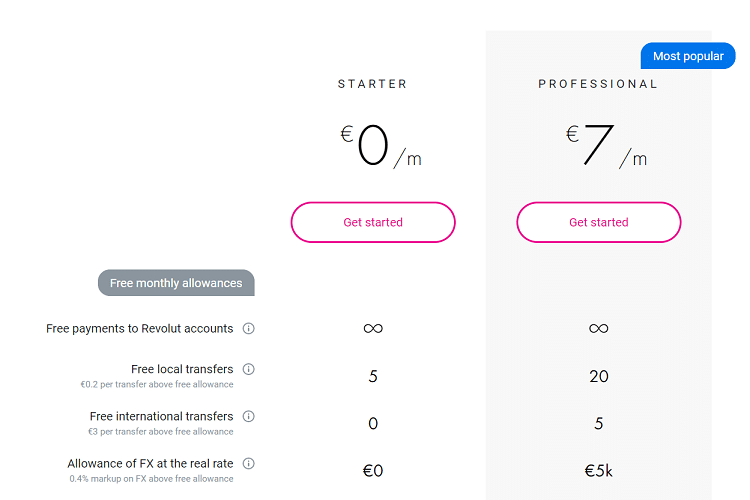 Revolut for Business has more options for companies but you can start with a free account and upgrade it as your business grows. This way you only pay for the services which are adequate to your current needs.
For even more tips and tricks about handling money in Portugal, subscribe to our newsletter!
What are the fees?
Revolut for Business has different pricing plans. There is a basic account for free and a professional account for £7 a month for freelancers.
For companies, you can choose the free account or you can opt for other plans priced at £25, £100 or £1000, depending on your needs. Below you will find an overview of all the plans.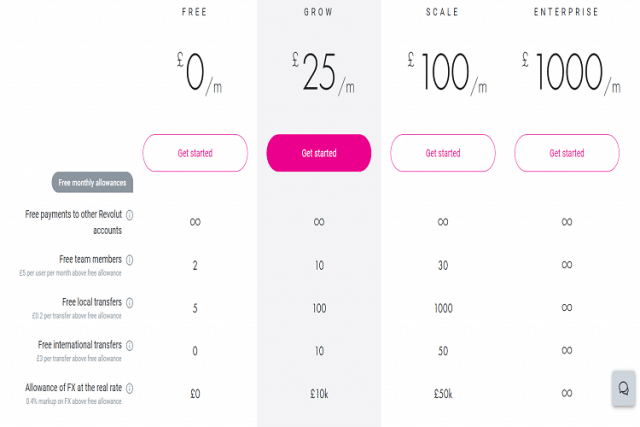 The basic account
You might not pay the monthly fee, but there is a charge for different features. The first five money transfers in the UK are free but after that they incur a charge of £0.20 per transfer.
Furthermore, the international transfers cost £3 each, with an additional 0.4% fee for foreign exchange transfers.
The paid accounts
The cheapest paid account for businesses is priced at £25 a month. It gives you 100 free transfers in the UK, 10 free international transfers and a free foreign exchange allowance of £10,000.
If you choose the one for £100 per month, you'll have 1,000 free transfers in the UK, 50 free international transfers and a free foreign exchange allowance of £50,000. The most expensive account costs £1,000 a month, but the features are all free and unlimited.
However you decide, Revolut for Business always includes free card payments in your account's currency, although it charges a 2% fee on ATM withdrawals.
How can I top up my account?
After a successful registration, you can open your account on the Revolut for Business app. When you are there, click the Add money option to see the details of your bank account.
Send a bank transfer via SWIFT and wait 1-3 days for the money to arrive.
How to order a Revolut for Business card?
Go to the Cards tab on the app's menu and click on the "Add new card" option. Then choose which accounts will be connected to the card, set the currency and the monthly limit.
After that, you just have to give your address and select your delivery type. The Express option costs £19.99 and the card is there within two days. The Standard option is free, but it takes around ten working days for your card to arrive.
Can I use the Revolut for Business card in Portugal?
Yes, you can! The Revolut business account is available in the whole of the EU, including the UK.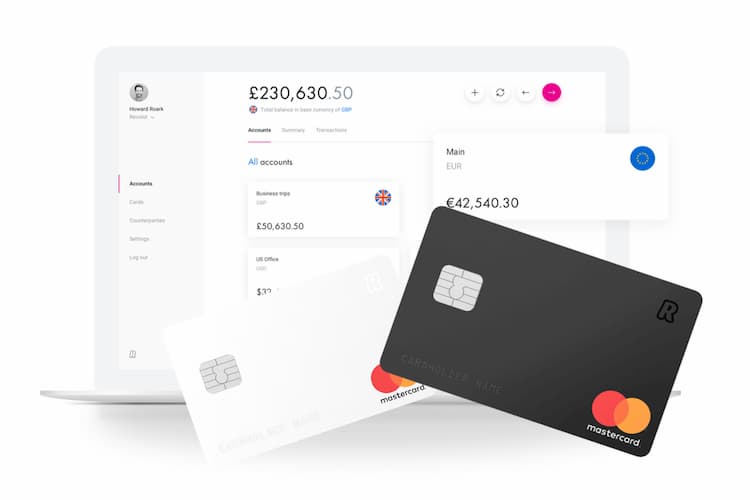 Are there any problems?
Revolut for Business is a trustworthy and comfortable way to manage your company's finances. Although, it has its weak points, about which you can read below. However, none of them are a reason to worry about security or efficiency.
What are the advantages and disadvantages of having a Revolut for Business card?
Are you considering to open a Revolut business account? Check out the advantages and disadvantages to make your decision easier!
Advantages:
An easy and quick set up
Several pricing options, depending on the company's needs
Great exchange rates on numerous international currencies
An excellent price for international money transfers
Prepaid and virtual cards
An easy to use mobile app, where you can keep an eye on all your finances
Safe and trustful banking
Disadvantages:
ATM withdrawals incur a fee
Cash deposits on the account are not possible
The free account includes only a few free transactions
Is Revolut for Business a good business card?
As we have already experienced with our personal bank accounts, dealing with our finances online is easy and comfortable.
Then why should we make our business finances more complicated?
Revolut is a pioneer in the era of online banking and its Revolut business account is one of the first of its kind. It also has earned the trust of numerous big companies such as Sweatcoin, FACTION or kiwi.com. And if they trust Revolut for Business, why wouldn't you?
If you want to know more about online banking and how to transfer money safely and cheaply, read our articles about TransferWise and Transfermate for more information!