Are you looking to rent an apartment in Lisbon or Porto either for a short-term or long-term stay?
It can be daunting and you may not know the language so we are here to help.
This guide will give you some valuable information on things you need to know about how to find to an apartment to rent in Portugal, being a tenant, how much it costs and more. Read on!
A guide to renting an apartment in Portugal
Renting an apartment in Portugal varies in cost depending on the type of contracts you are looking for (short-term or long-term). It's also very common to find people living in shared apartments as the price of an apartment for one person can be too expensive.
Also, some landlords are reluctant to do long-term rental contracts now because Portugal is a huge tourist destination and they prefer to make short-term leases to tourists.
How to find and rent an apartment in Portugal?
The fastest and best way to find an apartment is by checking online classified ad sites or use real estate agencies.
Below you will find a list of some the best websites to search for apartments or rooms for rent:
Some of the best real estate agencies in Portugal include the following:
Alternatively, you can search on Facebook groups as there are many rental groups talking about apartments and rooms, or even Facebook Marketplace to find apartments to rent in Portugal.
What do you need to sign a contract?
To rent an apartment in Portugal you will need a Portuguese fiscal contribution number or NIF ("Número de Identificação Fiscal") and your identification documents. Then you will be able to sign a tenancy contract ("Contrato de Arrendamento"). If you don't have a NIF number and need one as soon, you can easily apply through a third-party supplier like GETNIFPORTUGAL .
The contract usually states the lease period, how much notice you need to give before moving out and when the rent can be reviewed. This is the formal way of getting a contract and most landlords require this especially in cities like Lisbon and Porto.
In other areas of Portugal, the formal modalities of getting into a contract are a bit more relaxed and informal. In such areas, you can deal with the landlords directly without signing contracts. This is common if the landlord is not granted a rental license ("alojamento") for the property.
We recommend the formal way as you will have legal cover in case of any disputes. The informal way could be somewhat problematic especially if you cannot communicate properly with the landlord.
The tenancy contract should include details about the tenant and landlord such as nationality, date of birth, information about the apartment, the lease term and the amount of rent that must be paid and when.
Security deposit and up-front rent payment
At the beginning of the rental period, you will be required by most landlords to pay the rent of the first and last months. Sometimes, you also pay a security deposit which is is usually held by the landlord or leasing agency. This deposit is returned to you at the end of your lease period, in full, if nothing is damaged in the apartment.
Cost of renting an apartment in Portugal
The average price of renting an apartment in Portugal has gone up significantly in recent years especially in cities like Lisbon, Porto and Faro. If you are looking to rent a room in a shared apartment in Lisbon or Porto, you will need to budget for around €300 to €450 per month.
To rent a studio apartment (referred to as a T0) you will need at least €550. For two bedrooms (T2), three bedrooms (T3) or four bedrooms (T4), you should budget for at least €1000 or more per month.
In regions like the Algarve, Coimbra and Braga, the cost of renting an apartment is lower than in Lisbon and Porto. To rent a room in a shared apartment, you will need around €250 to €350 to get a decent room. While a good studio apartment ranges from €450 upwards per month.
Another important thing to note is that some of these rental prices do not include utilities (gas, water, internet, electricity, etc.) and some do. You should clarify this with the landlord or leasing agency to know if some or all of the utilities are included. If they are included, they usually come with a fair usage amount.
Always ask for the rental conditions.
In most cases, reviews on the rent amounts are allowed annually and there is a cap to how high the rent can be increased to. The landlord must inform you at least 30 days before the proposed increase comes into effect.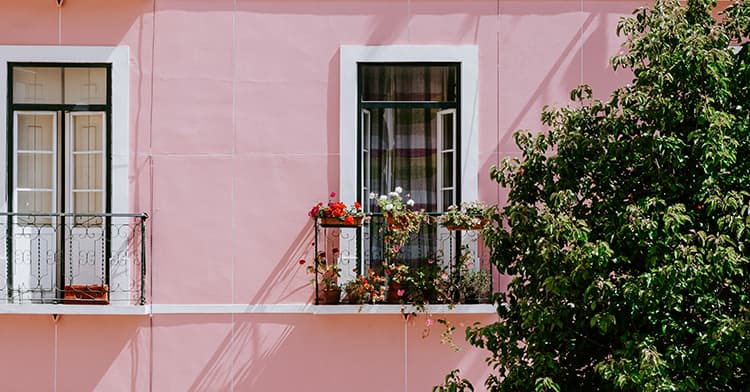 Is it worth renting an apartment in Portugal right now?
Renting an apartment in Portugal, for now, is quite difficult as most landlords now prefer short-term rental agreements or renting to tourists.
Because of this, rental prices are continually rising thereby making it harder to find long-term rentals.
If you are lucky enough to find a good apartment to rent now, you should stay put for a while. It's not so easy finding an apartment to rent in Portugal. This is the trend in most of the big cities at the moment.
If you're planning to stay long-term, it is advisable to get a short-term rental first and then, after your arrival, search for a place that you can get on a long-term contract for two to three years. If possible, get an open-ended contract.
Also, make sure that you have registered your lease with the Finance office ("Finanças") and that your NIF is attached to it. You are eligible for a credit on your Portuguese tax return for a specific amount of the rent you have paid.
Final tips to renting an apartment in Portugal
So that about covers renting in Portugal. We will delve into renting in Lisbon and Porto specifically soon so be sure to subscribe to our newsletter to keep up-to-date with all the latest from us.
Before we go, here are some Portuguese housing words that you might be handy to know.
Rent: "renda"
Deposit: "caução"
Termination of contract: "resolução do contrato"
Eviction: "despejo"
Fixed-term contract: "contrato com prazo certo"
Open-ended contract: "contrato por duração indeterminada"
Repairs: "obras"
If you have any questions or wish to share your experiences, please let us know in the comments below.