The seaside town of Quarteira was one of the first tourist towns in the Algarve and is the hub of so many exciting attractions for the whole family.
Why is it so popular you may ask? We will explain, so keep reading!
Visit Quarteira, Algarve for an awesome holiday
Here we will tell you everything you need to know about Quarteira including when to go, where to stay, things to do and package deals.
But first you might be asking…
Where is Quarteira?
Quarteira is part of the Loulé municipality down in the central region of the Algarve. It is 22km (14 miles) west of Faro Airport (also known as the Algarve Airport) and is a very popular tourist destination because if't great location.
Things to do in Quarteira, Algarve
Let me tell you about the most popular attractions and things to do, besides laying on the beach and enjoying the sun!
The harbour
Quarteira has many pubs, restaurants and cafés (the food is to die for). They have an amazing selection of seafood as they have a huge fishing industry. But it also has a Portuguese feel to it.. unlike Albufeira which is more touristy, Quarteira is still very "Portuguese".
Quarteira has a beautiful harbour which you can walk along and enjoy the amazing views. They have a market on Monday to Saturday from 8am until 3pm right by the harbour as well as a vegetable market.
Every Wednesday there is a flea market by the bus station.
Try the best fish restaurants
Quarteira is home to one of the best fish restaurants in the Algarve.
You should try:
Both are open every day from midday to 3pm and again from 7pm to 11pm.
The beaches
Quarteira beach is the traditional sandy white beach with lots of palm trees that everyone searches for. Stretching for nearly 2 km (1.2miles), the beach runs from the harbour right to the edge of town. The waters are calm and great for kids. It's a perfect place for a family holiday.
On the eastern side about 15 minutes by car, there is a pristine beach called Vale do Lobo. It's worth a visit!
There are other beaches such as Praia de Loulé Velho (11 minutes by car) and Praia do Forte Novo (a seven-minute car trip on the EM527-2).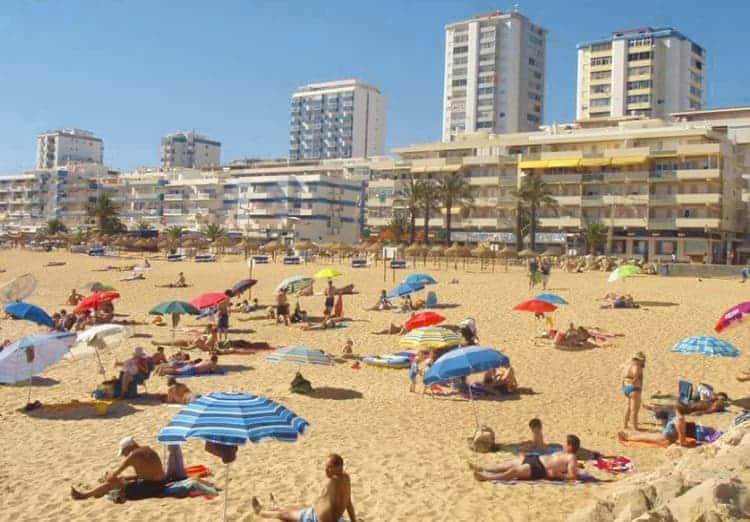 Aqua Show Park
One of the best aqua parks in Portugal is located in Quarteira called Aqua Show Park. They have so much to do there from water slides to animal shows. It's great for the kids, for teens and for adults. Here you can find gravity defying flumes, wave pools and near vertical slides ride. For more information and for tickets click here.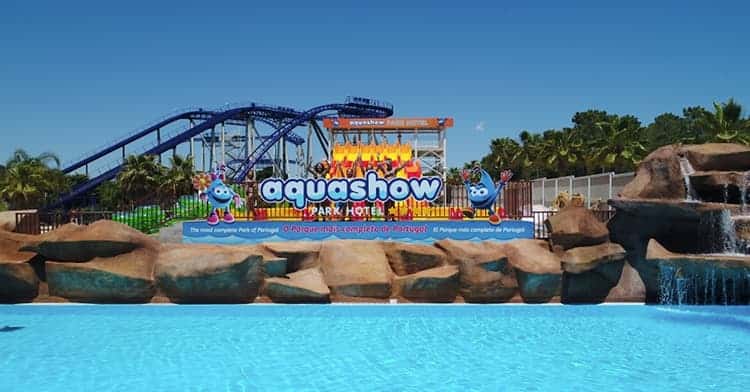 The golf
If you love golf, you probably know that the Algarve is famous for its golf courses. Just along the coast from Quarteira in Vilamoura, you can find lots of golf courses.
Some of the famous are: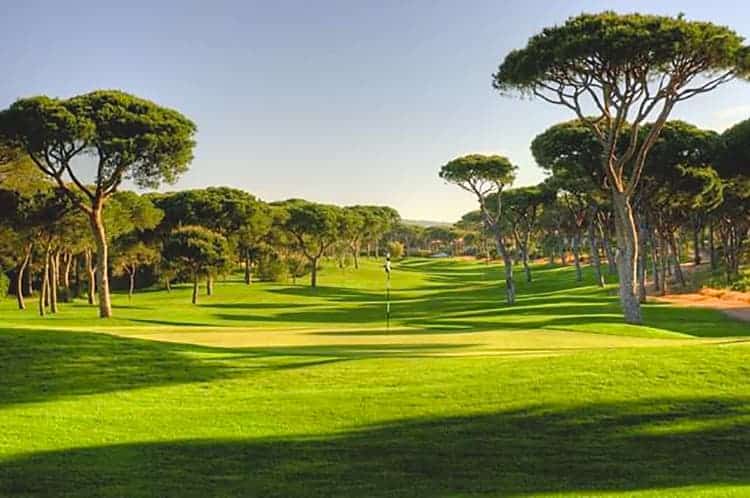 Make sure you subscribe to our newsletter for all the best tips about Portugal from locals who live here.
How to get around Quarteira
The best option to get around this area of the Algarve would be to rent a car especially if you want to visit other regions. You can, however, walk around Quarteira quite easily.
There are also local buses which will take you to other Algarve regions such as Loulé and Faro.
Here you can find all the maps you need which will help you get around at Quarteira Uncovered.
The nightlife in Quarteira
Algarve is famous for its nightlife but Quarteira's nightlife is more relaxed which is great for families. If you are looking for a more urbane nightlife you can easily travel to Albufeira or Vilamoura.
Looking for more things to do in the Algarve? Check out our article: Visit the Algarve.
Best time to visit Quarteira, Algarve
Quarteira is a year-round destination. Spring and summer is long and winter is short, but mild.
Summer obviously is the most busy and most expensive time of the year. The high temperatures can make it hard for children and elderly people. It is always extremely warm during the day, but you will feel some soft breezes in Quarteira as it's so close to the ocean. Expect extremely dry Algarve weather.
You can expect temperatures to easily reach 35°C (95°F) during the day.
Here is the forecast for the next seven days:
For more, check out: Algarve Weather.
Have a look at this article on Portugal's weather if you want to know more about the best times of the year to go to Portugal.
Where to stay in Quarteira
There are hundreds of apartments to rent as well as hotels. Here are our top three in varying price ranges.
Hotel Quarteirasol
If you are looking for a fancy hotel, one of the best hotels to stay at is Hotel Quarteirasol. It is a lovely four-star hotel only 50 metres (164 feet) away from the beach. They have a private pool and amazing breakfasts.
Hotel Pinhal do Sol
Hotel Pinhal do Sol is a mid-priced hotel situated between Vilamoura and Vale do Lobo, this hotel offers spacious, air-conditioned rooms with satellite TV and private balconies. There is also a private pool.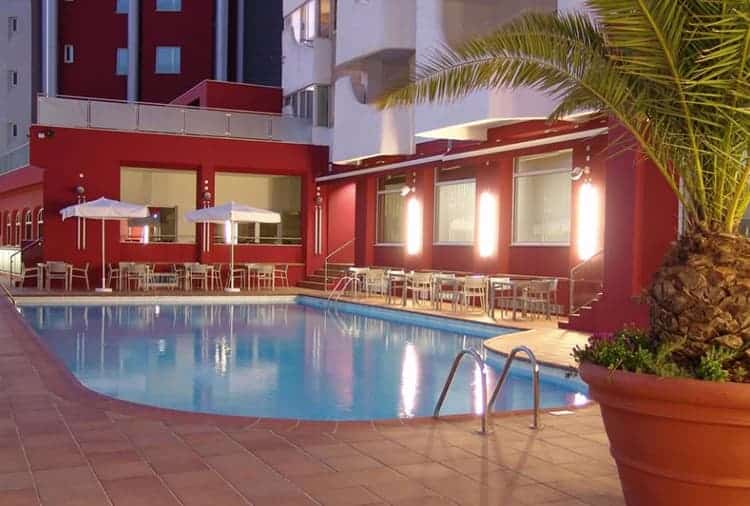 Guest House Pacifica
For those on a budget, Guest House Pacifica is located in Quarteira's historic centre, just 200 metres (656 feet)  from the beach. It offers simply decorated rooms with private bathrooms and balconies. Some rooms have a fully equipped kitchenette.
Are there package peals to Quarteira, Algarve?
If you are coming from the UK, you can find great package deals online at Lastminute.com. Here , you can find deals from £141 (flight and hotel included!).
Obviously the Algarve isn't the cheapest place to go to, but it also depends on the time of year you travel and how many people you are going with. My advice is to book in advance! There are some great deals out there waiting for someone like you to take!
Is it worth visiting Quarteira?
Quarteira, compared to other places in the Algarve is calmer and not as busy. It's not usually a first tourist option so it's a lot less hectic. It's great for families and it's perfect for a nice getaway.
You will love the beaches and the harbour, so what are you waiting for? You can also visit other regions in the Algarve if you want, so go buy that ticket!
Did you find what you were looking for in Quarteira in the Algarve? Let us know if you have any questions below.