You may or may not have heard of a restaurant called Nando's. If you live in the UK or Australia you probably know it.
It's supposedly typical Portuguese.
Did you ever want to know about Nando's origin?
Well, here we have everything you could possibly want to know about Nando's.
Let's dive in.
What is Nando's?
The English love a cheeky Nando's. The well-known restaurant chain has many fans of all ages, from kids to university students, and it's a perfect place to go with the whole family. It's known for serving its signature "PERi-PERi" chicken, which is flame-grilled after being marinated for 24 hours, and cooked to your desired level of spice. But what is the story behind the Nando's origin?
What about Nando's origin?
Nando's first appeared in the UK in 1992, and has been serving up spicy chicken ever since. Though it's a familiar sight to most Brits, the chicken restaurant is actually unknown to Americans, and for that matter, the Portuguese as well.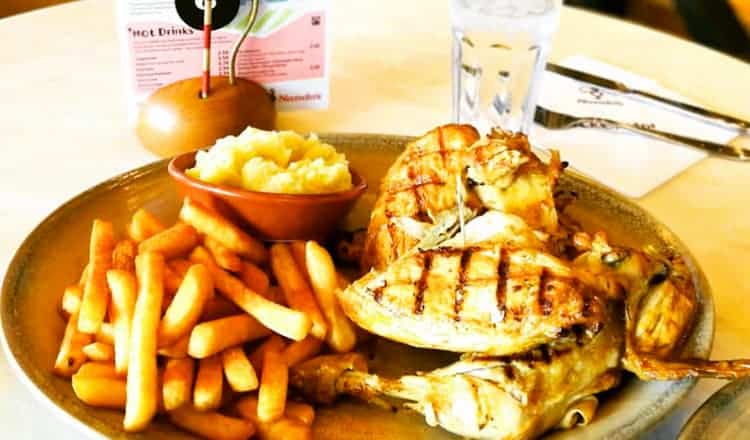 Is Nando's Portuguese?
Most people make the assumption that Nando's is Portuguese, on account of the name (and the logo) and the style of cooking, however it will come as a surprise to many that the Nando's origin is actually in South Africa.
Curious about Portuguese culture?  Sign up for our newsletter to keep in touch with bePortugal, you're number one source for everything Portuguese.
What country is Nando's from?
It may seem peculiar to many that the Nando's origin is in South Africa, but the country actually has a long-standing Portuguese community, which means that many South Africans know and love the traditionally spicy chicken and "pasteis de nata" too.
During the Portuguese era of naval expansion, Portuguese explorers laid claim to the coasts of South Africa, though South Africa never became a Portuguese colony. Over the years, South Africa was the destination of many Portuguese immigrants looking to start a better life overseas, especially those from Madeira.
With the collapse of the Portuguese empire in the 1970s, many people of Portuguese descent also made their way to South Africa. Today the Portuguese community in South Africa numbers around 80,000 people.
What's the story behind the Nando's origins?
The prevalence on Portuguese-style restaurants in South Africa was well-established before the franchise was founded in 1987, when Fernando Duarte took his friend Robbie Brozin to eat Portuguese-style chicken in Rosettenville.
The chicken was so good that the two of them decided to buy the restaurant and start a business. There are now over a 1,000 restaurants all over the world, in Malaysia, Australia, the UK and many other countries. They took the name "Nando's" from the name Fernando.
Where does the spice come from?
An important part of the Nando's origin is the "PERi-PERi", a variation of the Portuguese piri-piri, a spicy sauce made out of the malagueta pepper, which originates in the Caribbean, but was transported across to India, Mozambique, Angola, Brazil during colonial times.
The sauce is usually made with lemon, garlic, onion, paprika, salt, pepper, and of course, crushed chillies. Piri-piri sauce is thought to have originated in Africa and was then popularised in Portugal with the influx of migrants who returned to the country in the 60s and 70s.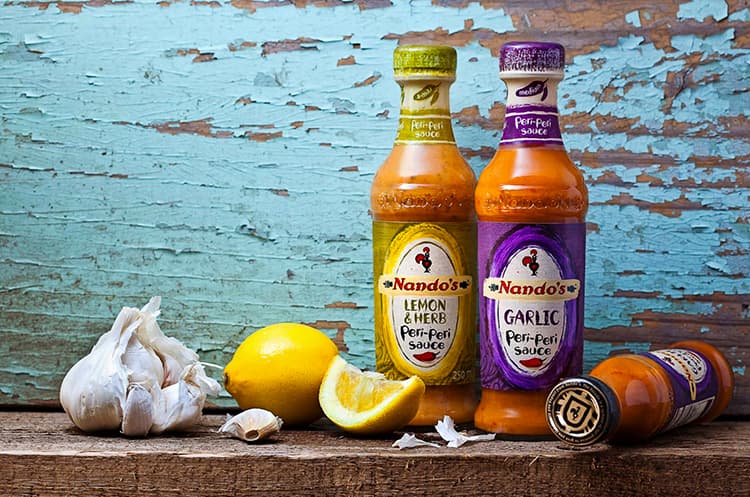 And what about the rooster logo?
Those familiar with Portuguese culture will recognise the Nando's rooster from tea towels, plates and t-shirts found in most souvenir shops around the country.
But, where did the rooster come from?
Well, a Portuguese legend says that a pilgrim passing through a town was falsely accused of theft and sentenced to hang. The condemned man promised that if he was innocent, a roasted cock from the table of the judge would crow. The rooster did indeed crow, and the man was saved from the gallows. The "Barcelos Rooster" is now a much-used symbol in Portuguese culture and was adopted as the symbol of Nando's too.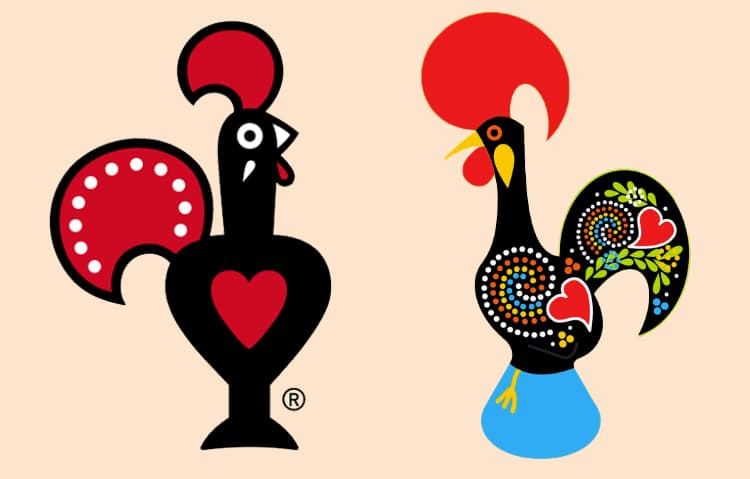 Are there any Nando's restaurants in Portugal?
No, despite Nando's origins being Portuguese, there are no Nando's restaurants in the country. If you want to take a look at a menu, you can see one from the UK Nando's website.
Where can I eat piri-piri chicken in Portugal?
Flame-grilled chicken is something you'll find in most standard Portuguese restaurants, though it won't come accompanied by coleslaw or hummus like you might expect in a Nando's.
Guia in the Algarve is supposed to be the home of piri-piri chicken in Portugal, and the town even hosts an annual chicken festival ("Festa do Frango da Guia"). If you're in Guia and want to taste some of the best piri-piri chicken, try the Restaurante Ramires, which claims to have created the original piri-piri chicken in Portugal.
Want to know more about the Algarve? Read: Visit the Algarve
However, you shouldn't worry if you're not visiting the Algarve and would still like to try some authentic piri-piri chicken. There are plenty of good barbecue grill restaurants ("churrasqueiras") where you can find some excellent chicken in Lisbon, such as the Bonjardim Restaurant.
Look for "frango de churrasco" or "frango assado" (barbecued or grilled chicken) on the menu, and ask for it with piri-piri.
Nando's social media phenomenon
Nando's has the most restaurants in the UK (around 400), and it was estimated in 2017, that they serve approximately 800,000 people per week.
It's no wonder that Nando's has cemented itself into British popular culture, so much so, that many Americans were left wondering what on earth a "cheeky Nando's" was. The supposedly untranslatable phrase sums up the chain's popularity among lad culture as the place for "top banter", and as people tried to explain, it led to some serious online hilarity.
BuzzFeed did a nice article on this which you can read here.
The chain has definitely capitalised on their online fame, and according to some outlets, they're the most popular restaurant on Twitter in the UK, as well as having a large following on Instagram. They have also proven that they can keep up with the times, with an ever-evolving menu including items such as halloumi and chilli jam, as well as vegetarian options like sweet potato and butternut burgers.
Have you ever eaten Nando's? Tell us what you thought of it in the comments below.